By David Hunter
Topsport Vlaanderen are quite an amazing team. Year after year they supply World Tour teams with new riders, without exception. It's this ability to develop young talent that attracts me to the team. This year's riders to graduate are Tim Declerq(Etixx), Gijs Van Hoecke(Jumbo) and Floris De Tier(Jumbo). That followed a bumper season in 2015, where the following riders left: Victor Campenaerts(Jumbo), Oliver Naesen(IAM), Edward Theuns(Trek) and Jelle Wallays(Lotto). Once thing is certain, if you sign for Topsport, you have a wonderful chance of making it to the big leagues.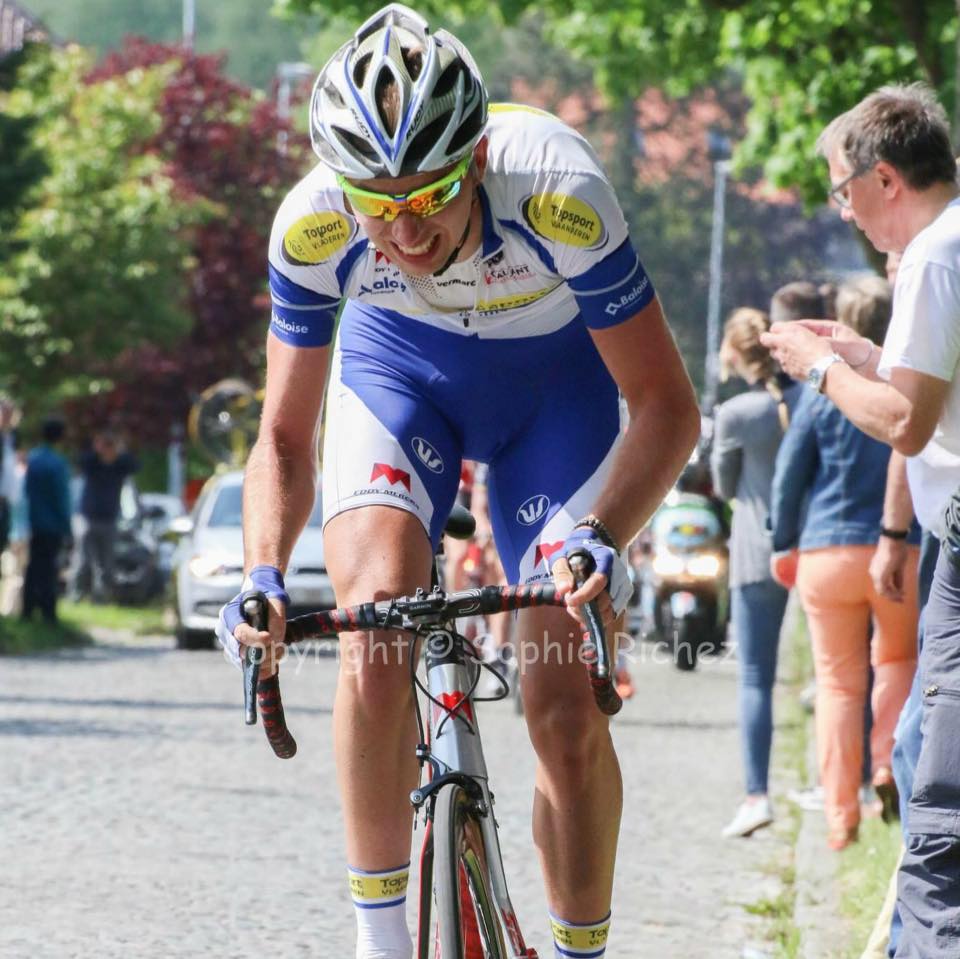 Hoping to be part of the graduation party in 2017 is Amaury Capiot. The 23 year old Flemish rider is one of those typical Flemish quick men. He has a fast sprint, but this rider is more than just a mere sprinter! Make the race hard, this is when he excels. See what I mean, a typical Flemish sprinter!
You might recognise his name, as Amaury is the son of Johan Capiot, the 3 time winner of De Brabantse Pijl. Having a famous cycling father was bound to bring some extra pressure.
"Yes, maybe it was the reason why I started with cycling, because when I was a little boy I often went to the race of my father for support. When I was 12 years old, my father left home for another woman, so I stayed with my mum. Pressure? No I never felt pressure, I enjoy riding the bike (it is a passion) and that's maybe the biggest reason why I became a pro."
2016 was a positive one for Capiot. It was his 2nd season with Topsport and he managed to finish 4th in two stages of De Panne, a stage in the Tour of Denmark and in Tour de l'Eurometropole.
"It was better than my first year, I had better results and a regular season. Last year it was more difficult in the finals for me. Now I have more surplus in the end, and that results in a good performance."
It wasn't always plain sailing, thanks to a bad crash in the Tour of Flanders.
I had a crash in the Tour of Flanders and I broke my trapezium bone in my hand.  It needed some rest so the good shape was gone, I tried to build up again towards the Tour of Belgium, but I got some knee problems. It took a long time before everything was alright. At the end of July I went to the Tour of Denmark, that was the first time I got some positive signals. The injuries where gone and the shape was back, I could hold it until Putte-Kapellen. Probably I was less tired at the end of the season, compared to other riders.
Amaury might have a fast sprint, but he is much more than just another sprinter.
I am not the fastest guy, so I need a sprint with a smaller group. When I'm good, I like it to be a hard race and I prefer a race above 200K. I can do the same sprint, or even better, when the race is +200k instead of 150K."
You might have already picked up my admiration for Amaury's team, Topsport Vlaanderen. Why are they so good at nurturing young talent?
"1) All the riders are Flemish.
2) We live close to each other.
3) The team has a good structure and a lot of people who have plenty of experience in cycling."
What does a normal training day look like for Amaury?
"Wake-up at 8:30, have breakfast (Muesli or cornflakes).
Start training at 10:00 mostly direction Vaals,Valkenburg or the Ardennes.
Back from training around 2:30-3:00PM==>Lunch (4 pieces of bread with strawberry jam).
After taking a shower it's all about relaxing (watching TV, do somthing with my friends, playing Playstation,…).
7:00PM Dinner: Healthy food==> Pasta, rice, meat, vegtables, potatoes,….
10:00-11:00==> time to sleep.
Sleep/eat/bike ==>repeat."
2017 is going to be a huge year for Amaury. He has committed to another season with Topsport and will look to make a few improvements. Of course, there was no hesitation in remaining with the team.
"Yes, it is better for me to have my own chances in 2017, I'm not someone who can ride a whole day at the head of the peloton."
Those opportunities will be plentiful. Despite his age, Amaury is one of Topsport's main riders. Yes, he still has to make some improvements in his sprinting, but he has huge potential. This is something that he intends to work on.
"I guess I can make still some improvements in my sprint in classic rides, but first a need to become stronger."
Like many riders, Amaury can be found in the gym. This conditioning work is becoming more and more popular amongst riders. Just being a good bike rider is only part of the story these days!
"This winter I will train a lot, work hard to become better than the previous year. For the moment you can find me 3 times(1h30) a week at the gym, where I do my workouts."
Will he look to try anything different in training?
"No. 2016 was a good year why should I do things differently? I need to grow year by year."
Can he identify any mistakes made in 2016?
"The only mistake I made was that I started training too fast, and hard, after my crash in 'De Ronde'. In races you always make some mistakes, particularly as a sprinter, but that's part of the learning process."
It certainly is. Learning from his mistakes is going to be crucial in 2017, as Amaury looks to try and get his first pro win. He knows that the scouts are already watching as he is one of the stars of the 2017 Sport Vlaanderen – Baloise squad. If he can net a few big performances, a World Tour contract will be there for 2018. Of course, this is his main objective in 2017.
"Being stronger than 2016, with better results in bigger races and hopefully signing a WT contract==>that's the biggest goal of 2017."
Keep an eye out for this Flemish "sprinter" in 2017. I'm confident that he has a few big results in him and the World Tour contract will surely follow.
David Hunter
Follow us on @CiclismoInter
Join us on facebook: Ciclismo Internacional
Copyright © 2012-2016 Ciclismo Internacional. All Rights Reserved