By David Hunter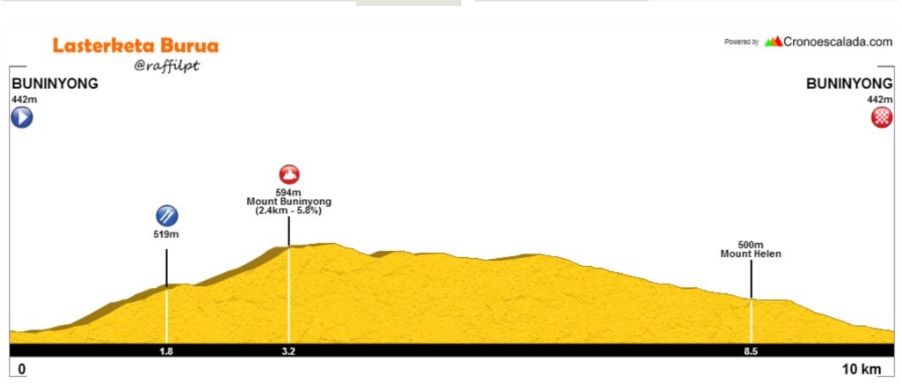 Much to the dislike of the sprinters, the Aussie championship continues on the Buninyong course. That means more fun up Mount Buninyong! The length and gradient isn't the main problem, as 2.4km at 5.8%, isn't really a bother for pro cyclists, it's the number of times they have to climb it. On Saturday, the under 23 men tackle it 13 times and cover 132.6km. On Sunday, the women do 10 laps, 102.0km. That is followed by the men who cover a whopping 18 laps, 183.6km.
This is the main level of difficulty in the race, the amount of climbing that is covered at a fast pace. The other factor that makes this race so tough is the sun. When it's a hot day, the race becomes brutal. Time to check the weather.
Weather
Looks like all the races are in for hot conditions. It is due to be 34 degrees for the under 23 men and 33 degrees for the elite men. As the women start at 8am, they get the best of the conditions. The wind will also play a part, making the climb a headwind for the under 23s and a cross/tail for the elite men and women.
Under 23 Men
The stiff headwind on the climb usually makes it a better race for the quick men. The wind makes it harder for the climbers to make a big difference on the slopes of Mount Buninyong, but that logic doesn't always work in under 23 races.
These races are not dominated by team colours, but are a free for all. Chris Hamilton took the win in 2016, beating Lucas Hamilton in a two man sprint. While Chris has moved up to the world tour, Lucas is still at the under 23 level. That immediately instals him as the big favourite for the crown. His main rivals should include some of his teammates from the 2016 Jayco-AIS World Tour Academy. Riders like Michael Storer, Dan Fitter, Rohan Wight, Sam Jenner, Jai Hindley and Alistair Donohoe should all feature heavily.
In typical under 23 fashion, we have a long list of potential winners. Don't be surprised to see Cyrus Monk, Scott Bowden, Alastair Christie-Johnston, Jason Lea, Dylan Sunderland and Robert Stannard challenging for the podium.
Stannard is a fascinating prospect,having just changed from representing New Zealand to Australia. He produced a brilliant performance to take silver in the under 23 TT, despite being just 18 years old. The road race might be a step too far for him, but he's bound to win in the future.
Prediction – It's really hard to see past Lucas Hamilton.
Women
As usual, the pressure is all on Orica. They arrive with a ridiculously talented squad, they have 8 riders which far outweighs the other teams. Orica have Allen, Crooks, Elvin, Garfoot, Manly, Rowney, Roy and Spratt. Not only do they outnumber the other teams, they have more quality too. Both Garfoot and Spratt are on top form right now, with Garfoot winning the ITT and Spratt taking a win in the Bay Crits. As defending champion, Spratt will clearly be marked by the other riders, this could give a chance to Garfoot, or another one of their riders.
Looking to challenge them is the usual list of quality Aussie women: Ruth Corsett, Tiff Cromwell, Chloe Hosking, Lucy Kennedy, Lauren Kitchen, Shannon Malseed, Peta Mullens, Kate Perry, Carlee Taylor and Kimberley Wells.
The word on the street is that Peta Mullens is in fine form. The 2014 Aussie champion has signed for Hagens Berman and is promising to ride more on the road in 2017. I'm delighted about this as she is a hugely talented cyclist, but does need to spend more time on her road cycling. This race will be hugely difficult for her, as she is totally outnumbered, but this is not a new experience for her. She has beaten Orica in the past and will fancy her chances of doing so again.
Regular readers will now that I am biased when we talk about Carlee Taylor. Having just completed her move to Ale Cipollini, she is looking to start the season very fast. She was putting in some big kilometres in Girona, before moving back over to Adelaide in December. Unfortunately, she was struck down by illness and that hampered her preparations, but she has had a good last week and is hopeful of a strong performance. A strong climber, she needs to attack on the climb and not look back!
Tactics
Orica will look to split the race early and pile plenty of their riders into the front selection. That will allow them to take turns attacking, to gradually wear down the peloton. In the final few laps, we'll see their big stars on the move.
The solo riders have to play their cards right. It's silly going too early, so they need to hope that Orica control the race and are happy launching the big attacks later on. When the solo riders do attack, they need to take an Orica rider with them. No way does a break survive without an Orica presence. This race really does require a huge amount of good luck and strong legs!
Prediction Time
Mullens might well be in form, but she'll find it hard to compete against Spratt and Garfoot. I think with the attention on the defending champion, Katrin Garfoot will get away and solo to victory. Her TT performance shows the outstanding form she has just now.
Men
Team strength is hugely important in this event too. Orica arrive with the second biggest squad, they have 7 riders, but the IsoWhey boys have 12. That does give them a numerical advantage, but there is a big gulf in the quality of these riders.
Dimension Data have 3 riders: Haas, Morton and O'Connor. That puts Haas in a strong position, one he's not really used to. He finished the 2016 season in strong fashion and has been putting in some big kilometres in preparation for this race.
Cannondale-Drapac have Canty and Clarke. Then we have a whole list of dangerous solo riders: Dempster, Dyball, Earle, Hamilton, Hansen, McCarthy, Cameron Meyer, Miles Scotson, Spokes and Von Hoff.
Jay McCarthy already looks in brilliant form. The sensation of the 2016 TDU, is ready to start the season fast. He is looking skinny and full of power. Riding as a solo competitor certainly makes things hard for him, he'll have to carefully choose his tactics during the race. Like the other solo boys, he'll need to pick when he attacks. Go with the early moves or hope that Orica/IsoWhey bring it back. That is the decision they all have to make.
Chris Hamilton – the Hurricane has just completed his move to Sunweb and the early part of the season will represent his best chance for solo success. The reigning under 23 champion is a talent and will have to be watched carefully. Give him some room and we'll see what this kid can do!
Cameron Meyer – after leaving his contract with Dimension Data, he seems to have re-found his focus. Meyer knows this course and his the skills to perform well. He has focused on the track in recent months, but doesn't seem to have lost his road legs.
Nathan Earle – he's riding with a fire in his belly. The former Sky rider struggled to find a contract for 2017, but has recently signed for a Japanese team. He has trained hard for the opening of the season and looks stronger than ever before. He is a huge talent and could surprise here.
Robbie Hucker – looks one of the strongest of the IsoWhey boys. He's moved to them from Drapac, after not being taken by them to the World Tour Cannondale-Drapac. That kick in the guts could be good news for him, riding to prove someone wrong is strong motivation! IsoWhey certainly have the numbers, but do they have the quality to have an impact in the later stages of the race? I think they need to attack early and hope that move stays away, as the end of the race will be too hot for them.
Ben Dybal – was very happy to walk away from the ITT with a bronze medal, especially considering the competition. Dyball can count himself very unlucky to not ride for a bigger team, he certainly has the quality. He has consistently been one of the best climbers in Australia and this course does suit him well. He could benefit from some early freedom.
Nathan Haas – can climb, can sprint and has teammates. This is his best chance of winning the Aussie crown and he knows it! Will DD hold back Morton and O'Connor to help bring the race back together? That is the question they need to answer. I think it would be wise to send one of these boys in the break and see what happens.
Simon Gerrans – no more Matthews, he won that battle! Last year was poor for Gerro, he needs a big 2017. On form, this is his course, but tactics will determine if he gets a chance or not. One problem for him is that he was always faster in a sprint than his rivals, but both Haas and McCarthy are very fast in a sprint. Gerrans might have to think about a different tactic.
Caleb Ewan – so close to winning in 2015, he just started his sprint too early. A rider with enormous potential and Mount Buninyong doesn't scare him. Should be held back in case the race ends in a sprint.
Damian Howson – Orica have many riders who can fill their wildcard role. After a tremendous 2016, riding in support of others, Howson deserves a crack at the title. He is improving every season and I think 2017 will be a big year for him.
Prediction Time
Given the hot conditions and last year's mess by Orica, I expect them to send numbers into the morning move. The composition of the break will be crucial, it needs to have plenty of representation from Orica and IsoWhey to survive, even then it's not certain. The solo riders will have to think very carefully about their tactics, some will go for the break and some will wait. We'll just have to see who gets it right!
Personally, I think the break makes it and Orica will win. Looking at their squad, Damian Howson is a rider with immense quality. One of my favourite moments of 2016, was watching him almost kill himself for Chaves in the Vuelta. He deserves his chance at the Aussie title and I think he'll get it. He can climb and TT, so going solo for a couple of laps will not scare him. Howson for the win!
David Hunter
Follow us on @CiclismoInter
Join us on facebook: Ciclismo Internacional
Copyright © 2012-2016 Ciclismo Internacional. All Rights Reserved