By David Hunter
Pesco Sannita – Gran Sasso d'Italia 225km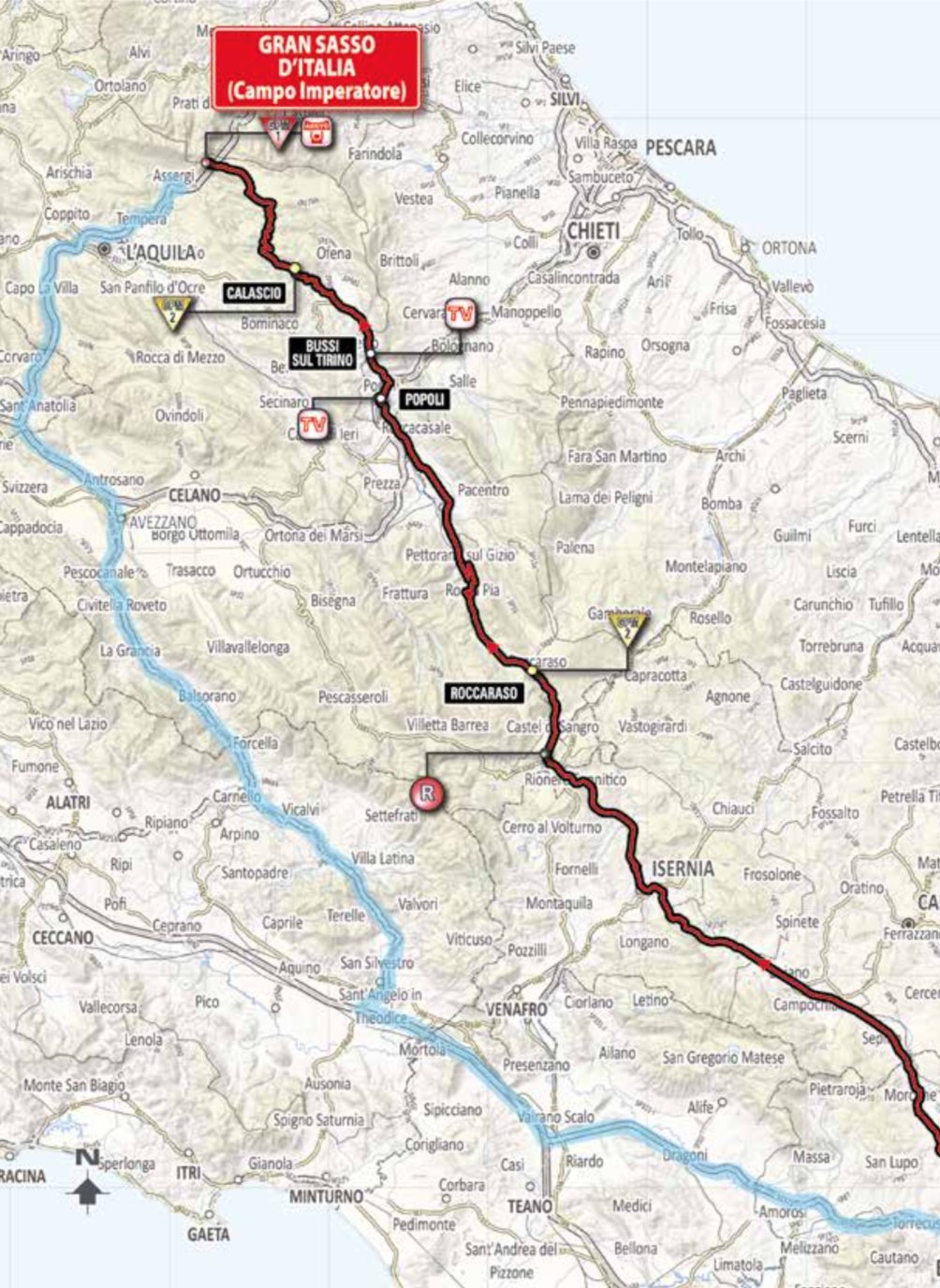 A long day in the saddle.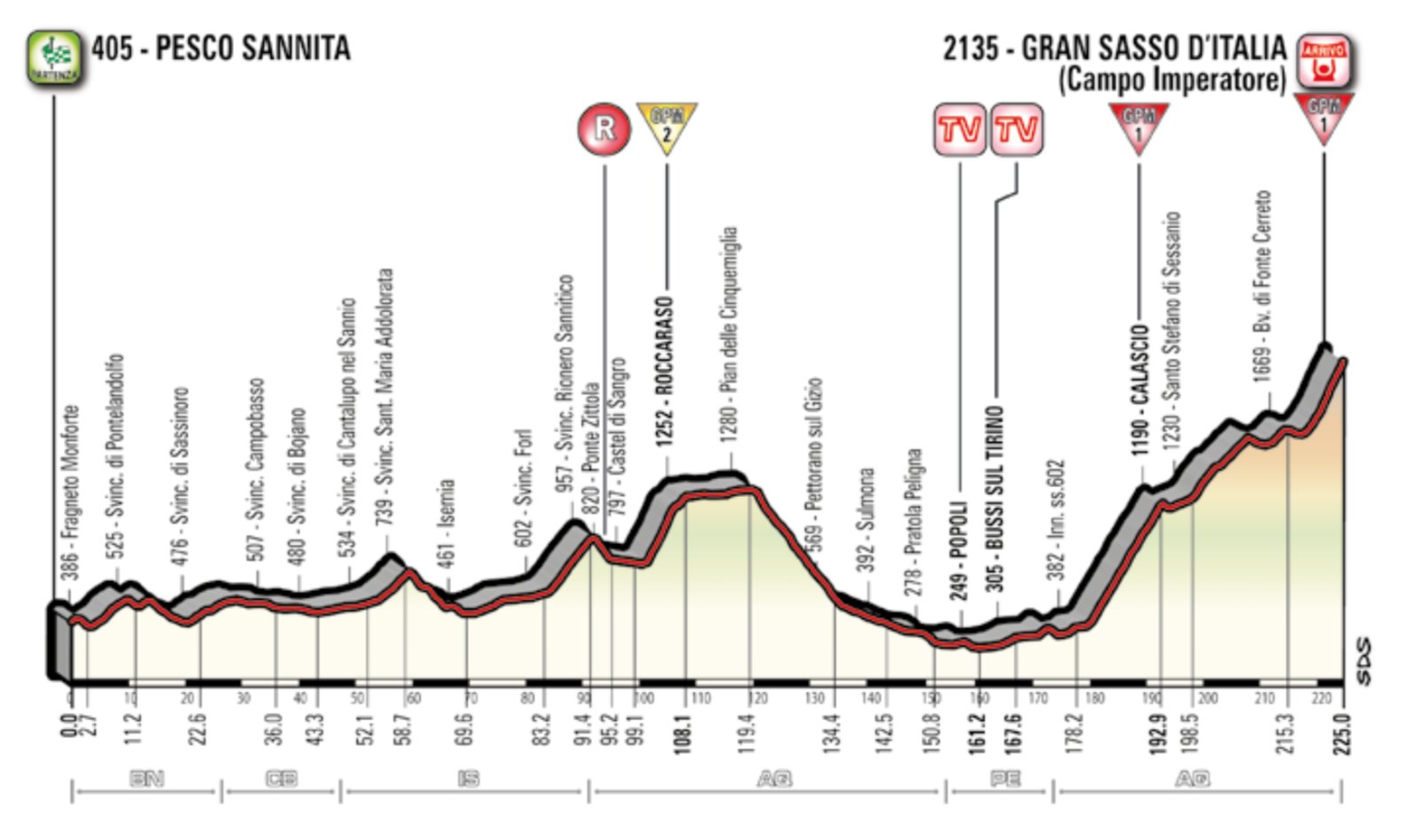 This stage should be a fascinating day to watch. The opening section is nice and easy, perfect conditions for the break to get away. The second half of the stage contains the climbs, both of which are very long. It's a day that plenty of riders will be wanting to join the morning move.
The Climbs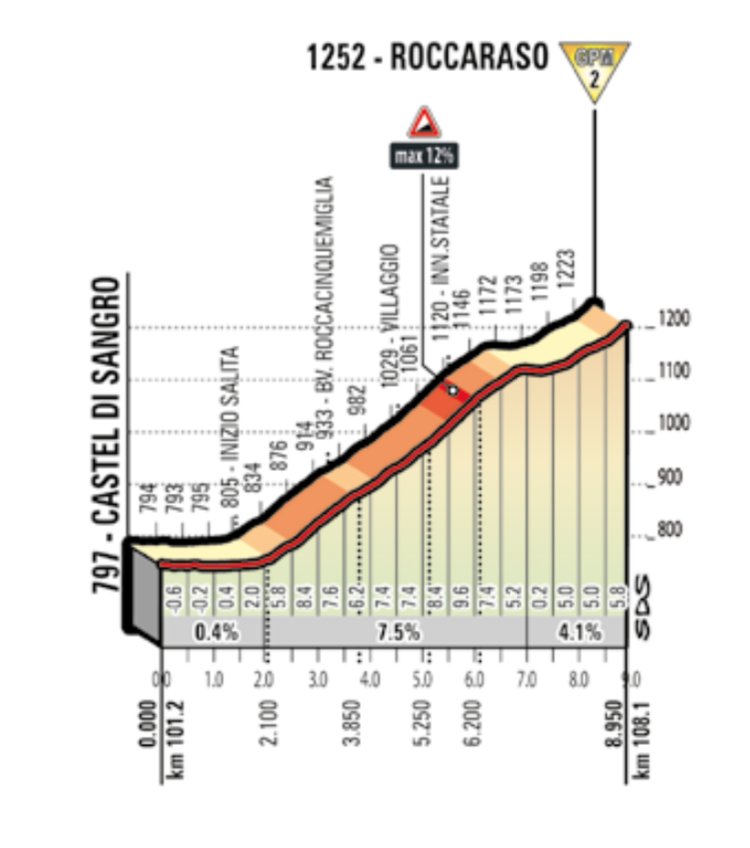 This is only the 2nd cat 2 climb of the race and will attract the KOM hunters. It is time to start building your points tally. We then have a long section of descent and flat roads, this is where the peloton can make serious gains, if they want to bring the break back.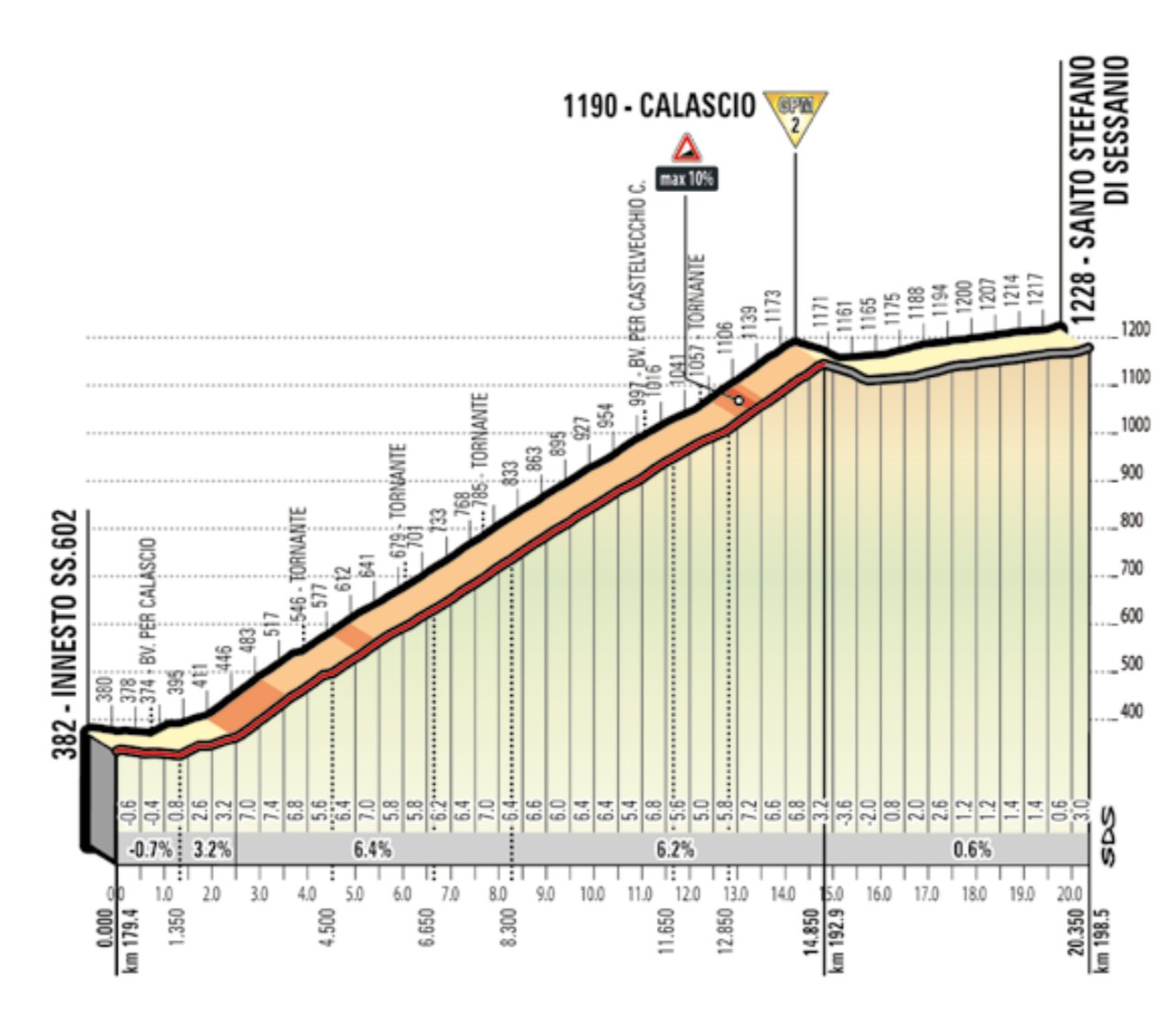 The stage ends with two cat 1 climbs, although the above graphic suggests this climb is only cat 2. This climb is long and consistent, but with a harder climb to finish, I don't expect any action at this point.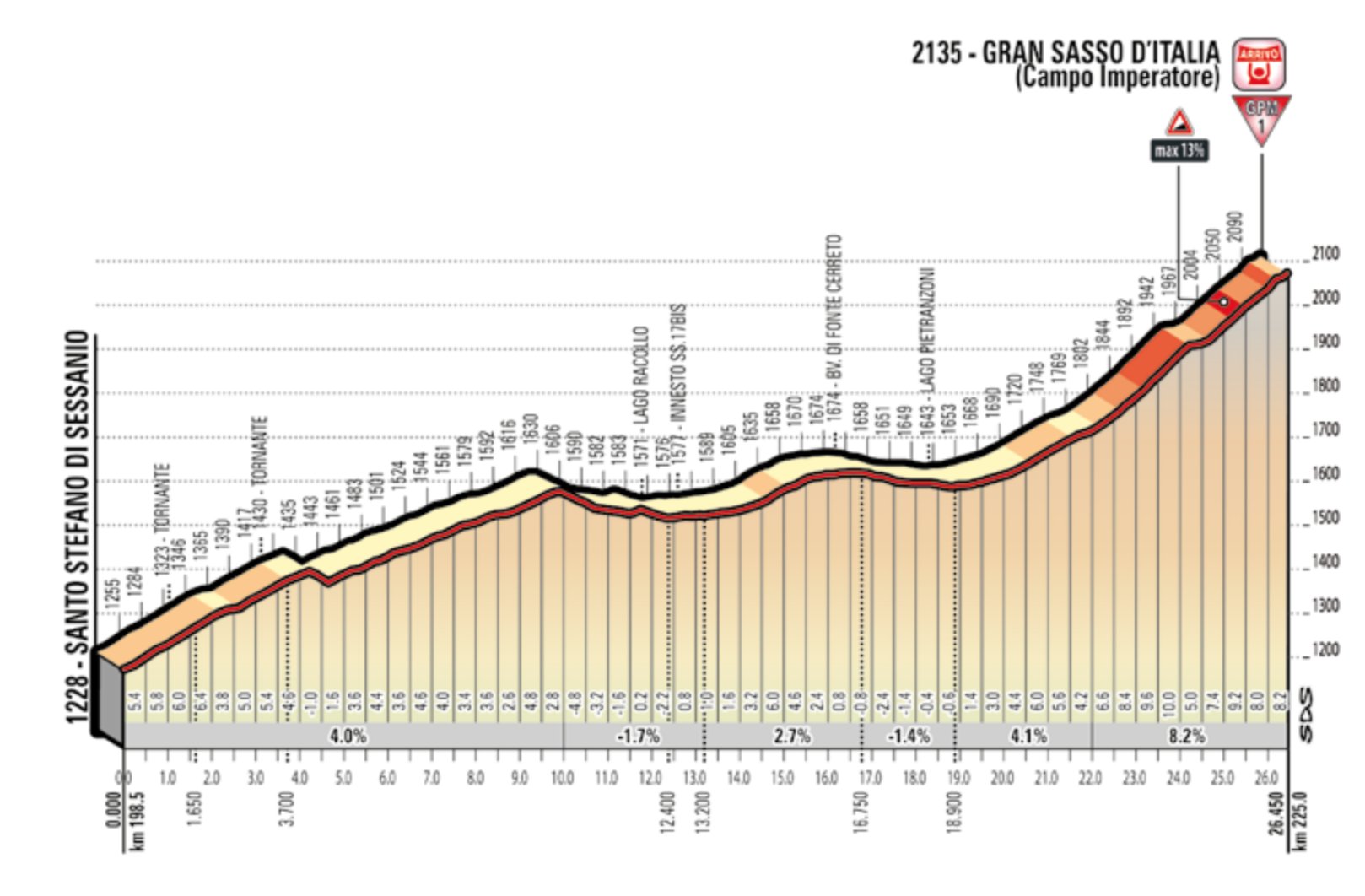 The stage ends with this monster! Officially it's 26.5km at 3.9%, but it's the final 4km that is of the most interest.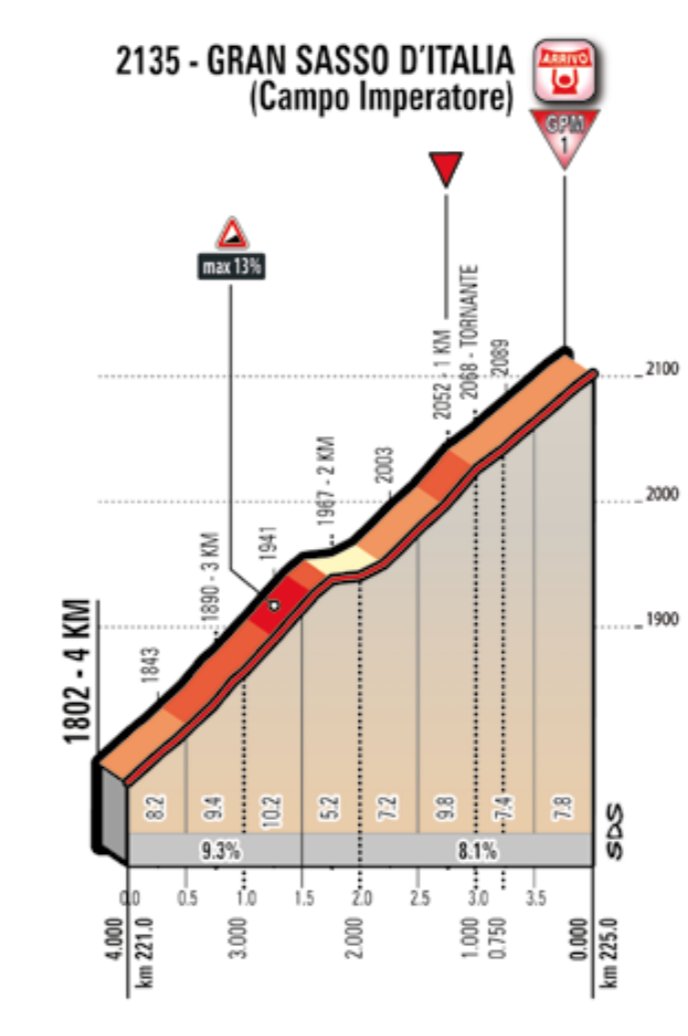 4km at 8.3% is a great way to finish the stage. At this point, legs will be tired due to the long climbs, but the GC riders will still need plenty of energy. Despite only being 4km long, this climb could have a big impact on GC. Those riders who are currently in great form will look to put pressure on the others, especially as they have to wait until next Saturday for another opportunity. I expect fireworks.
Breakaway Hopes
This will be a stage that interests a lot of riders. The start favours those with big engines, it's not a great day for the climbers to make the morning move. The problem will be some of the GC teams, they will look towards this a chance to take a stage win. At this point the break has a 50/50 chance of success.
Weather
We could see more rain and there is a gentle wind coming from the east.
Contenders
Thibaut Pinot – going in his favour is a big sprint. This season has shown that he has one of the fastest finishes in the mountains, he will be very happy if a small group approach the line together. The Frenchman looked okay climbing Etna, but not as good as he was in the Alps. This could be a big day for the GC fight, Pinot will want to put on a show.
Simon Yates – the pink jersey has to take advantage of his current form. He was brilliant on Thursday, but remember he only had to follow wheels with Chaves up the road. His attack was strong, but when you consider he was saving energy, maybe he wasn't that much stronger than the rest. Going into this stage, the steep finish is good news for him. With a strong team behind him, Yates will have a chance of taking the win.
Domenico Pozzovivo – the little Italian continues to impress, but winning a stage looks hard for him. His rivals are all aware that he is a threat and they seem able to cover his attacks. His final kick isn't as strong as some, meaning he must get free of the lead group. This is difficult, but not impossible, especially when you consider his form.
George Bennett – yet another of those in great form. The Kiwi rider will hope to benefit from an unstructured finish. If we get a situation where attacks are flying all over the place, I think it will bring out the best in him. The steep final 4km is not brilliant suited to him, but he does look strong just now.
Tom Dumoulin – after surviving the Etna stage, I think it's time for Dumoulin to be hitting form. This time last year he performed very well on the Blockhaus stage, he will need a repeat tomorrow. The steep finish is good news for him, he does cope well with this type of finish. A rider capable of producing huge power, he will sense a chance to take some time back on riders ahead of him, whilst distancing Chris Froome. In his battle to retain the pink jersey, this is a big moment for the Dutchman.
Miguel Angel Lopez – this finish is perfect for him. Out of all the GC riders, I think he is best at this type of finish. Astana have a very strong team, but we haven't really seen them yet. Have they been saving something back for this stage? The long climbs are perfect for them to set a high pace and put some GC riders into difficulty. If Lopez is going to finish on the podium, he needs to deliver in this stage.
Chris Froome – it's just not happening for him. Another crash and some pathetic bike handling skills, it was a bit embarrassing for him today. This will be another stage where he'll try and limit his losses.
Tim Wellens – breakaway hopeful number 1.
Giulio Ciccone – breakaway hopeful number 2.
Ben Hermans – breakaway hopeful number 3.
Prediction Time
 I think the break will be brought back by a GC group hungry for a stage win. I expect Astana to set a fierce pace on the climb and Miguel Angel Lopez to take the win.
David Hunter
Follow us on @CiclismoInter
Join us on facebook: Ciclismo Internacional
Copyright © 2012-2018 Ciclismo Internacional. All Rights Reserved