Giro d'Italia 2019 – Stage 14 Preview
By David Hunter
Saint Vincent – Courmayeur 131km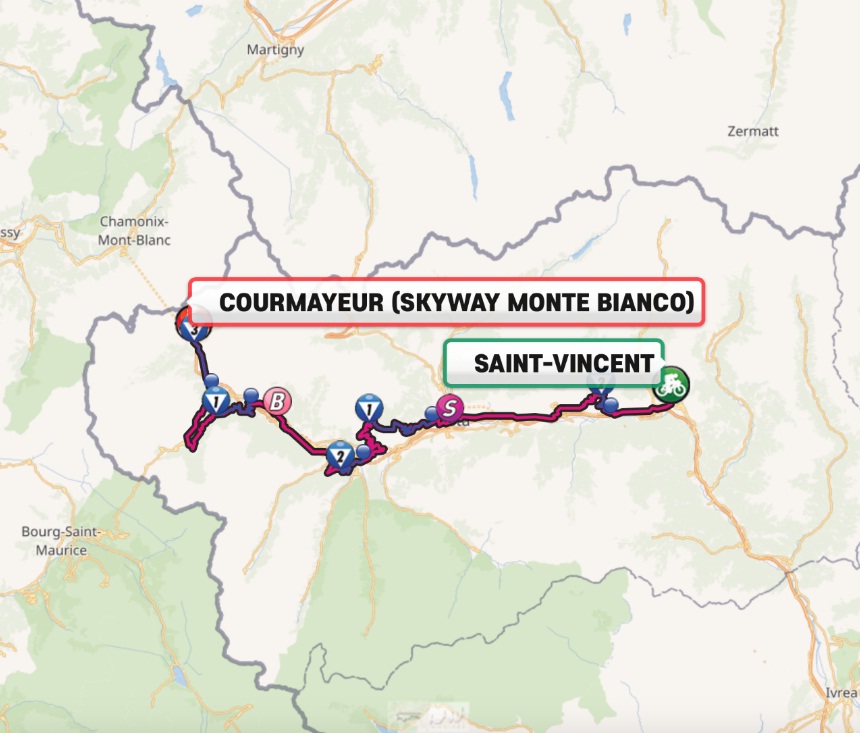 Just 130km of racing, but over 4000m of altitude gain. Sounds like pure hell for the riders and heaven for the fans.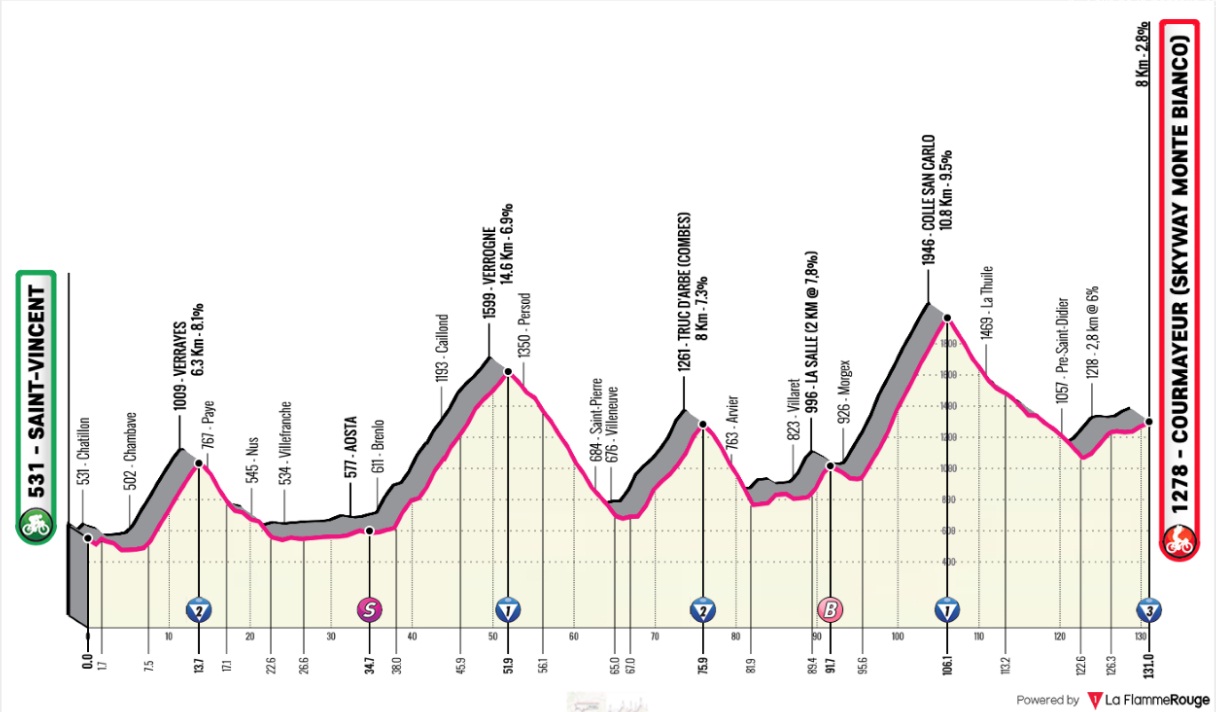 Sometimes when organisers make stages too difficult, we end up with negative racing, I hope this day doesn't go that way.
The Climbs
After just 7.5km, the peloton hit the first climb of the day. It's only a cat 2, but it's 6.6km at 7.8%, and this is where the morning break will form.
Next up is the cat 1 ascent of Verrogne, which is 11.3km at 7.6%, but it can also be classified as 14.6km at 6.9%. Whichever way you look at it, this climb is a monster!
Then we have another cat 2, which would be a cat 1 in any other race, as it's 7.4km at 7.3%. Depending on the race situation, some GC riders could be tempted to attack at this point, even though there's still 55km to go from the crest.
Colle San Carlo is a massive moment in this race, not just the stage. It is 10.3km at 9.9%, which makes it incredibly difficult and one where big gaps can be established. The crest comes with 25km to go, but that won't put the GC riders off attacking. The following descent isn't too technical, but it does have a series of hairpins near the foot.
The descent bounces straight into this little unclassified climb, which normally wouldn't cause the main riders any problems, but coming after such a demanding day I think we'll some lose contact at this point. It tops put with 4.5km remaining, most of which is false flat, but we do have a final kilometre at 3.4%.
Weather
We have some rain around in the valley roads, but snow once we get up in the mountains. Get ready for an epic day!
Tactics
We still have UAE in the race lead, which means another day of utter chaos! After today's escape, Zakarin has moved to 3rd on GC and Mollema is 4th, which is brilliant news for Roglič, as their teams will ride to protect these places.
Movistar are looking very strong, but Carapaz and Landa are still 2 and 3 minutes behind Roglič, which is still a lot of ground to make up. No doubt, we'll see them try and execute the same plan as today with riders getting into the morning break, which they should be able to do considering the difficulty of the opening kilometres.
What about Nibali? I sense he is getting a little frustrated by Roglič and the way he's approaching the race. The Italian is 1:44 behind the Slovenian, but he now has other riders who he has to worry about. Bahrain really need to think carefully about their approach, it is very important to have domestiques that Nibali can bridge to. It is up to Nibali to drop Roglič, he needs to forget about trying to make him work and start throwing in some big attacks.
Astana have ended up in an awful position. Despite having the strongest team, they have López sitting over 5 minutes behind Roglič, and their next best rider is Bilbao, a further 20 minutes back. López seems to be cursed by bad luck, he now needs to change his goal to stage wins, and Astana could also give some freedom to their domestiques.
Given the start of the stage, I think it will follow a similar pattern to today, with a large group escaping the bunch. Whether or not they stay away will be up to the bunch, just like today, when they decided they didn't want to ride for the win; silly Movistar!
Contenders
Mikel Landa – watching him climb in the drops is one of the most beautiful sights in cycling. He was very strong today, but Movistar made a big mistake and it cost him the stage. I still don't understand why they didn't close the gap before the final climb. Moving into this stage, Colle San Carlo seems perfect for a Landa attack, putting pressure on the GC contenders. Landa is climbing like a dream, in this form he's very hard to beat.
Richard Carapaz – provides Movistar with a wonderful second option. He took some time back on Roglič today and he now sits in 6th place. The Ecuadorian is starting to look more and more like a top climber, and he should like the mountains in this stage. Given the way they've been climbing, Movistar will be the only team left with two riders in the closing stages; which would give them a huge tactical advantage.
Primož Roglič – as I've already mentioned, the Slovenian is doing everything right. He's resisted the temptation to chase down moves and waste valuable energy. He now has Zakarin and Mollema sitting close to him on GC, which will actually be a benefit as they will also have pressure to chase moves. This stage will be an enormous test for him, he hasn't done many short stages like this, but he did cope okay with them in last year's Tour de France. His main focus is still maintaining his gap to Nibali, but he'll still be interested in the stage if it's a real possibility.
Vincenzo Nibali – time for the Shark to stop complaining and get racing. He's got a big gap to make up to Roglič, so he needs to attack. When riders like Landa make a move he cannot wait for Roglič to respond, he needs to move with them. The next two stages are huge in terms of the GC battle, will we see Nibali make a move?
Miguel Ángel López – seems haunted by bad luck. He now has a massive gap on GC, which will buy him freedom to attack and try to win the stage. He looks in good form, and his time gap now makes him a huge threat for the next few stages.
Alexis Vuillermoz – breakaway option number 1.
Sam Oomen – breakaway option number 2.
Lucas Hamilton – breakaway option number 3.
Prediction Time
Will we see another breakaway win? It's about time the GC boys start to take this race by the scruff of the neck and stop messing around. Thanks to his freedom offered by recent bad luck, this is a day for Miguel Ángel López, while Primož Roglič will move into pink and continue to frustrate Nibali!
Remember I've now got a podcast too. Go and give it a listen
David Hunter
Follow us on @CiclismoInter
Join us on facebook: Ciclismo Internacional
Copyright © 2012-2019 Ciclismo Internacional. All Rights Reserved