By David Hunter
Como – Bergamo 240km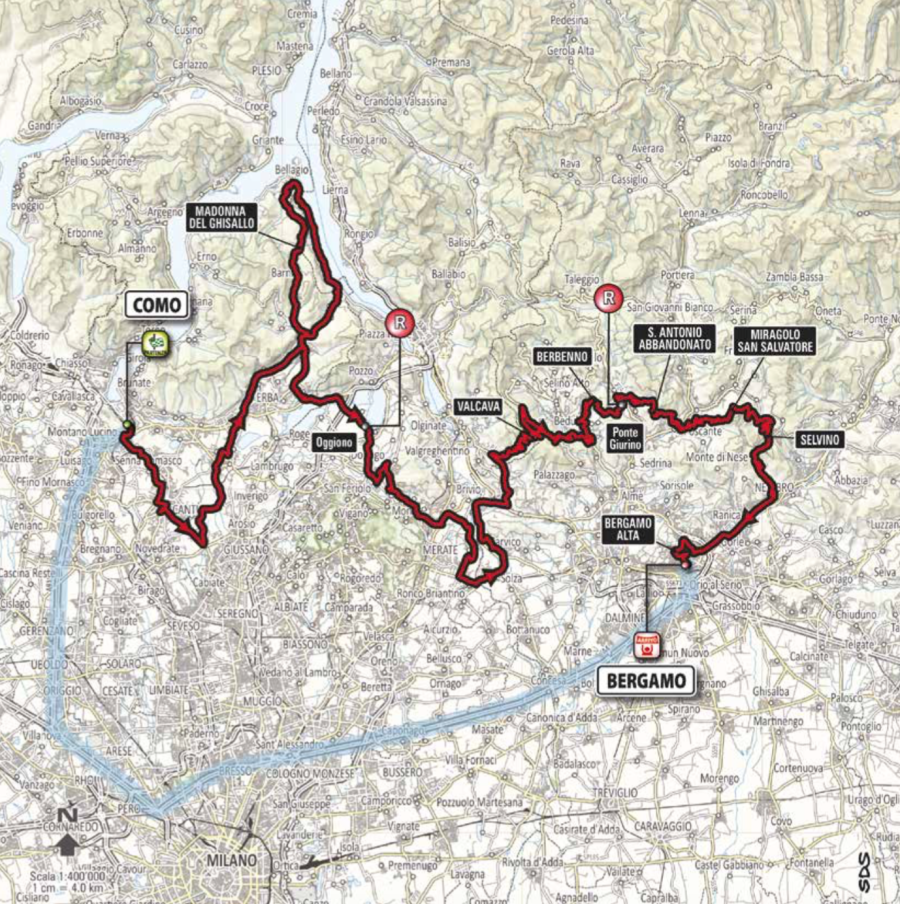 The last monument of the year, and the race returns to Bergamo.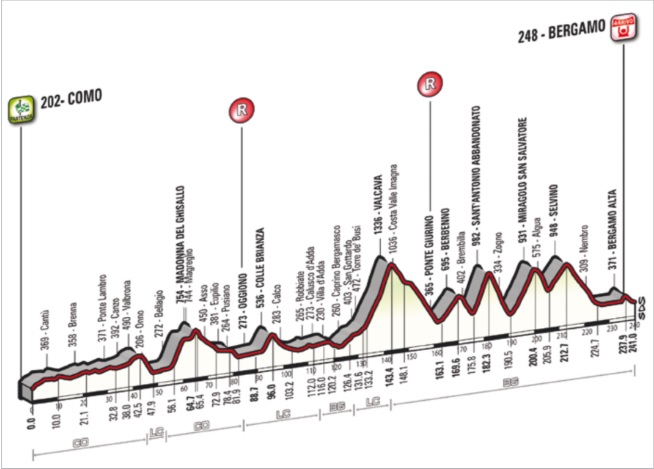 The organisers have ripped up the usual conventions, coming up with a brilliant route, featuring two new climbs. With around 4400m of climbing, this is similar to a mountain stage in a grand tour. It is going to be brutal.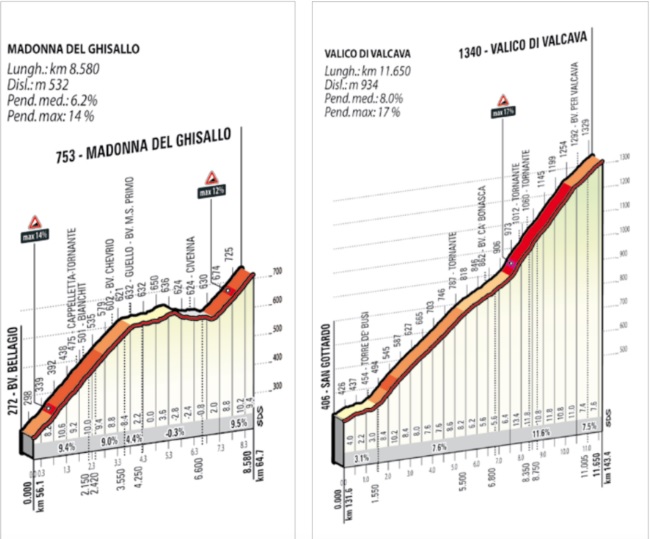 As tradition dictates, the peloton climb up to the church at the top of Madonna del Ghisallo. Like in recent years, it comes too early in the race to have an impact.
Next up is a massive point in the race. Still with 100k to go, the peloton face Valico di Valcava. The climb is 11.65km at 8%, with a maximum of 17%. This maximum comes in a brutal 3km section, which rises at 11.6%. This is a proper climb, with lots of hairpin bends. It will be the end of the race for many riders.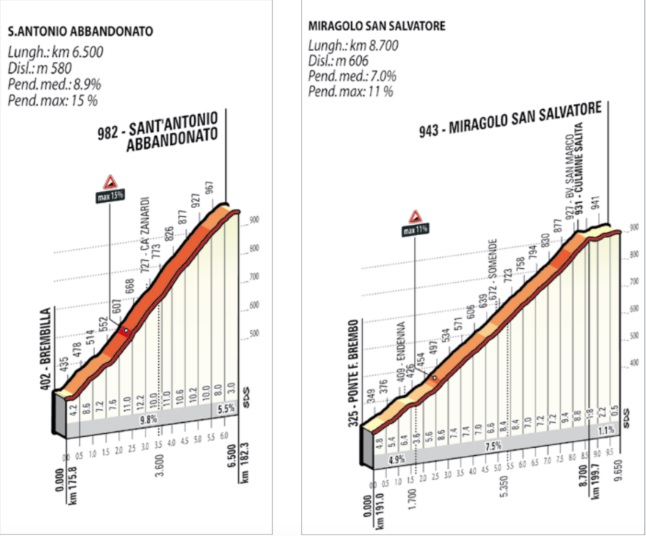 Then we have the two new climbs. Both aren't too long, but are tough. Sant'Antonio Abbandonato is 6.5km at 8.9%, but if you remove the easy finish, it's actually 5.5km at 9.8%.
A short descent drives the peloton into the next climb, Miragolo San Salvatore. It is 8.7km at 7%, another brut of a hill.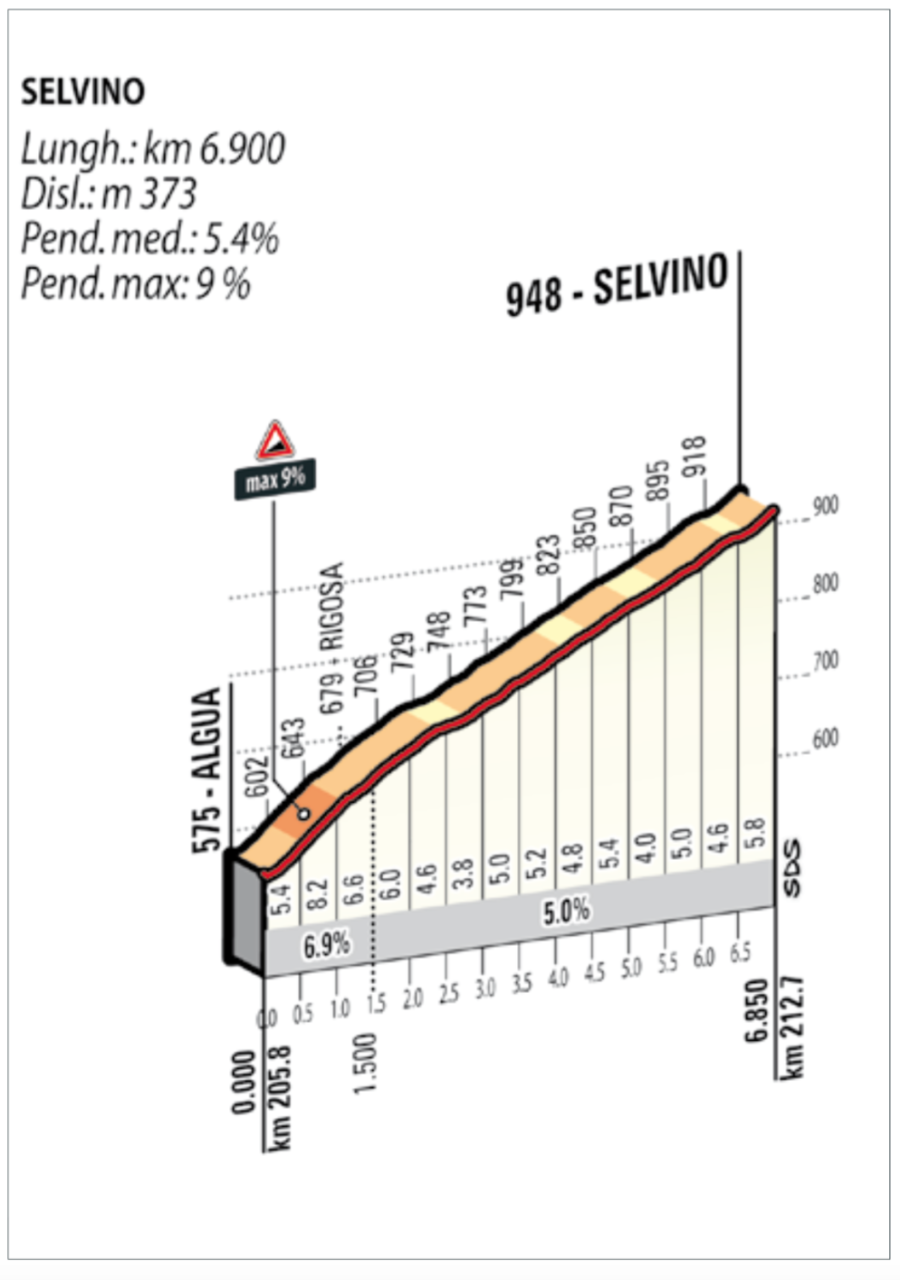 Another descent and then another climb. This one is actually the easiest of the race, just 6.9km at 5.4%. Coming near the end of such a long and demanding race, this will not be easy. A descent and a flat run into Bergamo follows, as we approach the final act in this beautiful drama.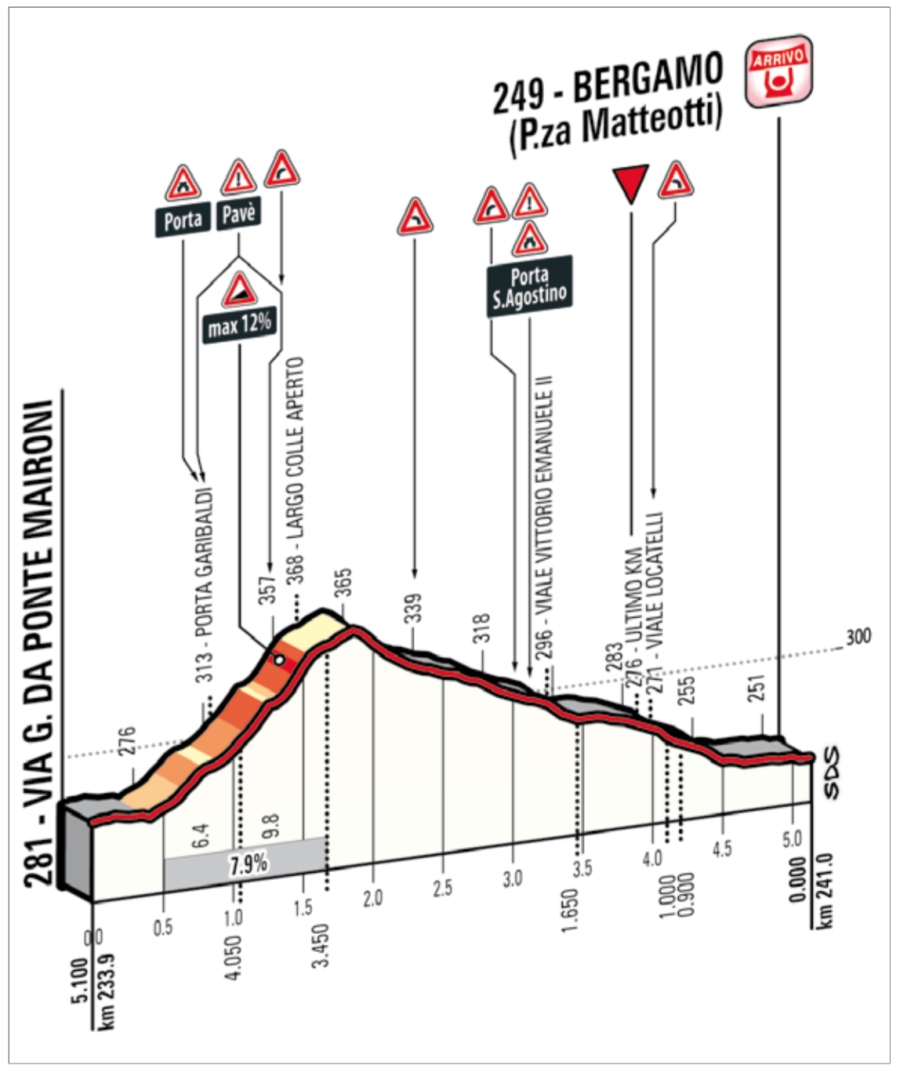 The race has a finish, the envy of most. The peloton go through the old castle entrance, before heading up the cobbles towards the castle itself. Such a terrific end to the race. We then plummet towards the finishing line. It has witnessed some brilliant victories, Dan Martin in 2014, was the last one, after a gap of many years.
The Finale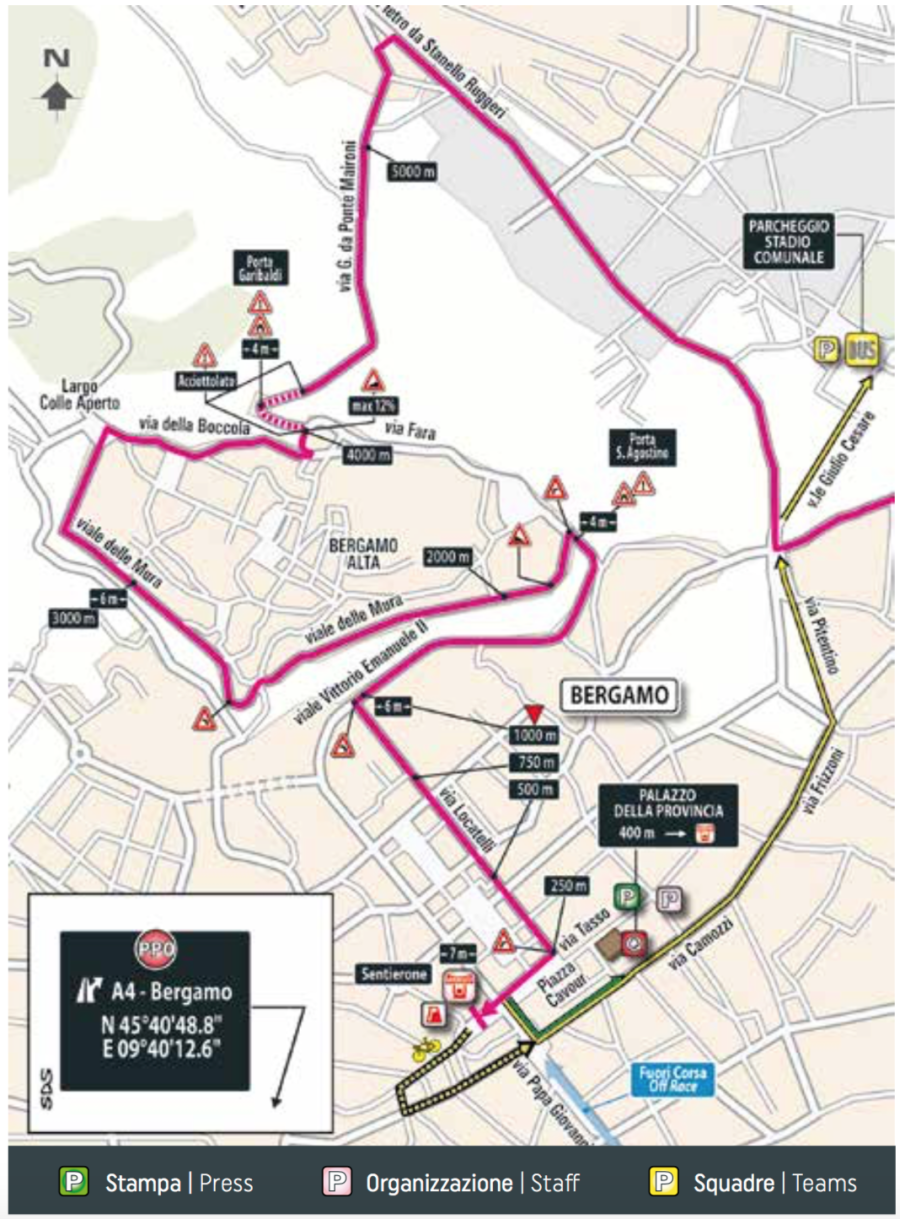 The final corner with 250m to go sets up a fierce battle between the climbers. Most are not used to sprinting!
Tactics
This is always the crucial aspect of every race, more so in this one. With the toughest climb coming relatively early, we will have to wait and see what happens. If it was a stage in a grand tour, the peloton would ride tempo up the climb. As it's a one day race, don't expect this to happen. The most likely scenario is that Astana go crazy on the climb. They will want to set a fierce pace and put as many riders into difficulty, especially the puncheurs.
If they want it, other teams will also want to help. Teams that have real climbers will want to eliminate riders like Greg Van Avermaet. They will also want to expose anyone who is having a bad day. This climb is the defining point of the race.
What follows makes it very difficult for riders to rejoin the bunch. We have a 20km descent followed by the climb to Berbenno, 6.5km at 5%. This climb marks the second section of the race. We have four challenging climbs in just 50km. Each climb will be used to further reduce the bunch and eliminate helpers.
Depending on the size of the bunch, we could see a move with favourites go away on one of the new climbs. There is no guarantee of a group of 20 arriving together in Bergamo. It is one of those races where it's impossible to predict where the winning move will happen.
Having teammates during this section is vital. Some teams arrive with weakened squads, it's near the end of the season and riders are tired. However, some teams are packed with quality. It's clear that Astana, Movistar, AG2R and Sky have real strength in depth. A move will not go clear without representation from these teams, as they have the riders to chase it down. The riders with less support will be left with a difficult tactical decision to make. Do they try and go with a late move, or wait till Bergamo? It helps to have experience and a good tactical brain.
If we are all together coming into Bergamo, we will have a fierce uphill sprint, towards the castle. The fans will be packed onto the streets and it makes the climb spine tingling. Having a good uphill kick is required to get away, but the descent to the line is also a place where moves can be made.
The other thing to mention is the descents off the new climbs. They are very technical and could surprise a few riders. The attacks won't just happen on the climbs.
See what I mean? It is impossible to predict where the winning move will come from!
Contenders
Fabio Aru – good recent form and has a fully motivated team to help him. Tiralongo will be used to blow the peloton to pieces and Aru will hope that Lopez and Rosa will be with him until the very end. Last time in Bergamo, he was the man who headed the peloton up the cobbles. He has the kick required and is looking better than he has for most of the season. Going against Aru is his record in one day races, he is yet to win one.
Romain Bardet – he's had a sensational season, finishing 2nd in the Tour. He arrives with one the strongest teams, it's not often that happens for AG2R. He will hope to have Pozzovivo, Bakelants and Latour until late in the race. He's a very attacking rider, so I don't expect him to wait until Bergamo.
Rigoberto Uran – terrific end of season form. The Colombian is a very good one day racer, he seems to excel in these types of races. He also seems to save his best performances for Italy, just as well really. Cannondale seem to have hit a purple patch just now and would hope to support Uran far into this race. Has a fast sprint for a climber.
Gianluca Brambilla – what a season for the Italian, with stage wins in the Giro and Vuelta and a spell in the pink jersey. Now 29 years old, he seems to understand his body and can target particular stages and races. Etixx have three riders capable of winning this race, I'm really not sure how they are going to manage them.
Julian Alaphilippe – rider number 2 from Etixx. His season has been a story of what could have been. He's been close to big wins on a number of occasions, but they have just passed him by. Of the Etixx captains, he seems the weakest. At 24, he's still a bit on the young side to win a monument. Despite his terrific reputation, this is a rider who has only 4 pro wins to his name, 3 of them have been in California. Alaphilippe is yet to win a World Tour race and I doubt he'll start with a monument.
Dan Martin – won here in 2014, a huge win in his career. His season has been good, finally finishing in the top 10 of the Tour. He wasn't at his usual level in San Sebastian, but impressed in Rio. He used the Tour of Britain to try and get some shape for this race, his last focus of the season. Given his record, he should really be the main man for Etixx and I think they'll keep him for Bergamo. He has the explosive kick required to drop riders on the final climb.
Sebastian Reichenbach – the Swiss rider has had a good first season with FDJ. He took over from Pinot at the Tour, finishing 14th on GC. Since then he has delivered a consistent level of performance, as he looks to finish the season with a bang. The route is good news for him, but he won't like it if moves go on the descents. Hopefully he'll hang tough and finish in the top 10.
Tony Gallopin – should be a good race for the Frenchman. He is in the middle of a good run of form, winning GP Wallonie and performing well in the Tour of Britain and Euro RR. He will hope that the pace on the climbs isn't too fast, as he is not as good a climber as some here. If he makes it to Bergamo, in the front group, he'll have a massive chance of taking the win. Gallopin is a very fast finisher, after a tough day in the saddle. Interestingly, he was won a world tour race in each of the last three years. He is still to take one in 2016, can it be here?
Alejandro Valverde – has been a little sick recently and missed Milano-Torino. On paper, he is the overwhelming favourite for the race. He is a magnificent one day racer and can easily handle the distance involved. However, when Valverde is left in the front group, it makes all the other riders very nervous. He usually finds himself under constant attack and his chance disappears. He hasn't raced since the Vuelta, so we won't know his form until midway through the race.
Dani Moreno – starts the race as understudy to Valverde, but that could quickly change. He was magnificent here, one year ago, and has some good recent form. Although we didn't see him much in the Vuelta, he still finished 8th. After a little break he returned with bronze in the Euro RR and was 4th in Milano-Torino. The distance is also a factor in his favour, as is experience. If allowed freedom, he could do very well in this race.
Esteban Chaves – after a tremendous Vuelta, the Colombian won Emilia. Another rider that performs well in Italy, he has a great chance of taking his first monument. At 26, he's just about old enough to be considered for races of this length, it is the only question mark I have about him. Saying that, he handled the length in 2015, riding an extremely good race to finish 8th. Certainly starts the race as one of the favourites.
Wout Poels – already has a monument win in 2016, why not go for two! He's just signed a three year contract with Sky, this would be some way to celebrate. He looks like the best option for Sky and can count upon the help of Kennaugh, Landa and Konig. Lacks a sprint, so has to arrive solo.
Rui Costa – the dark horse of the race. The former world champion has shown solid recent form, the only thing missing is a win. He arrives with Diego Ulissi, another rider that will fancy his chances of going deep into this race. They form an impressive double act for Lampre and both have a realistic chance of winning the race. Costa will handle the climbs and has an explosive finish. He could benefit from being given a little bit of freedom.
Prediction Time
Astana will blow the race to pieces, leaving only a handful of riders with a chance of winning. It's going to be a race for the climbers. Given his recent form, I expect to see Rigoberto Uran emerge as the winner of Il Lombardia.
David Hunter
Follow us on @CiclismoInter
Join us on facebook: Ciclismo Internacional
Copyright © 2012-2016 Ciclismo Internacional. All Rights Reserved