By David Hunter
Reith im Alpbachtal – Scena 178.7km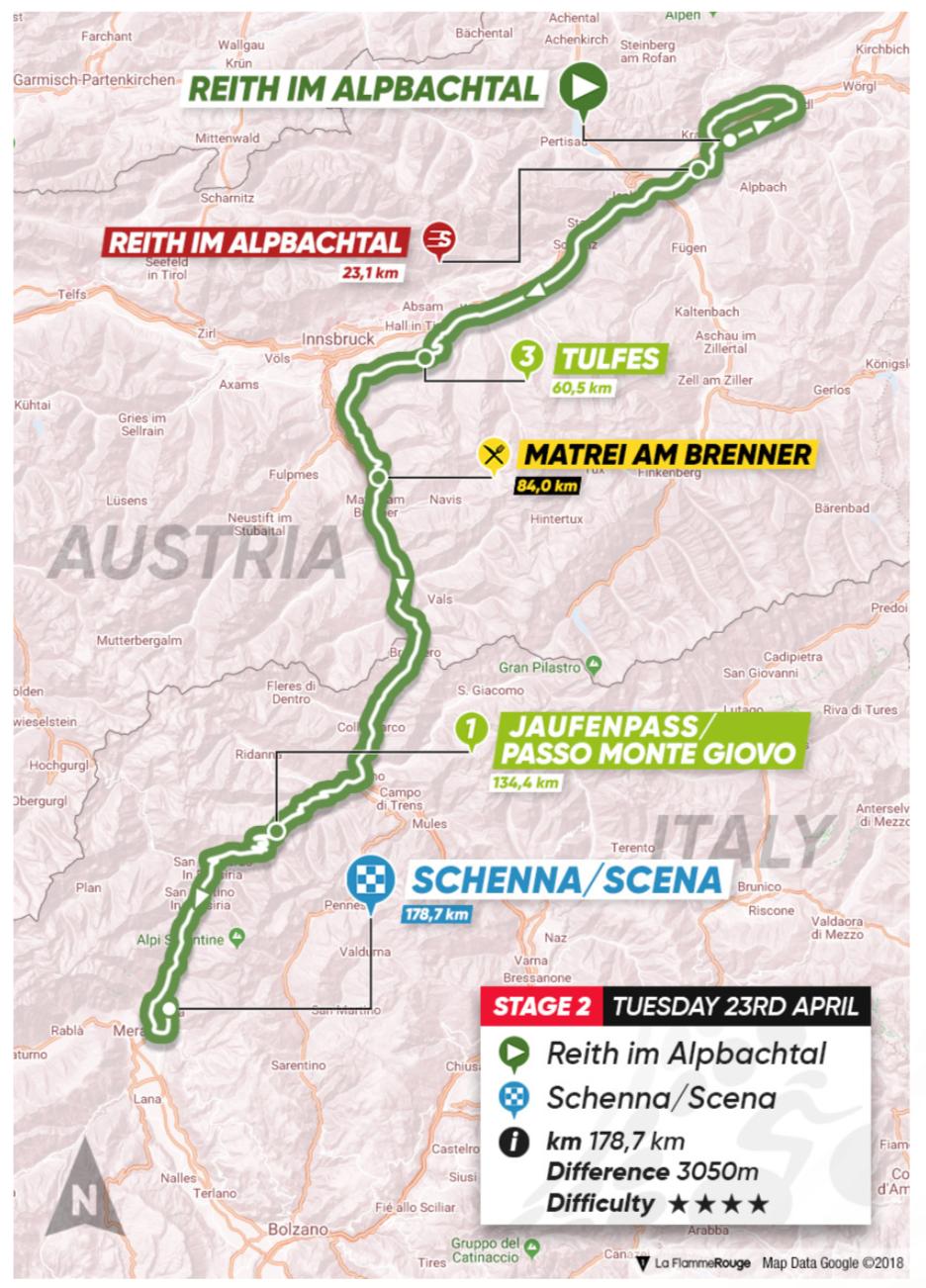 The toughest stage in the race.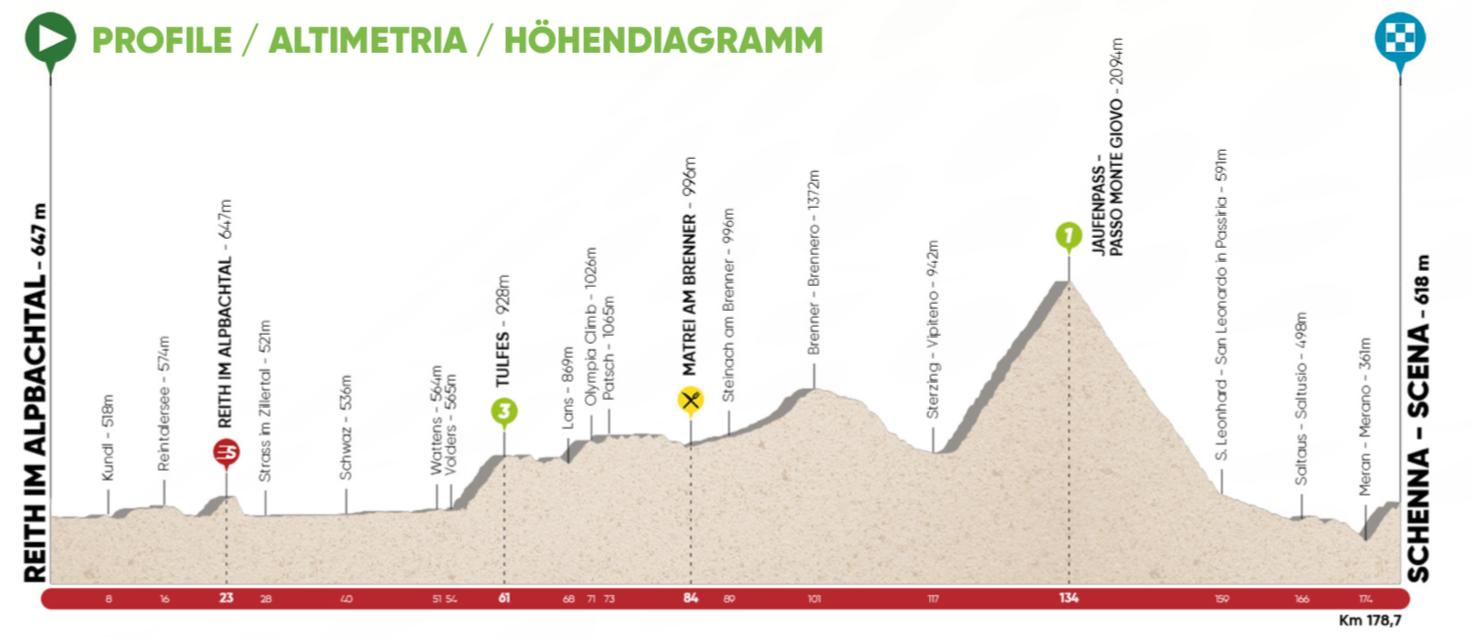 A day that is dominated by a monster of a climb.
 Passo Monte Giovo is 15.1km at 7.2%. As you can see from the profile, it is a consistent effort, one where the riders can settle into a nice rhythm, but it is very difficult. From the crest there is still over 40km remaining, meaning riders who get dropped will hope to re-join the front group. The descent does have some technical sections, but it opens up into a long straight road, before kicking up for the final 5km.
 It might only be 4.5km at 5.7%, but it's actually much harder than it sounds. With lots of steep sections, it will be a selective finish and one where we'll some gaps between the top GC riders.
Weather
It could well be a little bit wintery up in the mountains, with a little snow a real possibility. The wet conditions should make life interesting for the GC riders.
Contenders
Vincenzo Nibali – looked nice and strong today, he'll be looking to test his legs again in this finish. Bahrain don't have the strongest squad, but Nibali should be able to count on Pernsteiner deep into the stage. Nibali's coach has been saying that his recent test results were the best they've ever been; if that's true, the other riders are in trouble! The issue is that after a tough period at altitude, it is hard to predict how the legs will react. Like most of the GC riders at this race, Nibali is here to prepare for the Giro, but it would be nice to take a win and boost the confidence. The finish doesn't look like a typical Nibali climb, but the quality of opponent isn't the highest.
Rafał Majka – responded well to Nibali's attack today. Everything I've said about Nibali is the same for Majka. He recently completed a three wee altitude block and rides here without any pressure to perform; blah, blah, blah. Bike riders want to win races, the Pole will look at this stage and see it as a big chance for him to win.
Tao Geoghegan Hart – took a brilliant win today, his first as a professional cyclist. He and Sivakov were the riders who reacted to Nibali's attack and the young Brit looked to be following well. Going into this stage, we'll have to see what role Chris Froome fills, but I just don't think he has the form to be team leader. Sky have a strong team, but only started the race with six men and one of those is Leonardo Basso, who'll be used early in the stage. That will leave Puccio and Elissonde, before Sky have to decide on hierarchy. After his win today, Tao should be their main card in this stage.
Pello Bilbao – made a mess of it today. That stage was his for the taking, but he got stuck on a dying wheel and the chance was gone. Starting the final climb, he was quite far back in the bunch, even though his team were on the front. This meant he wasn't in a position to respond to the Nibali attack, but he was confident in his teammates to close it down. I wonder if his poor position was just a mistake or a sign of poor form. This stage will tell us everything we need to know. Astana are the strongest team in the race, but other teams have stronger options in the finale, I just wonder how they'll approach the stage. If I were them, I would attack on the cat 1 climb and try to force the other teams into chasing. There is no point in simply towing Nibali and co to the line.
Aleksandr Vlasov – if the big names start to mark each other, the Russian could benefit from riders refusing to chase him. He has the climbing ability required to challenge for the win, but only if it gets tactical.
Prediction Time
The finish looks perfect for Rafał Majka, and I was impressed by him today. The Pole to take his first win in over a year.
Remember I've now got a podcast too. Go and give it a listen
David Hunter
Follow us on @CiclismoInter
Join us on facebook: Ciclismo Internacional
Copyright © 2012-2019 Ciclismo Internacional. All Rights Reserved