2019 Aussie Road Race Preview
By David Hunter
Ballarat – Ballarat 185.6km
Have you missed me? It seems like a very long time has passed since my Il Lombardia preview, I trust you're ready for another brilliant year of cycling?
Route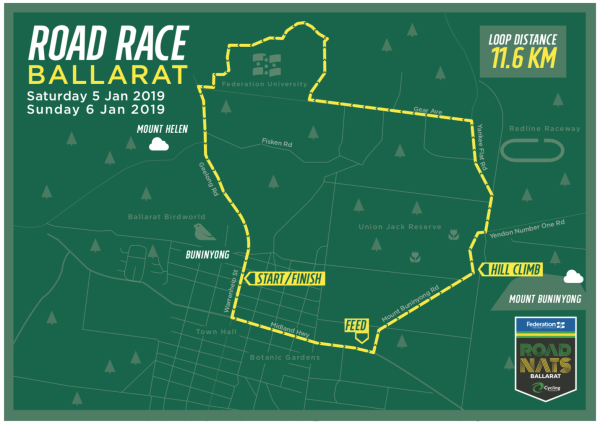 The organisers have decided to stick with last year's route, which was slightly altered compared to previous editions. The change was on the descent after the Mount Buninyong climb, taking the riders through the University area. The downhill was very fast, and Luke Durbridge crashed heavily when trying to chase down the leaders.

The lap circuit features the well-known climb of Mount Buninyong, which is around 3km at 5%. The climbing starts straight after the riders go through the feed zone. This section of the climb is rather easy and difficult to make a difference, the steepest section is when the riders turn left and head towards the KOM point. With gradients hitting 8%, this is where the big hitters can put the hurt on.
Once over the top, dropped riders have lots of time to regain contact with the front group, one of the reasons why this route isn't as selective as you might think. It is a lap which encourages the climbers, but in reality, it just isn't hard enough for them. This is a day for the rouleurs.
Weather
It will be a sunny day for the riders, but temperatures will not get too high, the maximum should be 24 degrees. The wind will interest some, as it's coming from the South. This means it'll be a tailwind for the hardest section of the climb, which is brilliant news for the climbers and bad news for the sprinters.
Team Tactics
Mitchelton-Scott have had a large say in the outcome of this race ever since their creation. As the only World Tour team in Australia, they are expected to dominate the other teams, due to their talent and extra numbers, but they don't always win. This year they don't have a Caleb Ewan or Simon Gerrans, which will change their approach to the race. Arriving with 10 riders, they are the biggest squad in the race but lack an out and out leader, which could be a blessing in disguise.
Looking at the riders at their disposal, I think this could be the year for the break to win. The defending champion is Alex Edmondson and he does pack a fast sprint, but he's not quick enough to beat Haas, Ewan and McCarthy, which means this shouldn't be the team tactic. It would be much wiser for Mitchelton to try and pack a number of riders into the morning move and see if anyone can chase it down.
The merger of the Bennelong and BridgeLane squads means that despite being the second biggest team in the race, they lack some of the power that they previously had, particularly back in their Avanti days. As they no longer have a huge amount of depth, it's another reason why the break seems a good option. I just can't see this squad chasing the break down and their mission will be to make the morning move.
EF Education First have three riders, but if they manage to persuade the Drapac Cannondale squad to help them, they actually have nine riders, making them a force to be reckoned with. The problem is that their three big riders aren't a huge threat to the other teams.
Sunweb only have three riders, but a lot of talent. They'll obviously have to play a perfect tactical game, if they want to win the race.
Two of the big pre-race favourites are Nathan Haas and Jay McCarthy, both of whom are solo riders. It doesn't make it impossible to win, just very difficult! Both riders pack a fast sprint, so they won't expect any help in chasing moves down.
In conclusion, this is a day for the breakaway to succeed. Mitchelton are bound to try and get multiple riders up the road, then they'll assess the situation. If a big hitter like Haas or McCarthy is also there, they'll look to attack again and use their numbers to guarantee success.
The elephant in the room is Caleb Ewan. He only has one teammate to help, which isn't enough. He's the fastest sprinter by a mile, but that just means no one will want to bring it back for a sprint. This could see the little guy ride an aggressive race.
Contenders
Luke Durbridge – he'll still be hurting from missing out last year, thanks to his crash which happened as he looked to be bridging across to the lead pair. He won this race back in 2013, he'll be keen to try and take it again. Turbo Durbo is one of those riders that always seems to start the season in fine form, mainly due to him wanting to peak for the Spring Classics. He should be one of the protected riders for the team, but he does need to try and drop guys like Haas and McCarthy. With a huge engine, he won't be scared of going for a solo attack in the closing kilometres.
Cameron Meyer – a rider who can always been relied upon around this circuit. One of the great mysteries in cycling is how he's never actually won here! Like Durbride, I think he'll be a protected rider and will be able to ride for personal glory. He was very impressive here last year but had to ride for Caleb Ewan. Meyer does have a fast sprint, but not as quick as Haas and co.
Chris Hamilton – the former under 23 champions was 6thhere in 2018, a solid result. He's now beginning his 3rdyear as a professional cyclist and this is when we'll start to see some big results from him. He'll have a couple of teammates to help him, but he'll need good legs as well as a large slice of luck to challenge for the win. Like many, he has to decide whether to go for the morning break.
Caleb Ewan – was never in trouble last year, something that must be a huge concern for his rivals. Ewan will easily win any type of sprint, it's up to the other riders to stop this from happening. This will be a huge problem for the sprinter, as he only has Adam Hansen to help him throughout the day. Of all the riders, I think Caleb is in the most difficult position. Sometimes it just sucks being the fastest finisher!
Chris Harper – can't help but thinking that 2018 was his chance to win. He got away with Edmondson but couldn't beat him and was just pipped on the line by Jay McCarthy. Harper is a decent climber, but not in the league of the world tour riders.
Jay McCarthy – what a rider! I'm not shy to say that I'm a huge fan of the Bora man. 2018 was a big year for him, taking his first wins in the World Tour in the Cadel Evans race and Itzulia. Now 26 years old, I expect to see him continue to progress in 2019. He's been working hard throughout the winter, in the hope to peak early in the season for the big Aussie races. Riding without teammates will make life very difficult for him and this could be a frustrating day for him.
Nathan Haas – 2018 was a tough year for Haas, with just 60 race days. Heatstroke stopped him from challenging in the TDU and injury/illness ruined his classics campaign, it certainly was a year to forget. His skill set is very similar to McCarthy, which makes life very interesting. Will we see them combine to chase down moves? It would make sense as both lack teammates.
Heinrich Haussler – word from the Aussie grapevine is that Haussler is flying! He looked good in the Bay Crits and he seems back to his best. Since winning the Aussie title in 2015, it's been a very frustrating period for him, it's great to see him fit and motivated. I think we'll see him very active in the race, looking to attack from distance.
Miles Scotson – winner in 2017, thanks to a perfectly timed attack. Now riding for FDJ, he's another that doesn't have teammates. Scotson has a big engine, but his climbing ability isn't as good as many of his rivals. To win, he needs to be in the break.
Ben O'Connor – the brilliant climber was one of the breakthrough riders in 2018. A proper climber, this course isn't perfect for him. He certainly won't be dropped, but the climb isn't long enough for him to put others into difficultly.
Prediction Time
Mitchelton-Scott have to hit the early break and then assess the situation. Given that many of their big rivals don't have teammates, this should be a relatively easy race for them to control. When the dust settles, I think Luke Durbridge will win his second title.
You can subscribe to my podcast here
David Hunter
Follow us on @CiclismoInter
Join us on facebook: Ciclismo Internacional
Copyright © 2012-2018 Ciclismo Internacional. All Rights Reserved