2022 Eschborn-Frankfurt – Preview
By @EchelonsHub
With the Giro d'Italia on the door, there is time for one more classic as the peloton head to Germany for a day where the sprinters usually have their way and grab important results.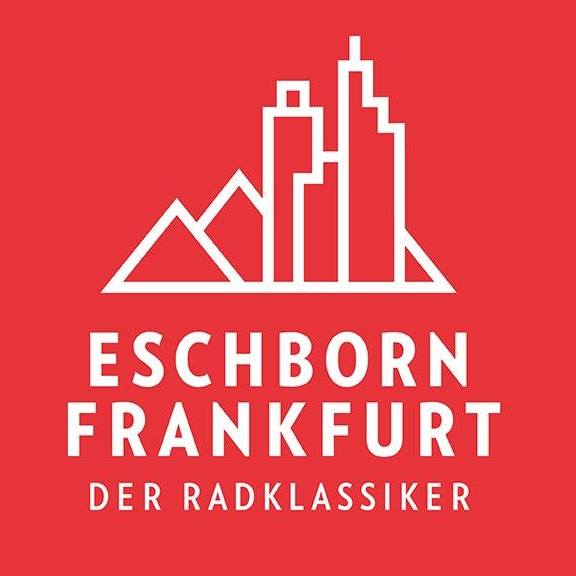 The Route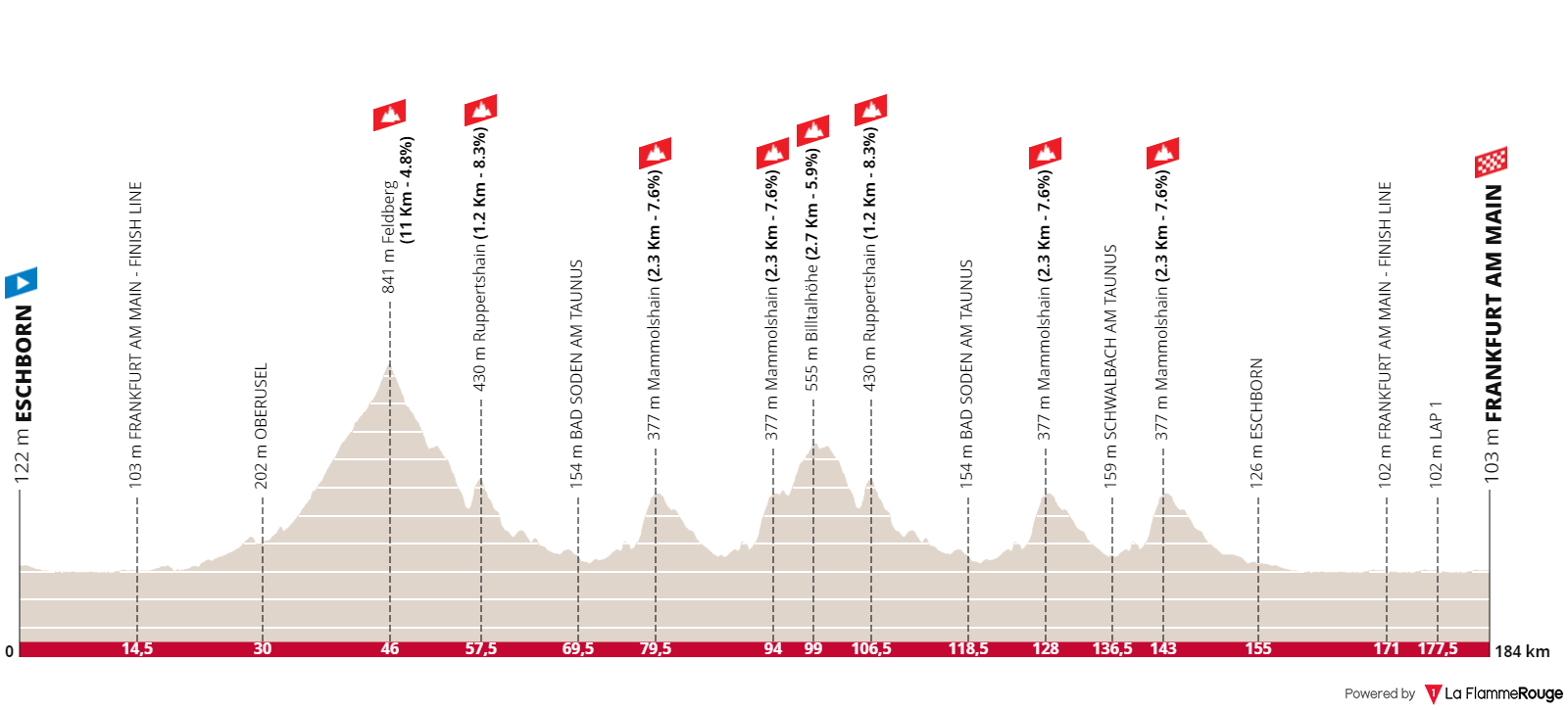 184 kilometers on the menu and 2600 meters of climbing. It is a race that features some climbing, however the sprinters usually have their way. The opening 30 kilometers are flat, and lead to an 11 kilometer climb at 4.8%, however this early in the race it doesn't usually play a role. 
There will then be a combination fo small climb, however they won't be easy. With 90, 85 and 78 kilometers to go there are the summit of some small hilltops which can be used to push the pace, also quite possibly to anticipate the two main final climbs where the attacks are likely to come.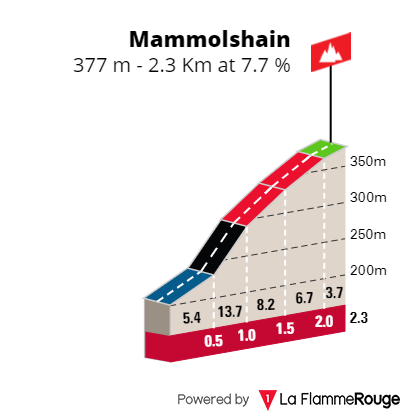 The Mammolshain will be climbed twice, with 56 and 41 kilometers to go to the finish respectively. It is a climb that can do damage, as in split the peloton and/or see attacks off the front which can be dangerous and affect the outcome later in the race. It is 2.3 kilometers long at 7.7% but it does features some 500 meters at almost 14%, a gruelling ramp which being in the base of the climb, can see big gaps form between those who will be comfortable and those who will struggle uphill.
From there on though there are still 41 kilometers to reorganize a chase and work towards a sprint. This is the regular scenario. Although the race can be somewhat selective, the dynamics usually tilt towards an organized chase between several teams who will not hesitate to work to bring in better chances for their leaders to fight for the win.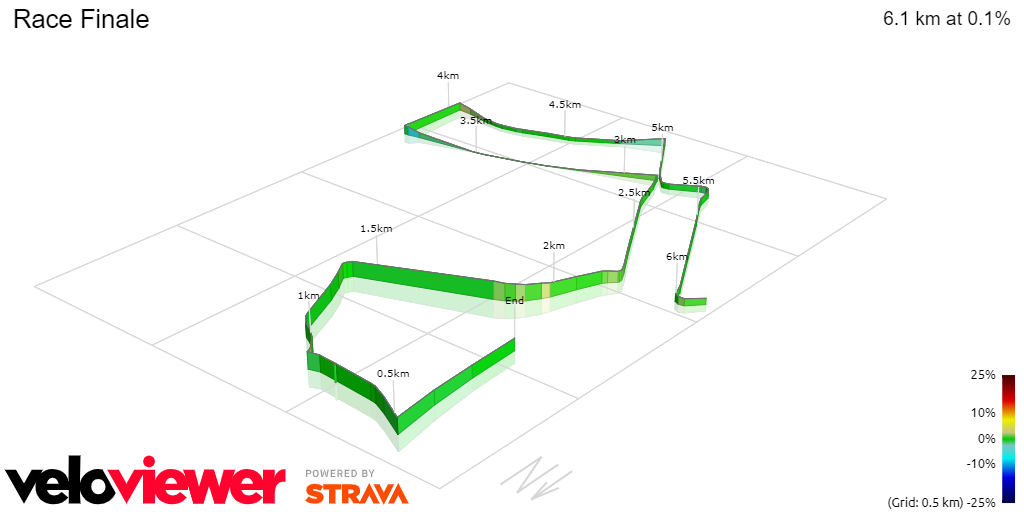 As for the finale, it looks quite technical but it isn't anything too hard. It won't be a full peloton, and the most important will be the timing. The final straight is 500 meters long, but the speed won't be too excessive, so gaining it won't be too hard.
The Weather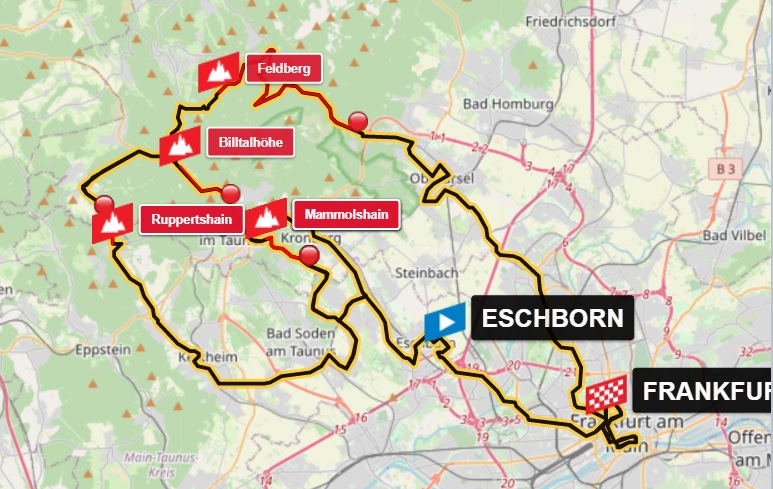 A slight northern breeze. I think it's impact won't be much, it will mean a relative headwind in the final ascents, but a tailwind off them towards Frankfurt so I don't think it will impact the chances if anyone decided to attack towards the end. In the city the wind won't be felt.  
Tactics 
This is always a race where there is a balance between the attackers and sprinter teams. It is, despite a very different nature, very similar to Gent-Wevelgem. There will be two points of attacking, and some sprinters will be dropped definitely, however others will resist, and most will have several teammates with them after the climb.  
Through alliances they usually manage to comfortably reel in everyone ahead, so despite there being the terrain, I think the climbs are just too far from the finish to do serious damage in the race.  
The Favourites 
Jasper Philipsen – The most consistent sprinter in the current peloton, and I reckon the best in this particular field. Philipsen has a team solely focused in him, and he won't necessarily need a leadout as he is a specialist in positioning.  
Alexander Kristoff & Biniam Girmay – Intermarché have a strong team with some classics rider, it's a race that suits them well. Kristoff is a four-time winner of this race – the most in the race's history, so no-one will know better than him how to win this race. With Biniam Girmay beside him, the questions will lie on whether one will be a selected leader, if they'll both have a free role or if Girmay will have a green card to try and cover moves on the climbs. Team work will be needed though to organize these two stars. 
Sam Bennett – He's been struggling badly with form, however Bennett is gradually coming up. BORA have a very strong team, with Danny van Poppel as a backup and Nils Politt whose racing close to home and will have a suiting route to his rouleur abilities.  
Arnaud de Lie – The young talent, but in no means an underdog. De Lie is a big gun, an incredibly talented sprinter, who has a well-rounded team with puncheurs and lead-out men to cover for all scenarios. With both new signings Carlos Barbero and Reinardt Janse van Rensburg, Lotto Soudal non-ironically have many cards to play in the end, and they need the UCI points badly.  
Giacomo Nizzolo – He hasn't been at his best level this year, however he does have the speed and Israel – Premier Tech come completely focused on the Italian to grab a strong result.  
There is then a list of sprinters that follow, some of which should be relatively comfortable with the classics-style of racing like Andrea Vendrame, Davide Cimolai and Hugo Hofstetter. The likes of Fernando Gaviria and Juan Sebastian Molano who will be leading UAE, and Phil Bauhaus who will be leading Bahrain are also major threats to the race win.  
With a strong result in a World Tour race and many UCI points available, it is evident that a wide array of sprinters follow. To name some of those who have the best chances of finishing towards the front you will find the following: Cees Bol and John Degenkolb for DSM, Marc Sarreau for AG2R, Mihkel Raim for Burgos, Niccolò Bonifazio and Lorrenzo Manzin for TotalEnergies, Simone Consonni for Cofidis and Dan McLay for Arkéa Samsic. 
Prediction Time 
⭐⭐⭐Philipsen, De Lie 
⭐⭐S.Bennett, Girmay, Kristoff 
⭐Nizzolo, Bauhaus, Vendrame, Bonifazio, Gaviria, Molano, Degenkolb, Cimolai, Hofstetter, van Poppel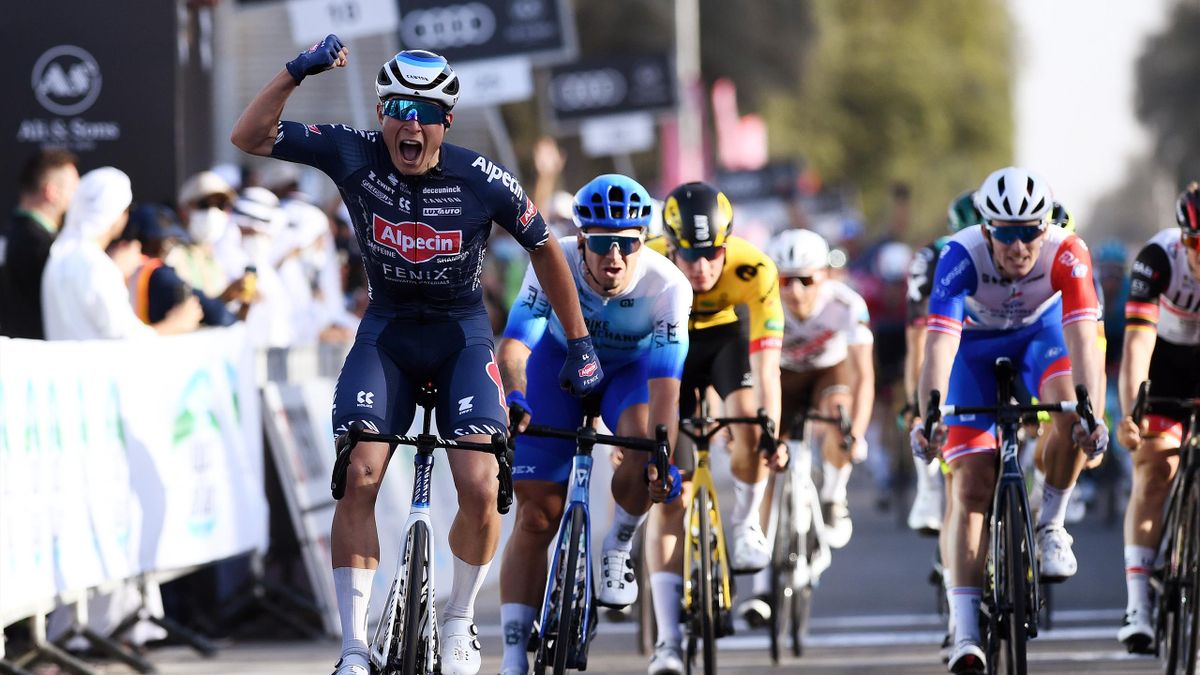 There are other contenders, but I think Jasper Philipsen is going to win this classic as he is a rider that never fails to position towards a sprint. And in terms of speed, he isn't unmatched but he should have the upper hand.  
Zweeler is a fantasy sports game that includes many sports and cycling is no exception. I ask that you check it out, if you register with the link below you will not only be joining an exciting game but will also be personally supporting me and my work, and allow me to make more content for you! 
Tomorrow's race has prizes of at least €250 and an entry fee of only €5. Make good use of your knowledge!  https://zweeler.com/game/cycling/FantasyEschbornFrankfurt2022/main.php?ref=790 
Rúben Silva
Follow us on Twitter and Instagram
Join us on facebook: Ciclismo Internacional
Copyright © 2012-2022 Ciclismo Internacional. All Rights Reserved