2022 Giro d'Italia – Stage 13 Preview
By @EchelonsHub
A day for the breakaway to succeed, and with no surprise a large amount of riders looked to go up the road early on. After over an hour of racing a group of over 20 riders went up the road with some big names involved, and from those 3 went clear in the penultimate climb, outsmarting the climbers and battling for the win themselves. Stefano Oldani won the final sprint, beating Lorenzo Rota and Gijs Leemreize for the biggest win of his career.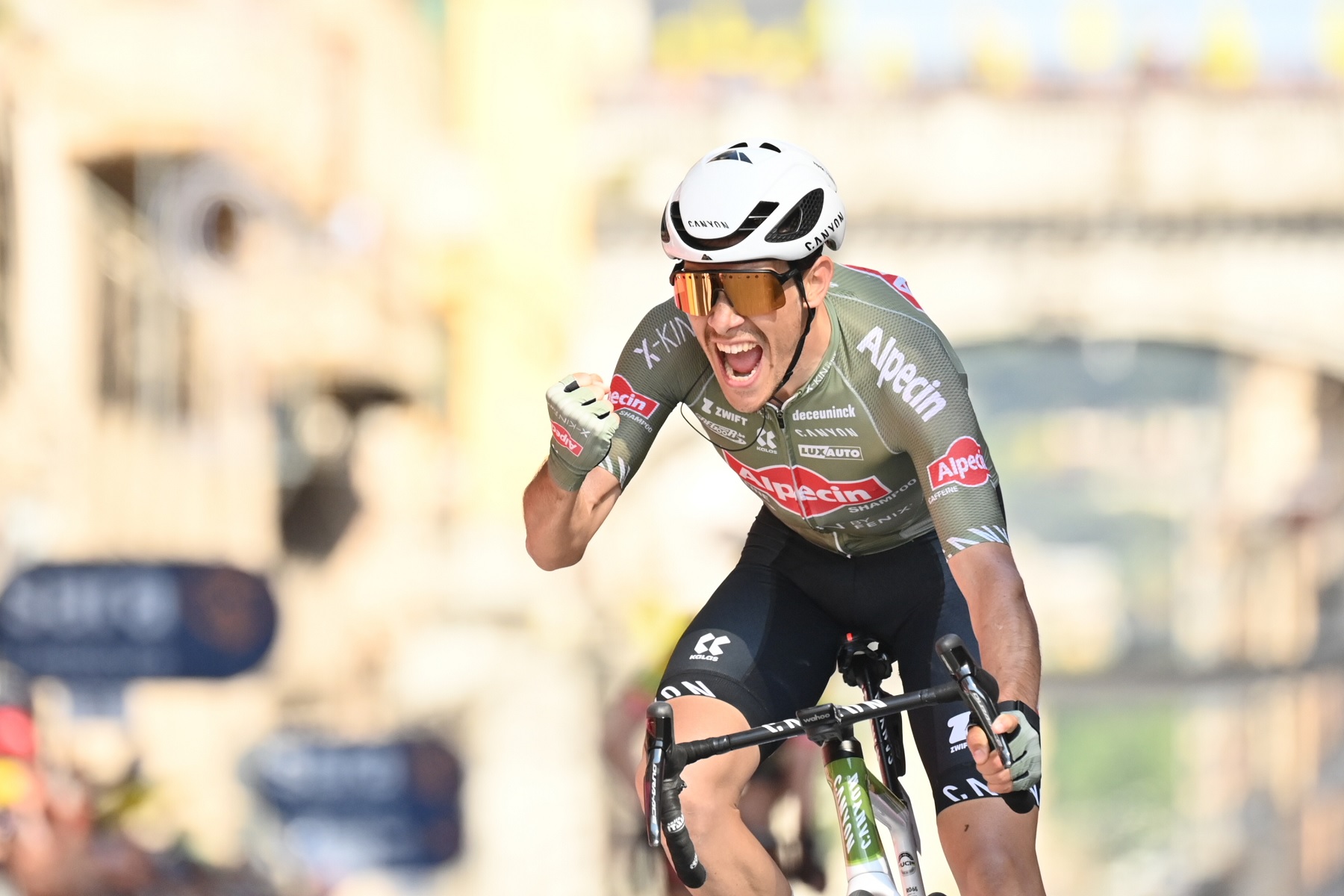 Positive: Oldani and Alpecin, having the right strategy and grabbing another high-level win. Wilco Kelderman put himself in the breakaway and took over 8 minutes on the peloton, slingshotting him back into GC contention. 
Negative: Nothing to note. 
The Route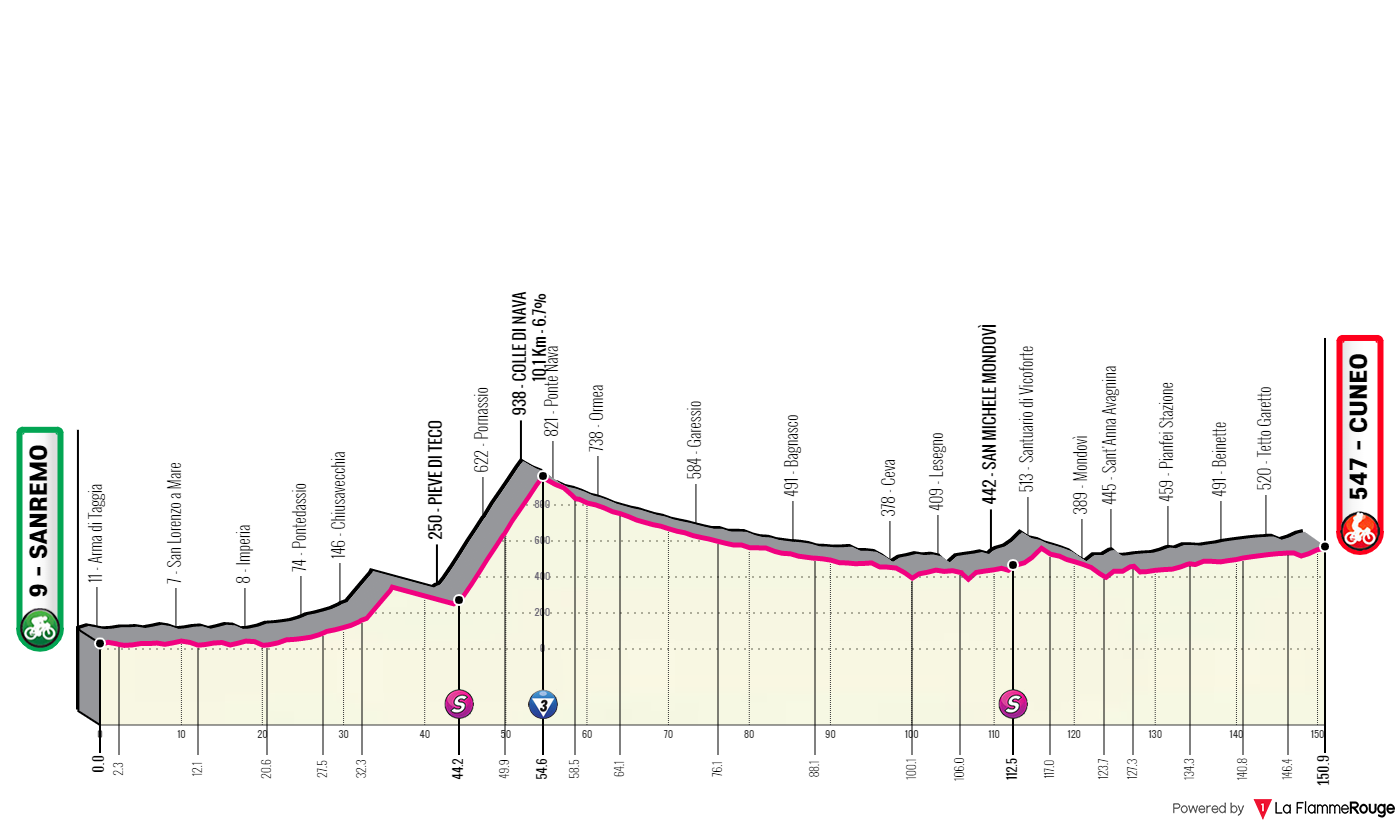 Stage 13 is a day for the sprinters, if nothing tricky happens, however it is indeed a day where surprises may happen. It's a short day with only 150 kilometers on the road, and the first half is far from easy. The riders will set off from Sanremo in the Ligurian coast, and afterwards travel north over the mountains.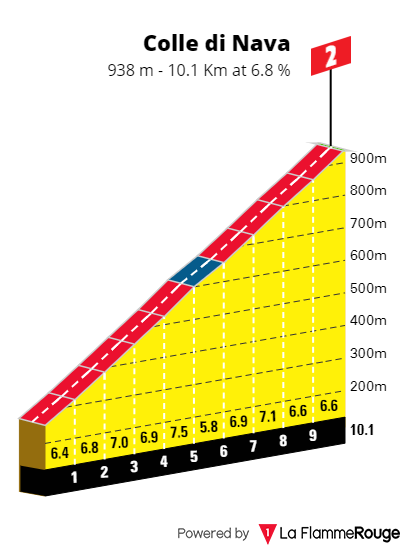 The big question mark of the day revolves around the Colle di Nava. It summits with 96 kilometers, 10.1 kilometers at 6.8%, a proper mountain to climb and one where if the pace is pushed, sprinters will suffer. A lot can happen, attacks for a breakaway, teams accelerating to split things up in order to have chances of fighting for the stage after the deorganization, teams with sprinters that can climb uniting and work together to drop and then keep some fast men far away… Or a calm ride up it, of course is also a possibility. 
The riders won't have the pleasure to descend off the climb which won't be pleasant to many, as then they'll undergo mostly pan-flat roads into Cuneo where the finale will take place. Likely a sprint will happen, with slight uphill gradients in the mix specially from the 2 to 1 kilometer to go banner. Nevertheless, nothing too complicated, nothing too technical aswell, a regular bunch sprint is expected.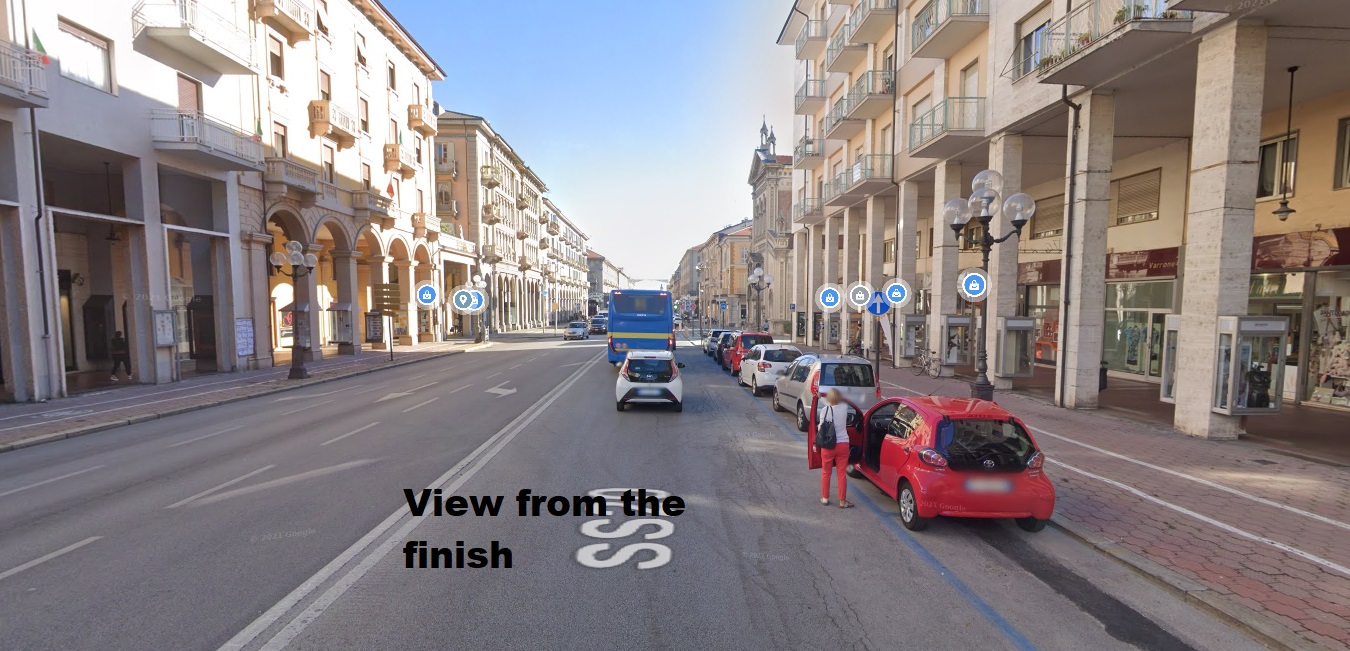 The Weather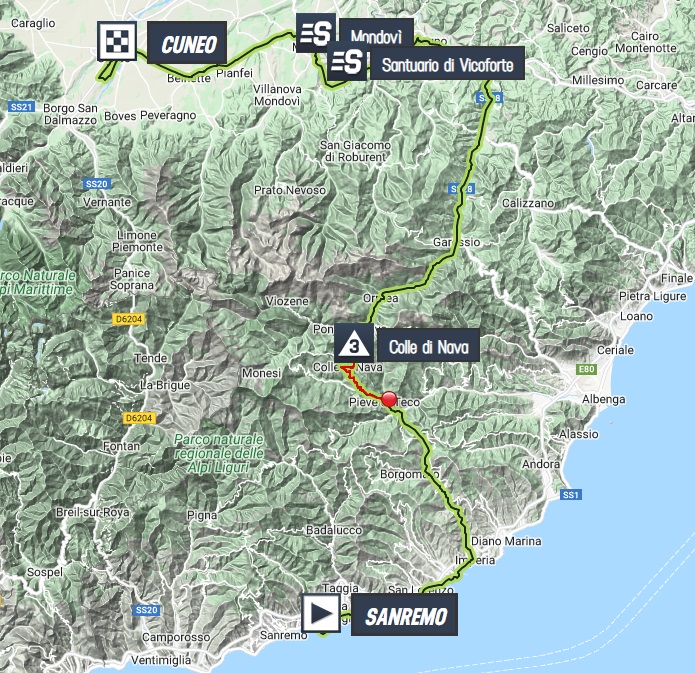 No meaningful wind, but there will be warm temperatures which have been clear to cause difficulties in some riders.
Breakaway chances: 10%
The hard ascent adds a little bit of spicyness to what would otherwise be a relatively dull stage. A breakaway to win is highly unlikely, however the profile does leave some space for surprises so I can't discount the possibility. 
The Favourites
Arnaud Démare – Not the best climber at the time being, but Groupama are united and even if he's slightly dropped he should be able to come back. 
Mark Cavendish – My honest opinion, he will be dropped in the climb and never again see the front of the race, and will not start tomorrow's stage. I can be wrong of course, but if any team thinks of pushing the pace a little in the ascent then Cavendish will be in serious trouble, even though Intermarche will no longer be here to push the pace. 
The likes of Fernando Gaviria, Alberto Dainese, Simone Consonni, Phil Bauhaus and Giacomo Nizzolo will also be important riders to take into consideration. However, none are good climbers, so there should be an agreement to not push the pace on the uphill. Edward Theuns, Cees Bol, Sacha Modolo and Lawrence Naesen should also be looking to do something if it's an easy day in the pack. 
Out of those which are more likely to see their teams work in the front, AG2R have Andrea Vendrame, Alpecin have Mathieu van der Poel, EF have Magnus Cort Nielsen and EOLO have Vincenzo Albanese. Not a world-class group, but in the right setting one of these teams at least can create serious damage in the sprinter field as it doesn't really take that much. Davide Ballerini is also a rider to consider if this happens, I assume Quick-Step's strategy will be flexible.
Very hard to predict who, but I wouldn't discount attacks on the climb even if just for the purpose of a stage win. If the breakaway is yet to set then it can completely explode the peloton. If not, the sprinter teams will be in control and they won't dare to push the pace, so some attacks can easily gain minutes up the climb.  
Inside The Bus
This morning I talk to…
#211 João Almeida – Stay attempt João, it's a tricky day. You never know in the climb whether someone will make a move or not, so stay near the front and keep your eyes open for any raid attempt. If not, then it should be a calm day, just follow the wheels of the guys and they'll take you to the finish. 
#83 Jefferson Alexander Cepeda – Again, as I've told you the other day, just save up. Not a day to be burning up energy, better stages will come ahead for your skills. 
#124 Barnabás Peák – No need to stress here Barnabás, let's save our legs at first although if the breakaway takes long to go, then I want you to try and be in a breakaway, who knows… But if a group goes early on in the day then stay with Domenico and protect him throughout the day. 
Prediction Time
⭐⭐⭐Démare, Gaviria
⭐⭐Consonni, Dainese, Nizzolo, Cort Nielsen
⭐Cavendish, Ballerini, van der Poel, Albanese, Vendrame, Bauhaus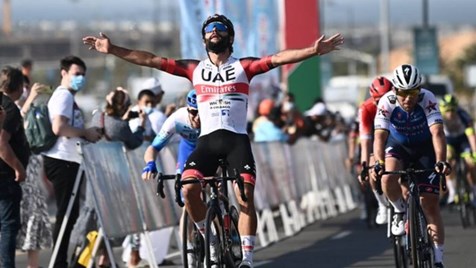 A win for Fernando Gaviria, to capitalize on all the consistency and drama he has faced since returning to the peloton last month after injury. 
Zweeler is a fantasy sports game that includes many sports and cycling is no exception. I ask that you check it out, if you register with the link below you will not only be joining an exciting game but will also be personally supporting me and my work, and allow me to make more content for you!
Tomorrow's race has prizes of at least €500 and an entry fee of only €5. Make good use of your knowledge!
https://zweeler.com/game/cycling/FantasyGirodItalia2022stage13/main.php?ref=790
Rúben Silva
Follow us on Twitter and Instagram
Join us on facebook: Ciclismo Internacional
Copyright © 2012-2022 Ciclismo Internacional. All Rights Reserved