2022 Giro d'Italia – Stage 15 Preview
By @EchelonsHub
Simon Yates won what was an epic stage to the Giro d'Italia. The profile delivered the spectacle it promised, as BORA – hansgrohe blew up the race early on with a raid that put several riders under pressure. The GC was blown to bits, with 9 riders standing out after the final ascent of the Superga, and everyone else in a different league. Yates attacked in the final hilltop, getting a gap over the group of Jai Hindley, Richard Carapaz and Vincenzo Nibali – who finished behind by that order.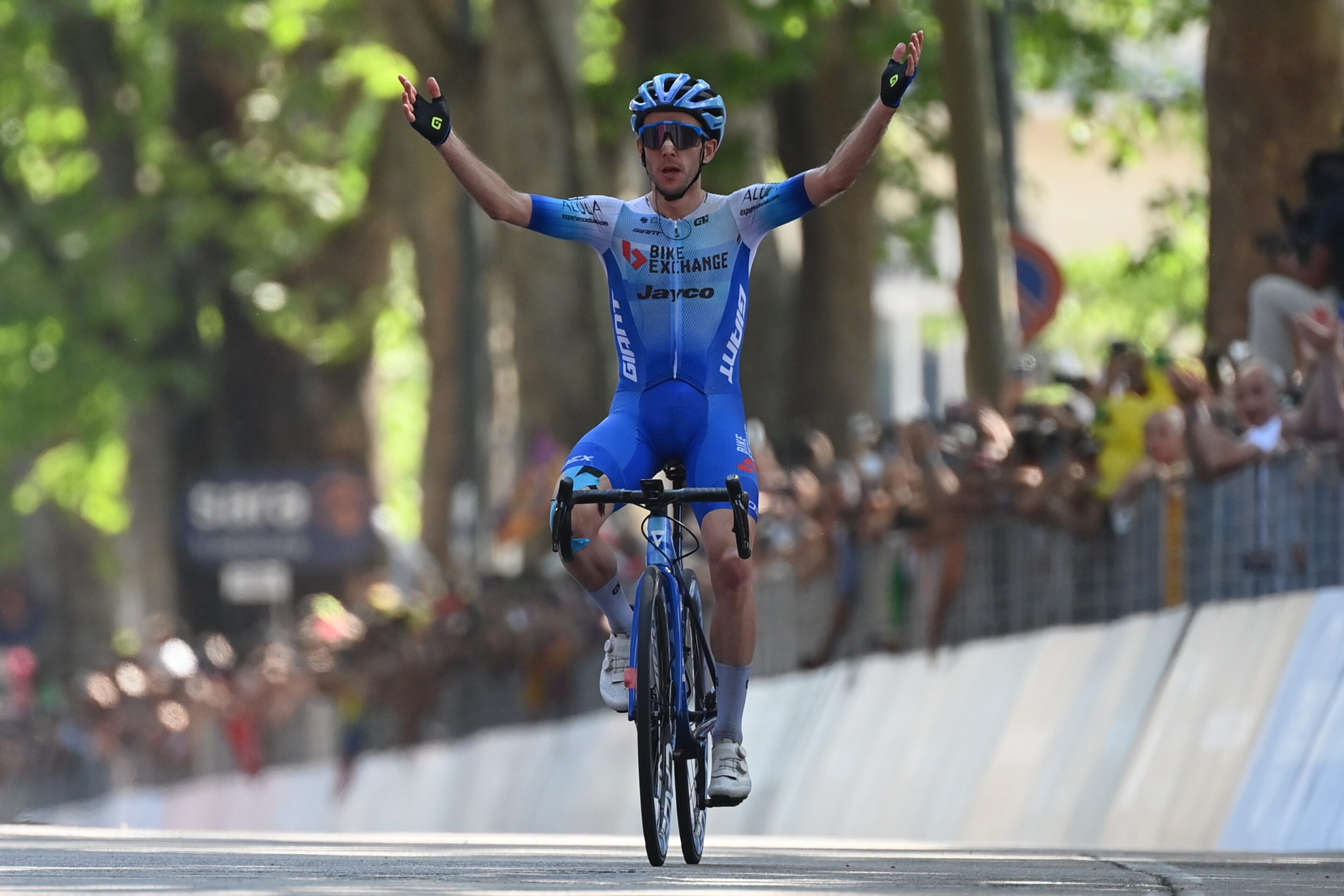 Positive: Yates winning a second stage, despite the heat. Carapaz taking over the race lead, Nibali putting on a storming performance and Almeida saving the day after being caught out in the early splits. 
Negative: López who rode tremendously but couldn't manage to keep the pink jersey. Guillaume Martin, Alejandro Valverde, Hugh Carthy and Thymen Arensman were riders hoping to climb on the GC but today's stage saw the opposite effect. 
The Route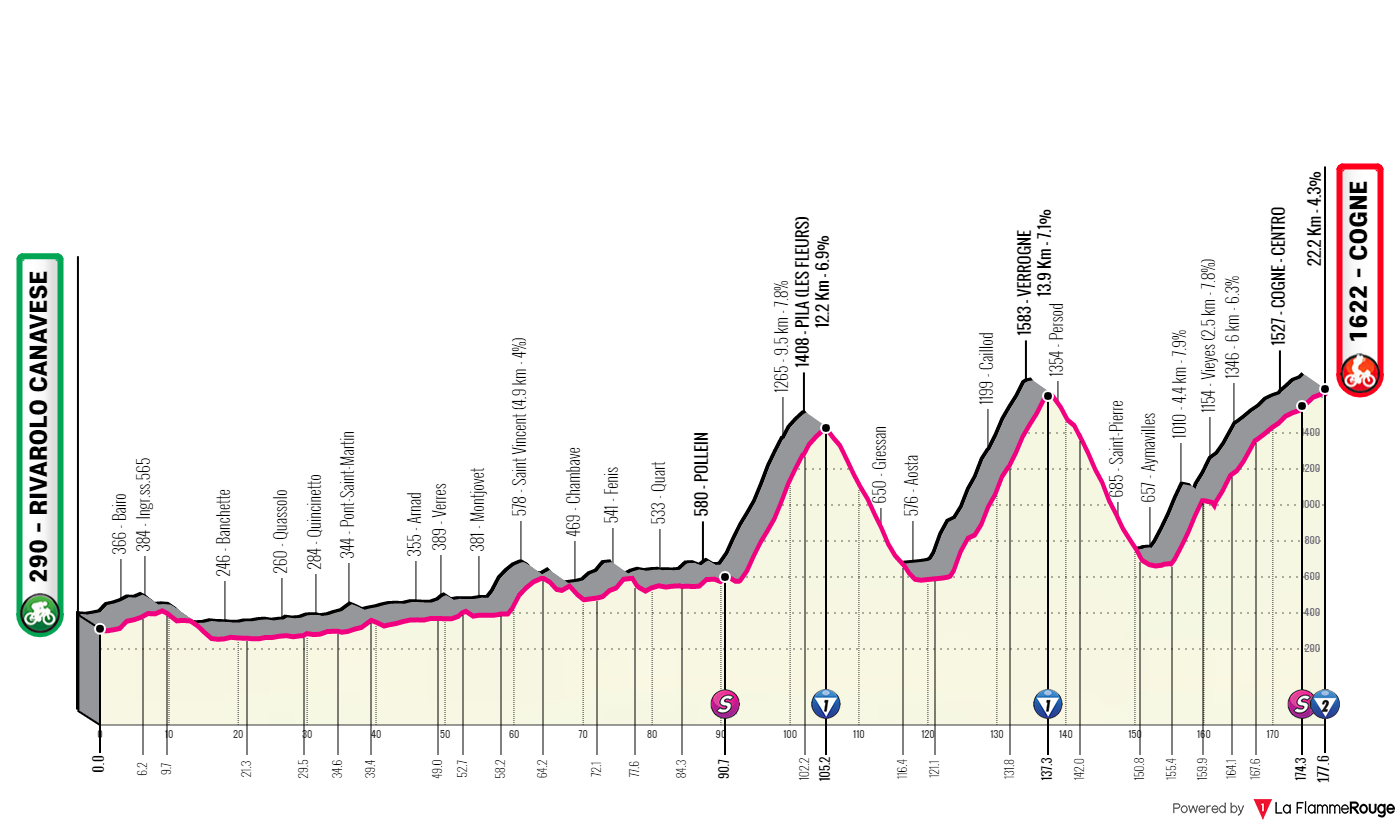 The race reaches the Alps, with a first mountain stage inside the Valle d'Aosta. A stage of two halves, where the first is mostly flat, whilst the second is a combination of three ascents which will make for another day where the GC battle is expected to open up.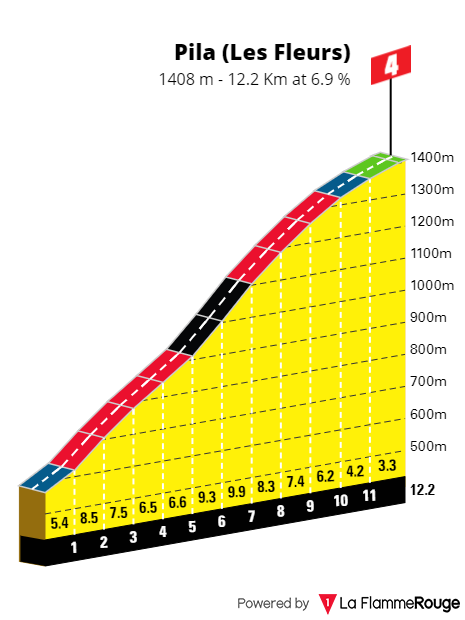 The first climb will see the riders go up to the village of Pila, it's 12.2 kilometers long at 6.9% and summits with 72 kilometers to go. It antecedes a technical descent which will lead straight into the second ascent.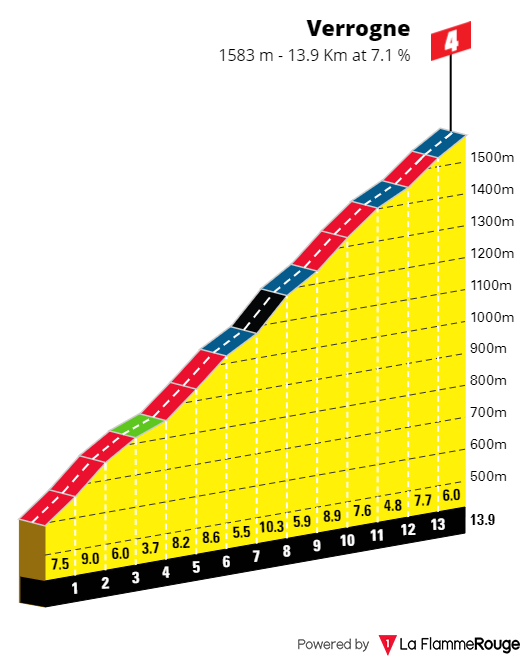 Verrogne is the most complicated ascent. 13.9 kilometers at 7.1%, not a particularly consistent ascent however there will be no place to truly rest. As every climb in Aosta, it comes with a very technical descent afterwards back into the valley and the riders will have to be very careful not to loose control. It summits with 40 kilometers to go.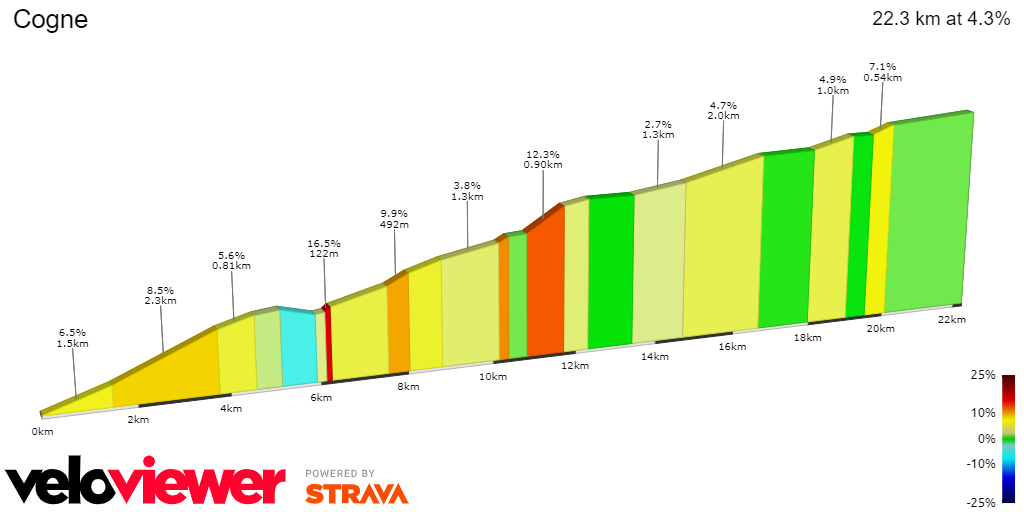 The final ascent into Cogne will be different than the previous two. Longer, but let's steep. It is also one with much less corners and switchbacks, so it favours the powerhouse climbers much more than the previous two. It'll make for a good combination, it is an inconsistent climb, that gets relatively easier towards the end. If meaningful attacks are to come they have to come early, and a lot of scenarios can take place in such a stage.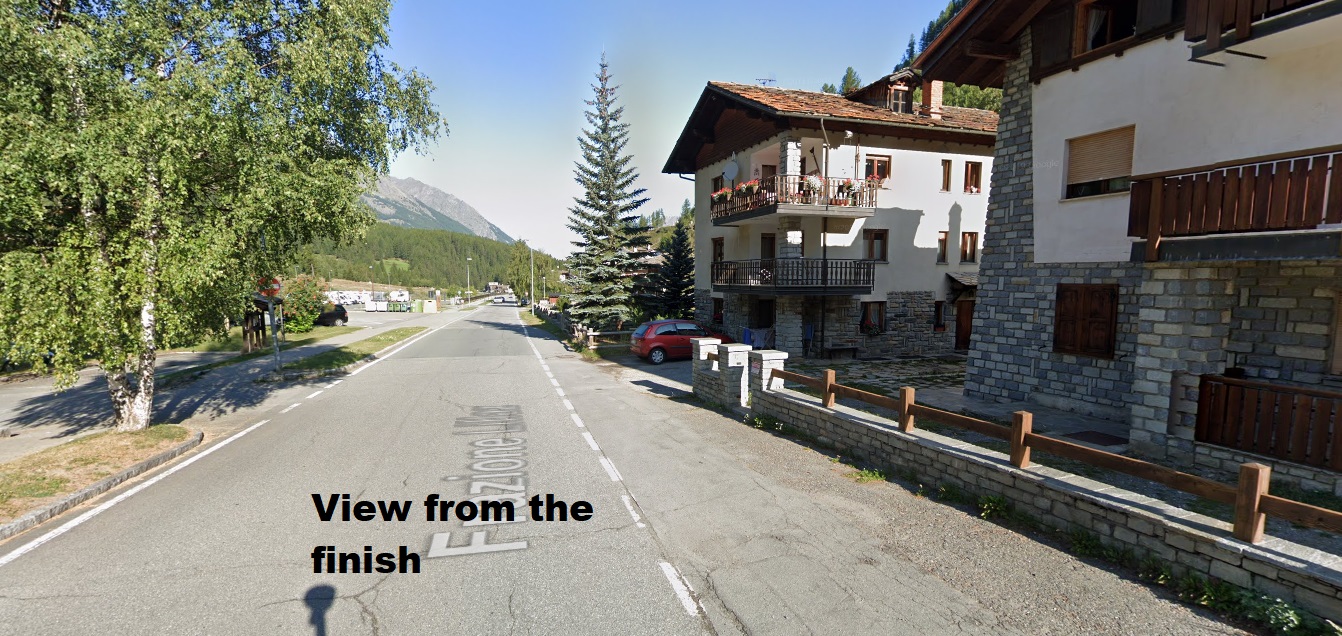 The Weather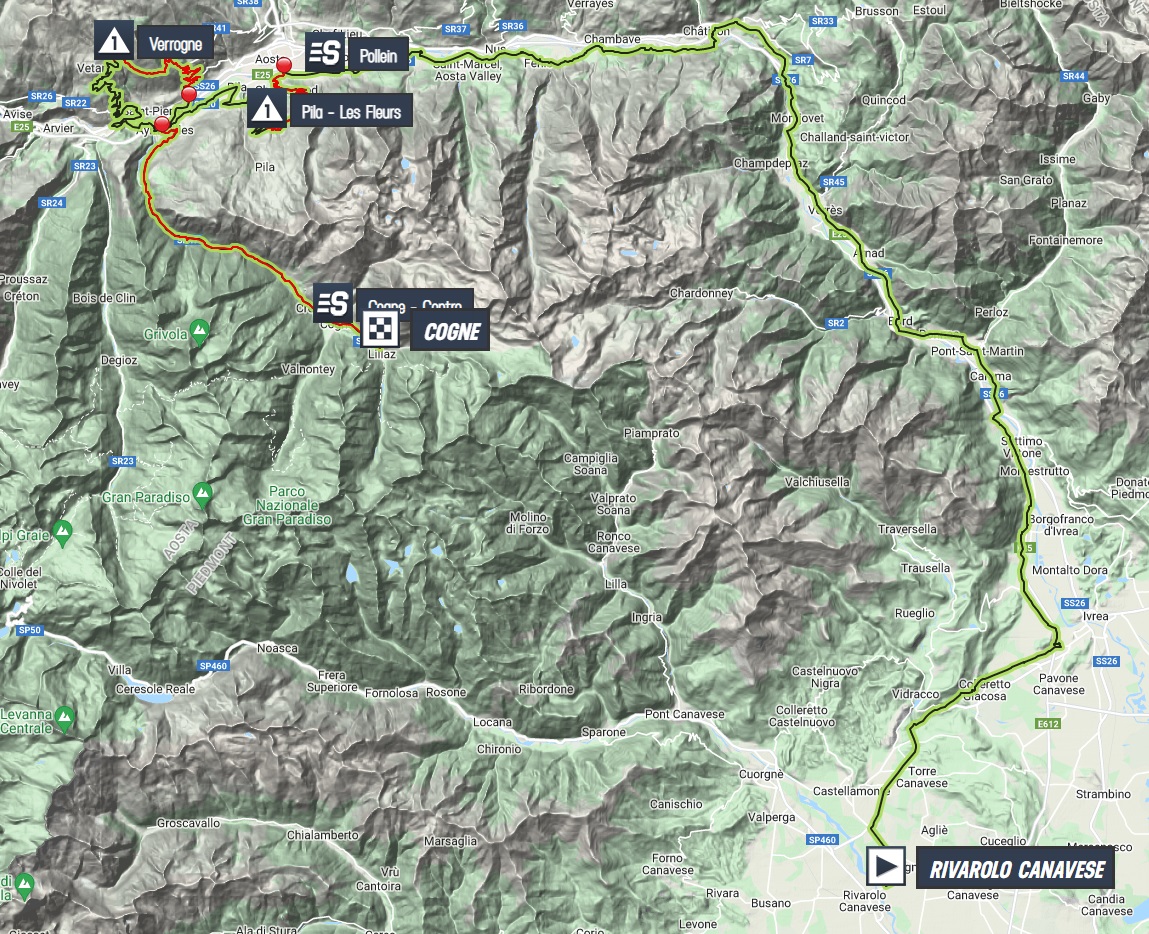 The heat will calm down, and possibly there may be rain showers and thunder throughout the afternoon. Uncertain weather, there may also be strong gusts from the northwest, which would make for a tailwind up the final ascent, but hidden in the two first ascents. 
Breakaway chances: 30%
The start is flat, and that's the main reason why it won't be easy for a breakaway to succeed. It won't be easy for a strong group of climbers to go up the road, however if one or two riders go it can be hard to bring them back, with the technical descents and the final climb where it is possible to see relatively conservative racing. 
The Favourites
Richard Carapaz – On the defensive now it won't be easy to take the stage win, but Carapaz has the form and the team to cover him in such a day, and the GC is to play. 
Jai Hindley & Emanuel Buchmann – BORA have played their cards today. They won't do the same as it'll be hard to surprise, but they may want to play with their depth again as Buchmann will enjoy the longer ascents more – as will Hindley naturally, however I expect him to thrive more in the final week. 
Mikel Landa & Pello Bilbao – They've both looked in a little bit of difficulty today, but it isn't on the explosive days where Landa is expected to thrive. Here won't be an ideal day for him, but I expect Landa to stay with the best. If Bilbao can too, he has the chance to sneak off the front towards the finale. 
João Almeida – The team won't be able to give much support, but it's INEOS' responsibility to work now. Almeida just has to follow wheels until the decisive moments, this will be a final climb that suits him very well, and he packs a strong sprint. 
Vincenzo Nibali – He's got a little more freedom than the likes of Hindley and Almeida, but he has also got the leg to battle for the win. Nibali is impressing me so much, I thought he was done, but since announcing his retirement the motivational boost seems immense. Nibali rode at his best level today, with these legs he's capable of taking a win. 
Simon Yates – He's got his win today, however there's nothing to prevent him from going towards another one tomorrow in case he has the legs. The freedom is there, and he can benefit from that situation. 
Domenico Pozzovivo – He is not explosive, so it will be hard to see him net a win, but he deserves a mention. Pozzovivo is carrying some incredible form, if he manages to slip off the front he will not be easy to bring back on such a finale. 
In case there is a breakaway taking the win in the day, there will be the BORA  riders who caused mayhem today, Lennard Kamna and Wilco Kelderman being obvious options however they may stay in the peloton to protect the team's GC ambitions. Everyone outside the Top9 should have freedom already to be in a break, however it's unlikely to see that happen on a day with such a flat start. Guillaume Martin and Lucas Hamilton are with no doubt riders who could try and take advantage of the situation though. 
But it's more logical to go with the riders who have been focusing on that since earlier in the race. Trek now have the freedom, Giulio Ciccone and Bauke Mollema should be good to go for front groups. Lorenzo Fortunato, Koen Bouwman, Sam Oomen and Tobias Foss for Jumbo-Visma, Iván Sosa, Diego Rosa, Joe Dombrowski, Mikael Cherel, Santiago Buitrago and Wout Poels for Bahrain, Rein Taaramae, Attila Valter, Sylvain Moniquet, Nans Peters and Filippo Zana are all contenders for a breakaway – much will depend on who will happen to be on the right move on the day.  
Inside The Bus
This morning I talk to…
#197 Chris Hamilton – Well then, no GC anymore to play for, so let's give it a shot for the break. I'll tell some of the guys to help you get in a move early on, and save you so that you only have to spend bullets through the final climbs – they will, with no surprise, be absolutely crucial for the day's results. 
#127 Rein Taaramae – Let's stay in the peloton today Rein. Domenico and Jan have done very well in this last stage and GC is on the table, so for today let's stay in the pack and take care of them both, make sure they have their full ambitions, and towards the final week we'll think of breakaways in days that are more suited. 
#177 Bert van Lerberghe – It will be a hard day, but at the start we can roll in the peloton somewhat relaxed. Task for the day is to take care of Mark, make sure you all arrive at the finish within the time limit to stay in the race. 
Prediction Time
⭐⭐⭐Carapaz, Hindley, Almeida
⭐⭐S.Yates, Nibali, Landa, Kelderman, Kamna, Bouwman
⭐Pozzovivo, Bilbao, Buchmann, L.Hamilton, Ciccone, Mollema, Rosa, Buitrago, Fortunato, Zana, Dombrowski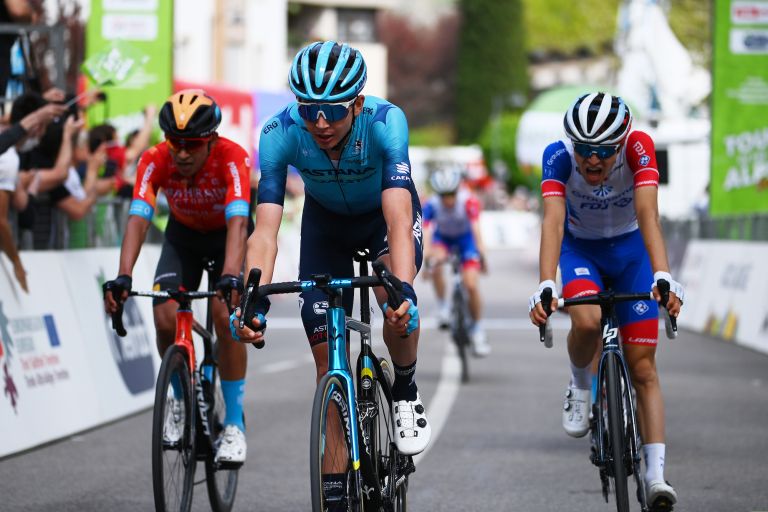 Somehow I think INEOS will not have issue with a breakaway going up the road tomorrow, however at the same time some of the contenders will stay in the peloton as it's an important day for the GC and saving their legs in the long flat plains will be important. My call for the win is Joe Dombrowski from the front, he's having great form and the freedom to make moves. 
Zweeler is a fantasy sports game that includes many sports and cycling is no exception. I ask that you check it out, if you register with the link below you will not only be joining an exciting game but will also be personally supporting me and my work, and allow me to make more content for you!
Tomorrow's race has prizes of at least €600 and an entry fee of only €5. Make good use of your knowledge!
https://zweeler.com/game/cycling/FantasyGirodItalia2022stage15/main.php?ref=790
Rúben Silva
Follow us on Twitter and Instagram
Join us on facebook: Ciclismo Internacional
Copyright © 2012-2022 Ciclismo Internacional. All Rights Reserved