2022 Giro d'Italia – Stage 16 Preview
By @EchelonsHub
A hard day, with a long discussion to enter a breakaway once again – but sure enough, at the same time a win from the escapee group was never in doubt since the group went up the road late on, almost in the first of three hard climbs. In the peloton there was a total impasse with no-one showing intentions of attacking between the candidates to the top spots. In the front the stage was up for grabs, with Giulio Ciccone surging as clearly the strongest, as he attacked in the final two ascents until he managed to go solo, taking a strong win. Santiago Buitrago and Antonio Pedrero finished in a distant second and third.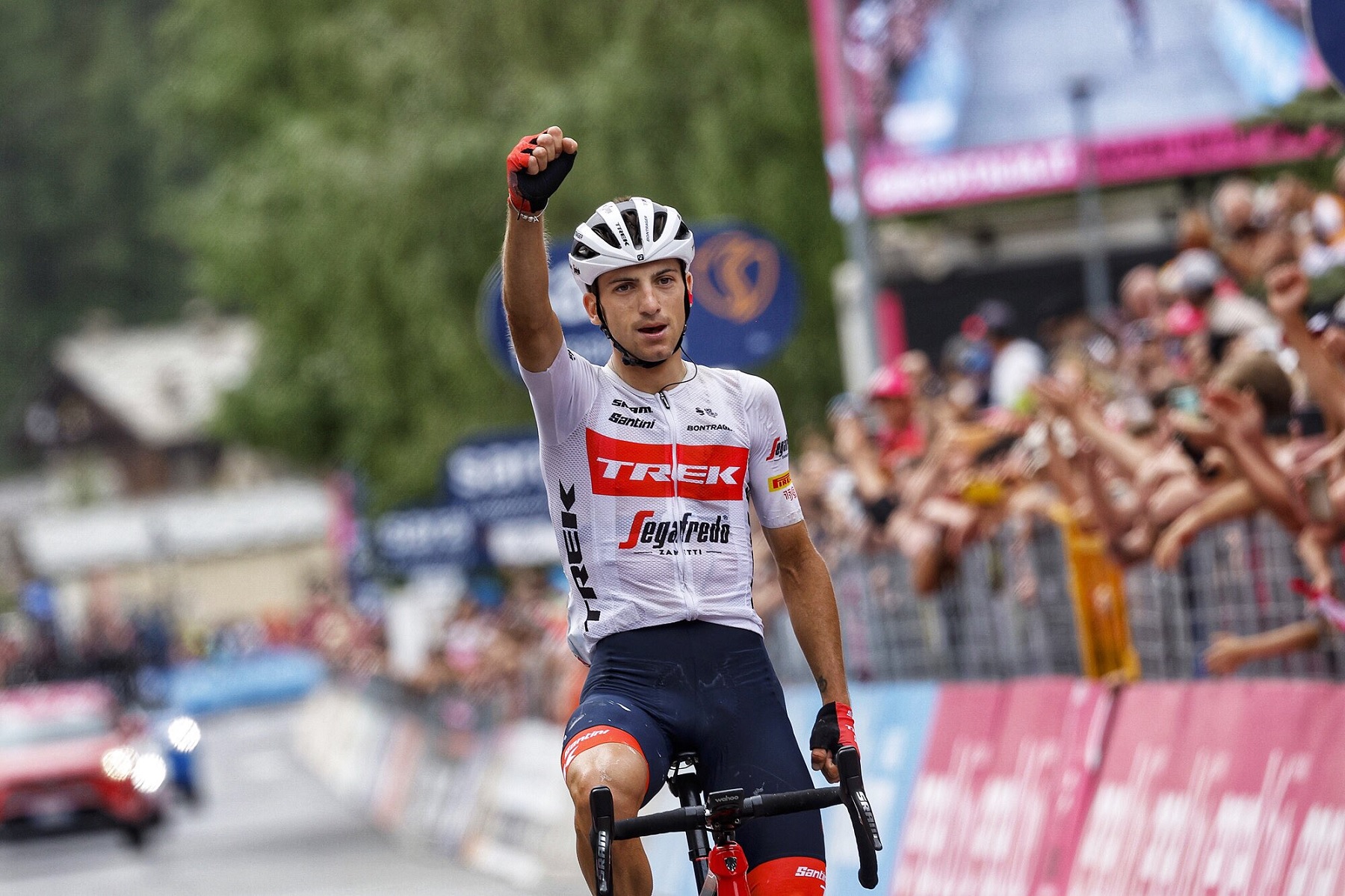 Positive: Ciccone recovering his best legs and taking a strong win for Trek who continue their excellent race. Guillaume Martin attacked in the second climb of the day, and with no chase from the peloton he gained 1:44 minutes hence climbing onto the Top10.
Negative: Nothing to note. 
The Route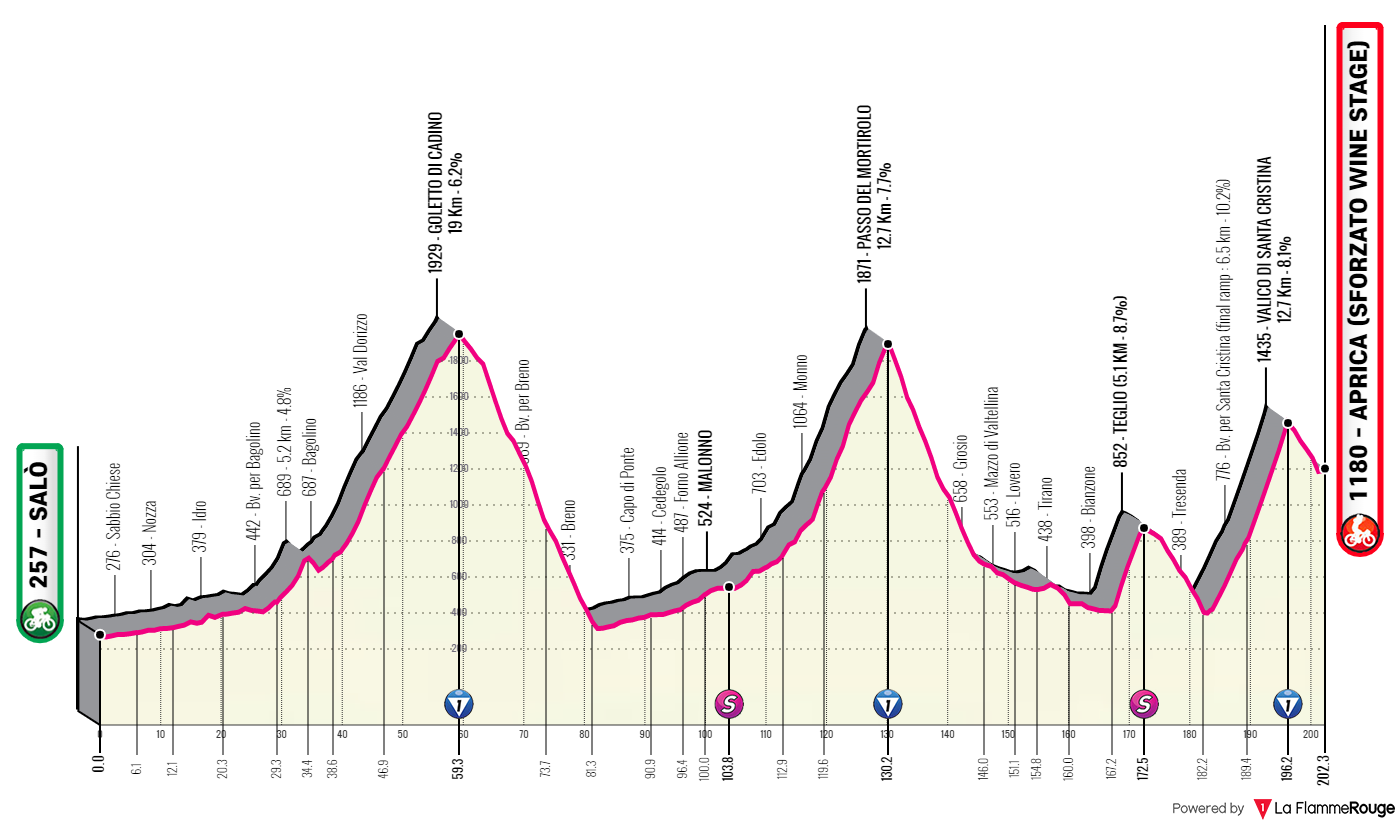 You wouldn't call it the queen stage, but whoever says so would not be far from the truth. The 16th stage will be the first of the third week which will add some mistery to the mix, but this is the only +200 kilometer mountain stage, and it will have a whole 5200 meters of climbing.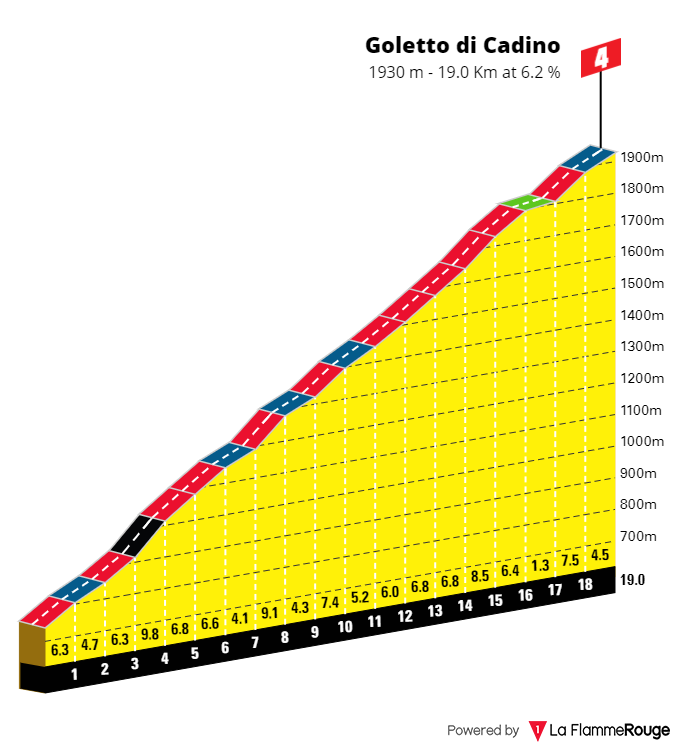 Although there's a little bit of climbing beforehand,the first mountain of the day is a colossal one. 19 kilometers long at 6.2%, an almost one-hour effort up to Goletto di Cadino. The first 30 kilometers are essentially flat, but afterwards the race will go up to almost 2000 meters of altitude (start is officially at 257 meters).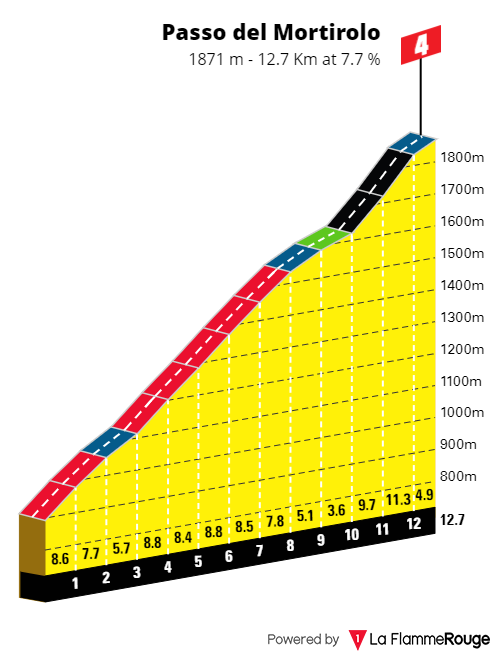 The second climb of the day is the iconic Passo del Mortirolo. This won't be the hardest vertent of the mountain, as it will be climbed via it's eastern side, but nevertheless it is still a very tough ascent. The descent that follows is very technical but above all steep, a nightmare for those who are scared of having to take risks, but the climb itself can see some moves as it features 12.7 kilometers at 7.7%, with it's steepest kilometers near the summit – which is placed 72 kilometers away from the finish.
After a quick valley ride, the riders will then ascent Teglio for an intermediate sprint, it's not even categorized but it's a whole 5.1 kilometers at 8.7%, a climb very similar to Superga in it's details – it summits with 30 kilometers to go.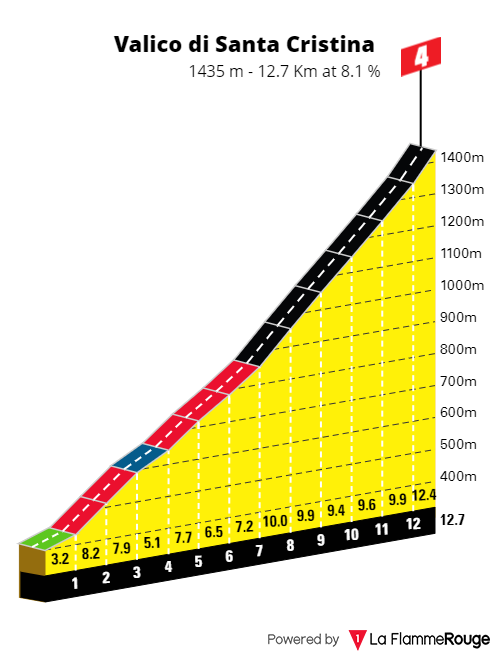 All those though are in anticipation of the final and main climb of the day. Valico di Santa Cristina is a climb that can best be described with the quote "it goes up, and up, and up…" It's 12.7 kilometers long and averages 8.1%, but will be a horrible experience for many as it just gets steeper and steeper the whole way. The final 6 kilometers average above 10% and provide no restbite whatsoever, the only positive thing about it is that at it's summit there are only 6 kilometers to go.
After a very fast and short descent, the riders will very quickly enter Aprica and head into the finish. It is a small town which very often receives finally of monstruous stages in the Giro d'Italia, and this should be no exception.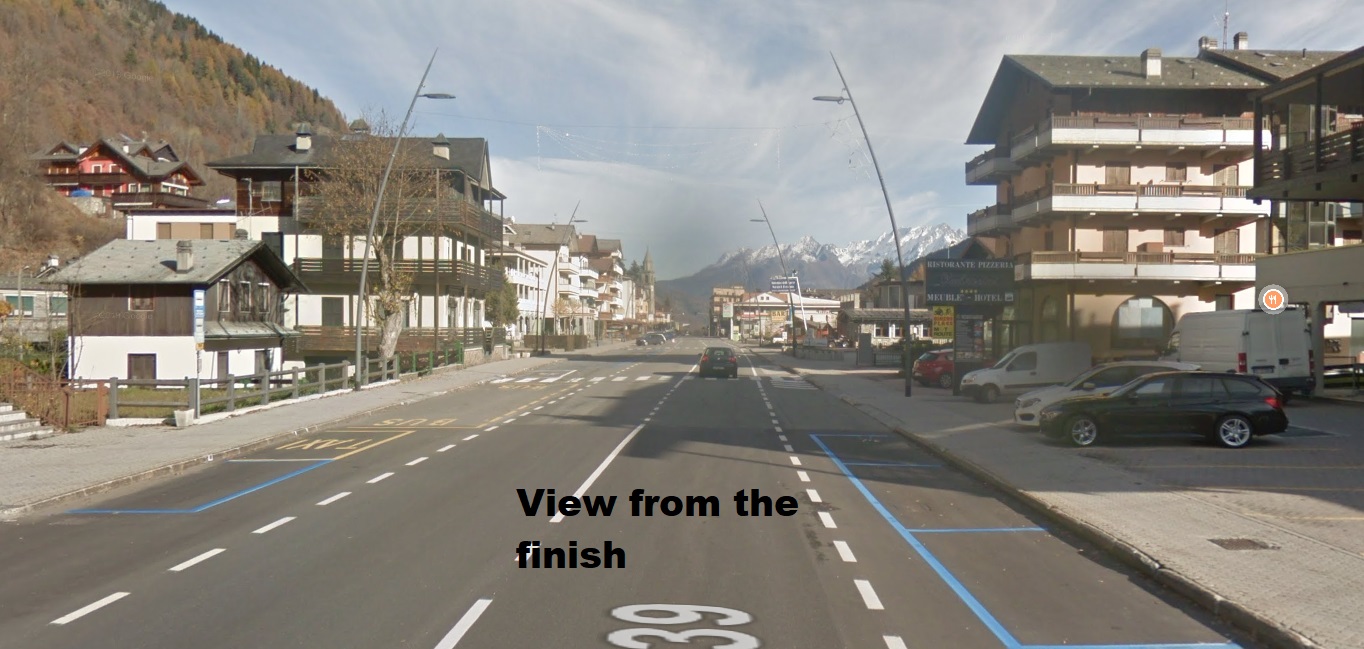 The Weather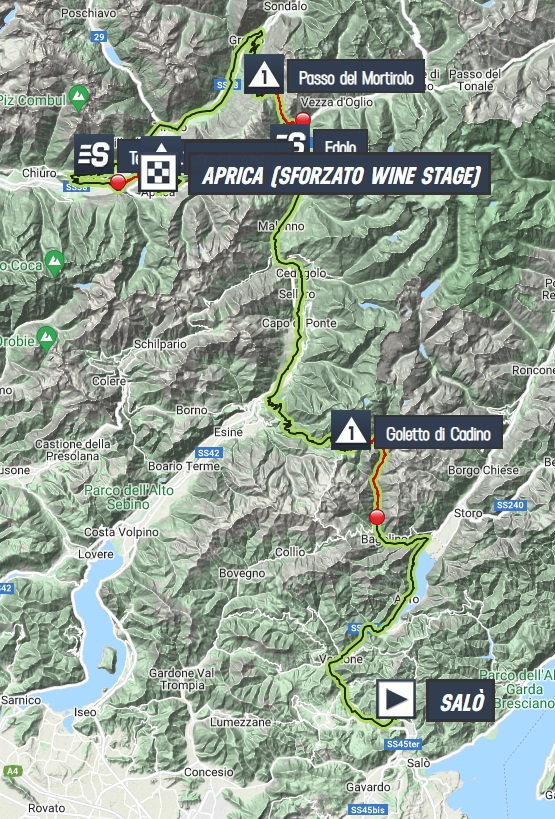 Lower temperatures, small chance of rain throughout the day and also possible gusts from the northwest. The climbs won't be exposed, and they'll have several direction changes, so it's not too likely that the stage will be affected by it. 
Breakaway chances: 25%
There will be a very complicated ascent early in the day, which should allow the best outsiders to go up the road. INEOS won't be chasing for the win, however some teams are likely to push, and in a day as hard as this it isn't easy for a break to survive as the final climb will be race full on by everyone. 
The Favourites
Richard Carapaz – All he has to do now is follow wheels. However that's easier said than done, specially on such a hard day as this. It's the day after a rest day, however he'll hope to have fully recovered from his tumble on stage 15. On his best day, Carapaz will have a pure climbing day which is good for his capacities – team won't matter much in the final climb. 
Jai Hindley – A mountain goat, this is the kind of climb that can suit him quite well. It won't be easy to distance Carapaz, but he will have the road to try, and surely great support from BORA – hansgrohe to be able to do so. 
João Almeida – Team support won't be the best, however INEOS will be the team with the responsibility. Almeida has shown last year that he can be the fastest even between the very best on the uphill, entering the third week I expect him to be in his zone, and such a constant and steep climb is something he'll like. 
Vincenzo Nibali – Such heavy climbing day with long distances are exactly what Nibali thrived in in his prime. Will he continue his remount at the Giro? If so this is a day where he can make big differences and climb in the GC.
Simon Yates – On paper Yates has the legs to win from the GC group, however he also has the advantage of being free to join a breakaway if the situation present itself. He needs the legs that he's had on some days so far, but if he does than he's a clear contender. 
The two mountain goats Mikel Landa and Domenico Pozzovivo will also have a very suiting stage here, with a final climb where riders don't have to follow accelerations. Pello Bilbao, Emanuel Buchmann will also naturally be within the fight for the GC, so near the front in all cases – except if they seriously struggle. 
Lucas Hamilton, Guillaume Martin, Jan Hirt and Wilco Kelderman may have little GC restrictions due to their place near the Top10 but if a group goes on the first climb of the day there would be little to prevent them from going. The likes of Diego Rosa, Koen Bouwman, Lennard Kämna, Bauke Mollema and Giulio Ciccone should also have the motivation to head into the head of the race due to the KOM classification – besides the stage win of course. 
There are other riders who have been trying. Team duties may prevent, others have complete freedom so it's a bit of a mix, but all quality climbers: Wout Poels, Santiago Buitrago, Joe Dombrowski, Antonio Pedrero, Rein Taaramae, Filippo Zana and Lorenzo Fortunato are riders who could have their day – albeit of course, only if they're lucky to be in a breakaway.
Inside The Bus
This morning I talk to…
#104 Erik Fetter – Diego and Lorenzo have ambitions for this stage, so we have the responsibility to get them in there. It's a colossal day, so they can't really be hitting the wind in the early flat sections. You either help controlling moves, or you force them with one of them in the wheel to try and escape. In the climbs they'll take over.
#158 Harm Vanhoucke – Let's try to get in front Harm, you have the quality but not the form unfortunately, but we have to try anyhow. You and Sylvain can do something on a good day, and there aren't many tactics to evaluate here, just pace yourself throughout the climbs, and save some energy for the final ascent, it will be gruesome for everyone. 
#82 Mattia Bais – Survival Mattia, no need to ambition more here, way too hard to ambition any result or getting more TV time. We'll have some guys trying to join the breakaway, but you just worry about getting in the grupetto and over the line in time. 
Prediction Time
⭐⭐⭐Carapaz, S.Yates, Hindley
⭐⭐Almeida, Landa, Nibali, Kamna, Ciccone
⭐Bilbao, Pozzovivo, Buchmann, L.Hamilton, Hirt, Kelderman, Rosa, Buitrago, Dombrowski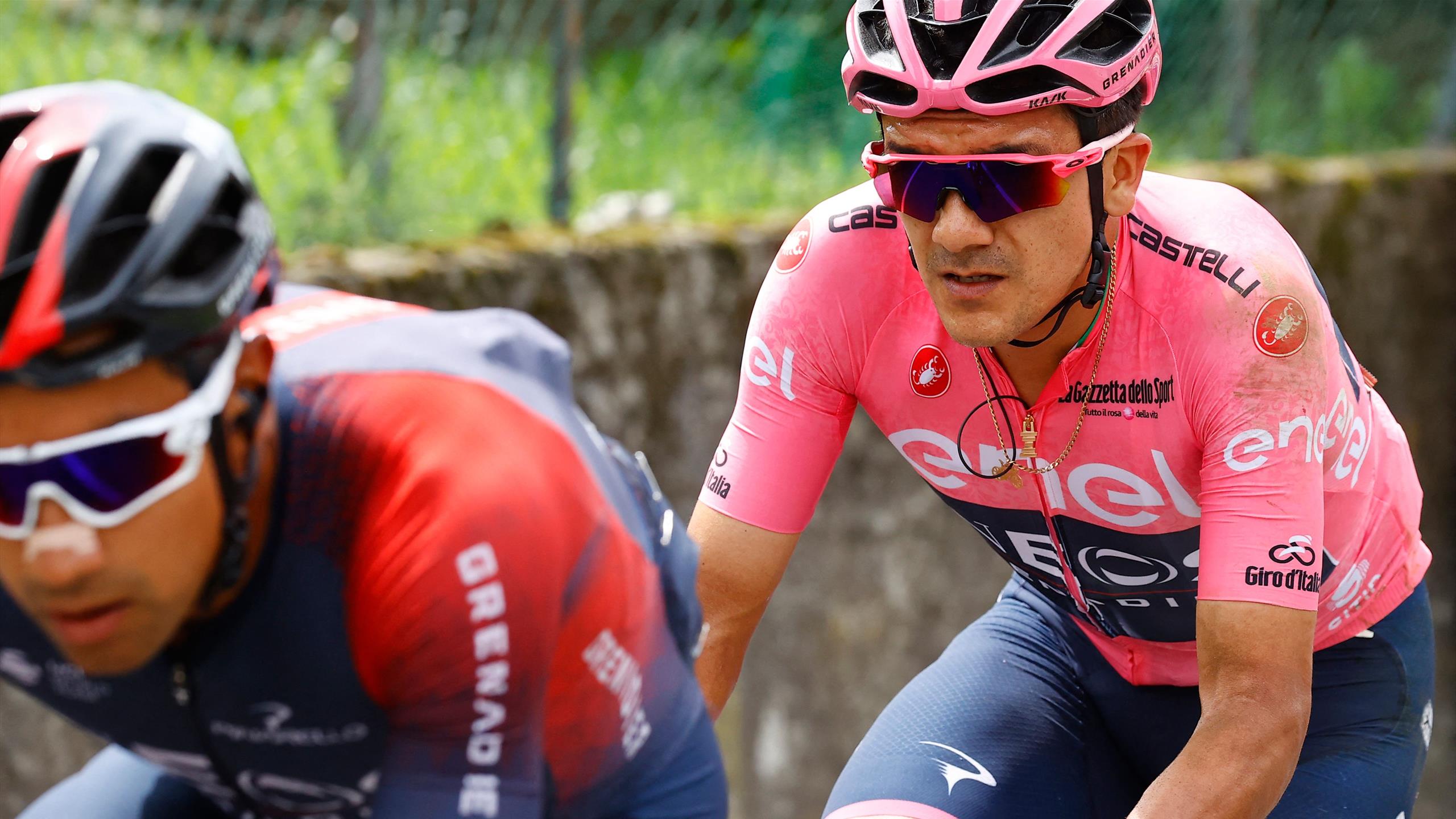 Richard Carapaz my call to take the stage win. Complicated, but I think he's in form that will allow him to keep up with all attacks. Perhaps the fastest sprinter from the top GC guys at the end of such a day, is what may happen. 
Zweeler is a fantasy sports game that includes many sports and cycling is no exception. I ask that you check it out, if you register with the link below you will not only be joining an exciting game but will also be personally supporting me and my work, and allow me to make more content for you!
Tomorrow's race has prizes of at least €600 and an entry fee of only €5. Make good use of your knowledge!
https://zweeler.com/game/cycling/FantasyGirodItalia2022stage16/main.php?ref=790
Rúben Silva
Follow us on Twitter and Instagram
Join us on facebook: Ciclismo Internacional
Copyright © 2012-2022 Ciclismo Internacional. All Rights Reserved