2022 Giro d'Italia – Stage 18 Preview
By @EchelonsHub
Stage 17 saw another mountain battle, however with the same outcome as Mikel Landa, Jai Hindley and Richard Carapaz were once again inseparable in the final ascent. However they have taken time on the rest, after a conservative stage in which the pace was only pushed in the final two ascents. For the stage win it was a different battle, in which Bahrain succeeded as Santiago Buitrago was the strongest from the day's breakaway, going solo in the final ascent and beating Gijs Leemreize and Jan Hirt who completed the podium.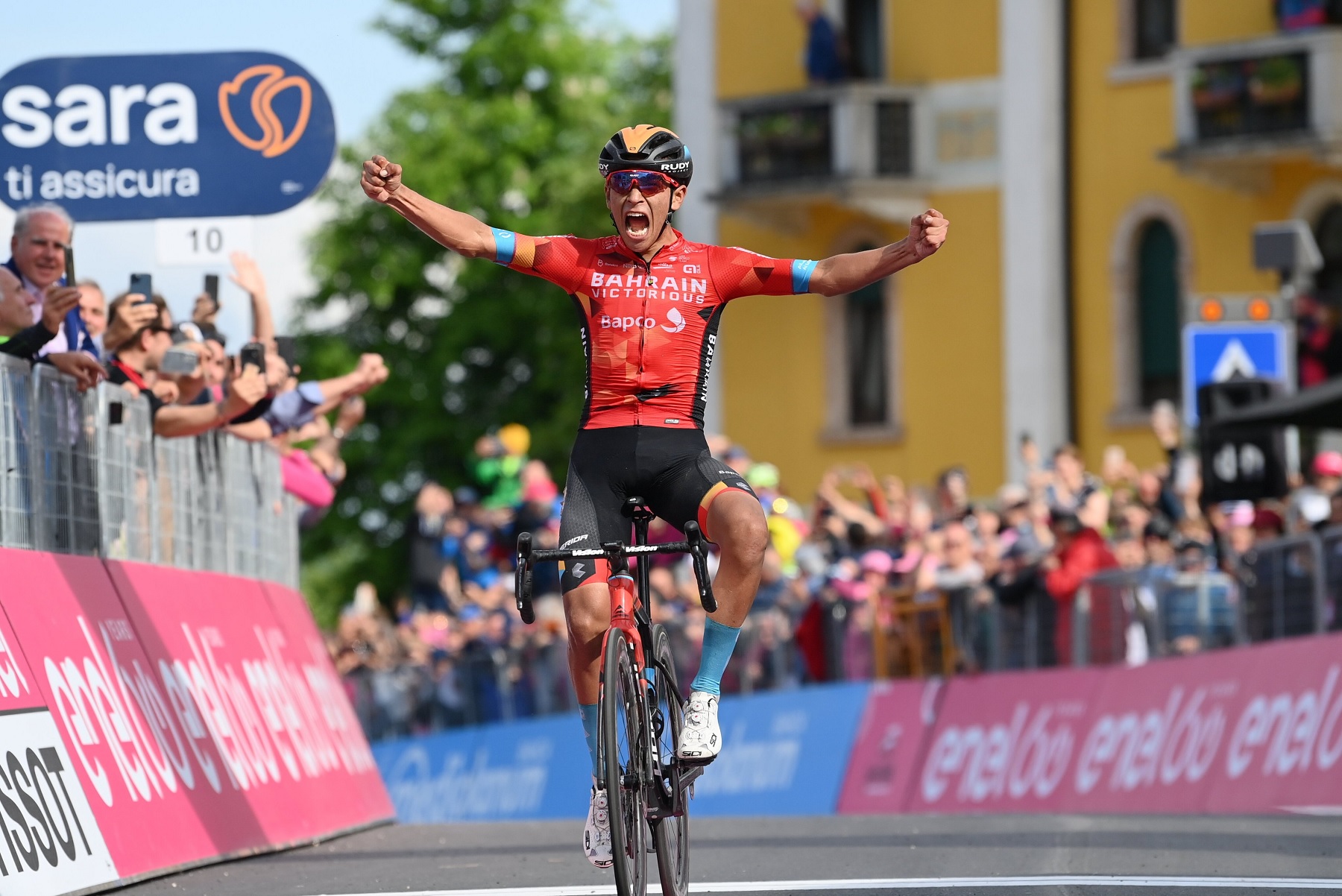 Positive: Buitrago taking an important win, Jan Hirt once again climbing up the GC with a successful breakaway, and the Hindley/Carapaz/Landa trio could be said to have a good day as they distanced Almeida. 
Negative: Simon Yates abandoning, Domenico Pozzovivo and Alejandro Valverde tumbled down the GC with a bad day on the Alps. 
The Route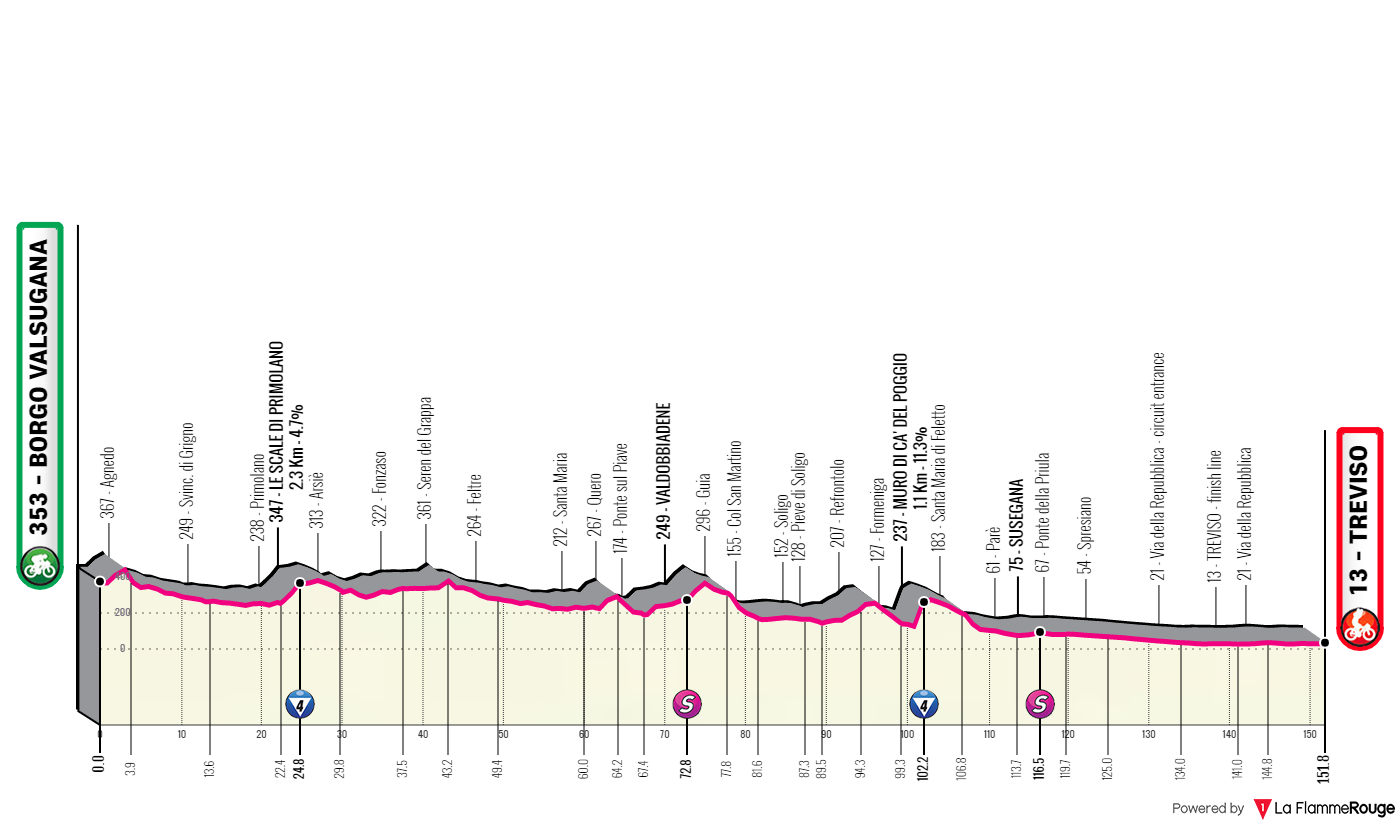 One final opportunity for the sprinters. In the 18th day of racing, those who have resisted the mountains so far will be rewarded with a day where they can feast themselves on an almost completely flat stage. Almost…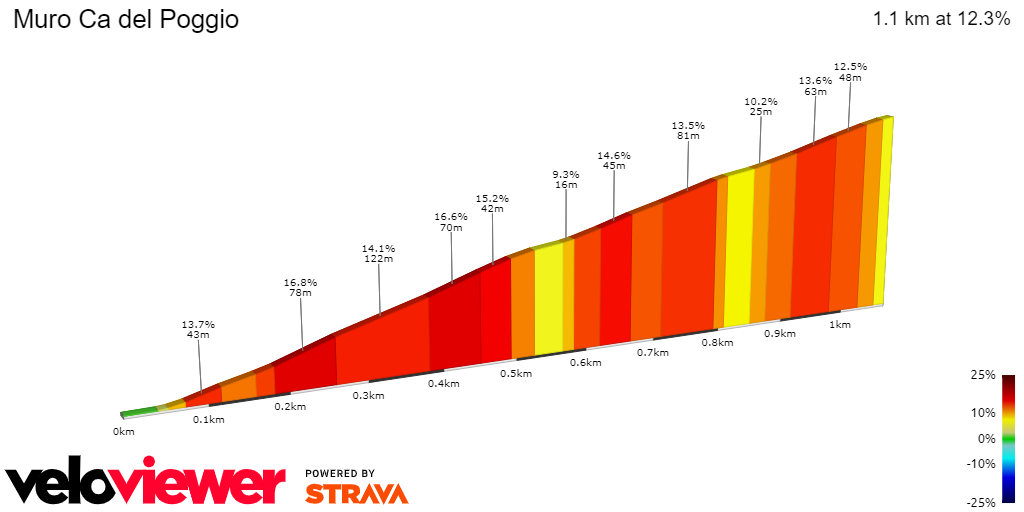 It wouldn't be a Giro sprinter stage without a trap, and here it is this little climb. Well known, the Muro Di ca del Poggio is very short, only 1.1 kilometers in distance but it is an absolute wall. The run-up up to the climb will be very fast no matter how the race is, as the GC riders at the very least will try to be in the head of the peloton towards the base. It comes with only 49 kilometers to go, which is essentially an hour of racing for a peloton of this level. It is the only place in the stage where the riders will need the small ring, however it can deal so much damage onto the fast men who've made it so far into the race.
If not, then it will be hard to prevent a bunch sprint between the survivors.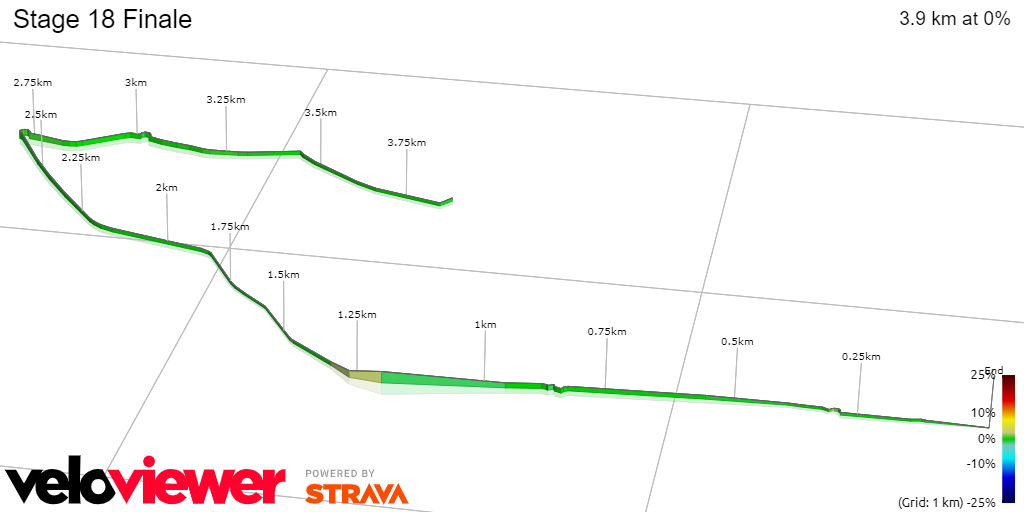 As the riders head into Treviso, they'll be rewarded with flat and fast roads. It isn't a technical one aswell, good for an organized chase if necessary, the final straight is essentially 2.6 kilometers long.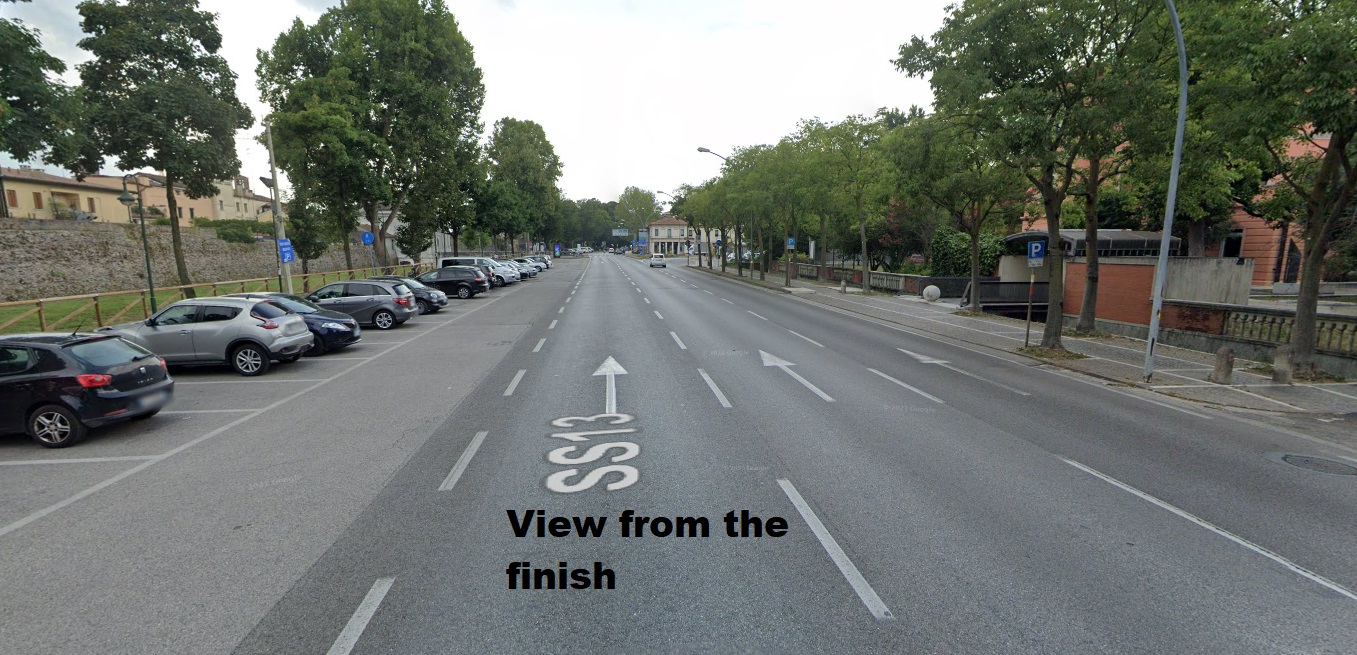 The Weather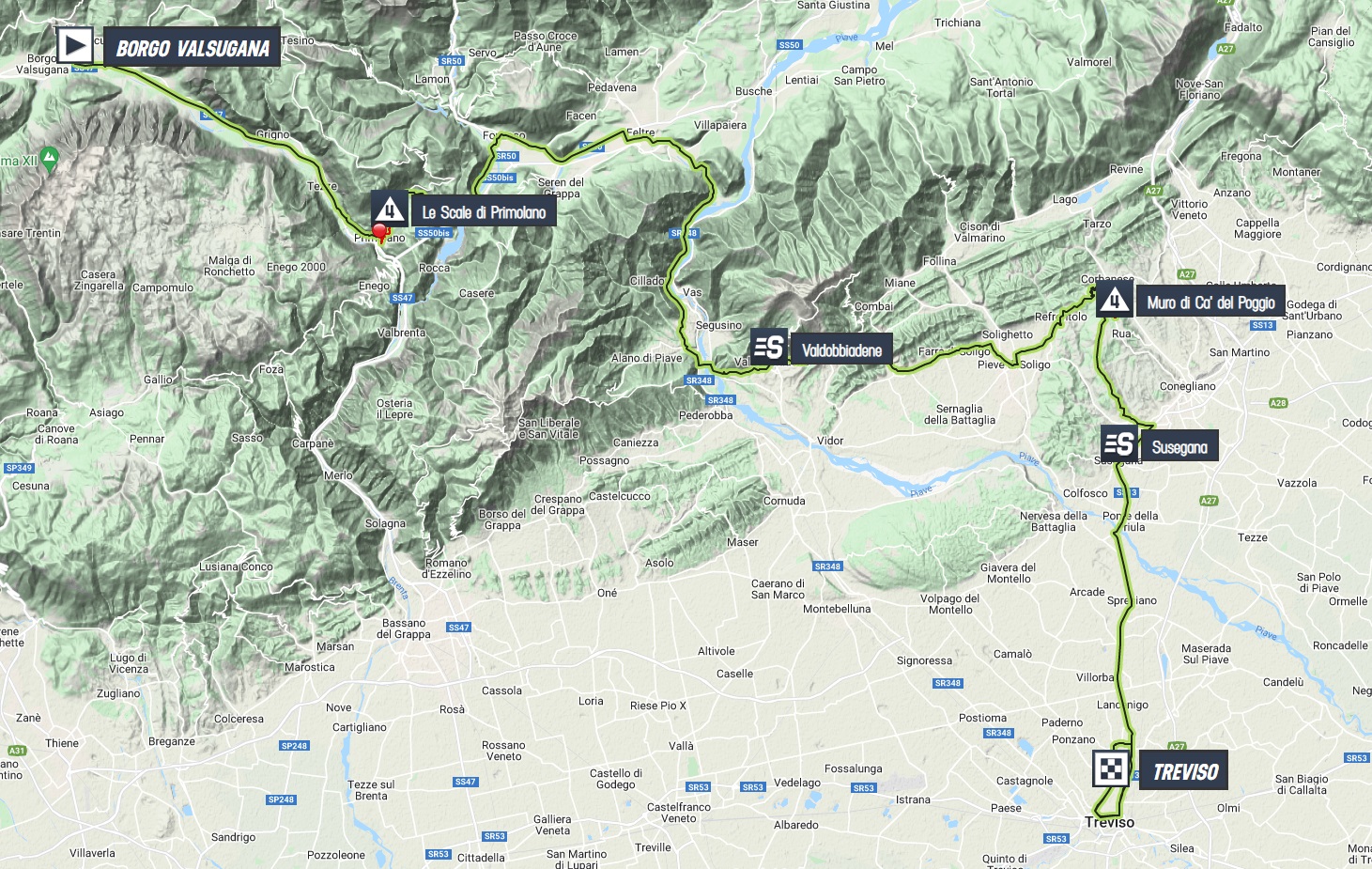 Temperatures will rise back up, and there will be a small breeze from the east then south. Small chances of rain too, the forecast isn't very clear on what the riders will be facing throughout the day.
Breakaway chances: 40%
The final Giro stage is traditionally a day for the breakaway. Less sprinters, worn down teams, very small distances, lots of rouleurs and strong riders with freedom, the tension of a last opportunity for many, etc…
The reasons why are many, however this year it also features a mean steep climb that will be a complicated one for the fast men. Shouldn't make much difference in front, but make the chase more complicated. Démare has his points classification sealed and there will be some other teams with interest to go for a stage win like Quick-Step and UAE aswell, so the alliances may help control what can be a tough day to control. 
The Favourites
Arnaud Démare – Calm and collected. Having gone through the main mountain block, his points jersey is almost confirmed to be secured. With that, Groupama doesn't have the need but for sure will try to get yet another win for Démare, as he's shown multiple times to be a winner in this race. 
Mark Cavendish – He's positively surprised me by still being in the race, I won't lie. The wall will be gruesome for him, but I'll believe the pace may not be high and he can resists. In theory, it is possible for Cavendish to make it to the finish, where he'll be an obvious candidate. If not, Davide Ballerini is a secondary option for the team. 
Fernando Gaviria – He's been consistent so far in the sprints, but has had some bad luck. Gaviria and Richeze have however looked very good in some sprints, and with Quick-Step having no Morkov, they can perhaps finally work towards a win on Richeze's final leadout as a professional rider. 
Some other sprinters have shown the legs to take wins. Alberto Dainese has even dipped his toe on the success pool that is the Giro winner list, but also the likes of Phil Bauhaus and Simone Consonni have been very close to a win and can take advantage of the chaos the main sprinter teams may find. The likes of Vincenzo Albanese, Andrea Vendrame, Edward Theuns, Magnus Cort Nielsen and Sacha Modolo are also to consider. 
Mathieu van der Poel – Now, I don't expect him to be in the fight for the sprint, we've learnt that already over the 3 weeks. I also don't think he'll be in the breakaway, however he's racing recklessly and I would not at all be surprised to see him attack over the climb. It suits him, and he's the kind of rider to blow the race appart, make it hard and chaotic for the sprinters, maybe form a group to the win. 
An attack on the uphill could drag other riders aswell, puncheurs like Alessandro Covi, Lorenzo Rota, Lennard Kämna, Anthony Perez, Mauro Schmid, Bauke Mollema and Diego Formolo.
As for possible breakaway riders that can be threatening, here are some I consider dangerous: Lawrence Naesen, Dries de Bondt, Stefano Oldani, Fabio Felline, Davide Gabburo, Filippo Tagliani, Julius van den Berg, Mirco Maestri, Aimé de Gendt, Alex Dowsett, Matthias Brandle, Edoardo Affini, Pascal Eenkhoorn, Thomas de Gendt, Jorge Arcas, Lawson Craddock and Chris Juul-Jensen. A long list yes, but it's this big because it can very well depend on the riders that have the right sense of opportunity to be in front – of which most of these will not be. 
Inside The Bus
This morning I talk to…
#127 Rein Taaramae – Save yourself, ride easy. Throughout the day stay with the guys, we have them up in the GC, but when the pace starts going up then you drift back into the tail of the peloton and then taper to the finish line over the last kilometers, two big mountain days ahead where you'll be needed. 
#161 Alejandro Valverde – Stay stafe, Top10 will be a good result for us. Some of the guys will see if they can do well on a breakaway, the rest will keep an eye on you. There shouldn't be much tension, a calm day in the peloton – just make sure you're well positioned for that steep hill. 
#195 Alberto Dainese – The full focus will be on you Alberto, we won't have a team to chase but it's not our responsibility. Following the leadout of Groupama is the priority towards the end, have a good target and then do the sprint as you do best. 
Prediction Time
⭐⭐⭐Démare, Gaviria
⭐⭐Cavendish, Dainese, Bauhaus, van der Poel
⭐Consonni, Cort Nielsen, Vendrame, Albanese, Covi, De Bondt, Affini, Eenkhoorn, De Gendt, Arcas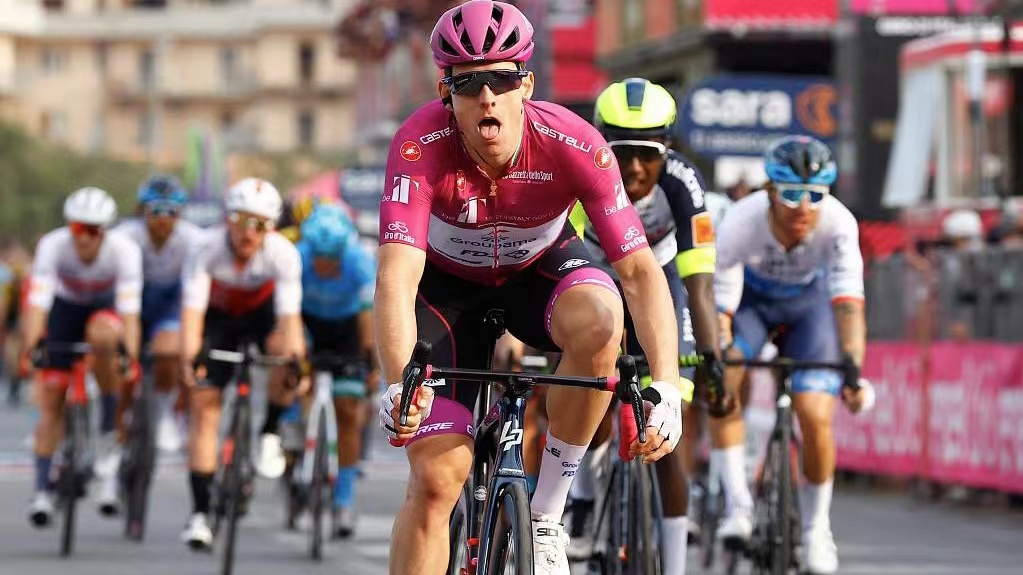 Do I go with the heart or head? I'll go with head. I think there is a legitimate chance a break or attack can succeed, but there are several teams with ambitions to take the sprint win. An organized chase to work, and Arnaud Démare to take a dominant fourth win. 
Zweeler is a fantasy sports game that includes many sports and cycling is no exception. I ask that you check it out, if you register with the link below you will not only be joining an exciting game but will also be personally supporting me and my work, and allow me to make more content for you!
Tomorrow's race has prizes of at least €500 and an entry fee of only €5. Make good use of your knowledge!
https://zweeler.com/game/cycling/FantasyGirodItalia2022stage18/main.php?ref=790
Rúben Silva
Follow us on Twitter and Instagram
Join us on facebook: Ciclismo Internacional
Copyright © 2012-2022 Ciclismo Internacional. All Rights Reserved