2022 Giro d'Italia – Stage 8 Preview
By @EchelonsHub
A day for the breakaway, and the outcome was exactly that. With the peloton remaining surprisingly conservative, the escapees had a green card to fight for the stage win, and the winner was Koen Bouwman who managed to resist the attacks of Bauke Mollema and Davide Formolo – who finished second and third – to, together with Tom Dumoulin, grab a very important win for Jumbo-Visma.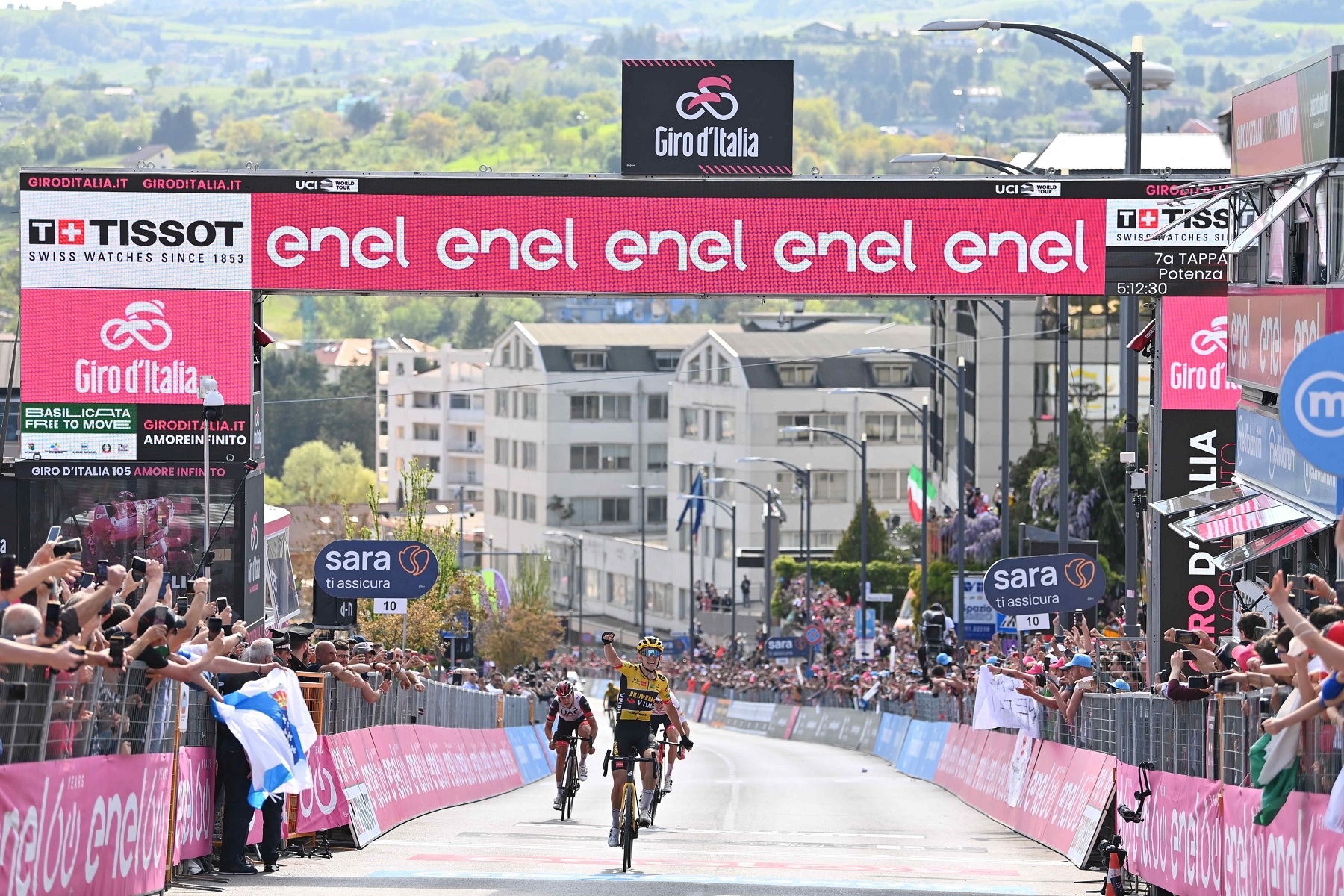 Positive: Jumbo-Visma, having a complicated situation to manage but taking the stage win. 
Negative: Nothing to note.
The Route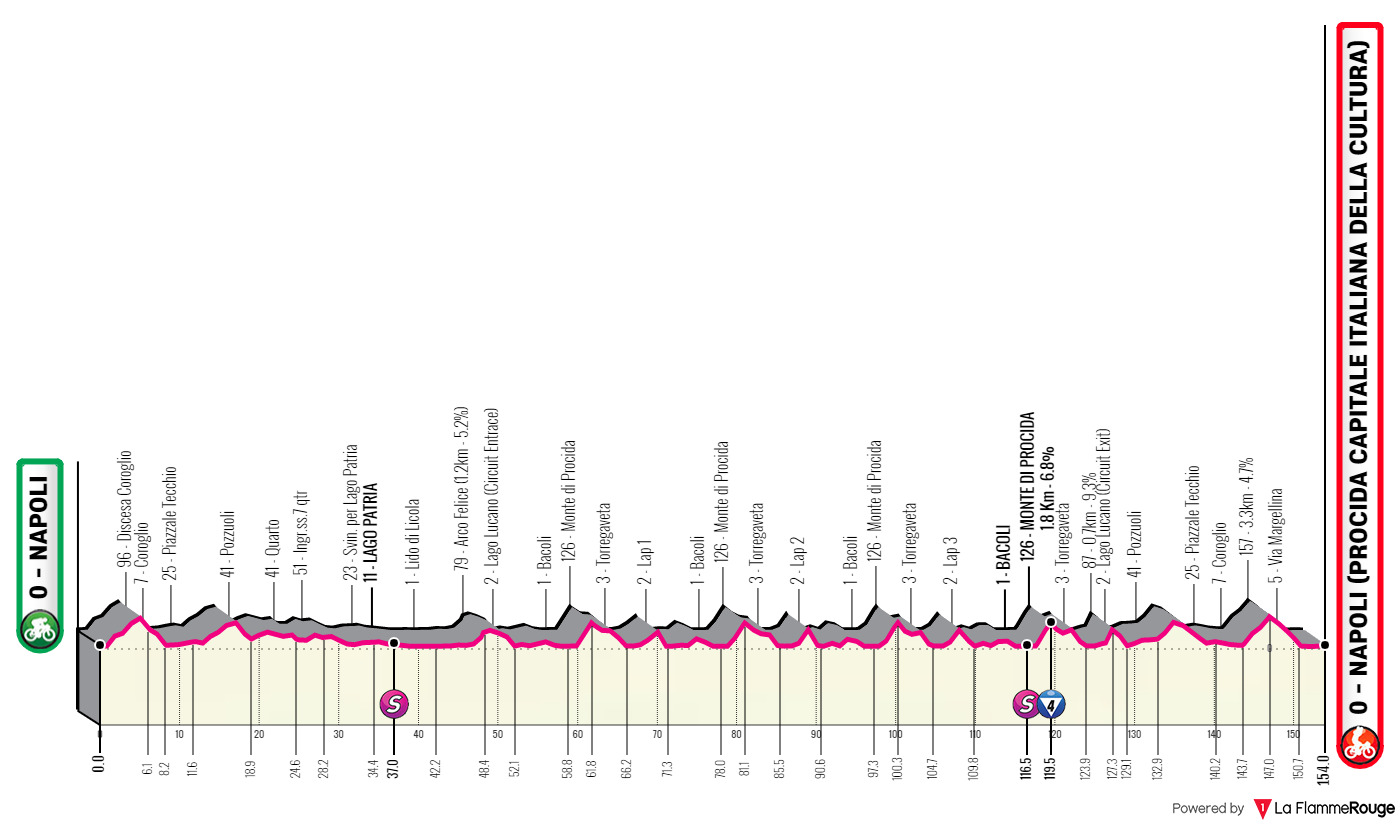 Stage 8 will see a circuit over the city of Napoli and above land of the Phlegraean Fields volcano. A very interesting day, at first sight for the sprinters but the profile reveals something in it that can make life very hard for the fast men.The first kilometers aren't easy, but then throughout the day there will be several laps of a circuit that includes two ascents that will be ridden four times.
Ridden for the final times you have the summits with 35 and 27 kilometers to go. There is the 4th category Monte di Procidia (1.8Km at 6.8%) and then another 700 meters at 9.3%. These two hilltops aren't the only ones, but they can be quite hard for some sprinters if the pace is pushed, and taking into consideration how close they are from the finish, that's a big possibility.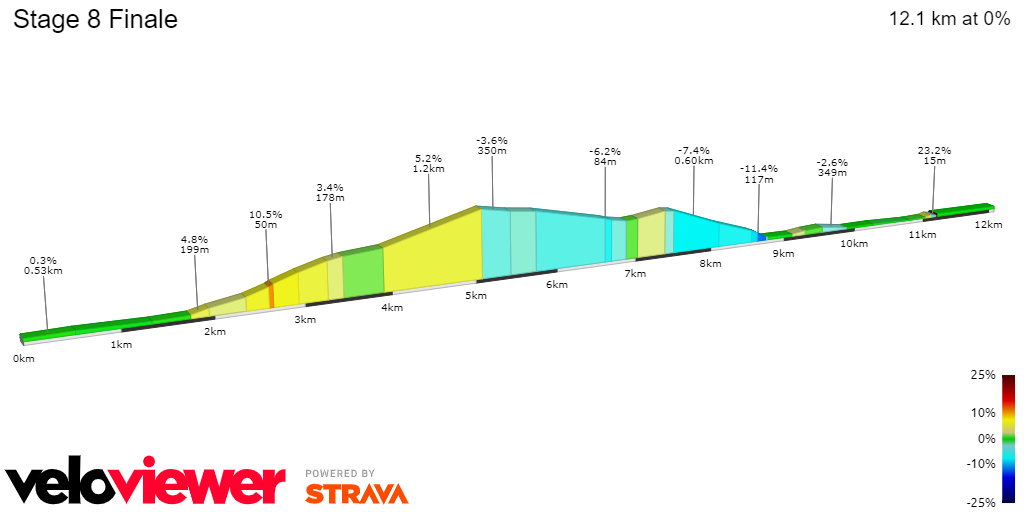 A sprint is still the most likely scenario, however it won't come easy after those hilltops as the final one comes with just 7 kilometers to go, which is 3.3Km at 4.7%. Again, not a hard climb, but if the pace is high enough it can switch things up quite a bit between the fast men. A fast descent will follow into Napoli, and the final 3 kilometers are pan-flat by the sea, where there is time to reorganize and put on a chase if necessary.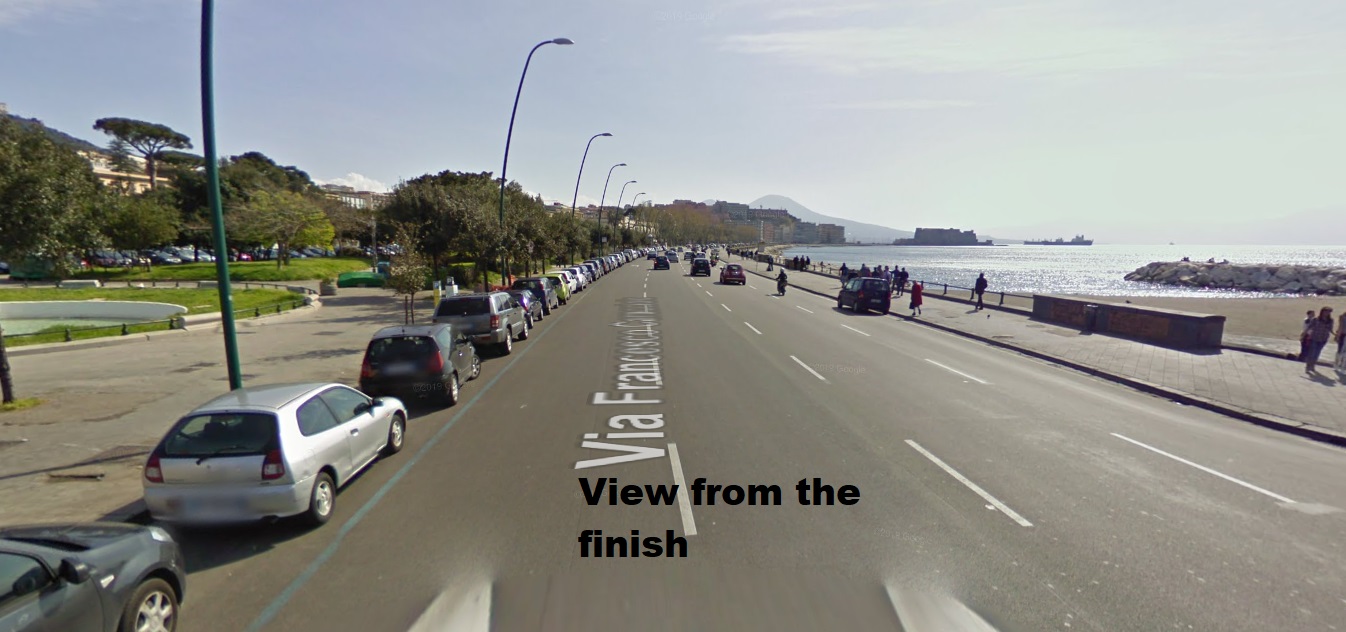 The Weather

A modest breeze from the south. The day will have constant changed of direction, so it won't truly be decisive however it can be felt in some sections. It can make for a crosswind in the final sprint, however the crowd may be enough to block it out of the course. 
Breakaway chances: 25%
I think it won't be a day for the breakaway because there will be at least Intermarché and Lotto Soudal who should fully commit to bringing it back to a sprint. Depending on the situation, I expect Alpecin and Groupama to also be near the front and possibly help controling/pushing the pace. 
The Favourites
Caleb Ewan – A day that suits him, if he's got the good form I expect to be the case. A puncture ruled him out some days ago in the ascent, however here they will be shorter and sharper which suit him well. Lotto Soudal have only him as a priority, so he's got an opportunity. 
Mathieu van der Poel – Not someone who will want a bunch sprint. Van der Poel should want most sprinters off the back, and I also wouldn't be surprised to see him on the attack in the final climb – he's usually able to recover well for the sprints. Even in a slightly reduced group, without the furious leadout battle, he should be able to be in contention for a sprint. 
Biniam Girmay – He struggles with positioning for the sprints, however he's been very consistent so far and with the climbing aspect to this stage and the points jersey up for grabs, it is a brilliant opportunity for Girmay. Intermarché should want to keep everything well for him, and in a sprint he's got the watts. 
Arnaud Démare – Groupama won't surely chase, but I would not be surprised to see them hang on and be able to thrive towards the end of the stage. Démare showed debility some days ago in the long ascent, however in these rolling climbs I reckon he can do quite well – and he appears to have the form. He's got the motivation too with a classification to defend, but it won't be an easy task in any way. 
As for the sprinters, there will be some who will hope for a race ridden as easy as possible if they want to be in contention for the sprint. Those include: Mark Cavendish, Fernando Gaviria, Phil Bauhaus, Giacomo Nizzolo, Alberto Dainese and Cees Bol. 
Some that will be better suited to such a day, and can very well be in contention, to perhaps feature a surprise win will see Davide Ballerini and Edward Theuns if they have freedom from the team. Other teams which may push the pace to benefit their own, include Magnus Cort Nielsen, Simone Consonni, Andrea Vendrame and Vincenzo Albanese. 
As for puncheurs, there is surely a chance, from a breakaway or a late attack. There is a big mix of rider who can thrive, however some stand out. Diego Ulissi and Alessandro Covi as riders to attack on the uphill, Natnael Tesfatsion is a contender in the same situation, and I reckon Mauro Schmid and Thymen Arensman are also big threats, specially in an attack over the top – brilliant rouleurs. 
As for a breakaway, some names mentioned above can do well, but I would add some rouleurs and puncheurs who are quite fitted for such a stage such as Thomas de Gendt (if Ewan doesn't give good feedback), Alessandro De Marchi, Valerio Conti and Pascal Eenkhoorn. 
Inside The Bus
This morning I talk to…
#42 Phil Bauhaus – Let's see how things go Phil. Ideally, you can resist the climbs and go on to fight for the sprint, but it won't be easy. We naturally have to help Mikel and Pello, so you will have to do some work for yourself specially in the final kilometers, however we'll help you throughout the day as we do think in a sprint you have the power to take a win. Think of the climbs first, then if things work out the sprint is under eye.
#22 Tobias Bayer – We have to push it hard. Our strategy for the day is simple, we push the pace very hard from the 4th category onwards. No need to be saving guys for a sprint, as if Mathieu wins we need a group as small as possible, and perhaps to set him up for an attack. You will tell the guys how you feel, and figure an order of who works first and who's saved more towards the end, but the crucial point is to push the pace to the maximum on every single ascent from there on, suffocate the sprinters. 
#75 Anthony Perez – Let's keep Guillaume safe, first and foremost. Simone will have a go, but we'll have guys backing him up. Towards the end, if you feel good, you have the freedom to attack, we have to look for stage wins. If towards the end you and Simone are there, then your responsibility is to help lead him out to the finale. 
Prediction Time
⭐⭐⭐Ewan, van der Poel, Girmay 
⭐⭐Démare, Ballerini, Cort Nielsen
⭐Gaviria, Nizzolo, Bauhaus, Theuns, Consonni, Vendrame, Albanese, Tesfatsion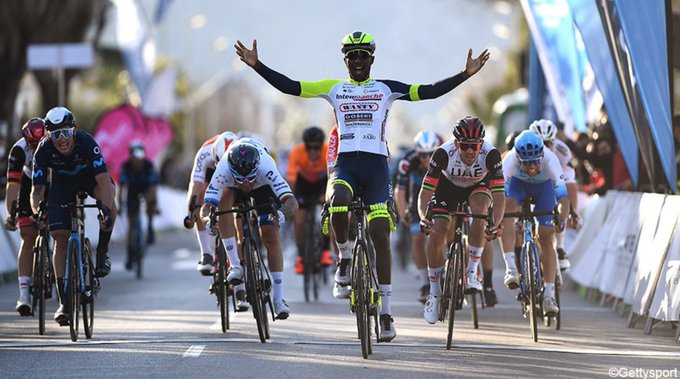 A hard day to predict, but I think there will still be a bunch sprint to decide the stage win. The winner, Biniam Girmay, who will have ease in the climbs, and this time a clear run to sprint for a win that has been in the works for a week. 
Zweeler is a fantasy sports game that includes many sports and cycling is no exception. I ask that you check it out, if you register with the link below you will not only be joining an exciting game but will also be personally supporting me and my work, and allow me to make more content for you!
Tomorrow's race has prizes of at least €500 and an entry fee of only €5. Make good use of your knowledge!
https://zweeler.com/game/cycling/FantasyGirodItalia2022stage8/main.php?ref=790
Rúben Silva
Follow us on Twitter and Instagram
Join us on facebook: Ciclismo Internacional
Copyright © 2012-2022 Ciclismo Internacional. All Rights Reserved