2022 Giro d'Italia – Stage 9 Preview
By @EchelonsHub
A day for the breakaway and the rouleurs. Early on the opportunities for the sprinters were quickly dispatched as Mathieu van der Poel showed intentions of joining the breakaway. A 21-rider group eventually went up the road with a lot of quality, with no chance from the peloton to chase back the group. The traditional early attack on a rolling stage succeeded. Everyone covered van der Poel's move, and right after a group of five riders went up the road and could not be caught ever again. Thomas de Gendt proved the strongest from that, taking a sprint win in front of Davide Gabburo and Jorge Arcas.
Positive: Lotto Soudal and de Gendt getting a very important win, with a great collective performance.
Negative: Nothing to note.
---
The Route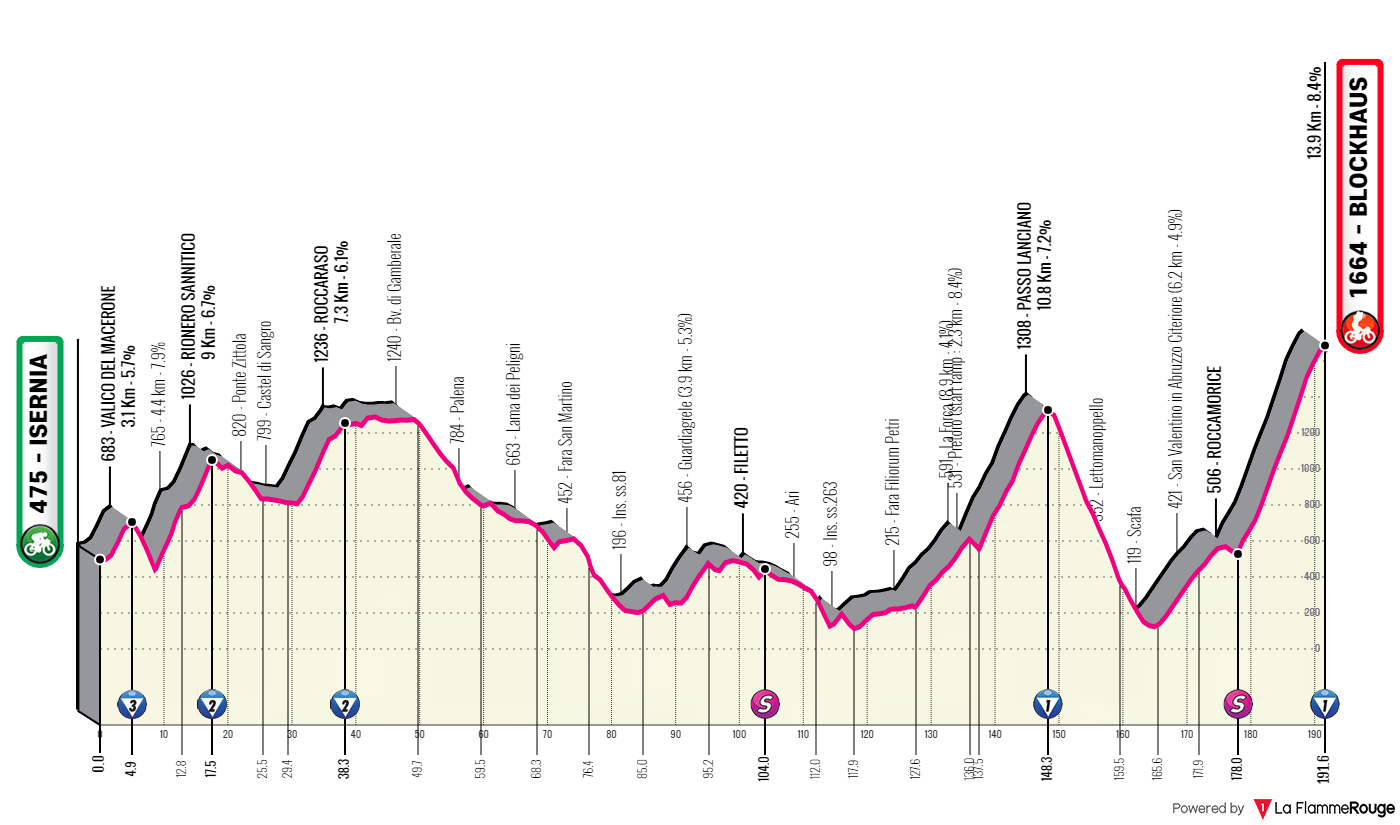 A 5000 climbing meters day. That is the simple and best description for the final day of the opening week, where there will be no hiding and the GC fight will detonate on the Blockhaus ascent – a classic at the Giro, one of the hardest climbs in the Appennines. 
The day is more than just the final climb though. With 5, 17.5 and 38 of racing there will be the summit of three climbs which will be very hard to tackle early in the day. 3.1Km at 5.7%, 9Km at 6.7% and 7.3Km at 6.1% is a hard way to start any kind of day, but when this is just the appetizer, it means everyone will be in for a long day in the saddle…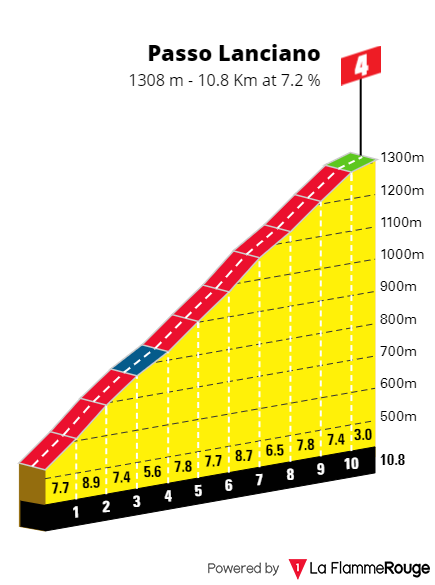 Not only is Blockhaus not the only climb of the day, it's also not the only quite difficult climb. 8.9Km at 4.1% lead up to it, but officially the Passo Lanciano only starts afterwards with a 7.2% average gradient for 10.8 kilometers. Not the hardest vertent of the mountain, but quite a difficult one, a long climb with constantly high gradients that will be crushing for the peloton, however it should be ridden conservatively as the gaps are to be made on the final ascent of the day. 
In it's totality, 26 kilometers long at 6% but if that's not enough, this includes a descending section halfway up the climb. The final 13,9 kilometers are at 8.4%. This is a mountain that only in it's second half resembles very much the Alpe d'Huez, for a more clear comparison. It is brutal, the gradients get very high – frequently into double-digit territory – and there is not a single restbite section until the very finish. A rough mountain perfect for the pure climbers, and where serious differences will be made.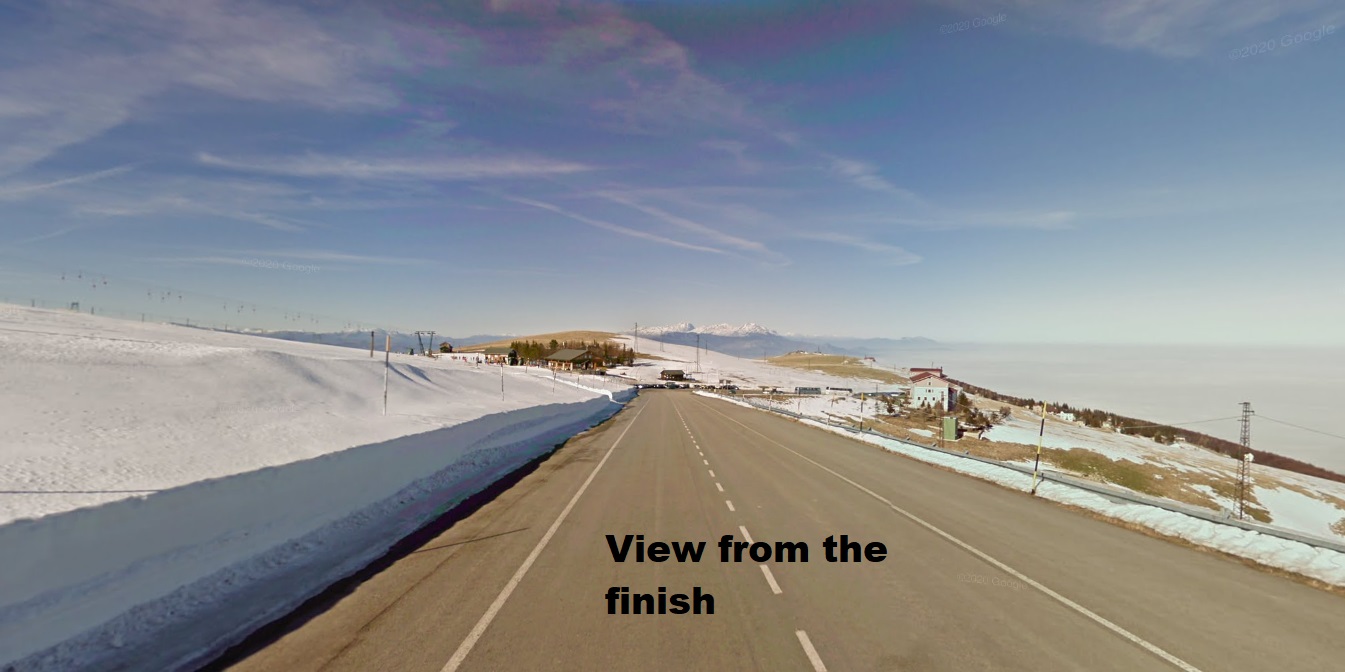 The Weather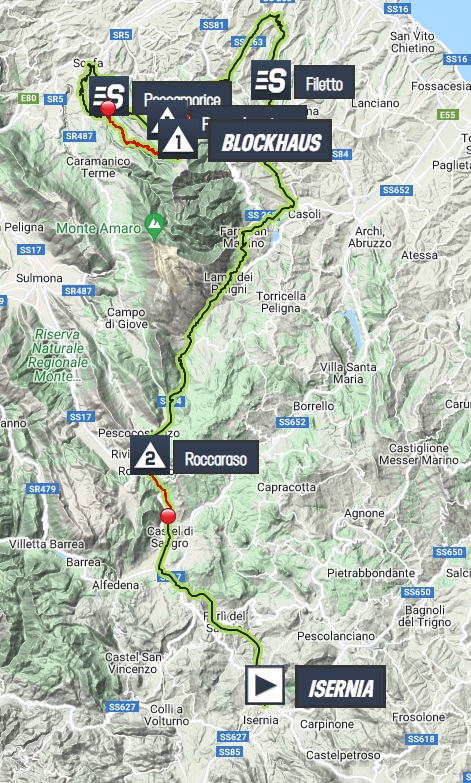 Forecast isn't too bad, but there is the slight possibility of rain towards the finale in the stage. In the climbs it won't make a difference, but there is quite some descending throughout the day too.  
Breakaway chances: 20% 
In favour of the chances is the very hard start. It will be a very complicated day, and the climbers will be looking to conserve their legs in the start. The many climbs will allow a very strong group to go up the road. 
Against is Trek – Segafredo who clearly have full intention of keeping the lead of the race, and will likely control the stage before the climbers' teams pick it up in the final hours. Besides, the final combination of climbs are horrific, and if one is to survive they will need an incredible day, as these are mountains where very big differences can (and will likely) be made.  
The Favourites 
Richard Carapaz – INEOS have put on a significant amount of work this week despite not having the responsibilities, so it's quite expected that they'll be doing similar tomorrow. Carapaz is a pure climber, and he will enjoy this mountain surely.  
Simon Yates – On his best day a brilliant climber but on his worst day, which isn't that unusual, he can loose minutes. This thought will haunt Yates throughout the race, however all the signs so far point towards a focused and more conservative Simon Yates who can be real danger on a stage like this.  
Mikel Landa & Pello Bilbao – Landa is a pure climber and within Bahrain there will be motivation to know who will be the main card – if that can be decided tomorrow. Landa and Bilbao both have good form and can be dangerous riders for such a day, and I would not discard Santiago Buitrago from also playing a role in the final ascent as he's looked quite good this season.  
BORA – Lennard Kämna will be after the pink jersey and so surely BORA will be near the front at all times. I reckon that both for both stage and GC success it will be in the hands of their trio which has so far barely put a foot wrong. Jai Hindley should be the most comfortable in such a gruelling day, however Wilco Kelderman and Emanuel Buchmann are also legitimate contenders for a top result. This won't be a day where they can use their strength in depth much, but they don't have any responsibility to work hence they can keep their cards intact until they climb to the finish.  
João Almeida – Not the best of climbers, but he has shown this year to even in summit finishes be capable of winning amongst the best. He's got a big engine, the final week should see him with his best legs but it will be crucial to put on a very strong performance at Blockhaus.  
Romain Bardet and Giulio Ciccone should on their best day also be able to ride with the best. Both will have high ambitions, as they are focusing quite a lot on the overall classification here. Bardet will have the support of Thymen Arensman who's got great form but may struggle in the gradients, whilst Trek will have Juan Pedro López who will give it his all to survive in the race lead, and definitely has the legs to put on a good ride.  
Behind are some riders who aren't as consistent but can do quite well. Hugh Carthy will have a decisive test to see if he'll be in the GC fight, Guillaume Martin will defend his high GC after today's successful breakaway raid, and Iván Sosa is a well-suited rider on paper for such a climb-filled stage but I need to see it to believe it. 
Alejandro Valverde and Jan Hirt can do quite well, but at the same time it is also very possible to see them drop back to focus on stage wins. As for Domenico Pozzovivo, Tobias Foss and Lorenzo Fortunato I believe they will be trying to ride with the best.  
Inside The Bus 
This morning I talk to… 
#83 Alexander Cepeda – Let's give it a shot. The race hasn't been easy so far, but if there is a day for you to turn it around it's a stage like this one. Attack early in the day, it won't be easy to have teammates but we'll have Eduardo give it a shot too. Throughout the day just keep it together, you should be able to be in front, and it's important to focus all on the last climb, big differences will be made and you need your best legs there.  
#137 Reto Hollenstein – Survive Reto, you and the guys will suffer quite a lot, but the priority is to make sure Giacomo stays in the race and arrives within the time limit so let's work as a team here.  
#201 Giulio Ciccone – We'll be attempt at the start Giulio, and have all weapons to support you and Juan. The priority is to try and keep the pink jersey, so we'll assume we can keep it all together until Blockhaus. On paper you have green card to do your effort, important to pace well until the finish. The climb suits Juan well though, so if you see he's actually resisting very well you can help him a bit aswell as he's got a buffer over the main GC guys – and keeping pink for a few more days would be very good for us.  
Prediction Time 
⭐⭐⭐Carapaz, S.Yates 
⭐⭐Kelderman, Almeida, Landa 
⭐Bilbao, Hindley, Buchmann, Almeida, Bardet, Ciccone, Sosa, Carthy 
My call is for a win for Richard Carapaz. This will be a crucial day in the race, and we'll figure out who will be in the battle to win and who should be fighting for the places behind. Carapaz inspires confidence, and his climbing abilities are well suited to such a stage.  
Zweeler is a fantasy sports game that includes many sports and cycling is no exception. I ask that you check it out, if you register with the link below you will not only be joining an exciting game but will also be personally supporting me and my work, and allow me to make more content for you! 
Tomorrow's race has prizes of at least €500 and an entry fee of only €5. Make good use of your knowledge! 
https://zweeler.com/game/cycling/FantasyGirodItalia2022stage9/main.php?ref=790 
Rúben Silva
Follow us on Twitter and Instagram
Join us on facebook: Ciclismo Internacional
Copyright © 2012-2022 Ciclismo Internacional. All Rights Reserved