2022 Tour de France – Stage 15 Preview
By @EchelonsHub
The win was in for the breakaway, however the first kilometers of the stage saw a flurry of attacks from Tadej Pogacar and Jonas Vingegaard early on in the day causing serious damage in the peloton. Jumbo-Visma managed to control the race and let a breakaway without a threat go however. 
Michael Matthews was part of a four-rider group that attacked in the break with 45 kilometers to go, and then managed to be the strongest of the riders in front up the final climb, resisting the surge of Alberto Bettiol to take an incredible victory on the summit finish. Bettiol and Thibaut Pinot completed the podium. Tadej Pogacar attacked the final climb in the peloton, however didn't manage to take time on Jonas Vingegaard who once again survived the attacks.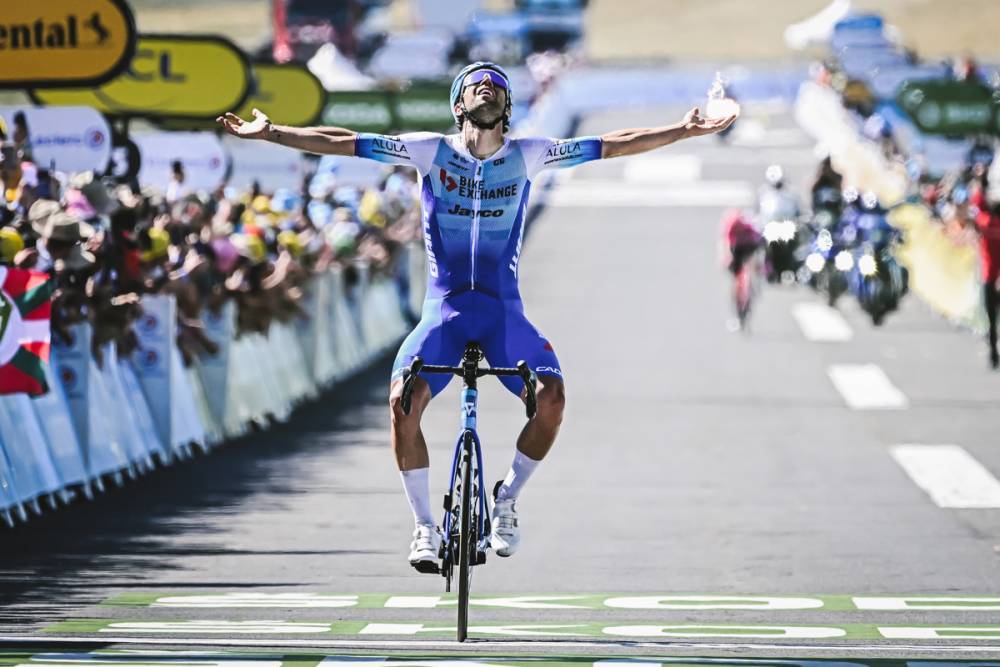 Positive: Matthews taking a superb win and Meintjes climbing to seventh place due to the breakaway's advantage. 
Negative: Nothing to mention. 
The Route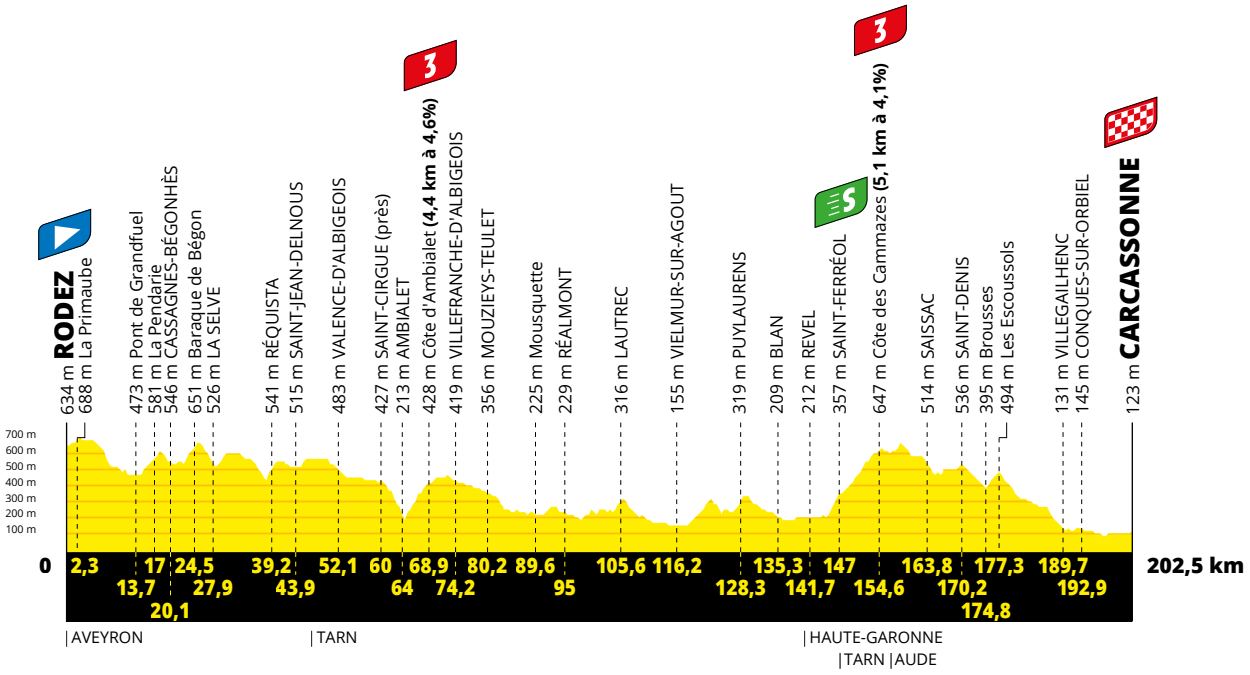 The race is heading south into the Pyrenees, but before the sprinters will once again have the opportunity to take a stage win, or will they? Stage 15 will be a transition day, with some hills en route to Carcassonne which will host a flat finale, but in no way one that's certain to end in a sprint. The start in Rodez sees some slight uphill ramps, and very rolling terrain in which a breakaway can go up the road. 
Throughout the day, that is repeated time and time again as there is a distinct lack of pan-flat roads. The stage has in fact over 2400 meters of climbing, and over 200 kilometers in distance which will make for a hard day under any circumstance. There are several small climbs throughout the day, the main one summits with 48 kilometers to go – around 10 kilometers at 4%. Not a hard climb, but one the riders can do in the big ring and with a strong group in front it can be very hard to cut the gap without dropping sprinters in the peloton. What follows are 35 kilometers of mostly downhill terrain, where again it can be very hard to cut down a gap. This means the peloton has to ride hard all day long in order to achieve a bunch sprint.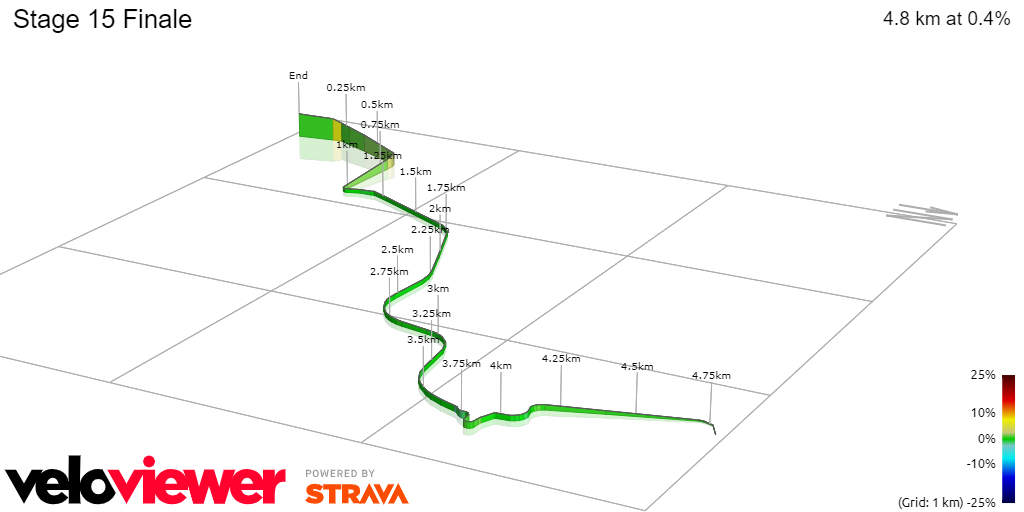 The final 12.5 kilometers flatten out, however there surely won't be too much firepower to chase down a move in this distance if this is the scenario. The final kilometers inside the city will be relatively technical, with a few corners inside the final kilometer making it sketchy. The finish will also see a slight bend to the left, which the sprinters will have to take into consideration unless they find themselves in pole position for the sprint.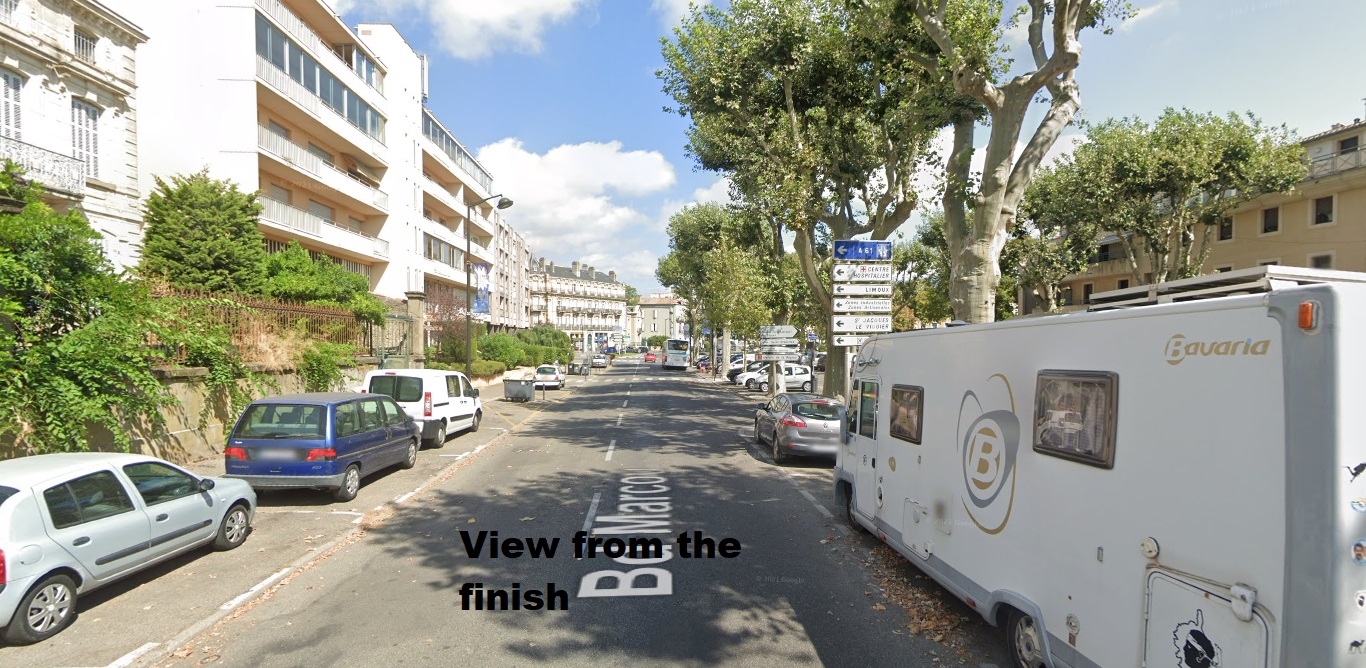 The Weather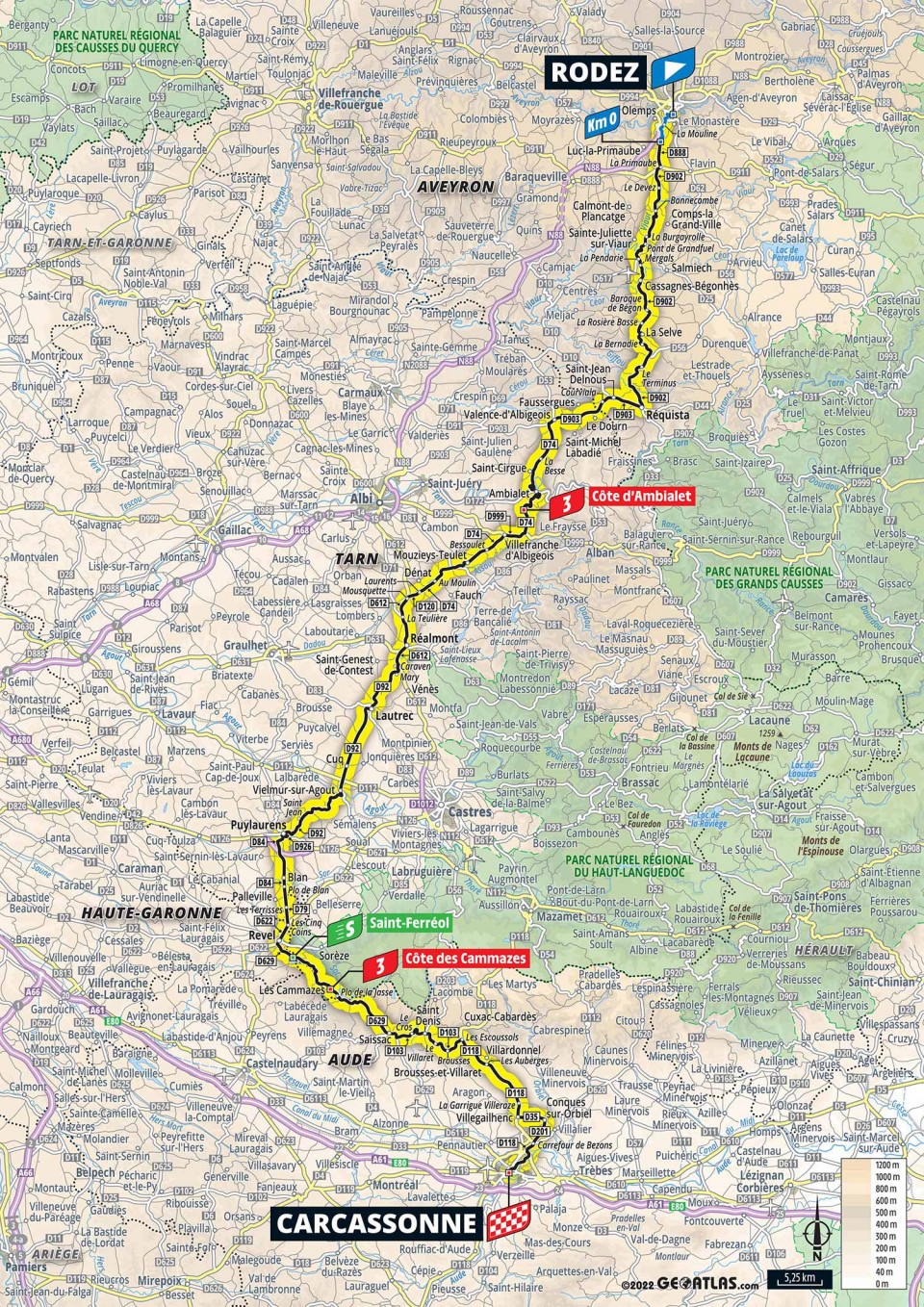 There will be modestly strong wind from the east all day long. This will add extra tension to an already complicated day, as it will mean a crosswind throughout much of the day. The real issue will be the temperature though, as over 35 degrees are expected for most of the day. 
Breakaway chances: 65% 
I think this day is a little easier to control than stage 13, however the weather conditions will make it very complicated for it to happen. Some of the sprinters are on their knees at this point, and the teams are reduced. In the peloton everyone will suffer, so the guys in the break can surely take advantage of the extra wind and car access for ice. 
The Favourites
Wout van Aert – Without a problem van Aert will be a figure to take into consideration for the win if a sprint is to come together. Defending yellow is the priority however and certainly Jumbo will not work, but the win is always a possibility. 
Mads Pedersen – He's taken his win, and it's unlikely that he will set himself up on a breakaway again. However, the form is on point and the route will suit him very well, Pedersen is the kind of rider for such a day. 
Jasper Philipsen – Philipsen is carrying good form for such a stage and Alpecin are fully behind him. They'll surely repeat the strategy looking for alliances with other sprinters, and the Belgian does give guarantees of consistency. 
Pure sprinters – The likes of Fabio Jakobsen and Dylan Groenewegen have been dreading the climbs and if the pace is pushed even slightly he will be dropped. This is not ideal in such a lumpy day. Peter Sagan has also looked in severe difficulties throughout the race and should be in this category currently. 
Caleb Ewan – He's had quite a lot of bad luck so far. Will Lotto try and work again with the Australian not having provided any proof of having the legs to win at the Tour? Unlikely, but on his best day he can fly. 
Michael Matthews may also stand a chance, you never know in these conditions who can surprise. Alexander Kristoff, Alberto Dainese, Luca Mozzato, Florian Sénéchal and Hugo Hofstetter are secondary options if a sprint is to happen. 
A breakaway to succeed is, in my opinion, again a likely scenario however, so we must take a good look at the rouleurs once again – without clear favourites as the weather and fatigue will once again see a complicated day to predict. Dylan van Baarle, Stan Dewulf, Nils Politt, Max Schachmann, Yves Lampaert, Matteo Jorgenson, Benjamin Thomas, Fred Wright, Stefan Küng, Silvan Dillier, Taco van der Hoorn, Stefan Bissegger/Magnus Cort Nielsen/Alberto Bettiol, Tim Wellens/Brent van Moer, Jasper Stuyven and Hugo Houle are all candidates, in the same way I considered them in stage 13. Puncheurs can do quite well, however the powerhouses and rouleurs are the main men to watch specially as such an unique opportunity is rare. 
Inside The Bus
This morning I talk to…
#22 Daniel Martínez  – Stay in the peloton and try to protect Geraint and Adam if necessary. We hope the peloton rides calm, however the wind will be present and we have to be careful with it. 
#214 Jérémy Lecroq – We have to try and join the breakaway Jérémy, it will be a rough start and all our guys pretty much will have the same order, as we must try and take a stage win and this is the last opportunity we have essentially. Have several guys in front and try to play with the depth is what we must do. 
#157 Lukasz Owsian – Protect Nairo, it's why you came here and so far you've been doing the job quite well. We have the chance of striking in the wind, however the priority will be to make sure Nairo stays where he is in the GC.
Prediction Time
⭐⭐⭐Wright, Cort Nielsen, Stuyven
⭐⭐WV.Aert, Philipsen, Politt, Küng, Bissegger
⭐Pedersen, Matthews, Ewan, van Baarle, Schachmann, Lampaert, B.Thomas, van der Hoorn, Bettiol, Houle, van Moer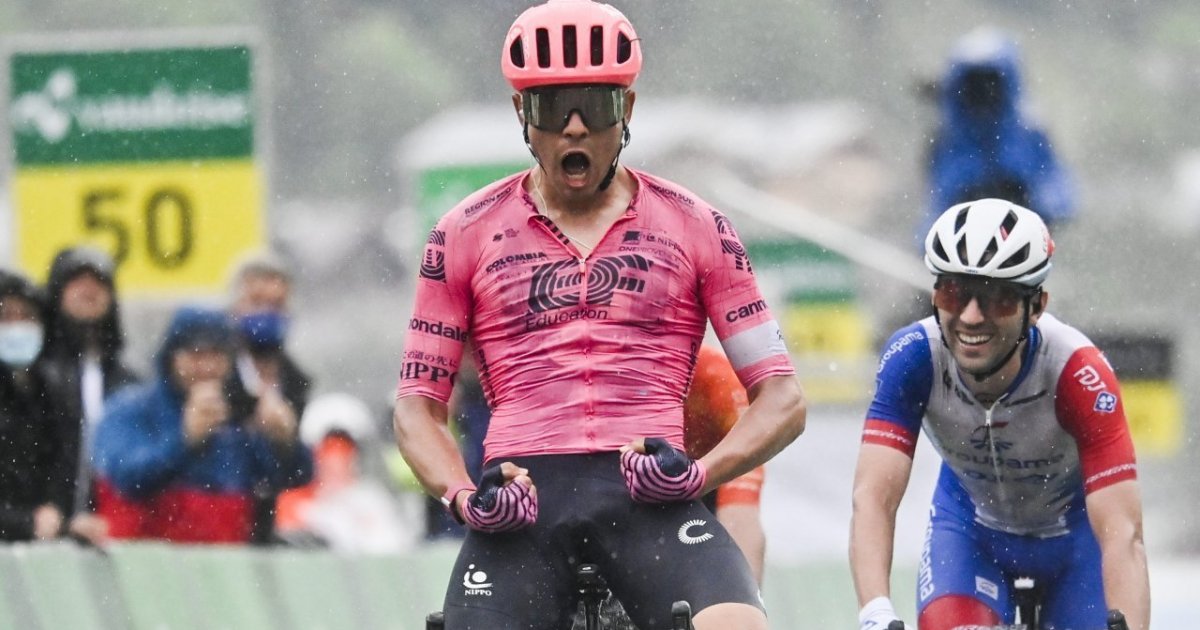 Needless to say that I expect the breakaway to win again. To who, now that is a relative lottery, however freedom and team depth is quite important in my opinion, and EF are currently in the position to take that win, and I'll go with Stefan Bissegger. 
Zweeler is a fantasy sports game that includes many sports and cycling is no exception. I ask that you check it out, if you register with the link below you will not only be joining an exciting game but will also be personally supporting me and my work, and allow me to make more content for you!
Tomorrow's race has prizes of at least €800 and an entry fee of only €5. Make good use of your knowledge!
https://zweeler.com/game/cycling/FantasyTourdeFrance2022stage15/main.php?ref=790
Rúben Silva
Follow us on Twitter and Instagram
Join us on facebook: Ciclismo Internacional
Copyright © 2012-2022 Ciclismo Internacional. All Rights Reserved