2022 Tour de France – Stage 20 Preview
By @EchelonsHub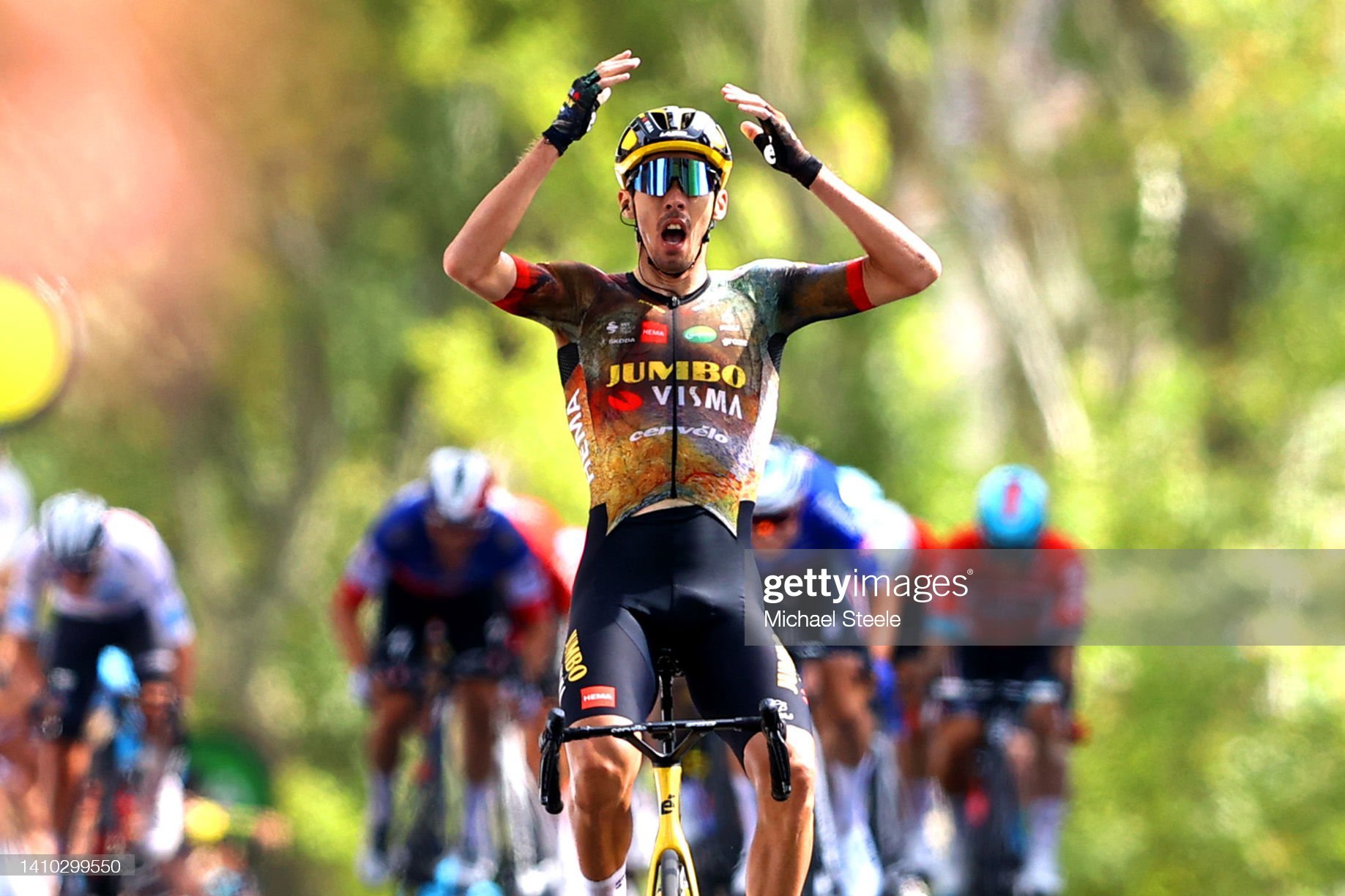 Jumbo-Visma cannot stop winning, as they have brought yet another win in the final opportunity for the attackers. The day saw several dangerous attacks, that survived until the final kilometer. Christophe Laporte jumped to the survivors in the final kilometer, and then sprinted to the win solo, holding off Jasper Philipsen and Alberto Dainese who led the peloton behind.  
Positive: Laporte and Jumbo-Visma almost playing with the competition.  
Negative: Nothing to note, although there are sprinters who are severely at risk of leavin the Tour with no results to show for.  
The Route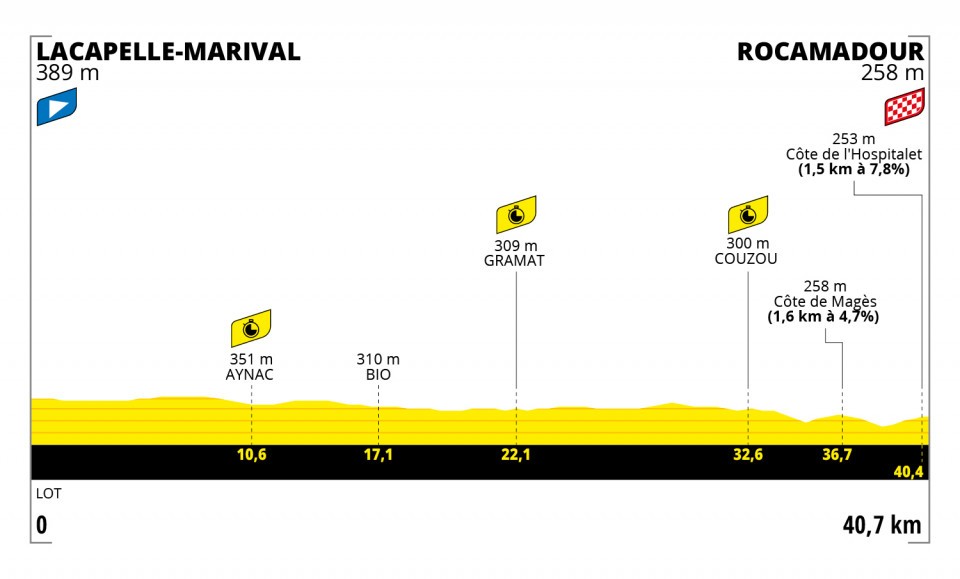 The final time-trial of the race. It can be a crucial day for the overall classification, or at the very least an interesting day with a Tour de France stage win up for grabs. The riders will have 40 kilometers ahead to tackle, a very decent distance by today's standards, and definitely a day where serious differences can be made.  
The time-trial is rather hilly. Not one where the specialists can't put the power down, but definitely open to surprises and with a tactical aspect to it. Until the third intermediate point after 33 kilometers, the roads are very rolling, sometimes tilting up a bit, sometimes tilting down, however in the map it's visible that it doesn't go through straightforward simple roads. This won't be favourable to the specialists, however this is where they have to make their difference. 
In the final section the riders will encounter two descents and two hilltops – one coinciding with the finish line in Roccamodour. The first of which is 1.6Km long at 4.7%, nothing serious, but the second into the finish can be quite hard to manage for those who haven't saved their legs. The final ascent to the town center is 1.8Km long at 6.2%, with it's toughest gradients near the base. It will be a very sharp effort at the end of a long time-trial.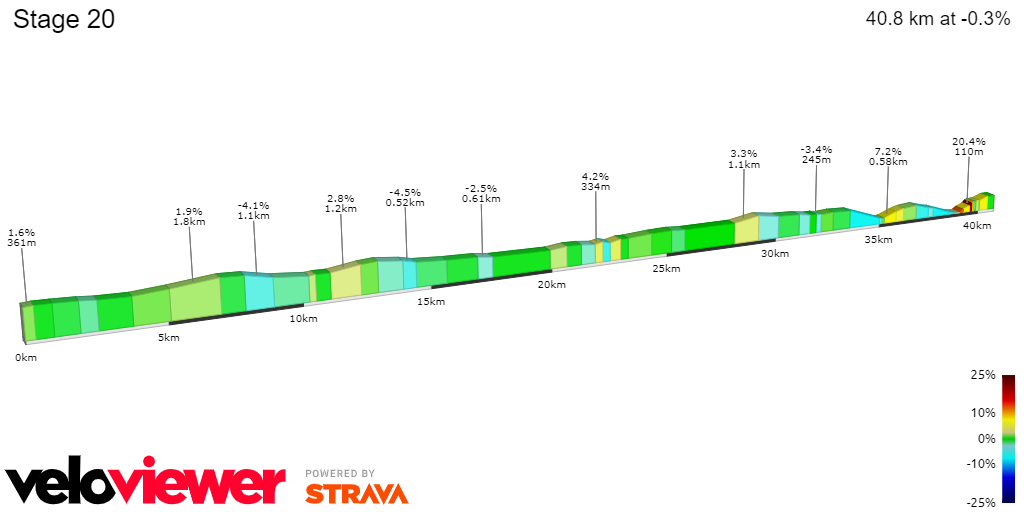 The Weather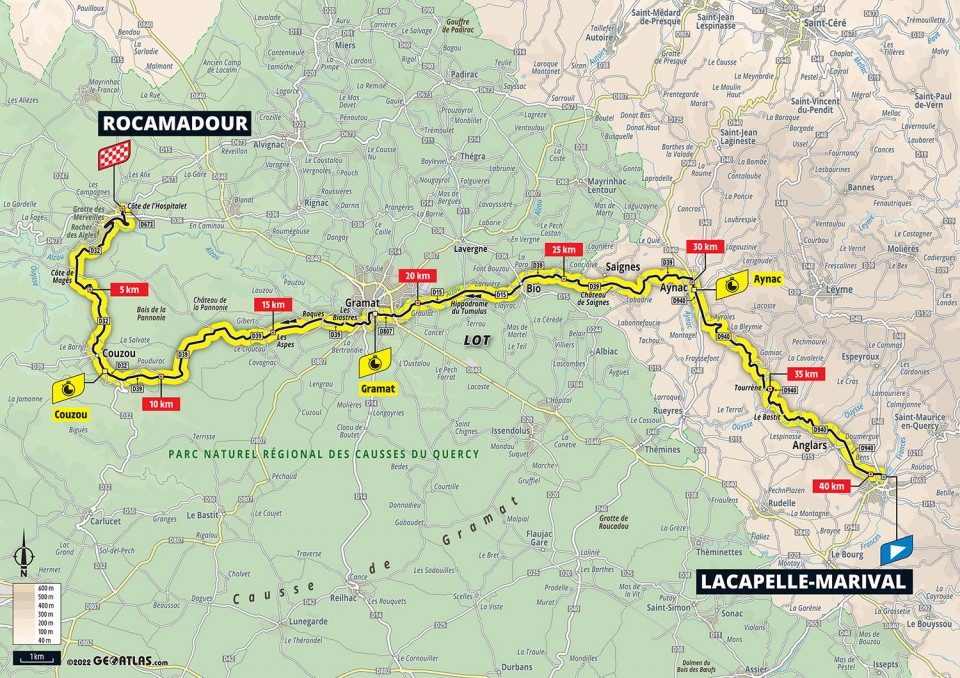 Warm temperatures and a small northwestern breeze. In a time-trial everything matters, this will come as a headwind and a cross-headwind for a big portion of the day, before the hilly section.  
The Favourites 
Wout van Aert – There's virtually no weak point in van Aert's armour which makes him perhaps the most reliable card to play here. Having thrived in the time-trials this year, this will be another opportunity to take another win.  
Filippo Ganna – The best pure time-trialist in the peloton, however this is not a good one for the purists. Will Ganna still be able to turn his pure power into enough of an advantage for the final climbs? He will have to give it his all.  
Stefan Küng – Kung has had domestique role throughout most of the race, often not being visible to the competiton. Although it may signal distance from top form, it may also signal him saving the legs for the day that matters the most to him which will be this one.  
Tadej Pogacar – He's shown to be able to thrive against the clock, and having a hilly route like this will suit the Slovenian perfectly in the fight for another stage win.  
Stefan Bissegger and Yves Lampaert will also be dangerous riders who can fight for the win in such effort, however favour more the flat terrain and the finale will not be easy. Jonas Vingegaard and Geraint Thomas for the overall classification will also be great contenders for a top spot, with Brandon McNulty and Mattia Cattaneo two other climbers who on great form could fare very well here. 
Dylan van Baarle, Max Schachmann, Nelson Oliveira, Bob Jungels, Benjamin Thomas, Daniel Martínez, Alberto Bettiol, Christophe Laporte and Andreas Leknessund will also be outsiders in their own right.  
Form and fatigue, after 20 days of hard racing will be crucial. Those who managed it perfectly will have a good chance to surprise tomorrow.  
Prediction Time 
⭐⭐⭐WV.Aert, Ganna, Pogacar 
⭐⭐Kung, Bissegger, Lampaert, Vingegaard, G.Thomas 
⭐McNulty, van Baarle, Jungels, Martínez, Bettiol, Laporte, Leknessund 
It can easily go in another direction, but with the form and recovery he has shown, I have the belief that Wout van Aert can win this final time-trial whilst in the green jersey.  
Zweeler is a fantasy sports game that includes many sports and cycling is no exception. I ask that you check it out, if you register with the link below you will not only be joining an exciting game but will also be personally supporting me and my work, and allow me to make more content for you! 
Tomorrow's race has prizes of at least €1250 and an entry fee of only €5. Make good use of your knowledge! 
https://zweeler.com/game/cycling/FantasyTourdeFrance2022stage20/main.php?ref=790 
Rúben Silva
Follow us on Twitter and Instagram
Join us on facebook: Ciclismo Internacional
Copyright © 2012-2022 Ciclismo Internacional. All Rights Reserved