2022 Tour de Romandie – Stage 2 Preview
By @EchelonsHub
Stage one of the Tour de Romandie ended up being decided on the hilltop finish to Romont, as there weren't any dangerous attacks that saw the scenario threatened. A pure anaerobic effort, Rohan Dennis attacked early in the climb but found himself caught in the very final meters by Dylan Teuns who came from behind and took a dramatic win. Dennis finished second and took over the lead of the race, whilst Marc Hirschi finished third.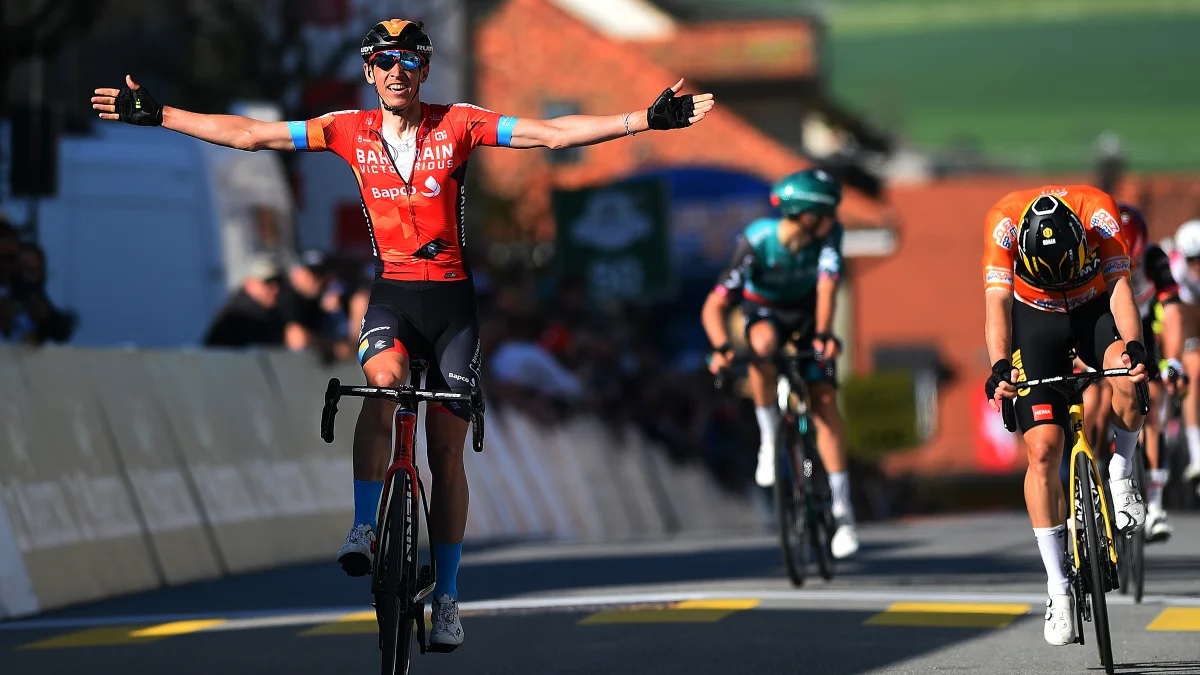 Positive: Teuns taking the win, Dennis taking over the race lead.
Negative: Ethan Hayter crashing out of the race lead. Ion Izagirre, Rigoberto Uran and Sergio Higuita were also involved in the late crash and lost time. 
The Route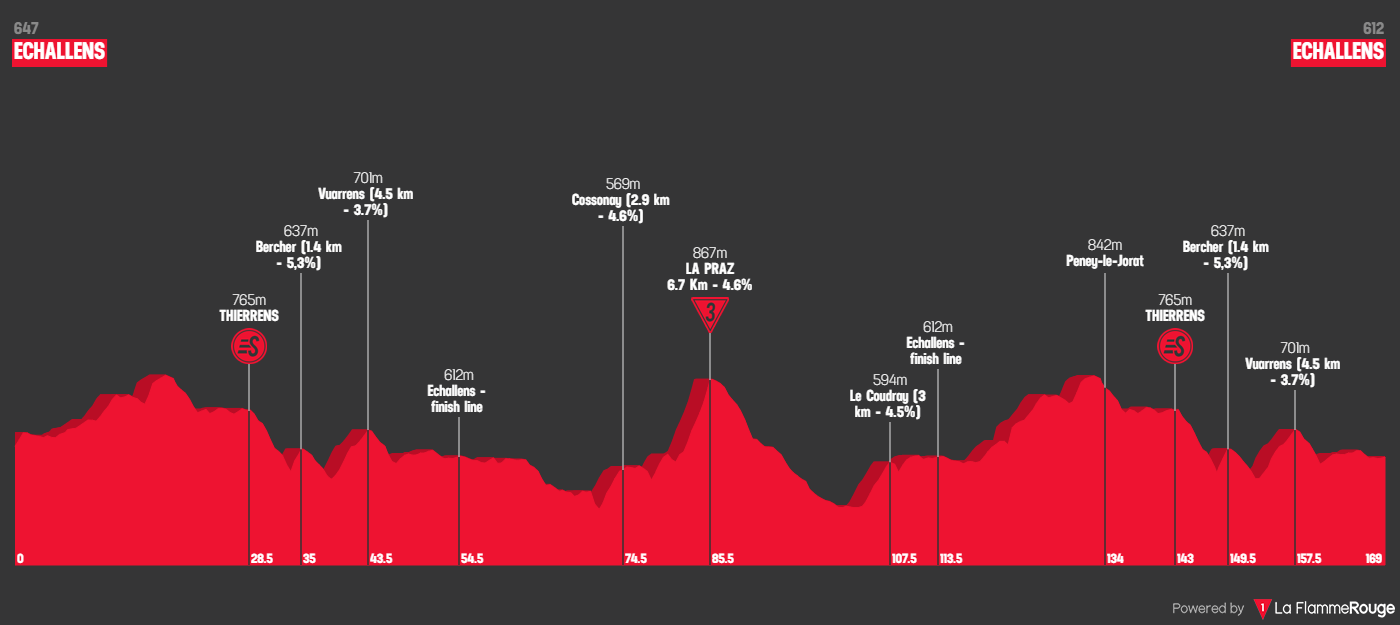 A day for the sprinters? Perhaps, the third day of racing provides an opportunity for the fast men but it doesn't come without it's fair share of climbing. It's an interesting day, with a rolling start that can see a breakaway go up the road, and honestly it suits a breakaway quite well but the interests in the peloton may make it quite hard.
You have the hardest climb of the day halfway through with 85 kilometers to go, but there aren't any real small-ring climbs throughout the day, most are rolling ascents. The final ones are likely to see a high pace, no matter what the race situation is.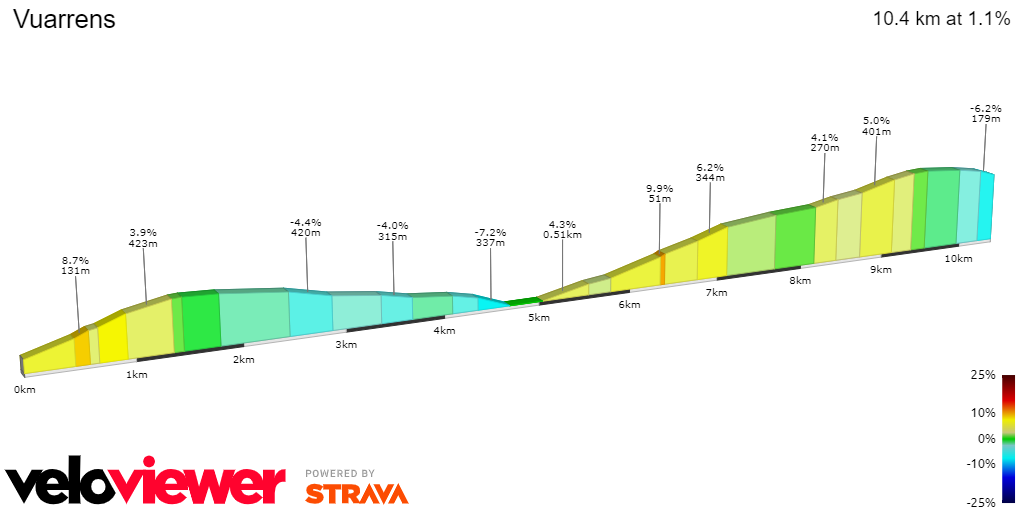 After the final intermediate sprint the riders will face two small hilltops. These can be decisive with attacks either in a breakaway or peloton, but they can also work to shed fast men from the peloton. Bercher (1.4Km at 5.3%) summits with 19.5Km to go, and Vuarrens (4.5Km at 3.7%) summits with 11.5 kilometers to go. These can be compared with the Capo Berta/Cipressa combo, not true ascents but with a fast pace some damage can be done. 
Although not pan-flat, the roads afterwards don't present any serious difficulty so a sprint can be achieved, they are straightforward roads where a concerted chase can easily be successful.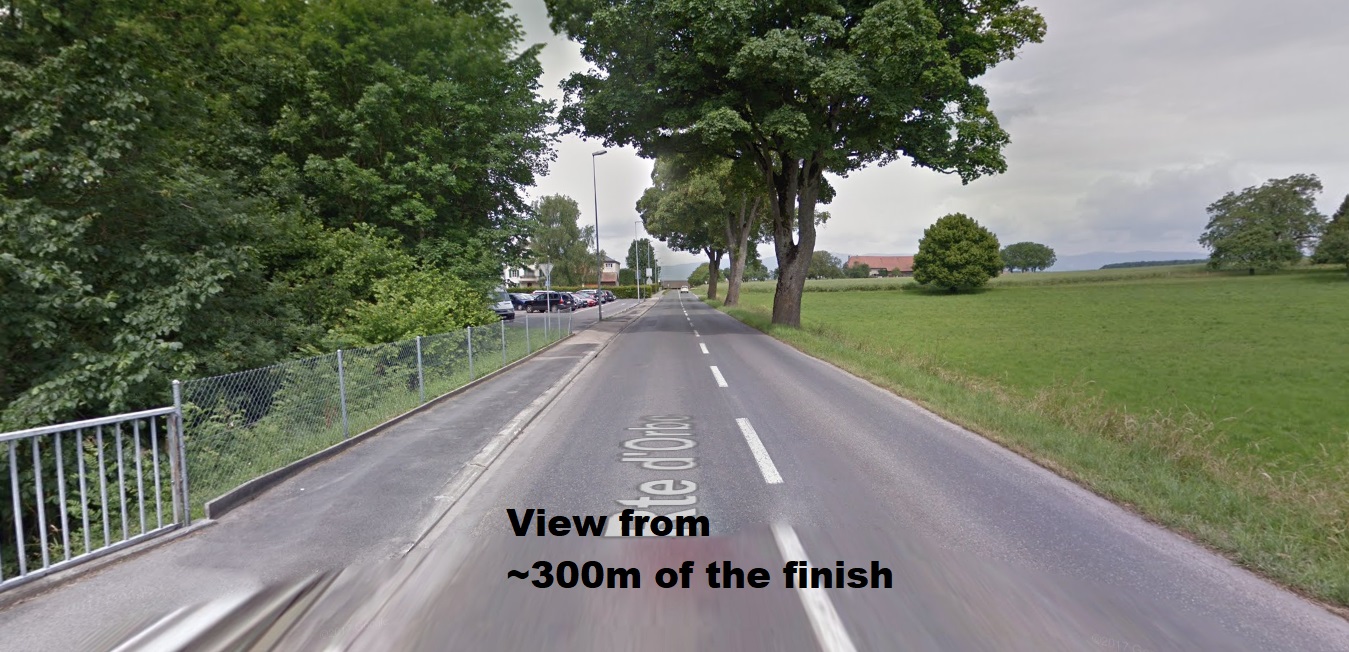 The Weather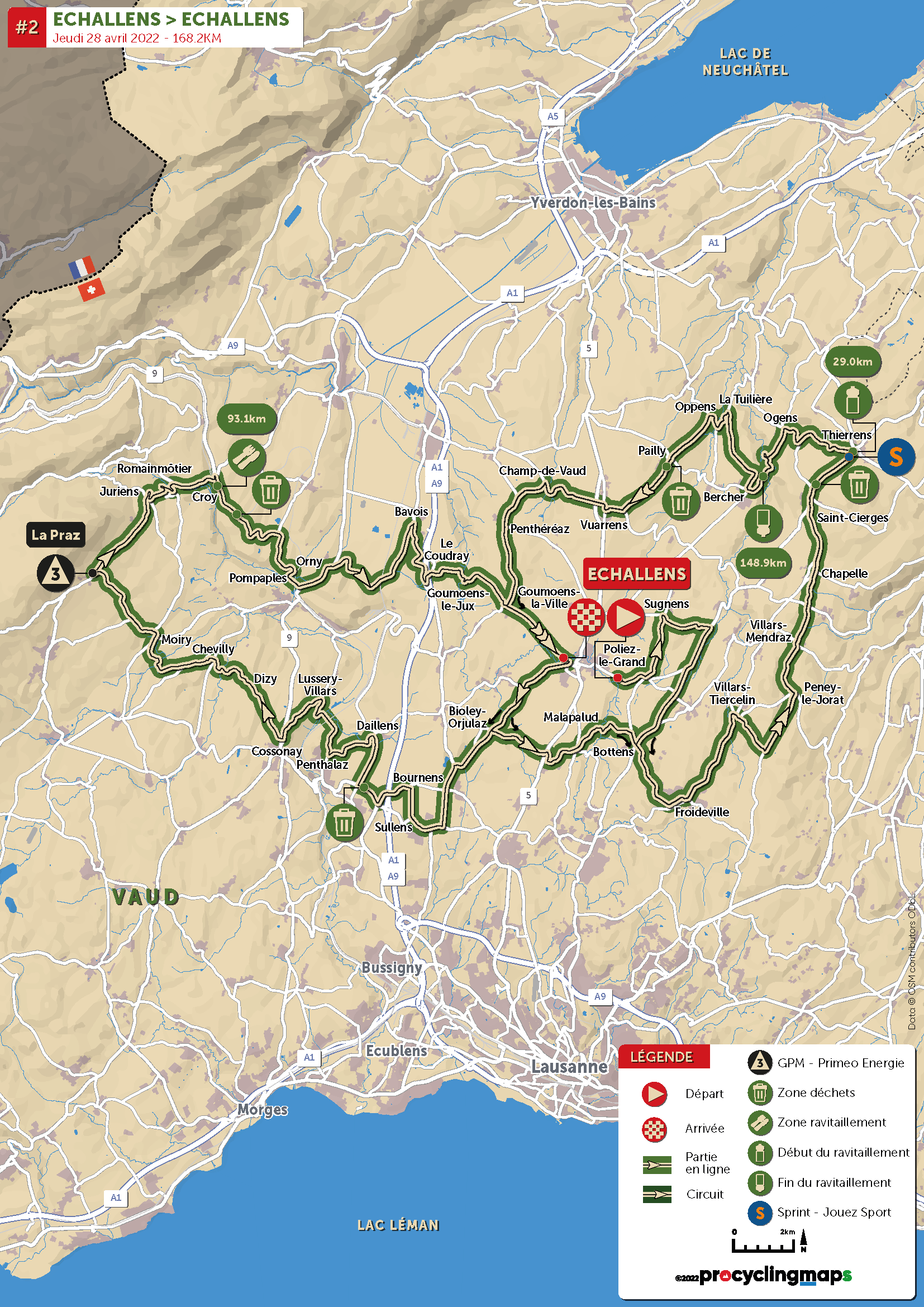 A northeastern breeze, just like today, however it shouldn't affect the stage much as the direction changes are constant.
Breakaway chances: 35%
No real favourite to take the stage win in a sprint, also as the stage is quite hard and hilly. If a team is truly interested in controlling from the start it shouldn't be too hard, but at the same time today's crash saw several strong riders loose time and gain freedom, and won't be chased by Jumbo-Visma tomorrow who will have no interest.
The Favourites
Patrick Bevin – Climbing very well, and packs a mean sprint. Bevin will have good opportunities over the next few days, and any win would be important for Israel – Premier Tech.
Fernando Gaviria – What form he's carrying is a bit of an enigma, however he is the strongest sprinter in the race and on his best day he can climb. He came to the race surely with eyes on at least fighting for a stage, this will be his best opportunity.
Ethan Hayter – As good as he is, this year Hayter has completely taken a step back in terms of positioning, many times hindering his possibility of fighting for wins. Today was the case, he was the last over the line so he may be suffering from consequences of the crash, however if not he's a big contender for the win as on paper it's a perfect day for him.
In case a sprint were to happen, the likes of Jon Aberasturi, Ethan Vernon, Francisco Galván, Dion Smith and of course the in-form Quinten Hermans can be considerable favourites for the stage win.
If things get complicated, with late attacks surging, I can name a few riders who should have the capacity to resist the peloton if they launch an attack – also taking into account those who have the motivation for it: Rohan Dennis, Luke Plapp, Magnus Sheffield, Rudy Molard, Rémi Cavagna, Ben O'Connor, Mauro Schmid, Matteo Sobrero, Andreas Leknessund and Neilson Powless.
Inside The Bus
This morning I talk to…
#94 Patrick Konrad – Sergio is very much out of contention for the race win likely, Max lost time, but we still have Aleksandr and Felix who are looking good and the goal for the day is to protect them. Towards the end, fighting for the stage win is possible, but the priority is to stay safe and keep them in contention.
#165 Antonio Nibali – How high we can hope is one question, but our best chance of fighting for a stage win is to get in the breakaway. Either that or a stint in one of the race's jerseys would be good for you, so the priority is to head up the road early on and see what is possible to do, I'll tell most of the guys the same thing.
#123 Johan Jacobs – We have a nice group of guys who will be outsiders for the general classification. It isn't too hard of a day, so we expect you to be in contention for most of the day, I want you to protect them, with a focus on Carlos and Einer, in order to keep all our cards before hitting the mountains.
Prediction Time
⭐⭐⭐Bevin, Q.Hermans
⭐⭐Gaviria, Galván, Hayter
⭐Dennis, Sheffield, Cavagna, Schmid, Sombrero, Powless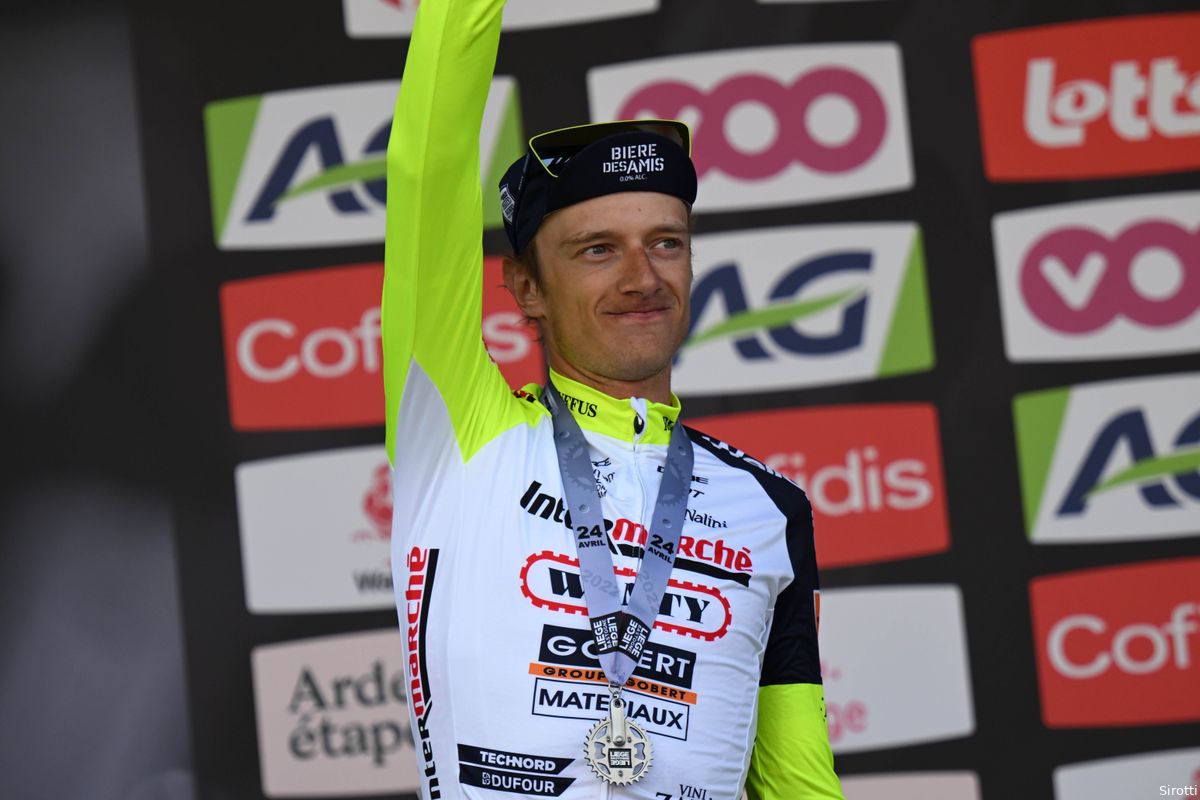 I think the chances of a late attack succeeding in this stage are significant, however i argue that with this being the flattest stage, there will be some teams committed into a bunch sprint. My choice for the stage win is Quinten Hermans, in a very similar stage of Itzulia he was close to the win and I think his form is even higher in the meantime.
Zweeler is a fantasy sports game that includes many sports and cycling is no exception. I ask that you check it out, if you register with the link below you will not only be joining an exciting game but will also be personally supporting me and my work, and allow me to make more content for you!
Tomorrow's race has prizes of at least €250 and an entry fee of only €5. Make good use of your knowledge!
https://zweeler.com/game/cycling/FantasyTourdeRomandie2022stage2/main.php?ref=790
Rúben Silva
Follow us on Twitter and Instagram
Join us on facebook: Ciclismo Internacional
Copyright © 2012-2022 Ciclismo Internacional. All Rights Reserved