2022 Tour of the Alps – Stage 5 Preview
By @EchelonsHub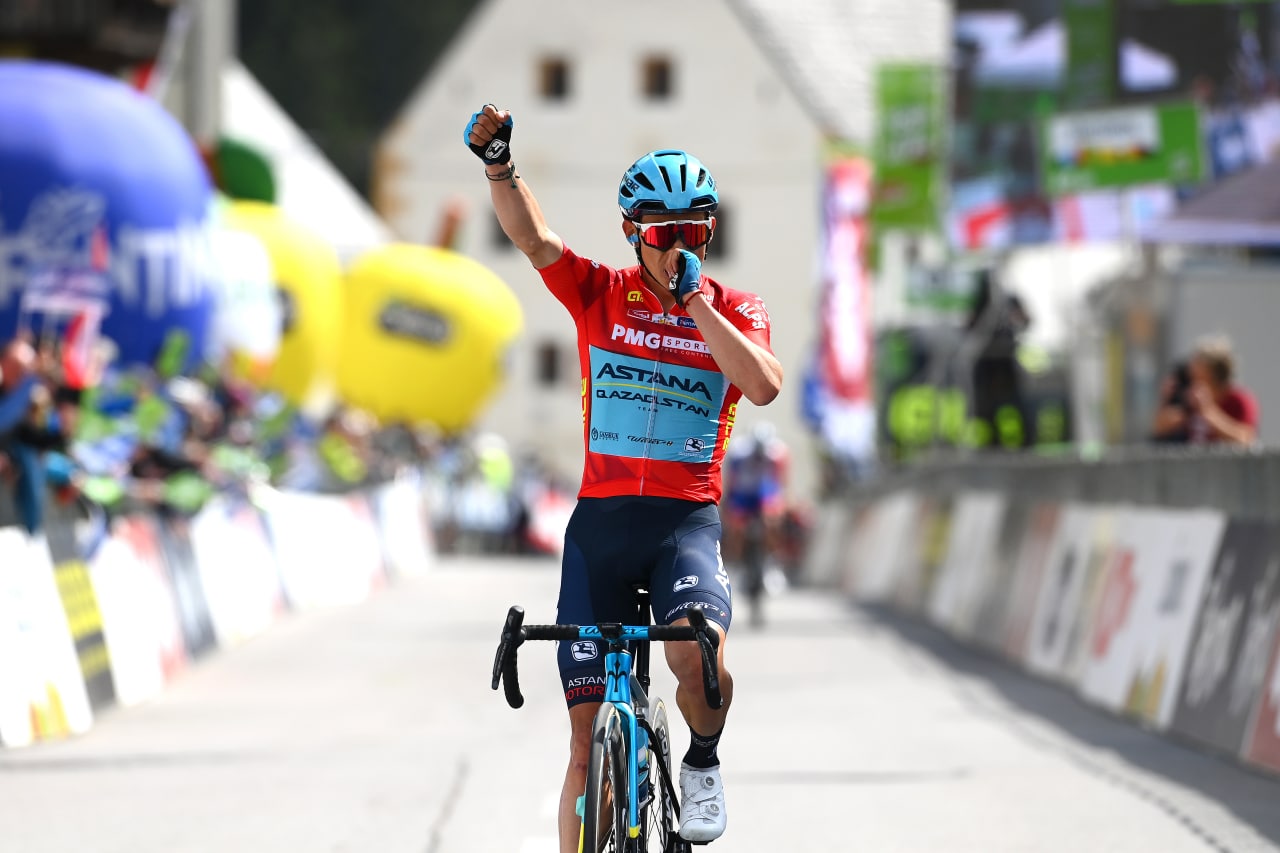 The fourth stage of the Tour of the Alps was one where the breakaway was likely to succeed, however due to heavy work from DSM and INEOS it ended up being someone from the peloton. Not to their benefit as Pello Bilbao remained rock-solid in the green jersey, but Miguel Angel Lopez who anticipated the moves of the GC riders to dramatically catch up with Thibaut Pinot and take the second win of the season for Astana. 
Positive: Lopez who is showing he does have the form, and taking a much needed win for the team, and Bahrain who controlled yet another day of racing.  
Negative: Pinot rode a very strong stage, and it was a disappointment for many fans to see him so close to a win that would be very important. INEOS, who worked not only to no benefit, but to their loss as Eddie Dunbar lost time, Esteban Chaves aswell for EF.
---
The Route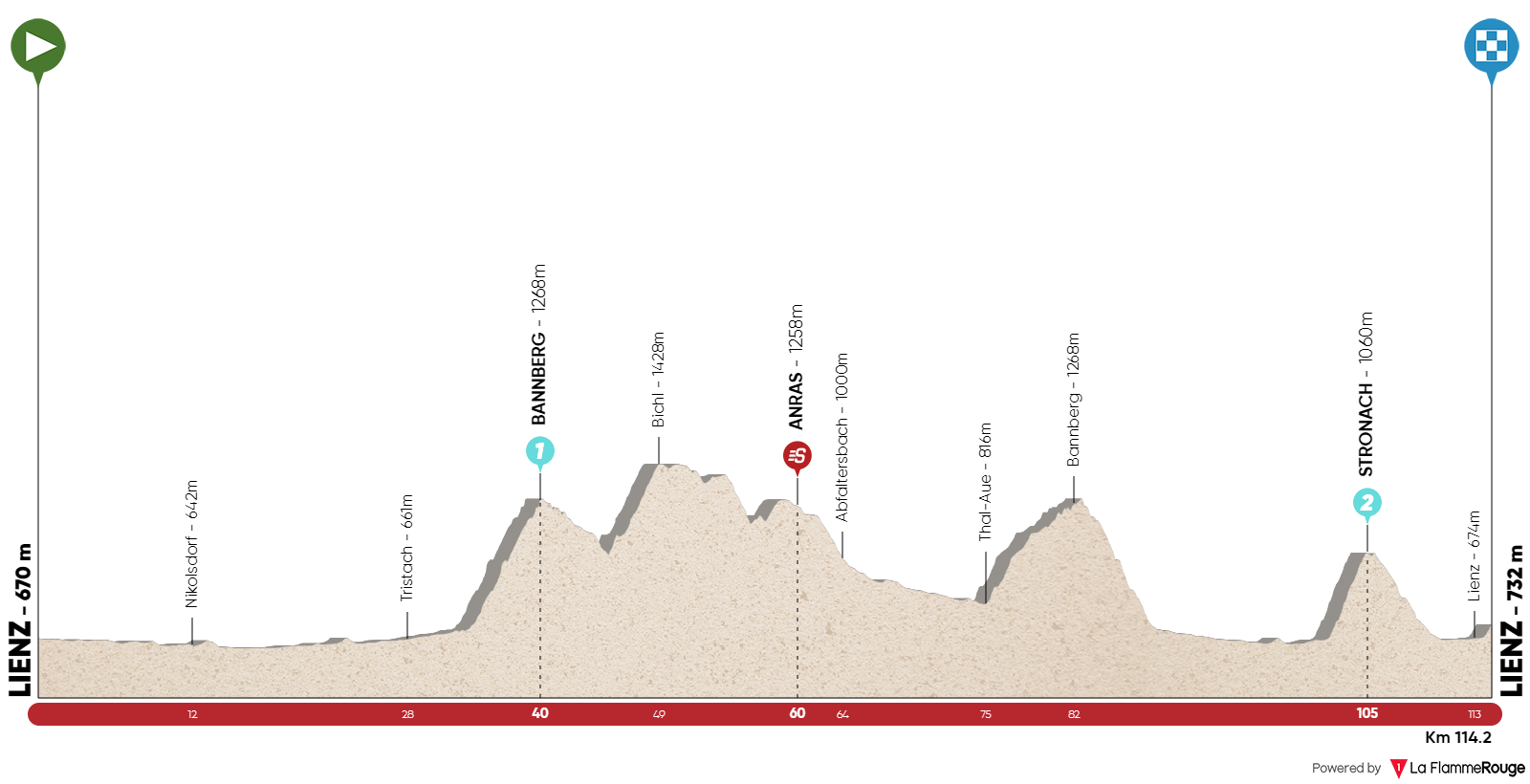 The final stage will take place inside Austrian territory fully. It is 114 kilometers long, short and explosive. However, the start is flat and the hardest climb comes near the ending, so I can't actually say that this is a day for long-range attacks which is the point of short stages… Unless… If the breakaway somehow doesn't go off in the initial 30 kilometers and there is an all-out battle in the first climb of the day.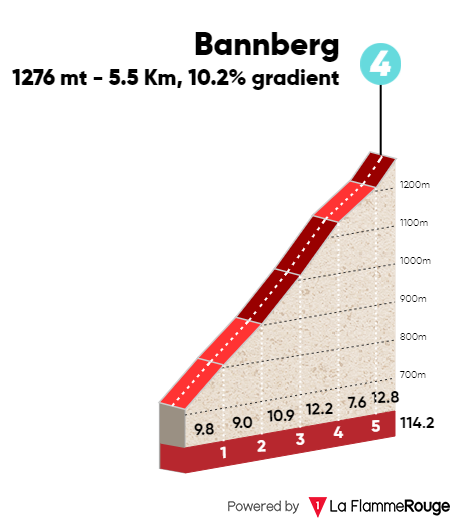 Then Bannberg is a brutal climb, not a stranger to fans of the Giro d'Italia. It's summit is far from the finish, however the rough sequence of climbs that follows may be a motivating factor for moves, it has the potential to completely blow the peloton to bits.  
The ascents of Bichl (64 kilometers to go) and the Bannberg again, albeit through an easier side (32 kilometers to go) will soften up the legs in the peloton, but if moves don't go on the first climb of the day then everyone will wait for the final climb and with good reason.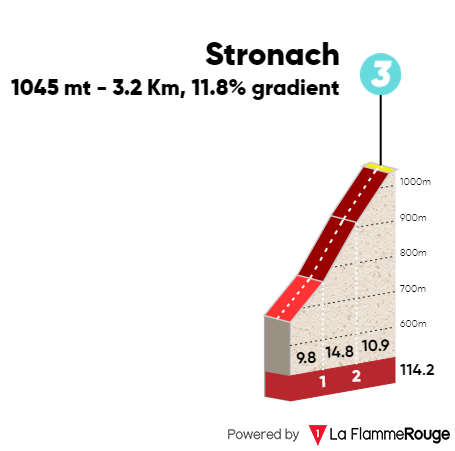 Stronach is the typical steep, short and explosive Austrian climb. On the outskirts of Lienz, it is a road that goes up residential neighborhoods, but in this case there won't be many who will be able to enjoy the view to the valley as the gradients bite severely. It's the steepest, and last true climb of the race, 3.2 kilometers long at 11.8% and serious differences can be made on it. It summits with only 9.2 kilometers to go.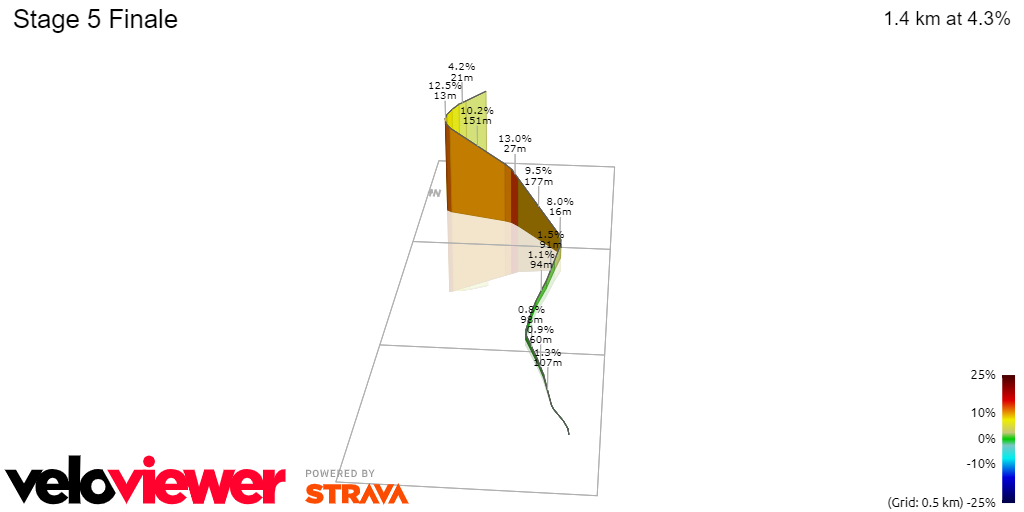 A fast descent will lead the riders back into Lienz, and the finish line will be on a small hilltop, which will still see some double-digit gradients close to the line, and will make it an exciting finale to the race.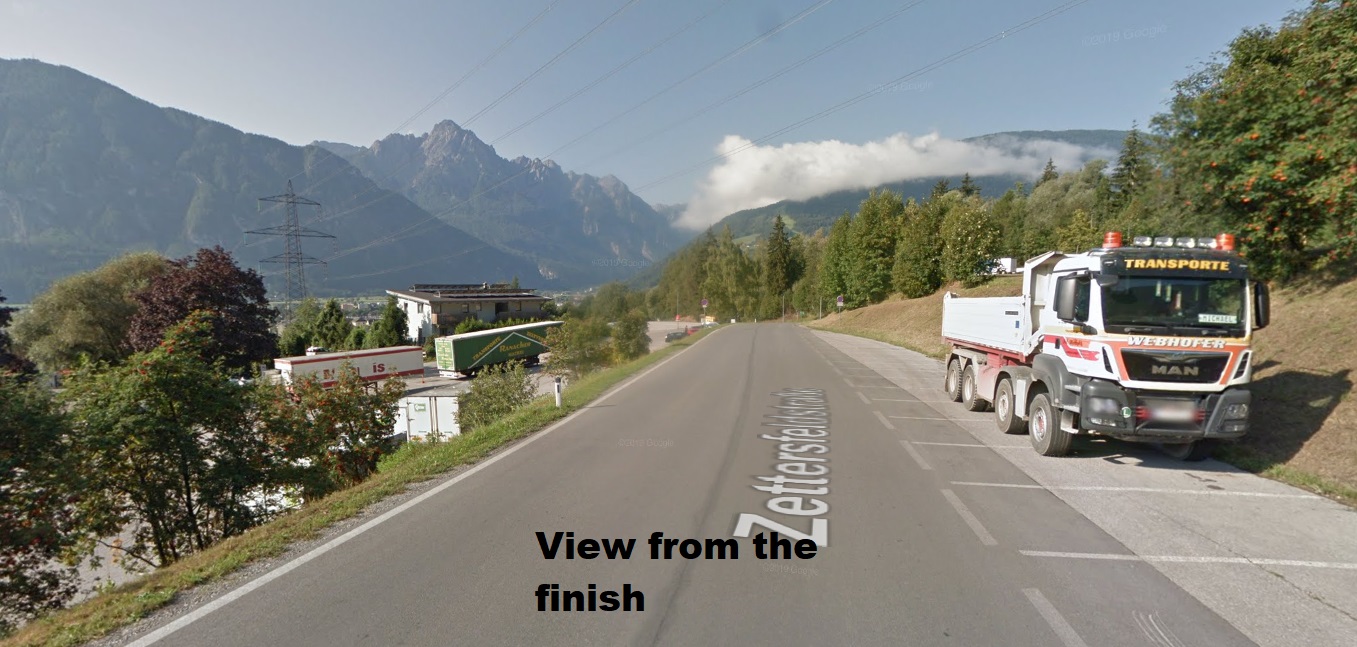 The Weather
Cold temperatures, cloudy skies and possibility of rain. Not a good day weather wise, however as I've pointed out it doesn't seem as if the riders are feeling any effects.  
Breakaway chances: 25% 
I think there's a solid chance, specifically because if the break only goes in the first climb of the day, it should be a very strong group which wouldn't ordinarily be easy to catch specially with such small distances. However, INEOS and DSM have seemed perfectly fine with taking the responsibility over the race as they need to attack to go for the GC win, and only by pushing hard can they do it.  
The Favourites 
Miguel Angel Lopez – He's just won a stage, but there's no reason why he would just rest when there's the possibility of grabbing another one, specially with the Giro on the doorstep in which he's building towards. Lopez can benefit, like today, from his lack of GC responsibilities to not be marked anywhere he goes. 
Thibaut Pinot – The bad luck today, of just merely missing out on a win. Chances are never very high, but Pinot has another opportunity tomorrow in a day that suits him. Groupama have GC ambitions but they won't prevent him from having his own in this race, it's possible that today only fueled his hunger further.  
Bahrain – Bahrain have been in total control of the race so far, it's really hard to imagine Bilbao being distanced at this point of the race. With Landa and Buitrago behind, they've got several cards, to play in whichever way they intend if nothing goes wrong.  
INEOS – With Dunbar having lost time, surely INEOS wll try to attack the first climb of the day hard because they absolutely need to try and dismember the Bahrain team. Dunbar will have more freedom after today, whilst Porte and Sivakov have another day to try and break the Basque duo. 
Romain Bardet – He's there, but with the steep climbs I doubt Thymen Arensman will be able to play a significant strategical part for the team. Bardet is looking good, but I'm afraid with the quality of the teams above DSM just won't be a match, nevertheless it's not impossible at all. 
For the GC fight, you really shouldn't expect anything else than a battle between the two teams above. Nevertheless, with Bardet as an outside, I can point out others who can do well, and also within a chance of benefiting from a battle between those two if possible. Groupama sit with two weapons near the front, Attila Valter and Michael Storer who prefer the high mountains but can for sure do something here, and additionally you can add Felix Gall, Einer Rubio and the EF duo of Hugh Carthy and Esteban Chaves if they happen to find themselves on a good day – the latter also a breakaway possibility.  
Inside The Bus 
This morning I talk to… 
#77 James Picolli  – We have nothing to loose James, final day and you've shown good form so let's hit the break one more time. We don't have many riders so we can't be in control before the first ascent of the day, however we'll tell the guys to stick with you and try to encourage splits in the front. We want you to stay as fresh as possible for the final ascent, trust me it is incredibly steep and minutes can be gained or lost there, so don't overstress if there are riders ahead, focus on that one climb to go all-out and hopefully be in a winning position.  
#64 Attila Valter – You're sitting in third Attila so we will not only deposit trust in you, but protect you. I know it isn't the best of stages for you, but we have some ambitions. Thibaut should try to go for a win again, whilst you and Michael will contest the GC and if all goes normal, no-one will be allowed from the GC guys so just stay wary, don't attack. In the final climb, go all-out obviously, and hope for the best, maybe the GC guys block themselves once again and you can keep that place which would be an amazing result.  
#173 Logan Mclain – Ideally a breakaway goes nice and early in the day, and your role will be to be up there with Florian and Karel specially who we need to get in a break if we want to have any chance to go for a stage win.  
Prediction Time 
⭐⭐⭐Bilbao, MA.Lopez 
⭐⭐Sivakov, Pinot, Bardet 
⭐Buitrago, Landa, Porte, Dunbar, Storer, Rubio, Carthy, Chaves, Arensman, Gall, Bouchard, Kamna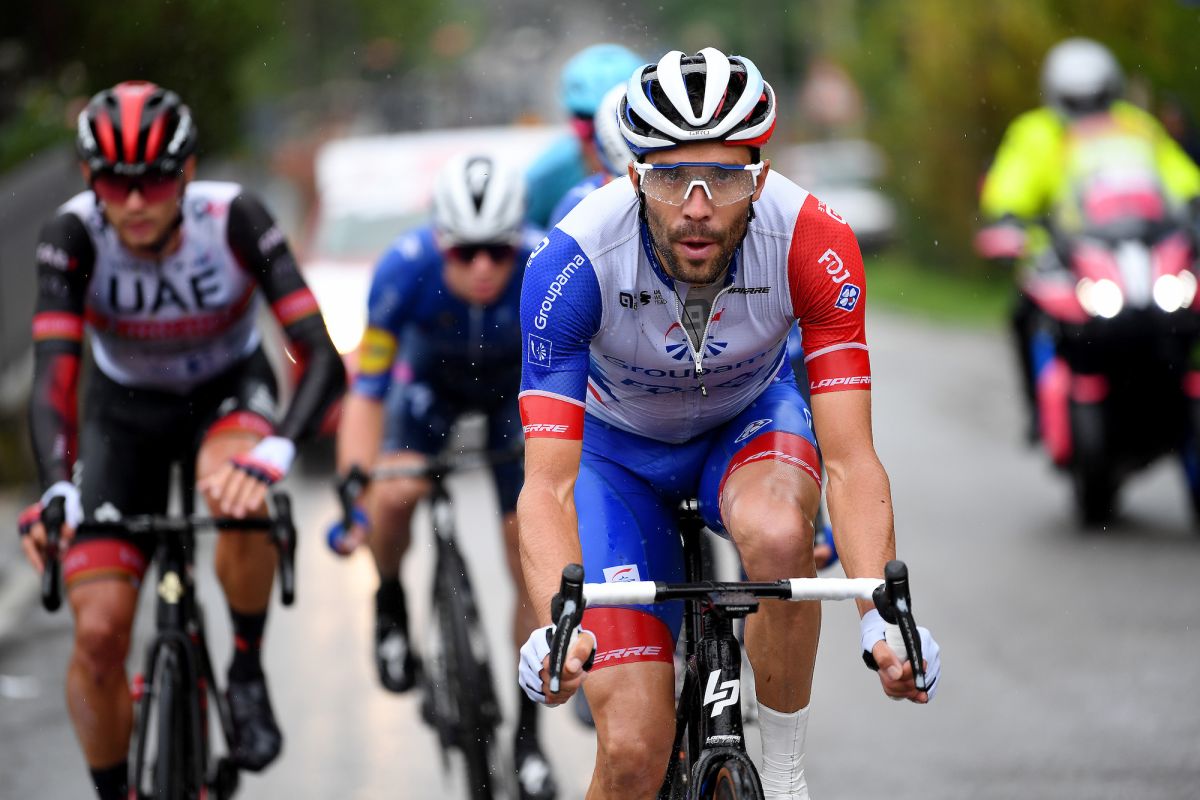 I wouldn't consider it a long shot, I think Thibaut Pinot will once again try to get in a breakaway, only this time succeed in the win that he was almost set to get today. 
Zweeler is a fantasy sports game that includes many sports and cycling is no exception. I ask that you check it out, if you register with the link below you will not only be joining an exciting game but will also be personally supporting me and my work, and allow me to make more content for you! 
Tomorrow's race has prizes of at least €100 and an entry fee of only €2.5. Make good use of your knowledge!  https://zweeler.com/game/cycling/FantasyTouroftheAlps2022stage5/main.php?ref=790 
Rúben Silva
Follow us on Twitter and Instagram
Join us on facebook: Ciclismo Internacional
Copyright © 2012-2022 Ciclismo Internacional. All Rights Reserved