2022 Vuelta a España – Stage 5 Preview
By @EchelonsHub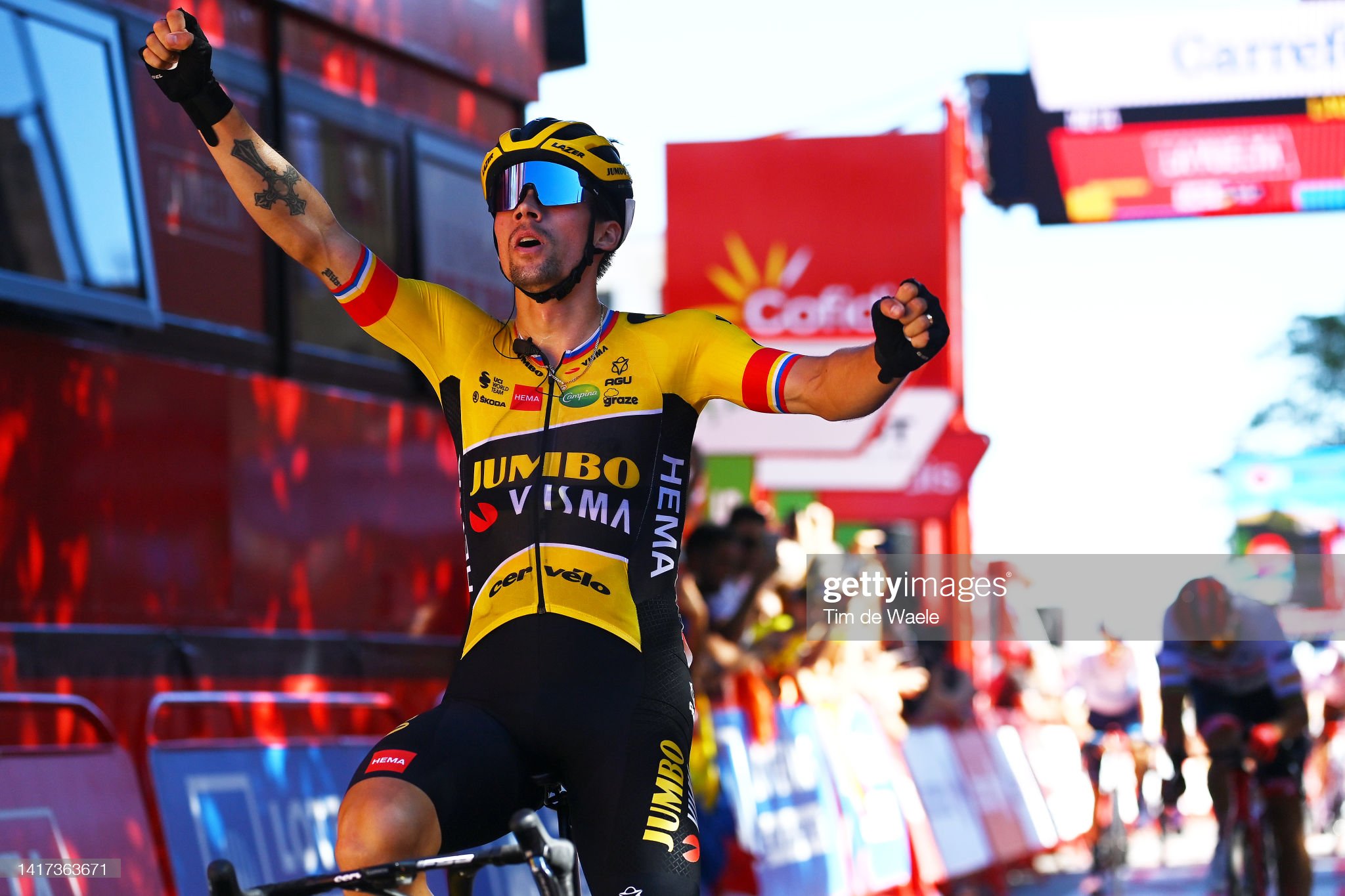 Things return to normal, as Primoz Roglic took the win on the fourth stage of the Vuelta a Espana in the uphill sprint at Laguardia. It was a hard day overall, but a sprint was inevitable up the final climb. Trek led the sprint for Mads Pedersen, but he couldn't hold the pace of Roglic who took the win and the race lead. Enric Mas finished in third place.
Positive: Roglic taking the win and the red jersey, but most importantly showing good form which was not a certainty.
Negative: Julian Alaphilippe showed the form is not quite there yet, loosing time today. In the GC fight, Vincenzo Nibali and Bob Jungels were between the riders loosing time – seconds and minutes respectively.
---
The Route

The fifth stage of the Vuelta a Espana will traverse the Basque Country close to the sea. A hilly day, and a traditional finale in Bilbao which will make for an interesting and very open day early in the race. There will be 3000 meters of climbing, it will be no easy day for anyone, with a lot of small ascents in the first half, and the main climbs of the day late on.  
With 92, 84 and 62 kilometers to go there will be some hilltops, nothing too big however, but it will warm up things and build up some fatigue which will not favour the riders looking to survive and bet on a sprint late in the day. The race will reach the outskirts of Bilbao however and go on a double ascent of one of it's most famous climbs.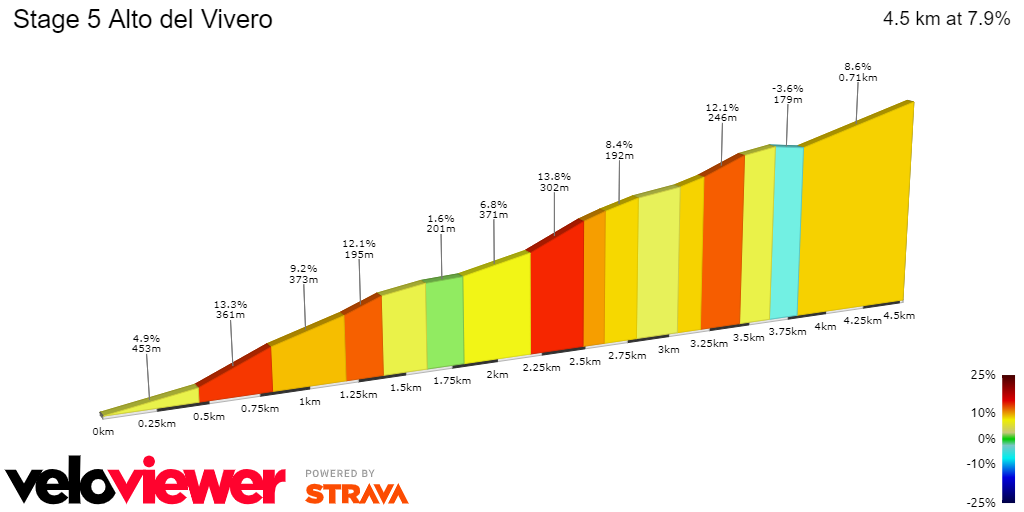 It will be the Alto del Vivero. Will be summited twice, with 43.8 and 13.8 kilometers to go. 4.5Km at 7.9%, with ramps going up as high as 13% through it. It's a short and sharp climb, hard enough for the GC riders to make moves, but also "gentle" enough for some faster riders to go through the summit close to the front, depending on how the race goes. 
There will be bonus seconds at the summit of the final passage however which is likely to stir things up. If any rider manages to get away it will be very hard to bring back, as the following descent will be quite fast and leave the riders with just two kilometers to go. The sprint will then be flat, on urban roads, without too much difficulty as there are no expectations of a large group fighting for the win.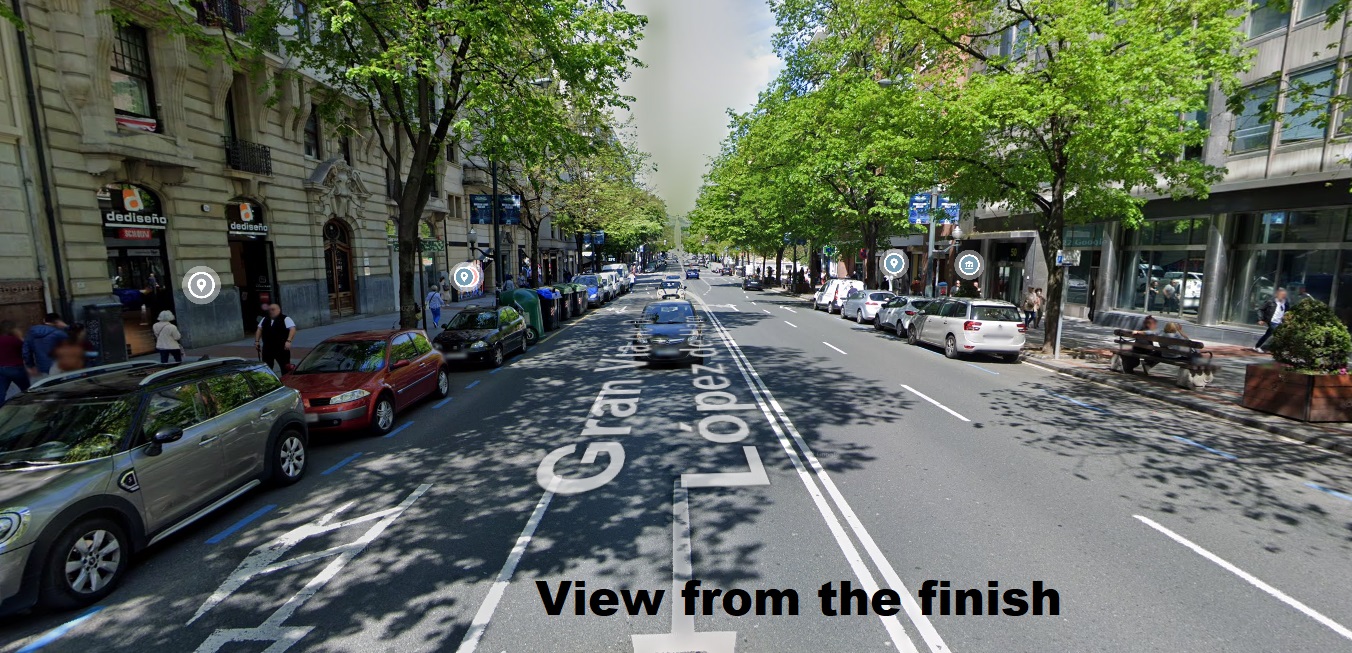 The Weather

Another hot day on the road, with a small northern breeze. It won't make much difference, but the heat will not be enjoyable for many.  
Breakaway chances: 40% 
Jumbo-Visma have taken two wins and have Roglic in the lead of the race already. Everything has already gone according to the plan, the team has no need to be chasing a breakaway, and on a day like this it will not be easy to see anyone fully commit – and capable of controlling the race on such a tough day.  
The Favourites 
The first question that has to be put is, how hard will the race be? And how many riders will make it through the climbs? This will be important, as some of the favourites for the day are those that sprint but can get through climbs well, such as Mads Pedersen who's been showing incredible form. This finale won't be ideal for him as the climbs are longer than he'd want, but he seems to be capable of handling it. Ethan Hayter should too, so there are very reasonable options for a small group sprint to be won by someone with the speciality.  
In the field of the riders who have a strong sprint and could also on a great day get over the climbs, there is a big mention to be given to Fred Wright and Bryan Coquard. The puncheurs then come after as they may have a very suiting stage as long as no-one launches a solo move towards the end, Quentin Pacher has shown great legs today.  
Robert Stannard, Patrick Bevin and Daryl Impey all fit in that sweetspot aswell where they carry no responsibility and may find themselves in a lucky position, and capable of taking a huge win.  
Realistically, a sneaky move over the top can take the win, very fast run-up to the finish and almost impossible to organize a strong chase. That can come from many different riders, but it's a gamble if you go into dozens of riders and try to pick which will succeed or not. On the climb attacks will be much easier to control, but who knows, the GC fight may explode and we have some very important splits for the first time… 
The likes of Primoz Roglic and Remco Evenepoel will be perfect for this kind of climb, they can both descend and sprint relatively well too. Simon Yates, Pavel Sivakov, Enric Mas and Jai Hindley are between the riders I'd expect to see react the best. It's a different effort than today however, a short and explosive climb, but still longer. Riders such as Sergio Higuita, Alejandro Valverde and João Almeida could benefit from a hard race that could then end in a sprint.  
Inside The Bus 
This morning I talk to… 
#163 Kenny Elissonde – GC is possible, you've got good form. Let's stay with the GC guys, you can try to sneak off the front at some point, and at the same time keep an eye on Mads as he's climbing well and he could be within a shot of taking the win.  
#225 Dan McLay – Save your legs Dan, wait for a gruppetto to form and stick with them until the finish.  
#16 Nicolas Prodhomme – Let's try and get in the break Nicolas. Nothing to loose, it's a hilly day that suits you well, so let's try and get in there. If all goes good you can fight for the win, with the final two climbs as the priority, it's where you gave to make the difference! 
Prediction Time 
⭐⭐⭐Hayter, Roglic 
⭐⭐M.Pedersen, Wright, Evenepoel 
⭐Coquard, Pacher, Stannard, Alaphilippe, Sivakov, Higuita, Valverde, Almeida
I'm going with a win for Fred Wright. He's been very close several times, he can both win in a short group sprint or a late attack, and he has been on the brink of a big win and I feel like there's chances that it will be tomorrow.  
Zweeler is a fantasy sports game that includes many sports and cycling is no exception. I ask that you check it out, if you register with the link below you will not only be joining an exciting game but will also be personally supporting me and my work, and allow me to make more content for you! 
Tomorrow's race has prizes of at least €500 and an entry fee of only €5. Make good use of your knowledge! https://zweeler.com/game/cycling/FantasyVueltaaEspana2022stage5/main.php?ref=790 
Rúben Silva
Follow us on Twitter and Instagram
Join us on facebook: Ciclismo Internacional
Copyright © 2012-2022 Ciclismo Internacional. All Rights Reserved