95th Tre Valli Varesine – Preview
By David Hunter
Busto Arsizio – Varese 198.5km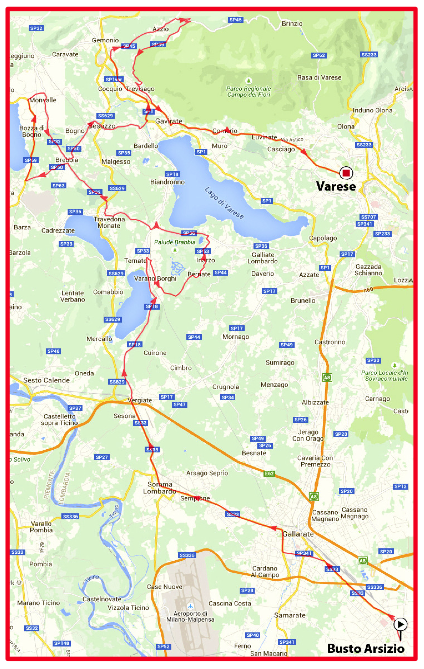 The race is split into two sections. The opening 83.3km sees the race start in Busto Arsizio and head towards Varese.

This part of the race contains two climbs, but with over 100km remaining, they shouldn't have an impact on the race. They are 6km at 4%, but does include 1.5km at 8.5% and 4.8km at 3%, but does include 1.2km at 8.3%. Once in Varese, we complete 8 laps of a local circuit.

Without being hugely difficult, the circuit does contain two climbs that will hurt the riders. We are used to lap circuits by now. As we get through the circuit the pace continues to increase. Eventually the elastic will snap and a group will escape.
The climbs in the circuit are 1.5km at 4.2% and 2km at 5.7%. Certainly not the hardest of routes but it can be selective. As we have seen in recent races, the attitude of the peloton decides how hard the race is. There is enough difficulty to make this a selective circuit, it's down to the riders. A climber could win this race, but a sprinter could too. That's the beauty of it!
Last year, it was a battle between Finetto, Colbrelli and Albasini. It looked like Finetto was going to take a great victory, but Colbrelli chased him down. The Italian acted as a tow for Albasini and he took an easy win. The defending champion is not here, neither are his team.
Headlining the event is Fabio Aru. Fresh from his win at the Vuelta, he arrives with a strong looking Astana squad. The all Italian team, will be looking to shine on "home" soil. They arrive with the strongest team. In Aru, Scarponi, Agnoli, Tiralongo, Cataldo and Nibali, they have so many options, it's ridiculous. They will determine the type of race we get, notice the lack of a sprinter. That's bad news for the men wanting a bunch sprint. In the recent Italian races, Nibali was 5th, 3rd, 2nd and 1st. He failed to shine in the world RR, but would be a big favourite for the race. The travelling and jet lag might interrupt his dominance of the Italian scene.
FDJ arrive with an in-form Thibaut Pinot. Fresh from winning Tour du Gevaudan, the 25 year old is looking to peak for Il Lombardia. This a perfect opportunity to test out his legs and get some more preparation for Sunday. FDJ have a good squad to support their team leader and some might even have a chance of taking the win.
Trek are also here, with a team built around Frank Schleck. With his brilliant win, in the Vuelta, still fresh in the mind, he'll be looking for another big result. He'll be supported by Julian Arredondo, a rider familiar with Italian roads. The former Nippo rider is great on Italian soil, and he'll be looking to put a poor season behind him. After such a great 2014, the Colombian will be disappointed with his 2015. The forthcoming week gives him some chances to rescue his season. Also down to start is Nizzolo. Given that he raced on Sunday, in the worlds, he will find it hard to compete. Losing a day to travelling is bad, but the jet lag will really hurt.
Usually in these races, the Italian teams dominate. We are used to seeing Lampre fight against Southeast, Bardiani and Androni. With the Italian Cup still to be decided, and a wildcard for the Giro still up for grabs, the racing should be fierce. Southeast are the current champions and sit top of the table. Despite dominating the early races, they have not had a good recent run. Manuel Belletti won 3 races by the end of March, but nothing since. Finetto has had an unlucky season, but did win the Sibiu Tour. Southeast would have been looking towards their two stars here, but Finetto has withdrawn. Francesco Gavazzi and Luca Wackermann provide the team with alternatives, but they will miss Finetto.
Bardiani have had a disaster in 2015. Brilliant in 2014, they have only taken 2 wins, this year. Boem won stage 10 of the Giro and Sonny Colbrelli took a stage and the GC in Tour du Limousin. Considering their talented roster, this isn't good enough. With 4 races in 5 days, they will be hoping for 1 win, at the very least. Colbrelli was 2nd in 2014, but misses out this year. Instead, Bardiani will be looking towards their climbers to try and take a surprise win. They have Barbin, Bongiorno, Pirazzi and Zardini. All 4 riders could win this race, I expect them to ride a very attackingly.
Lampre look strong, with Polanc, Bono, Cattaneo, Conti and Koshevoy. It's been a good year for some of their young stars, with Polanc winning in the Giro and Koshevoy going close in the Vuelta. Valerio Conti usually likes this time of year and he packs a big punch, at the end of the race. It's hard to see Lampre not being involved in the final shake-up.
Another team arriving with a talented bunch of Italians is United Healthcare. Canola, Bazzana, Ratto and Zurlo are dangerous riders and love attacking! Expect to see the blue and white top of UHC at the front of the peloton. Marco Canola is their best hope, a good climber with a very fast finish.
Bora Argon have some gifted riders with them. Konrad, Nerz and Mendes all have the talent to challenge for the win, but haven't won all season. In fact, Sam Bennett, is their only stage winner in 2015. Not a great stat for the team.
CCC have the evergreen, Davide Rebellin. At 44, he shows no signs of slowing down. His whole season has been impressive, including an excellent last couple of weeks. He won Copa Agostoni and followed it up with 3rd place in Prato. Incredibly, he won this race 17 years ago. His longevity is something to behold and a 3rd title wouldn't be a surprise. Not only is he a great climber but he has a fast finish.
Team Colombia have not had a great year. Fabio Duarte has been a disappointment, but with the Vuelta in his legs, he should be looking towards a good result. It's hard to see him turning this around, especially after 3 DNFs in the recent Italian races.
There is a real lack of sprinters in this year's race. Giacomo Nizzolo and Nicola Ruffoni are the fastest, but it's hard to see them coping with the lap circuit. The lack of sprinters does encourage an attacking race, with plenty of climbers looking strong just now.
Prediction Time
The form guide tells us that it should be a battle between Nibali, Rebellin and Pinot. The Italian teams won't be happy and will try to force a surprise. Astana are the strongest team and have many cards to play. A non-Astana win would be a big surprise, but who to pick? Nibali, Aru, Rosa, Cataldo and Scarponi could all win. That's the problem for the other teams! I think Astana will try to reward one of their domestiques and I'll go for Diego Rosa. He's had a brilliant year, with sensational performances in the Giro and Vuelta. This could be his day.
David Hunter
Follow us on @CiclismoInter
Join us on facebook: Ciclismo Internacional
Copyright © 2015 Ciclismo Internacional. All Rights Reserved