96th Milano Torino – Preview
By David Hunter
Milan – Torino 186km
I love this race! Reason being, the climb to Superga is one of my favourite. The riders even have to do it twice.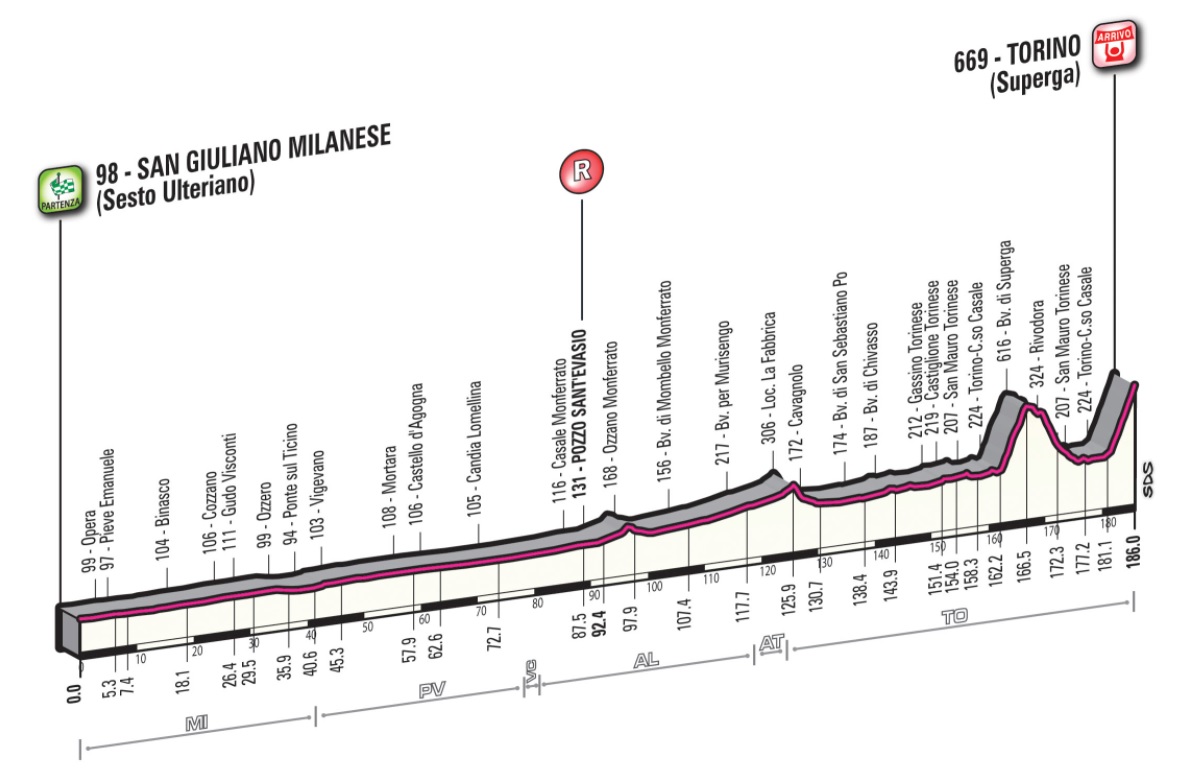 First ascent is 4.2km at 9.1%. Second time round, the riders climb to the very top. That makes it 4.9km, but still at the same gradient.
Astana should be the team to beat, but they haven't been very forthcoming about who's riding! From what I can make out, Aru will be their main rider. He will be supported by Rosa and Lopez, and the usual crew of Astana Italians. He supported Nibali today, but still looked impressive. If he has good legs, he has to be the favourite for the title. We will have to see how his legs are!
The race will follow a traditional path. A morning break will escape, but it shouldn't include any of the main riders. The big teams will want to keep as many riders, as possible, for the two climbs. If a team really wants to, they can break the peloton during the first ascent. That leaves a small group battling it out for the victory. However, we've also seen a large group approaching the final climb together. It all depends on the strength of each team and their goal.
IAM Cycling arrive with a couple of options: Pantano and Frank. In reality their team doesn't look strong enough and it would be a surprise to see them in the top 3.
Lampre look towards Cattaneo and Koshevoy. Both are young and it's usually an experienced rider that wins this race. Attacking at the right point is crucial. 19 years old, Filippo Ganna does make his debut for the team. The exciting TT rider is not looking to shine in this race, but watch out for him in the future.
Movistar arrive with two Italians capable of competing. Eros Capecchi and Giovanni Visconti are brilliant riders. In particular, Visconti, has been riding very well. His big focus is Il Lombardia, but this is a great chance to get the legs ready. He was 2nd, riding for Italy, in Memorial Marco Pantani. The course is great for Visconti and I expect a big result for him. Certainly a contender for the podium.
Katusha are another team with two options: Moreno and Machado. Dani Moreno is a rider who knows the climb very well, finishing 3rd here in 2013 and 2014. Last year he helped Caruso to victory, but this year he is undisputed team leader. Machado is a good back-up option, but this should all be about the Spaniard. He has the experience, he has the form, he will be challenging for the win.
Sky throw a surprise by including Richie Porte. The Aussie is riding one of his last races for the squad, before heading to BMC. He's not competed since the Tour de France, so it's unrealistic to expect anything from the Aussie. Instead, Sky should look towards Wout Poels, Mikel Nieve and Sergio Henao. Such a strong squad is great news for them but bad news for the other teams. If Sky want to, they have the riders to destroy the peloton, first time up the climb. Poels was 2nd in the Tour of Britain, winning the Queen stage. Nieve was brilliant in the Vuelta, finishing 8th. Henao disappointed in Spain, but should be over his crashes. Their chosen rider depends on the race tactics but a Sky rider will finish on the podium. You choose who!
Trek have Schleck, Zubeldia and Arredondo. The length of the climb is good news for the Colombian. He is the best climber of the three, but might have to work for Schleck. He was 14th here in 2014, hopefully he is allowed a little freedom.
I like the look of the Jumbo squad. Both Kelderman and Kruijswijk are huge talents and like racing in Italy. Last time he was here, Kruijswijk was destroying the field at the Giro. He delivered an amazing performance in the final two weeks and really should have finished higher than 7th. If he can find that form, he's a huge threat here. Kelderman is fresh from competing in the TTT and ITT, over in Richmond. He might find himself a little tired and should look to support others. George Bennett found some good form, in the Vuelta. Having three strong riders is a bonus, but Kruijswijk is their only realistic hope.
Tinkoff bring some of their Vuelta squad. Rafal Majka will be helped out by Jesper Hansen and Pawel Poljanski. They worked brilliantly together, helping the Pole to make the podium, in Spain. He was 2nd here in 2013 and is a serious contender for the win. Despite not having a great early season, he's managed to podium in a grand tour, for the first time, and take another stage win in the Tour de France. Not bad for a poor season! Considering the team he arrives with, Majka will be expecting to compete for the win.
AG2R are another team with a great squad: Pozzovivo, Latour, Nocentini, Vuillermoz and Bardet. Picking a team leader will be hard. Pozzovivo usually goes well here and seems the obvious pick. Latour has really started to deliver big results, but he'll have to work for Bardet and Pozzovivo. Bardet has a good chance here. The steep slopes to Superga is perfect for him and he should be their number 1.
Cannondale have Slagter. After a poor season, he finally found some form in Canada. He was 4th in Quebec, 10th in Montreal and 3rd in Alberta, winning two stages. He must have been frustrated with his season, considering what a talent he is. The fact the climb is only 4km is great news for him. He can struggle with the longer ascents but this is a good hill for him. Yet another rider, who could challenge for the podium!
Bardiani still have their quartet of climbers: Barbin, Bongiorno, Pirazzi and Zardini. Usually this climb is a little too hard for Zardini and Bongiorno, it's going to be hard to challenge for the top 10. A long break by Pirazzi could be their best option.
The consistent, Franco Pellizotti, is always good at the end of the season. 2015 has been a disaster for Androni, with multiple drug bans. A handful of top 10s is all Franco has to show for his year. He'll be expecting more from the final weeks of the season.
Other riders who could finish in the top 10 include: Torres, Mendes, Konrad, Cunego, Zoidl and Wackermann.
Prediction Time
Most of the Italians have already climbed Superga, in 2015. The Italian Federation decided to host the national RR here and it was a great decision. Helped by an army of Astana riders, Niabli took an easy win. This time we have a huge list of talented riders and potential winners. The main contenders have to be Aru, Majka, Moreno, Slagter, Visconti, Kruijswijk, Pozzovivo, Bardet, Nieve and Poels. With so many strong riders this race will be blown apart on the first climb. That will leave the best riders to fight it out, second time round. Having teammates to chase is important, but most of the big riders have a strong team. It's one of those days, where the strongest man should come out on top. That should be a straight fight between Aru and Majka. I have to side with the Italian.
David Hunter
Follow us on @CiclismoInter
Join us on facebook: Ciclismo Internacional
Copyright © 2015 Ciclismo Internacional. All Rights Reserved