A Brit Abroad: A Year in the life of Hugh Carthy
By David Hunter
Hugh Carthy has just completed his neo-pro season with Caja-Rural. At the start of the season, he was just 20 years of age and about to embark on a massive change in his life. Not only was he turning pro, but he made the brave decision to move to Spain, despite not speaking the language. That made him unique! I can't find any other neo-pro, who made such a move.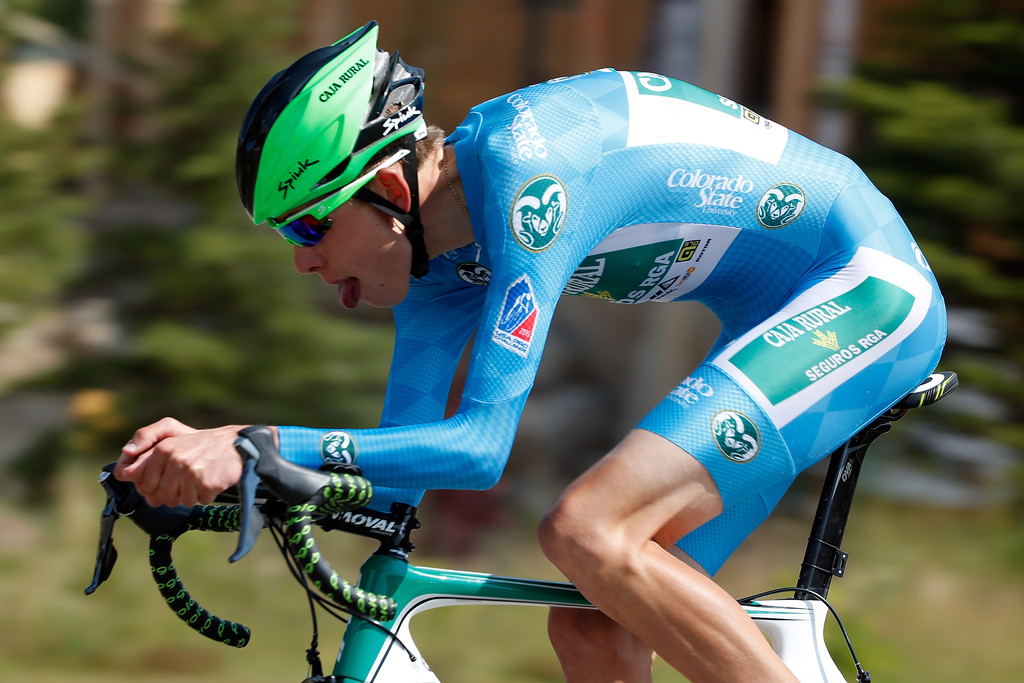 Due to televised races, most fans only see the glamorous side of cycling, but there is a lot more that doesn't get televised. You might think that a neo-pro has "made it", but it's far from the truth. After moving to Spain, the first few weeks didn't exactly go to plan for Hugh.
"It was exciting. The team had promised some of the overseas riders a team flat to live in, which took a while to prepare, so for a little while we lived in a hotel. It was OK; we had food, a clean bed and could train easily. It wasn't ideal but it could have been a lot worse."
Pamplona is a wonderful base for a cyclist. It might not have the weather of Girona, but it does have the Pyrenees!
"I love Pamplona. It's a town that everyone's heard of but doesn't know much about. Apart from San Fermin week, it doesn't attract many tourists during the year which means it's nice and quiet and the locals keep themselves to themselves, which is nice. Many of the roads I train on are deserted and there are plenty of good route options. The weather gets a bit of stick from the rest of Spain, but is very similar to where I'm from in Lancashire, so it doesn't bother me. I'm now renting my own flat here in Pamplona, where I've stayed throughout the winter. The weather has been great, around 10 degrees and dry every day; I've been very fortunate. You can head North into France or North West into the Basque Country where the weather can be a bit more temperamental, but there are tough, long, steep climbs. You can head South West, where there are longer, steadier climbs and a slightly better climate. There's always a good group of other professionals to train with throughout the year, which is nice from a social point of view. "
He was sharing a house with the Colombian rider Parra. The little man helped Hugh with Spanish and Hugh helped him to learn English, although he didn't always play fair! It wasn't long before they got to move into their flat.
"It was definitely worth the wait. The house the team provided was perfect; it had all the amenities we could want and served as a fantastic base for my season."
Like so many riders, Hugh's season started in Mallorca. Those early races can be exciting and nervous for the young riders. For the first time they get to race beside riders like Valverde and Greipel. It's a big moment and one that Hugh will remember.
"I was very nervous in my first few races. I had no idea what to expect in the professional peloton. It took a while for me to find my feet and for my confidence to grow, but they were invaluable for my development."
The early part of the season was tough for Hugh. Still adjusting to his new surroundings, he was trying to find his legs in races not suited to him. A weekend spent in Holland, is certainly one he'll remember. The double of Ronde van Drenthe and Dwars door Drenthe, is enough to strike fear into the hearts of neo-pros. He even experienced the driver of the broom wagon not stopping for him, until he chased him along the street!
"It was an experience for sure, I like to think it helped me at some point later on in the season. I wasn't as well prepared as I could have been."
This is the side of racing that usually remains unseen. The hard grind of getting race fit, it's not pretty but needs to be done. The following weekend was another double header, this time in France, with Classic Loire Atlantique followed by Pays De Loire. He arrived at the race with a fever, but still completed the job asked of him by the team. If squads don't send enough riders to the start, they risk not being invited back in the future. Not great news when you have a high temperature!
With the handwork done, Hugh could start to enjoy some good legs. First up with GP Miguel Indurain, it was quickly followed by Pais Vasco. Riding for the home team, the youngster found out how popular some of his teammates actually were! The cries of Amets and Pello still ring his ears. Those early races really did remind Hugh of how hard it was going to be. Pais Vasco was a special moment, his first World Tour race.
"It was the hardest and biggest race I had ever done. Normally in regular Professional races there's a few riders who I still see as stars that you're in awe of, but in Pais Vasco, every other rider was a somebody you'd grown up admiring for years. I think I did keep my numbers from that race, they're probably lurking at the bottom of my wardrobe somewhere."
Pais Vasco was one of the best races of the season, featuring two days in Aia. The final TT was one to remember for the fans, but brutal for the riders.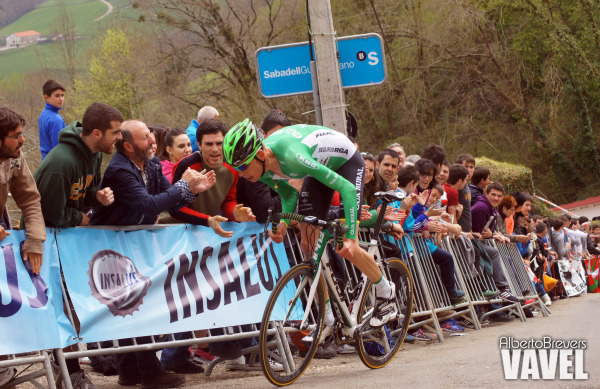 "A few days before the stage the mechanics asked us which chainrings we wanted on the TT bikes. I thought it was a choice of 54, 55 or 56 like a normal time trial. I didn't realise they meant a 34 or 36 inner ring. I think I had 56 big ring, 36 little ring and an 11-28 cassette. The night before my road bike was still prepared from the Aia road stage with a 11-32!!! cassette on the back, so I opted for the road bike. I was nowhere on gc so I think the more comfortable option was best."
The races come thick and fast at this time of the season, next up was his first ever cycling in Italy. Certainly one of the good things about being a cyclist is getting to travel the globe. Riding in Italy was one to tick off the bucket list.
"I love racing in Italy. Everything just feels right, it's hard to explain. Every member of the public, whether a cyclist or not, has their favourite Italian rider. The atmosphere at the races is nice and relaxed, the hotels are generally good and the food a lot better than average. I've heard quite a few Professionals say the Giro is their favourite race for those reasons alone!"
It was a successful trip to, helping Omar Fraile win Giro dell'Appennino.
"It was a good period of the season. I'd found my feet and was enjoying good form and some good results. I just didn't have the legs in Apennino to make the front group on the final climb."
Bad news was just around the corner, crashing out of Vuelta de Madrid. Unfortunately, a hazard of the job!
"I damaged some of the ligaments on the outside of my knee. It doesn't sound much but I was having trouble walking for a couple of weeks and it was impossible to train. It was frustrating because before the crash I had my best form of the season. I'd taken a while to find my feet at the start of the year but once I'd found them I felt like I was really improving. I always try and look for a positive in every situation and maybe the couple of weeks forced rest helped me towards the end of the season."
At the start of June, the Caja boys headed off to America and Canada, to participate in the Philly Classic and Tour de Beauce. They dominated both races, with Barbero winning in Philly and Bilbao in Canada.
"It was successful for the team and our American bike sponsor was very happy, but from a personal perspective I was very disappointed with the form I had. After my crash, I was back to square one and re-building."
Things were going well for the team, but Hugh missed out on selection for the Vuelta. It never was a priority for him, in his first season, but was he a little disappointed?
"When the team has a place in the Vuelta, naturally, you want to be part of it. Honestly, I wasn't ready to ride it. My results hadn't been consistent enough throughout the year. I'd shown signs of promise, but I needed to be featuring in races week in week out."
Instead, it was the Tour of Portugal. The race is rather infamous, but make no mistake it's hard.
"It's talked about as one of the toughest races on the circuit. It has a bit of a reputation, but I don't know if it's true. The riders that are competitive only really race in Portugal during the year, so you don't have many chances to measure yourself against them regularly. That, and it's their national race in front of home crowds, they know the roads and are very motivated. Unfortunately I got food poisoning a couple of days before the start and it lasted for the first half of the race. I came around a bit for the second half of the race but it was hard for me to be competitive. I had some good form off the back of it, so I was glad to finish such a tough, long race."
A purple patch was just around the corner, as Hugh travelled to America and the USA Pro Challenge. Despite having a skeleton squad and limited resources, he finished 9th on GC and 2nd in the White Jersey competition. This was a jersey he would have won if he had a TT bike. With the Vuelta on at the same time, the team didn't have the resources to take TT bikes all the way to America. Hugh was left riding a road bike, used by a smaller teammate. It certainly stopped him from taking a big result.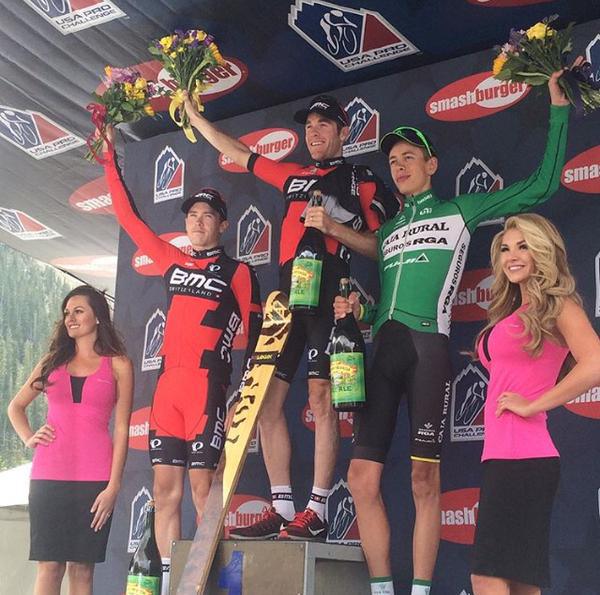 "It was a good result for me. I think I showed what I knew I was capable of. It was disappointing to lose the young rider's jersey. Maybe not having a time trial bike played a part, but I can't solely blame that. As a team we don't have the biggest budget to take several bikes for several riders across to the other side of the world for one race, so I wasn't angry at the team. As soon as I was in contention, they tried to get bikes delivered to the race, but in the short space of time to do it and the location of the race it wasn't possible. I did the best I could on the equipment we had. During the season, I'd barely ridden my TT bike except in races and I had never specifically trained for time trials. In my opinion, this is another reason I lost the jersey."
Riding for the GB squad, the Tour of Britain was one to forget. Non-selection for the under 23 Worlds squad followed and Hugh returned to Spain. Did this provide him with extra motivation?
"Not really, I had a problem with my achilles at the Tour of Britain where it was fairly obvious they were selecting the team, so it was an easy decision for them. Neither myself or British Cycling knew it would receiver so quickly, so I think it was a fair decision. I returned to Spain to compete with Caja Rural for the last few races of the season where I had some success, so in the end it worked out OK."
After it he did win a white jersey, at Tour de Gevaudan Languedoc-Roussillon. A big moment in his career?
"No, it was a nice jersey to win, but the race wasn't massively competitive. There were some very good riders up front dominating but a lot of riders had probably switched off for the end of the season."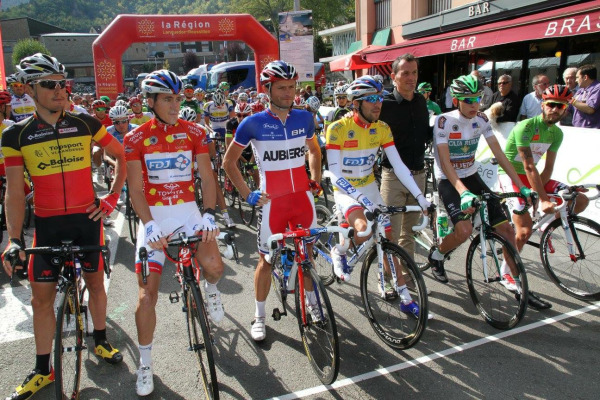 Where is the jersey now?
"I think it's still in my suitcase that I haven't yet unpacked (apart from dirty clothes!) since the last races of the season."
With the season drawing to a close, he got to ride in my favourite race, Giro dell'Emilia.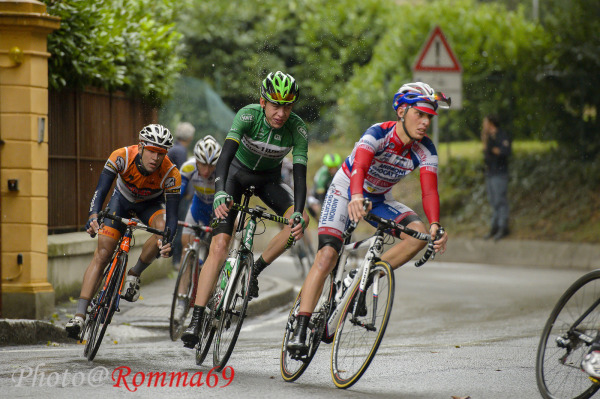 "It was a great race. It's always been a favourite of mine to watch. I remember watching a clip a few years back of the 2001 edition where Ullrich wins. The approach through the walls of Bologna and firing straight up the finishing climb are beautiful. It's a race that has everything, flat exposed roads in the first hour, long steady climbs and short 'classics style' climbs on the finishing circuit. Even this year in the miserable weather, there were thousands of people watching on the final climb all shouting for their old favourites Rebellin, Pellizotti and Cunego!"
With his first season over, Hugh raced over 10000km in 69 race days. What did he think of his workload?
"I was definitely stronger at the end of the season than at the beginning; a much stronger rider. I was a lot more confident too. The team had planned 60-65 race days for at the beginning of the year, but I did the Tour of Britain with the National Team which bumped that figure up a little bit."
You can see the type of person Hugh is from his answers. He comes across as a very genuine, honest person. I wanted to explore how hard it was moving over to Spain, at such a young age. Having a roommate seemed to make a difference, but being handy around the kitchen helped too.
"He was a good flatmate to have and a good friend too. He didn't speak a word of English which was good so I learned Spanish very quickly when I was living with him. Even though he's back in Colombia now and riding for a different team next year, we still keep in touch a lot and have a laugh. I never really felt homesick; having a good, likeminded flatmate helped. We didn't train together very often but we'd always watch tv, eat and go shopping together. I'm very good at cooking. My parents taught me how to cook when I was very young and I always enjoy reading or learning knew things in the kitchen. I try not too cook many unhealthy things during the season though! It wasn't very difficult to stay disciplined, I always had a little treat after a good race or something but not very often. We both cleaned well. It's one of those thing where you have to be grown up and do the jobs together. I've seen people try and split tasks and draw up rotas; it always ends in tears and nothing gets done."
Does he miss anything from home?
"Not a great deal. Obviously I miss my family a bit or meeting my mates at the cafe or I'd miss having a plate of fish and chips but on the whole not a massive amount."
Does he get any food parcels sent over from home?
"Not really. Most things are universal these days so if I wanted a bar of Cadbury's chocolate or a box of PG Tips tea, for example, I could probably find them quite easily in the supermarket. I like to try new things and eat and buy what the locals buy whenever possible."
Looks like Hugh really enjoyed his move from England to Pamplona. I wondered how hard those early team meetings where, as no one would have made allowances for his language difficulties.
"By the time we had our first meetings in January in Mallorca, I'd been learning Spanish all winter and had spent 2 weeks at the training camp, so my comprehension was OK and I could follow a conversation about cycling reasonably well."
And how is his Spanish now?
"It's very good. I'm able to talk about most things to most people. I'll get caught out by an accent or the speed someone's speaking occasionally and I'll lose track of the conversation but I'll ask them to repeat it and I then I can understand. I thought learning a language was a big deal at the start of the year, but when you spend a year in the professional peloton, you quickly realise you're in a small minority if you don't know at least one other language. I see it as a tool of the trade, being able to communicate with more people during races is a big advantage."
Caja-Rural always come across as a great team. They seem to have a brilliant team spirit.
"It's good. It was difficult to join in on some of the jokes and conversations at the beginning of the year, but I learned Spanish very quickly and little by little was able to integrate a lot better. Now I have some good friends in the team."
Learning the language quickly was always going to be essential. Living in Pamplona was a great move, as it isn't full of British people, like Girona, and other areas of the South. It would have been easy for Hugh to feel a little outside the team, but he seems to have really enjoyed his experiences in Spain, with his new squad.
I like finding out just what cyclists get up to, when they are not racing.
"It's always these questions when you realise just how boring you are! Typically I wake up when I wake up, normally around 8. I eat breakfast, change and head out training at 10ish. I do what I've got to do, return, shower, eat, then always try and put my feet up for a few hours after training. If I've trained hard, I'll sometimes have a little sleep but I have trouble getting to sleep in the evening if I sleep during the day. If I need to get some shopping I'll head out late afternoon and get it, then return and cook my evening meal then put my feet up for the night. I don't have a big social life, but I'm quite happy in my own company. In my free time, I'll listen to music or read quite a bit, either books or I'll grab a newspaper and try and read that and learn some more words!"
Cyclists have to be among the most dedicated of sports people.
"I enjoy the discipline. I like returning from training drained and recovering to do it again the next day. I also like the travel and visiting (albeit breifly) new places and countries and the camaraderie between teammates and competitors at races."
With 2016 approving, Hugh is focused on the future. He has moved out of the shared flat and into one of his own. A big moment in everyone's life.
"I planned to move into my new flat in the off season in October, but things took a bit longer than expected so the excitement has worn off a bit now. I'm looking forward to having my own space all of the time; that was the only negative of the team house. Often there were a lot of different people coming and going. Now I'll only have to worry about myself."
The forthcoming year is hugely important for the young man. He is out of contract at the end of 2016 and knows he must impress.
"I don't know how big 2016 will be. I need to score some big results throughout the year in a variety of races, that's for certain. So far this winter, I've prepared well. It's always a bit nerve-wracking when you approach a new season. You never know how well you're going to go. I'll do some more tests before the season to see how many improvements I've made with my training during the winter. I'd like to begin the season how I ended the season this year at the very least. If I can do that, I'll have a good platform to build on with the help of a good race programme."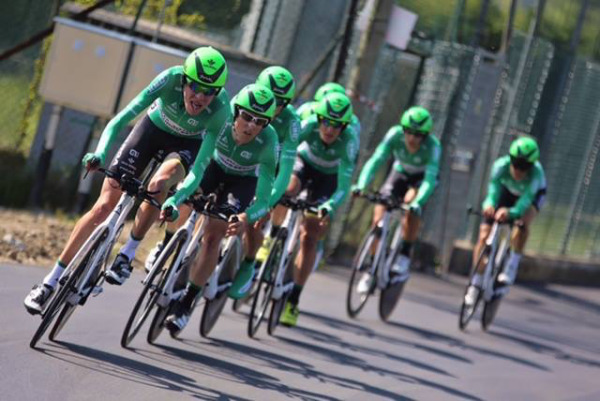 What can I say about Hugh Carthy? I've known him for a year now, and he strikes me as a great person. He is extremely knowledgeable about cycling and is dedicated to the sport. He's the type of rider who will analyse every stage in great detail, sitting with his laptop looking at weather predictions and watching the descents of different mountains. He lives and breathes cycling. His 2015 was successful, thanks to great performances in Trentino and the Pro Challenge. He likes to be different, and was delighted to have the opportunity to move to Spain and live like a Spaniard. 2016 is going to be a big challenge, if he wants to get another contract with Caja-Rural and he's ready for it. I would love to see him nail some big performances early in 2016, allowing him to relax a little, especially if he secures a ride in the Vuelta.
David Hunter
Follow us on @CiclismoInter
Join us on facebook: Ciclismo Internacional
Copyright © 2015 Ciclismo Internacional. All Rights Reserved