Aussie Road Nats 2020 – Preview
By David Hunter
Ballarat – Ballarat 185.6km
Have you missed me? It seems like Lombardia was an eternity ago, but thankfully cycling is back, strap yourself in for another fun filled year of cycling. As always, I'll be previewing the vast majority of races on the cycling calendar, giving you the best analysis on the planet. First up is the Australian nationals, and the men's road race.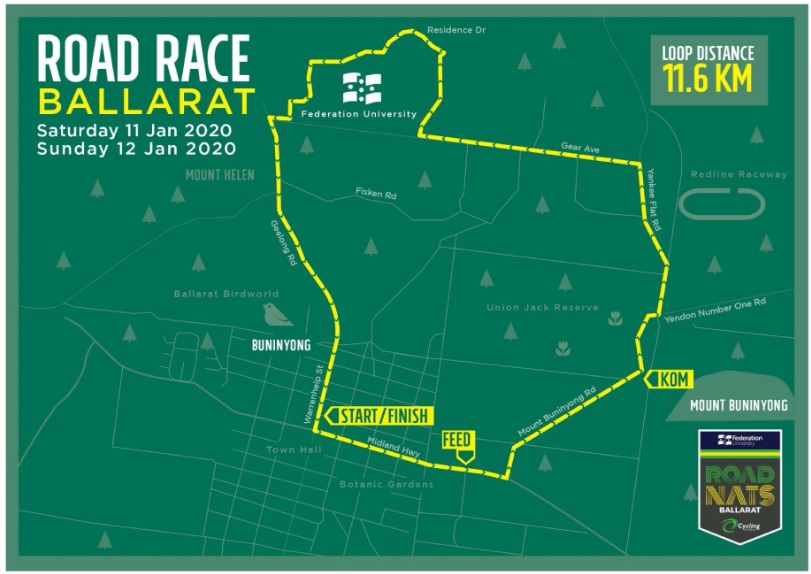 The route is the same as the last two years, with 16 laps of the circuit.
As we all know, the circuit features the climb of Mount Buninyong, which has a massive impact on the race. The climb isn't overly difficult, but after a long day of racing in the legs, the final two ascents can be particularly punishing. Factor in the sunshine and you can see why the race is usually quite selective.
The climb starts just after the riders pass the finishing line, but the main action is usually saved for the section after the riders turn left off the main road. The climb is 2.8km at 5.2%, nothing that would really scare the top riders in the world. The most important factor on the climb is the direction of the wind. If we have a headwind, it's great news for those who aren't the best climbers. Tailwind means goodbye sprinters! The direction of the wind has a huge impact on the type of race we get.
Professional Insight
To get an idea of what the pros think about the race, I've called in some help from Chris Harper. Chris has been involved in the race winning moves in 2018 and 2019, finishing 3rd and 2nd respectively. He achieved these results when racing for the BridgeLane outfit, but after a stellar season where he won Tour de Savoie Mont Blanc and the Tour of Japan, he has now made the jump to the World Tour and will race for Team Jumbo-Visma..
Has the extra loop in the Uni made any difference to the race?
"Yeah, I think it has a little. Before it was more a big effort up the climb, then people used to use the descent as a bit of recovery, also it made the finish that little bit closer if you were trying to go solo. I think people also thought that going through the uni would be more time off the pedals and they would have a longer time to recover but some laps can be super hard through the uni, single file, and quite hard accelerations out of the corners."
The last few years you've been part of one of the biggest squads in the race, now you are a solo rider. How will you now approach the race from a tactical point of view?
"Yeah, that's true. All the time I've raced nationals with a big team and a really well set out plan. I don't think it's a disadvantage to be a solo rider there though. For me it's always really important to race my own race and go by how I'm feeling and also how I think the race has been ridden. Nationals is tricky because it's been won in so many different ways. You can't really say I need to be in the break because that will win, for me I just want to have a good day out there, enjoy the racing, and test my legs leading into the year. Hopefully all going well that also means a nice result."
What do you do in terms of feeding and servicing?
"I'm lucky enough that my parents are super supportive of my cycling and both of them will come over and help feed me from the side of the road. I'll also have my sister and her partner over there as well and just a heap of people from Adelaide who have offered to hand me out bidons. BridgeLane have also kindly offered to assist me in case of any mechanical issues out on the road which is really nice of them."
Looking back at the last 2 years, what have you learned about how this race will be run?
"I think it's hard to say how the race is going to play out, it's been reduced bunch kicks before, or riders going solo, or even massive solo moves from the likes of Jack Bobridge. Obviously, Mitchelton being the biggest and strongest squad they dictate the racing which can get quite frustrating as sometimes it's difficult to put yourself in a good position because they have so many cards to play. Again, for me it's super important to race my own race and go by how I am feeling, then I'll just make a decision on the fly based on how I think the race is playing out."
Every year we always seem to be talking about the wind on the climb, is it really that important?
"Yeah, I think it is a massive factor for sure. If you get a headwind up there you really do get a nice sit on the wheel and I think it almost kills the first half of the climb. I think for me it would be great to have a tailwind, not just because it makes the climb hard but if it's a hot day then with the tailwind people start to cook and really suffer."
How has your preparation been this Summer? Has the bush fires had any impact on your training?
"My run into nationals has been as good as ever really. I've had a few little mishaps with a bike being stolen and a couple of small crashes, but thankfully nothing has gotten in the way of the training. No, the bushfires over here in SA hasn't affected my training at all."
Is this race a big target for you, or do you have your eyes set on other races later in the year?
"A bit of both really. Nationals for me is super important because I'd always love to represent the national jersey especially this year over in Europe. At the same time this year is a bit of a different mindset in terms of usually I have a small, solid block of racing in Australia and then have a break whereas this year it's Nationals, TDU and then across to Europe into a whole bunch of new races I've only ever watched on TV. I'd love to win but for me I think it's most important to just have good sensations in the legs and feel confident going into the TDU the following week."
How exciting is it to pull on your new jersey and start the next chapter in your career?
"It's super exciting. I don't think it had really sunk in until recently that next year is finally a step up to the World Tour, which has been my dream since I started racing in the National Road Series. I'm really excited for the new experiences like moving to Europe and all the new races that I've only ever watched and now I will get to race them. I think once I started to get my race schedule, as well as seeing the new kit, I got pretty excited to finally be able to put on the Jumbo-Visma colours and get stuck in to 2020."
Where is the perfect spot to attack?
"Well, I think everyone always waits until the last steep kick on the climb to attack but I don't think it is really long enough to do the damage sometimes. I think if it's hard at the bottom it can be good, otherwise, other areas on the course after the climb can be really good."
During the first couple of laps, how will you decide if you should join the break or not?
"I think it depends how the first couple of laps are raced. Last year the first 2 laps were raced super aggressively so for me it made sense to push on. I think if it's hard and it looks like guys are suffering, or a lot of the favourites are looking to get up the road, then maybe I will also try and keep up the front."
Tactics
Over to Mitchelton-Scott. Despite no longer having most riders in the race, they do still possess the largest amount of quality. They normally approach the race with a fairly standard plan of putting riders into the morning break, seeing how the race develops, then chasing it down if they have to. This is a tactic that can work, but not often. Last year they got Cam Meyer across to the morning break, but Michael Frieberg surprised everyone with a late surge to take the win.
Just one success in the last five editions, it looks like Mitchelton-Scott are losing their grip on the national title, this is a race which is very hard to control. Saying that, I don't think they'll alter their normal strategy, it's one that does make a lot of sense. They have eight riders in the race, which means they can afford to let two or three chase the morning break, with the rest waiting in the peloton. If someone like Haas or McCarthy make the move, it is likely we'll see Mitchelton chase it down, even if they have riders up the road. It's a delicate balancing act and not having race radios certainly makes it harder for them.
With eleven riders, the second-best represented squad in the race is Team BridgeLane, but they've lost some of their quality riders. Saying that, they do have some exciting youngsters coming through, which will hopefully give them an option in the last couple of laps. Despite what some people say, size does matter, expect to see lots of BridgeLane in this race, but which of their ranks can actually take home the crown? As in previous years, any winning move will likely have representation from Mitchelton-Scott and BridgeLane, that's what happens when you have the biggest squads in the race.
We then have the World Tour riders who arrive with no support, or very little. It's tough for them, but not impossible to win, just ask Bobridge or Haussler. They either have to have insane legs, or get a little lucky with their tactics. I'm also interested to see if the best represented team can have an impact on the race. With twelve riders, GPM-Stulz, is a team we might see a lot of. The problem is that most of their squad lack the quality of their rivals, except for Cam Ivory.
Basically we'll see the same race as in previous years, with a fast opening where Mitchelton-Scott and BridgeLane look to get multiple riders in the move. Once things settle down, they will decide if the break stays away or not, it all depends on who makes the front group. This is a race which is good to watch, but can be very frustrating at the same time.
Weather
Temperatures will be down to around 22 degrees for the riders, which is almost cold compared to recently. The cooler air will certainly be to the liking of a few, but not all. I've already discussed the wind, current forecasts are for a very weak southernly breeze, which will be a slight help on the hardest part of the climb.
Contenders
Luke Durbridge – winner back in 2013, Turbo Durbo looked in fine form during the Bay Crits. I think he actually represents Mitchelton's best shot at winning the race, even though he's not their best climber. Last year he made the front move, but they decided to chase it down and fire Meyer across the gap, which didn't work. I think we'll see Durbridge again given the green light to go for the break, but we'll have to wait and see if it stays away. With multiple riders up front, I would expect to see Durbridge go for a long solo move, which was how he won 7 years ago. His win in the TT race on Wednesday was a big sign of his current form, he has to start as the man to beat.
Cam Meyer – 3rd last year, but he'll still be thinking he let that one get away. His current form is unknown, the same can be said for some of his teammates, but the DSs will have a clear understanding of who has the condition to challenge for the title. It could be Meyer, but it could also be Lucas Hamilton, Schultz or Howson.
Michael Freiberg – his win in 2019 was wonderful to watch. Freiberg is a track rider, he's big and powerful. Every lap saw him suffer up the climb and he was dropped last time up. He then fought his way back to the leading duo, before jumping them and taking the title. He's another rider who looked good in the Bay Crits, which will have given him a big boost heading into national's week. To win this race, Freiberg must be in the morning break, as he can't survive with the best climbers on Mount Buninyong. Defending his title certainly won't be easy, but I wouldn't put it past him.
Jay McCarthy – it all depends on what his targets are for the season. As he didn't head back to Australia until the start of December, I assume that he's trying to peak later in the year. I can't be certain of this, it's simply a hunch.
Nathan Haas – 2019 was a year to forget for Haas, it never got going. He's a rider who has the potential to win big races, but hasn't quite managed to turn that potential into actually wins. He's now moved over to the Cofidis squad, which is an interesting move. His chances in this race are similar to McCarthy's, it all depends on what his goals are for 2020.
Chris Harper – well, you've heard what he's had to say about the race. Harper has unfinished business with this one, he's been very unlucky not to win in the last two years. Riding without teammates will make it harder for him to challenge for the win, but he is a rider who seems to judge his tactics very well. If Harper can get into the lead group with a couple of laps to go, he'll be a hard man to beat. He's one of the best climbers in the race, you can bet he's praying for a tailwind up the climb, that would give him a big advantage over the puncheurs.
Jai Hindley – a rider whose career is on the up. Hindley enjoyed a fine 2019 season, including his first top 10 in a World Tour race, when he was 2nd in the Tour of Poland. He'll have taken a lot of confidence from this, and he'll be raring to go in 2020. He and Rob Power will form a strong Sunweb duo, but like some of the other riders I've mentioned, we'll have to see what their current fitness is like. I think he'll be wanting to start the season fairly hot; you have been warned!
Dylan Sunderland – after a strong year with BridgeLane, Sunderland is off to the World Tour with NTT. 5th last year was a good result, but like his former teammate, Chris Harper, he'll now have to adapt to riding without help. We'll have to wait and see how he approaches the race, but it would be a big surprise to see him win.
Ben Hill – a name that most outside of Australia won't be aware of. Hill has recently returned to his homeland to ride for Team BridgeLane after spending a number of years riding around Europe and Asia. He should be one of the squad's protected riders, especially after a strong performance in the Bay Crits. If BridgeLane get their tactics right, they'll be in the mix for the win. Hill taking the title would fall into the shock category, but Bridgelane should have a big say in the outcome of this race.
Nick White – another of the BridgeLane boys. White won the under 23 road race in 2019, a big moment in his young career. Not only can he cope well with climbs, he possesses a fast sprint too. Still just 22, he is very young, but he has a huge amount of potential. If we get a negative race, and a sprint finish, he would rate his chances of taking home the title.
Marcus Culey – not many riders in the peloton have recent competitive racing in the legs, just before Christmas Culey was winning the Tour of Selangor. Okay, the level of the opposition is like night and day compared to what he'll face in this race, but Culey did manage to win four of the five stages and took the GC by almost 10 minutes. He's the longest of long shots, but you just never know in this race.
Prediction Time
Mitchelton v BridgeLane, with a couple of quality World Tour riders hanging around the edges. Can Mitchelton ride the other World Tour riders out of the race? They certainly won't be too happy at letting them near the front of the race in the last couple of laps, but getting their tactics spot on won't be too easy, particularly as they also look a little weaker this year.
I'll go with current form, it'll be a solo win for Luke Durbridge.
David Hunter
Follow us on Twitter and Instagram
Join us on facebook: Ciclismo Internacional
Copyright © 2012-2020 Ciclismo Internacional. All Rights Reserved