By David Hunter
Welcome to the last preview of 2015 and the first of 2016! The new season begins with 4 days of racing in Australia. Each day is a criterium race, lasting around 1 hour. It's fast and furious and a great way to see who had a merry Christmas!
Stage 1 – Ritchie Boulevard, Geelong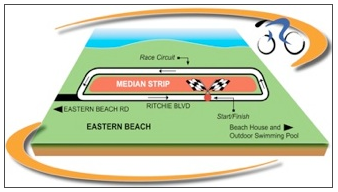 The race starts fast! For those not fully aware of criteriums, if you get lapped then you are out. The racing gets faster and faster with each lap and usually results in small amount of riders contesting the finish. Sometimes we get a small sprint, although, breakaways are very popular.
Stage 2 – Eastern Park, Geelong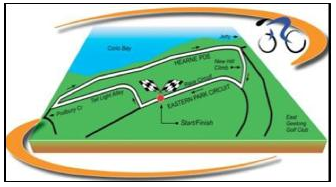 The Eastern Park circuit can be affected by wind and also has more corners than the day before. This is a harder race and offers a good chance for breakaway hunters.
Stage 3 – The Esplanade, Portarlington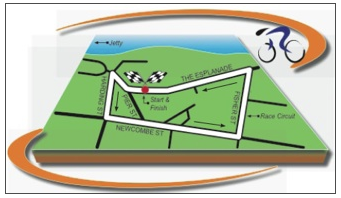 This is the hardest stage of all, one that gives climbers a chance of doing something. That doesn't guarantee a breakaway win but it does increase the chances of it happening. Whatever happens, the winner will have to work bloody hard.
Stage 4 – Nelson Street, Williamstown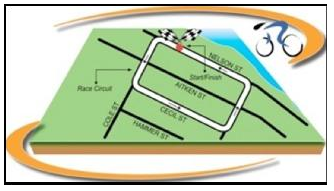 The last stage is another for the quick men. One last chance to test the legs before the Aussie Road Nats.
Scoring System
Each stage sees riders awarded 12, 10, 8, 7, 6, 5, 4, 3, 2 and 1 points. The winner of the yellow jersey is the rider who accumulates most points over the 4 days. Winning a stage isn't a vital but it does help. However, consistency is key.
Last year saw Caleb Ewan and Chloe Hosking take out the wins. Caleb won 3 stages, with Hosking just taking 1. He might just be 21 but Ewan has already won this event twice. He still has some way to go to beat Robbie McEwen's 6 titles.
Men
Orica are usually the bosses of this race. What they want, they get. This year they arrive with Ewan, Docker, Durbridge, Haig and Edmondson. Having a TT rider like Turbo Durbo is very important and he gears up for the Aussie ITT title by looking to ride on the front for as long as possible. Alex Edmondson is another one of these Aussie track riders making the transition to the road. His big focus is still Rio but it will be fun to see what he can do. Obviously their big card is Caleb Ewan. He can win any of these stages, it just depends on tactics. Winning the overall isn't a big deal for the team, they just want to get riders ready for the nats and TDU.
Orica will have to bear the responsibility of trying to keep the race together, something that Durbridge will relish. They will be put under big pressure from the other Aussie teams, especially as they are outnumbered by Avanti.
The Avanti boys arrive in good spirits, having just won the Launceston Crit a couple of weeks ago. That day it was Anthony Giacoppo who took out the win, with Neil Van der Ploeg also grabbing 3rd. Avanti have a great looking squad here with plenty of talent. Riders like Giacoppo, Van der Ploeg, Pat Shaw, Pat Lane, Mark O'Brien and Mitch Lovelock-Fay are all quality and experienced in these types of races. They also have a guest rider in Steele Von Hoff. He's the current national criterium champion and loves this discipline. He is about to join One Pro Cycling but rides here to gain some fitness. It's hard to imagine Avanti not being in the mix for stages and the GC.
Looking through the start list, a few names do jump out:-
Brenton Jones, Sam Spokes, Miles Scotson, Chris Lawless, Leigh Howard, Jesse Kerrison, Nathan Haas, Harry Carpenter and Cyrus Monk.
Jones and Spokes are both riding for Budget Forklifts, although they are guesting as they ride for Drapac. Jones is a fast sprinter, who won this in 2014, Spokes is a huge talent. He did ride for Etixx's feeder team but didn't get a deal with the big team. Don't let that fool you about his ability.
Miles Scotson is another young track rider, who is guesting for Budget, he has signed for Team Illuminate for 2016. He's a rider with a big future.
You will know the names of Leigh Howard and Nathan Haas, who ride in the World Tour for IAM and Dimension Data. Like many of the other riders, they are here for training purposes. This is all about being fit for the national championships and the TDU.
I think that Ewan is a special rider. He just loves fast racing and it's hard to look past him for title number 3.
Women
Defending champion is Chloe Hosking of Wiggle Honda. She rides as a solo rider(she does have some friends!) as her team aren't here. She can sprint but is also tough!
Also here from Wiggle is Peta Mullens, the Aussie RR and MTB champion. Mullens is a classy rider and the two Wiggle women are going to be hard to beat.
Just like in the mens race, Orica-AIS, are the big team. They have Gracie Elvin, who will be well known to most. Also going well for them is Sarah Roy, who was 2nd in Launceston. They will hope to be in the mix but they lack the quality of the Wiggle riders.
The winner of that crit, Kimberley Wells, is here. She is riding for High5 Dream Team and is fast!
The other "big" name is Valentina Scandolara. She has just moved from Orica to Cylance, but rides here for Ale Cycling. The Italian is a formidable rider who will excel on the harder days.
I think one of the Wiggle riders will win and will go for Chloe Hosking to defend her title.
Enjoy the start of the season!
David Hunter
Follow us on @CiclismoInter
Join us on facebook: Ciclismo Internacional
Copyright © 2015 Ciclismo Internacional. All Rights Reserved