Binck Bank Tour 2019 – Stage 2 Preview
By David Hunter
Blankenberge – Ardooie 168km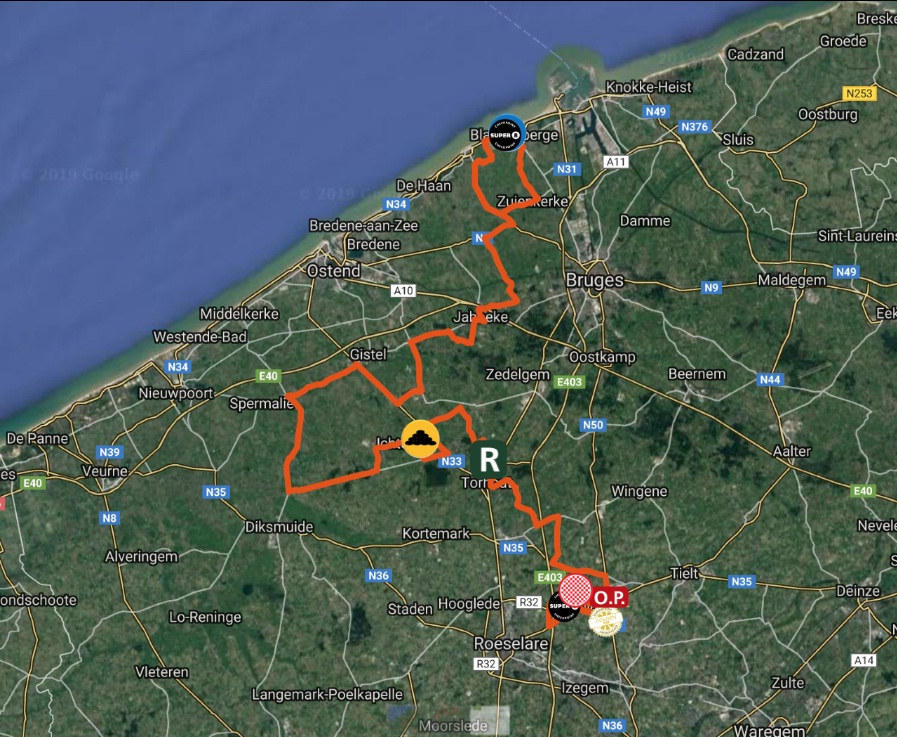 The best sprint finish in cycling?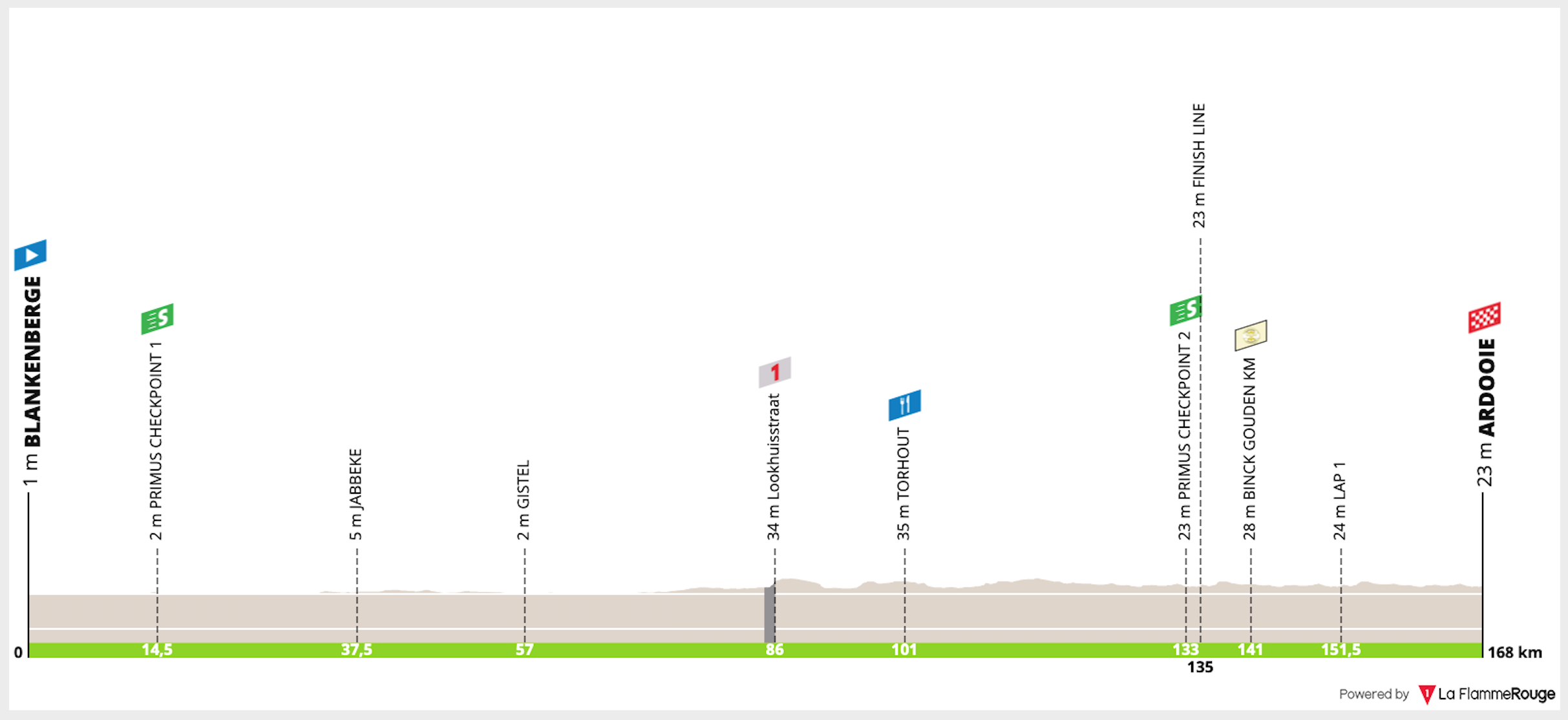 The peloton return to Ardooie for a stage that is very familiar with watchers of this race. The sprint finish in Ardooie is one that some sprinters love, but others hate. Like the other sprint days, the finale of the race features a lap circuit, this one is 16.5km long.
Lap Circuit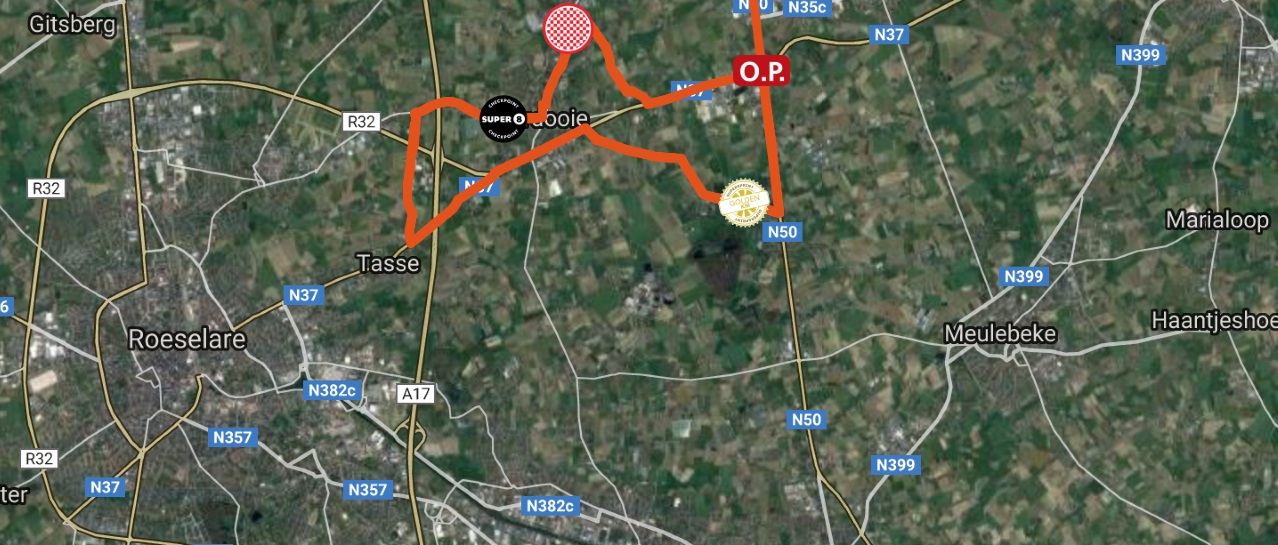 Nothing to concern any of the sprinter teams here, as the roads are nice and wide with plenty of space to get your sprint train organised.
Finale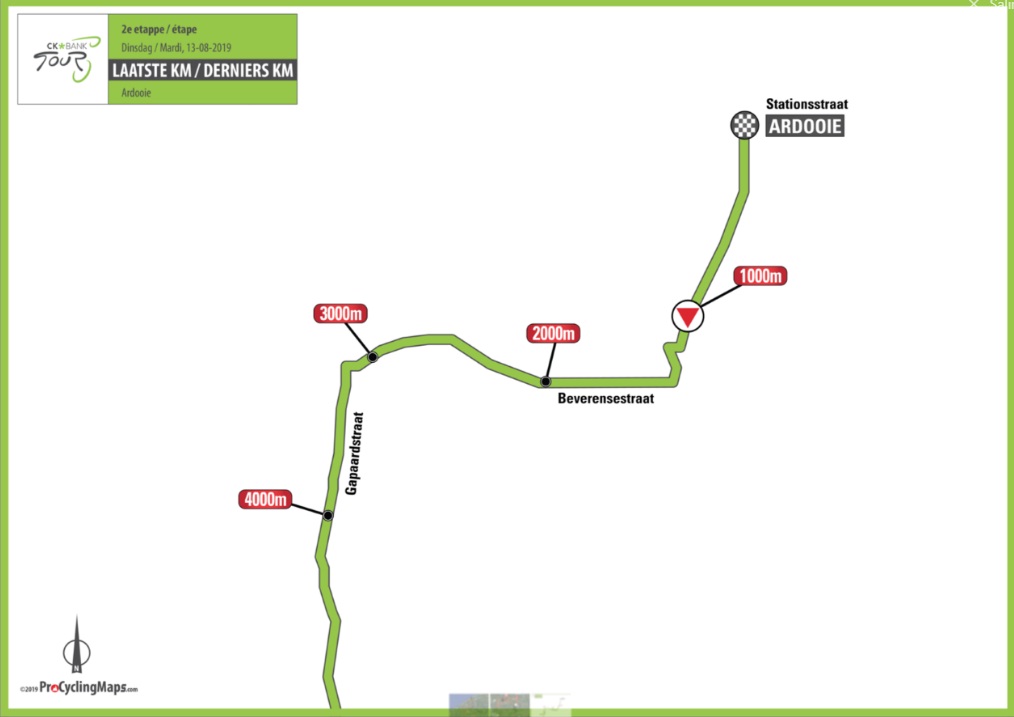 As this finish has been used on many occasions, we all know what usually happens. The fight for control of the peloton starts with 5km to go, as the bunch have to take a big right-hand turn. This road is very wide, and we usually see many lines of sprint teams looking to drag race against each other.
Once through the corner it's all about trying to maintain position as this road is relatively narrow. The next turn comes with 3km to go and the road starts to open up again, allowing teams who are poorly positioned to move back up the bunch. This road is classic Belgian stuff, with the "death ridge" up the middle.
The pace is now incredibly fast as the riders head towards the corner with 1.5km to go, as teams know that it's almost impossible to win if down the bunch at this point. The next corner comes just 200m later, then followed by another just metres later. This series of corners is what makes this my favourite sprint finish, it really does test bike handling skills, speed and bravery.
Once the corners are finished, we have 1.2km still to go. Last year we witnessed a classic piece of blocking by Trek, who got two men on the front for the double corner, which allowed Jasper Stuyven to get off the front and gain a small gap which was impossible to close down. This was a move used before, Belkin did the same trick in 2013, with Mark Renshaw taking the win. It's not an easy trick to pull off, I wonder if we'll see anyone try it this year?
Weather
Not all the forecasters agree, but it seems like more rain for the peloton. Given the technical nature of the final 2km, I fully expect to see some crashes. The wind is similar to today, which makes it unlikely we'll see echelons.
Contenders
Sam Bennett – the Irishman took a brilliant win today, thanks to some impressive surfing of wheels. Without a recognised sprint train, Bora decided it was best to get Bennett to the front with 2km to go, it was then up to him. He first of all jumped on the Bahrain train, but quickly moved to the wheel of Groenewegen, with the aid of a couple of shoulder barges. As the sprint was launched, he realised that Groenewegen was about to get boxed in by the Trek lead out man, and Bennett simply came around the side and powered to the line. It was a very impressive piece of sprinting. Moving into this stage, I'm worried about the lack of a sprint train. Jumping from train to train worked today, but with such a technical finish, he'll need a lot of luck to win again.
Dylan Groenewegen – as I mentioned already, he was boxed in for the final 200m. Jumbo were patiently waiting in the final kilometres, both Teunissen and Groenewegen were looking good as they moved up after the flamme rouge. As Dylan didn't get to sprint, I am unable to give a view about his sprinting speed. What I can say is that this is a stage he knows very well, he's finished 5th, 4th, 4th and 10th in the last 4 seasons. Knowing the finish is one thing, but he is yet to really get it right and challenge for the win. In recent months I've noticed that Groenewegen has developed a bad habit of losing his sprint train in the finale of races, he cannot afford to do so in this stage.
Edward Theuns – came so close to a big result today, one that I really hoped he would get. Eddie is a rider who's had very few opportunities to sprint in 2019, something that Trek need to put right. If they show faith in him, he will deliver big results, I'm sure of that. He is another who knows this finish well, he was 2nd to Sagan back in 2017, just losing out on the line. Trek won this stage last year; I wonder if they'll look to employ "the block" in the final corner?
Phil Bauhaus – with 1.5km to go, Bahrain were in a dominant position today, mainly due to the work of Garcia and Sieberg. Unfortunately for them, Haussler and Bauhaus were swamped as other teams surged forward. The German sprinter is a fan of technical finishes, and it doesn't get more technical than this! After a frustrating season, he needs a win.
Álvaro Hodeg – not a great performance by the Colombian today, but it seemed that QuickStep didn't want to commit their GC stars to the sprint train. We'll have to see what happens in this stage, but remember that Štybar was 2nd in the bunch sprint last year.
Jasper Philipsen – UAE almost got it right today, but Molano moved Philipsen up too early and they were stranded on the front with 500m to go. After that, he was stuck on the barriers, behind Theuns, and couldn't fully launch his sprint. The Belgian is good in a technical finish, his win in the Tour Down Under was a relatively similar type of finish.
Prediction Time
Given this finish, I'm concerned that Bennett doesn't have a train and that Groenewegen has recently struggled with positioning. I think this opens to door to one of the other riders and I think we'll see a win for Edward Theuns, who was very unlucky today. Go fast Eddie!
David Hunter
Follow us on @CiclismoInter
Join us on facebook: Ciclismo Internacional
Copyright © 2012-2019 Ciclismo Internacional. All Rights Reserved