Binck Bank Tour 2019 – Stage 4 Preview
By David Hunter
Houffalize – Houffalize 96km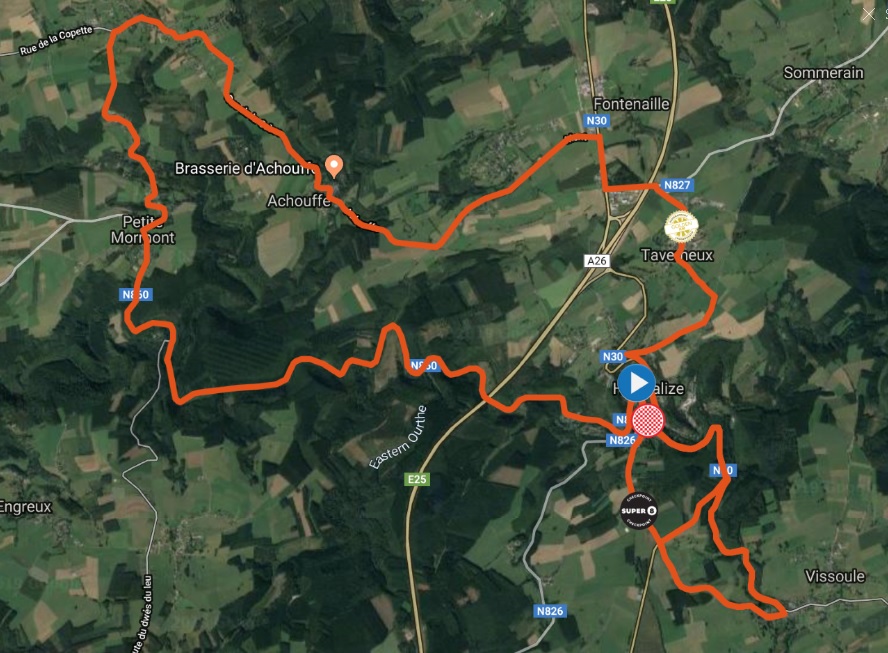 A short day made in hell.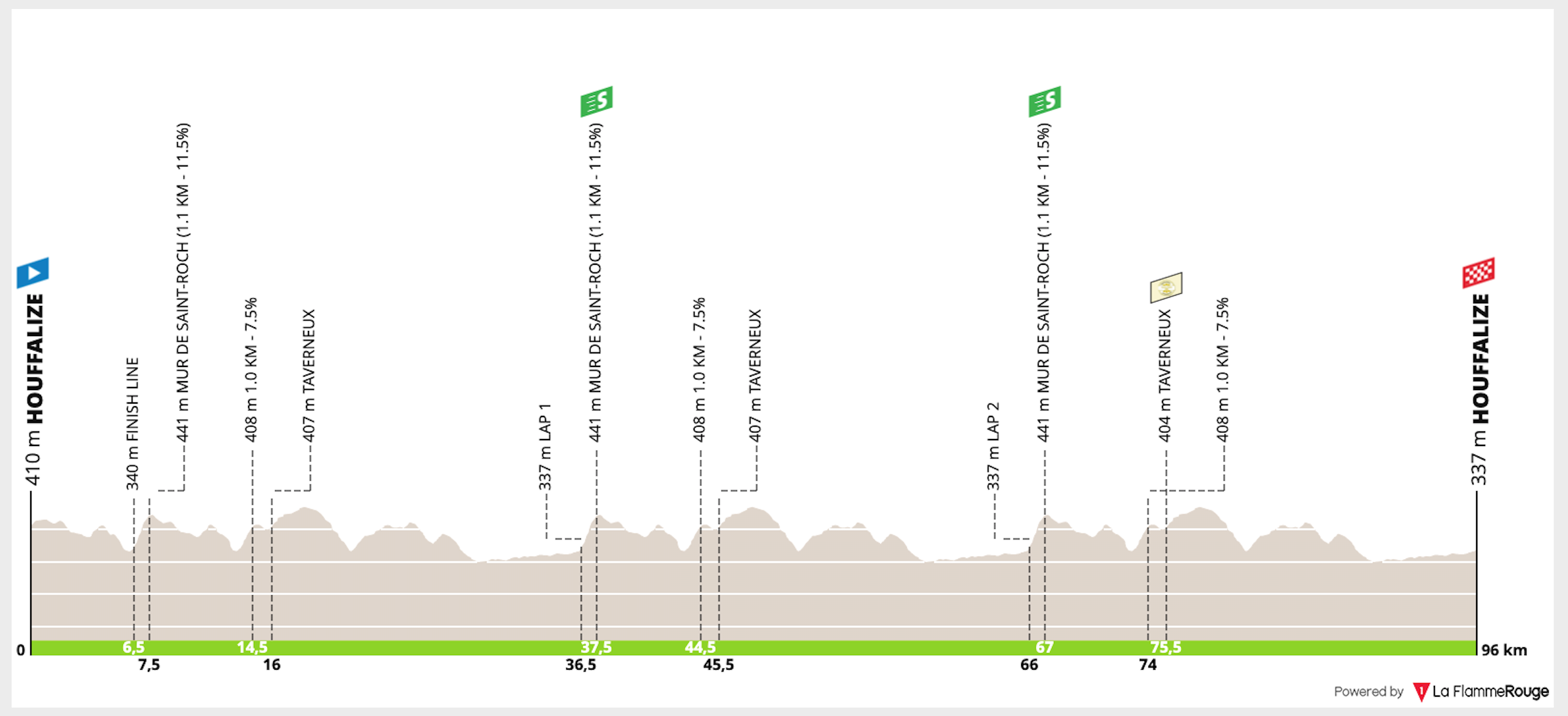 Credit to the organisers for trying something different, but we'll have to see if it works. They have decided to follow the example set by the grand tours and introduce a very short day, but packed full of punch. Okay, we don't have any big mountains, but this stage has plenty to excite the GC riders, especially as it'll be full gas from the gun.
The Circuit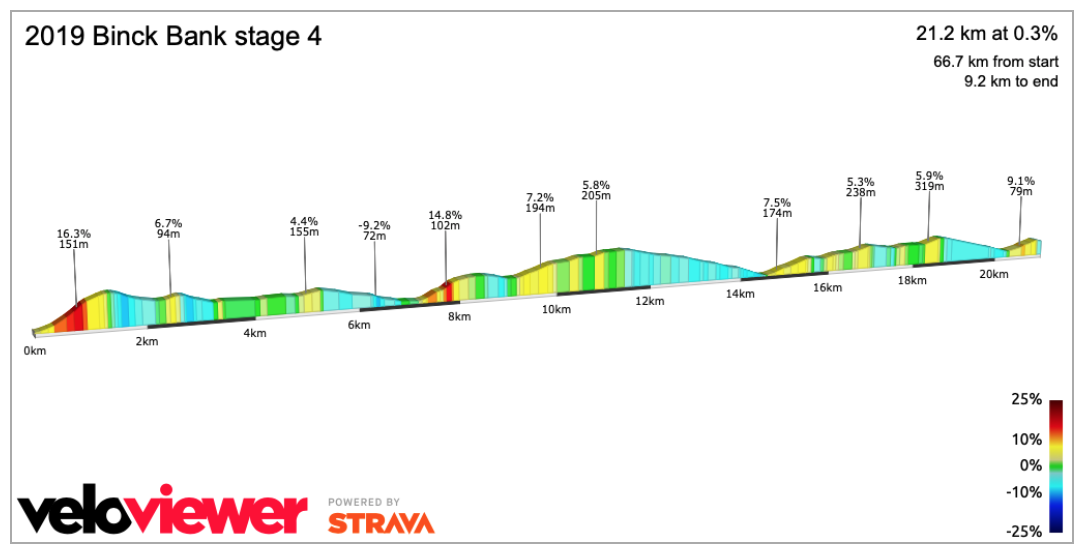 This is what the riders have to tackle on three occasions. As you can see it's constantly up and down, with very little flat for anyone to catch their breath. The main obstacle is Mur de Saint-Roch, which is 1.1km at 11.1%, and has a maximum of 17.5%.
This is a horrible climb, one that sucks the life out of your legs. Riders will be scared at the prospect of climbing this three times, at full gas. Once over the top, you are on narrow roads for around 4km, making it difficult to organise any type of chase. This is the climb that the classics riders need to use to put their rivals into difficulty.
6km after the crest of this one comes the next climb, 1.1km at 7.1%. A short descent follows before 1.9km at 3.9%. Then we have 3km of descent before 1km at 5.4%, which continues to roll after the crest. Once all the climbing and descending is done the bunch have just 8km of flat until the finish, but even this stretch has a very short section, 400m at 5%, that some could use to attack.
Finale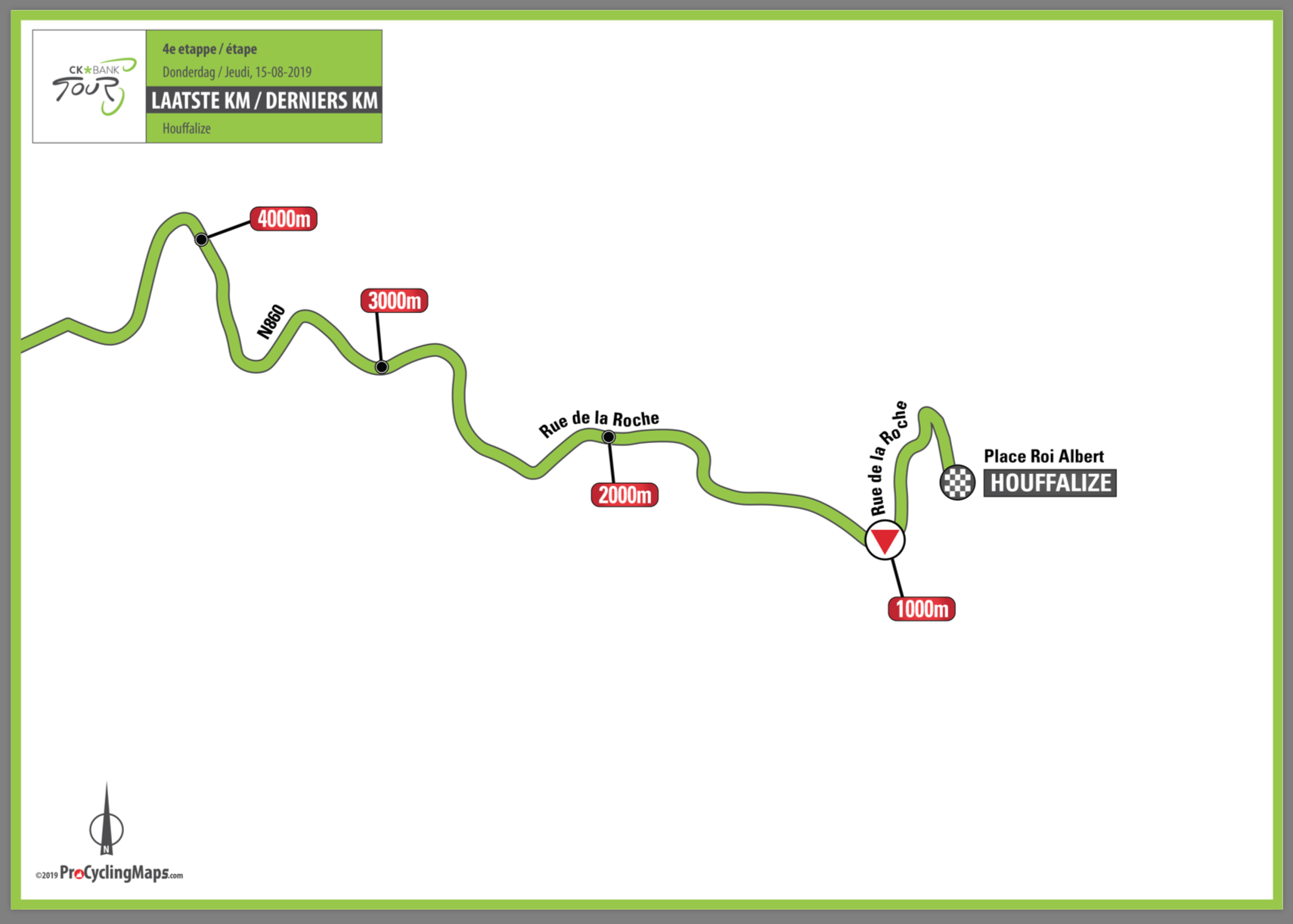 As you can see the final 4km has lots of twists and turns, which is good news for riders who have attacked. Once the riders make the final turn, the final 400m rises at around 4%.
Weather
Who ordered rain? It looks like being a wet day for the bunch, which will obviously increase the difficulty of the stage. The wind is coming from the west, and is roughly the same strength as previous days. The problem is that much of the route is sheltered by trees, making echelons unlikely.
Tactics
Over to QuickStep, as they are the strongest team by a distance. They arrived at this race with three GC riders: Gilbert, Štybar and Jungels, which gives them a massive advantage in this stage. They'll look to isolate the other team leaders, then launch attack after attack. Looking at the other squads, only Sunweb look strong enough to have multiple riders left deep into the stage, which will be vital as team leaders won't want to be chasing down moves.
The other GC riders all seem to have weaker teams compared to QuickStep and Sunweb, which means they'll have to get their tactics right, if they want to challenge for the stage. It will be interesting to see when the race actually explodes, nobody really knows as this is a unique stage. If it doesn't really kick off until the last lap, that plays into the favour of the weaker teams, but if it goes early, life will be very difficult for them. Like most races in this part of the world, the stage will be dictated by QuickStep.
Contenders
QuickStep – who escapes up the road depends a lot on luck, not just strong legs. All three of their leaders should cope fine with the Mur, meaning they'll have multiple options in the closing stages. Jungels has the slowest sprint of them, meaning he should be attacking from distance. Both Gilbert and Štybar will fancy themselves to win from a small group, but we'll have to see how the stage plays out. They are the strongest team, but the pressure is also on them.
Søren Kragh Andersen – after a disappointing season, I sense he's about to hit form. He developed a saddle sore at the beginning of the Tour, but injury free, this is a stage that he should do well in. The other teams will be scared about bringing him to the line, he does pack a fast sprint, as does his teammate Marc Hirshi. The youngster gives Sunweb a solid second option.
Tim Wellens – he's won the last two stages that have finished in Houffalize, in 2017 and 2015, but both were conventional stages, we'll have to see how he copes with the shorter course. Wellens always performs well in the rain, but I am worried that Lotto look quite weak compared to other squads. The death of Bjorg Lambrecht also has to be taken into account, these days are not easy for his former teammates.
Greg Van Avermaet – it's not been the year he would have hoped for, but there's still time to make it a big success. This is a race GVA usually performs well in, but struggles to win. The CCC squad don't look particularly strong and Greg could be isolated in the finale of the race. As he's one of the best riders in the world, the others always look at him to do the work, which can lead to threats escaping up the road. His performance in San Sebastián was very encouraging, it would be good to see him go on the attack and put QuickStep on the back foot.
Dylan Van Baarle – climbing amazing well, just as well for this stage. The Ineos man won a mountain stage in the Dauphiné, something you would have said was impossible at the beginning of the year. It will be interesting to see how he plays this stage; his sprint is nowhere near as quick as the majority of his rivals. If Van Baarle wants to win this one, he needs to attack on the climbs.
Oli Naesen – this is the point of the year when Oli seems to move up a gear. He's climbing well, and his sprint is massively improved. His team are okay, but clearly not as strong as QuickStep and Sunweb, which should mean he looks to attack in the finale of the race.
Valentin Madouas – the young French climber is a brilliant rider. 13th in the Giro, his first grand tour, was an incredible result and a marker for the future. This season he also managed to finish 8th in Amstel Gold, an indication that this stage could suit him. He has a fast finish, making him a danger to the others.
Simon Clarke – the 33-year-old is enjoying his best ever season in professional cycling, just losing out to Van Der Poel in Amstel Gold. He was quite active in the Tour de France; he'll be hoping to enjoy having Tour legs in this race. If they race is full gas from the start, I don't think he'll survive in the front group, he'll be hoping for a slightly slower day in the saddle. EF also have Sep Vanmarcke in their squad, if both riders make the front selection, it will put them in a strong position.
Jay McCarthy – just in case the stage turns out to be a huge disappointment, I need to include a fast finisher. McCarthy surprised many by finishing 14th in Liège, a result that gave a sign of what he might become. If the stage isn't as selective as I think, he has a great chance of winning the sprint.
Prediction Time
This is QuickStep's to lose, and I don't see them doing that. I'm hoping we get a hugely exciting day of attacking racing and a win for Zdenek Štybar.
David Hunter
Follow us on @CiclismoInter
Join us on facebook: Ciclismo Internacional
Copyright © 2012-2019 Ciclismo Internacional. All Rights Reserved