Cadel Evans Great Ocean Road Race 2018 Preview
By David Hunter
Geelong – Geelong 164km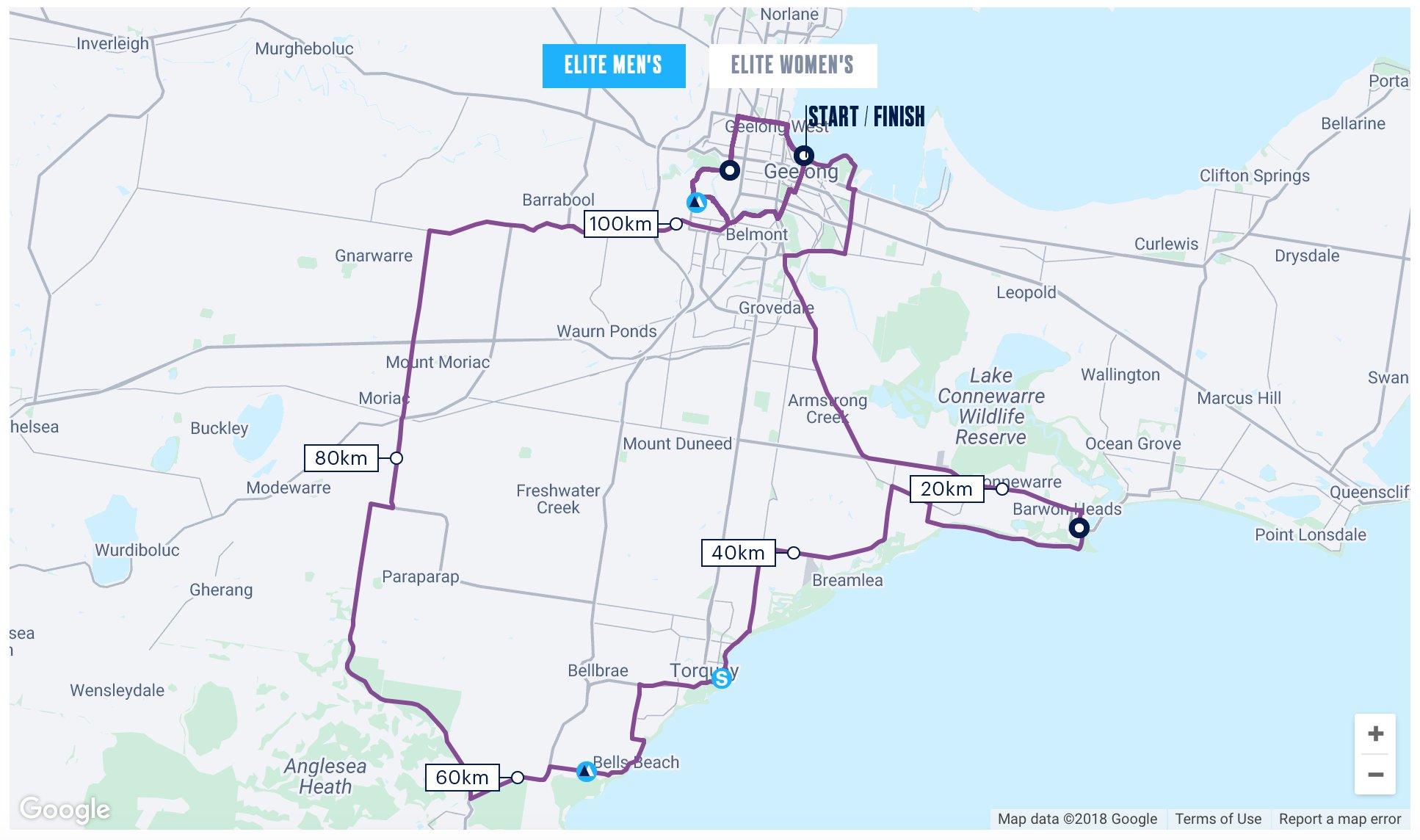 After a week off, we return to racing in Australia. It's the 4th edition of this one day race and the organisers have decided to slightly alter the route.

The main talking point is the climb of Challambra Crescent, which is 1km at 10%. This is a horribly steep climb and instead of tackling it on three occasions, we now have four ascents to deal with. To balance this, the organisers have removed the climb of Hyland Road, which was the final rise before the finishing line. This means we have a lap of 16.8km, instead of 20.2km. The final ascent of Challambra comes with 9.2km remaining, instead of 12km.
This reduces the number of points where riders can attack, which is a shame, but will one more ascent of the main climb make it a more interesting race? Once the riders descent off Chalambra, they hit 100km/h, before crossing a very narrow bridge. This point is always a worry for me, but the riders seem to cope fine with it. The road then kicks up to 10%, but only for 200m, but it does represent a chance to attack.
We now have around 8km of flat road leading into the finish. If a team has numbers, this is long enough to pull back any late attackers and set up a sprint finish. In the three editions of the race, we've had two sprints, with Peter Kennaugh winning with a long range attack in 2016.
Tactics
Forge the TDU, we are now back in one day mode. With four ascents of the climb, we will have attacks every time the peloton climb Challambra Crescent. The circuit is only 17km in length, but with only 1km of proper climbing, it sounds like a race for the quick men.
With a lot of descent and flat, it should be a race that can be controlled by the teams with a sprinter. However, that does depend on numbers. Last year, Nikias Arndt was dropped on the climbs, but made his way back to the bunch. With the last climb cresting with 10km remaining, something similar could happen again.
Teams without a fast man will be looking to explode the peloton. They need to reduce the sprinter teams, so they don't have riders to bring it all back together. This means we should be in for exciting viewing on Challambra Crescent.
Weather
Warm, but with a few clouds. We have a relatively strong wind coming from the north, but I don't think it will have a big impact on the race.
Contenders
Nikias Arndt – his win was a big surprise in 2017, at least for me! He used the TDU as preparation for this and the route change should be good news for the German. Looking at the Sunweb squad, they will be looking towards Chris Hamilton and Sam Oomen to hold the race together. Both riders are in good form and could benefit from marking an attack and slipping away from the bunch. It will be interesting to see how Ardnt deals with the pressure, something that wasn't a concern in 2017.
Jay McCarthy – bravely tried to follow Porte on Willunga, but spectacularly blew up. That move cost him a podium spot on GC, but he wanted to ride an attacking race and cannot be criticised for it. This race suits his characteristics, he is a rider that has a fierce acceleration. Bora will be interested in making this a hard race and seriously depleting the bunch. McCarthy has a fast sprint, but he can't beat the sprinters. He'll also have to come up with a plan for Impey, a rider that is faster than him in a flat sprint. No way will Bora want to bring Impey to the line.
Nathan Haas – had a disaster in the TDU, blaming the heat for his poor performance. With 1 week between the races, he should have recovered physically, but maybe not mentally. It would have been very difficult for him to take, especially as he started the race as one of the big favourites, I think his new team will have been disappointed with their new signing. Coming to this race, Haas will go on the offensive. I hope to see Katusha ride aggressively and Haas to risk it all with a big attack on Challambra.
Daryl Impey – his win in the TDU was very impressive. Despite not being able to win a stage, the South African was incredibly consistent and took home the Ochre jersey. Can he follow that up with success here? An impressive climber and fast sprinter, Impey has what it takes to win this race. As the favourite, he'll need a strong team to help. With Chaves and Meyer, he has two riders that should be with him until the very end, meaning that Mitchelton-Scott will have a large say in the outcome of the race.
Dries Devenyns – you could argue that his 5th in the TDU was the surprise of the race. He's a rider that usually starts the season well, he finished with the front group of riders here in 2017. As usual, I would expect to see QuickStep have a large say in the race, they are the best one day team in the world. That means Devenyns has a good chance of winning the race.
Richie Porte – tried a late attack in 2017, and was caught close to the finish. After taking another Willunga win, Porte will be looking forward to testing his legs on Challambra, but it's not really long enough. This is a very difficult race for Porte to win, expect to see BMC turn their attention to Dennis or Gerrans. Both have played the role of teammate to Porte in the nationals and TDU, it should be time for them to have team leadership. Gerrans can win the sprint from a small group and Dennis could get away inside the final 8km. This is a strong team.
Tom-Jelte Slagter – another rider that leaves the TDU full of confidence. After a long spell in the cycling wilderness, he ended 2017 in good form with 3rd place in GP Montréal. Now riding for Dimension Data, he has immediately hit form with 3rd place in the TDU. If he can reach his 2014 levels, they'll have struck gold. Such a classy rider, it will be great to see him back at the pointy end. He has the qualities required for this race, but his sprint is a little slower than some of the other puncheurs.
Prediction Time
The change in route should help the quick men, but I hope it encourages more attacks on Challambra. If teams wait for the last two laps, a quick man will survive and take the sprint, but if we get attacking racing, we should see a selective race.
It looks like Mitchelton-Scott have a strong team and I think we'll see Daryl Impey continue his good form.
David Hunter
Follow us on @CiclismoInter
Join us on facebook: Ciclismo Internacional
Copyright © 2012-2018 Ciclismo Internacional. All Rights Reserved