Carlee Taylor – Money In The Bank
By David Hunter
"There were definitely times when I didn't know if I was going to be good enough. The first few years racing in Europe was such a massive step. The roads were so narrow to those back in Australia, and the peloton was so big. I would make it to the front (finally), and then 2 seconds later be at the back, looking like a stunned mullet because I didn't even know how that happened. How did they do it? I was never making it into the first group, yet alone the 4th, because there was about 150 girls between me and the rider that was attacking, and I was riding full gas just being at the back. But I had some pretty supportive people around me, and my dad and my coach were the main people that would always say the right thing. They would know when I was down, and tell me this happens to everyone. But for sure I had my doubts, and questioned if it was worth it, or if I was good enough."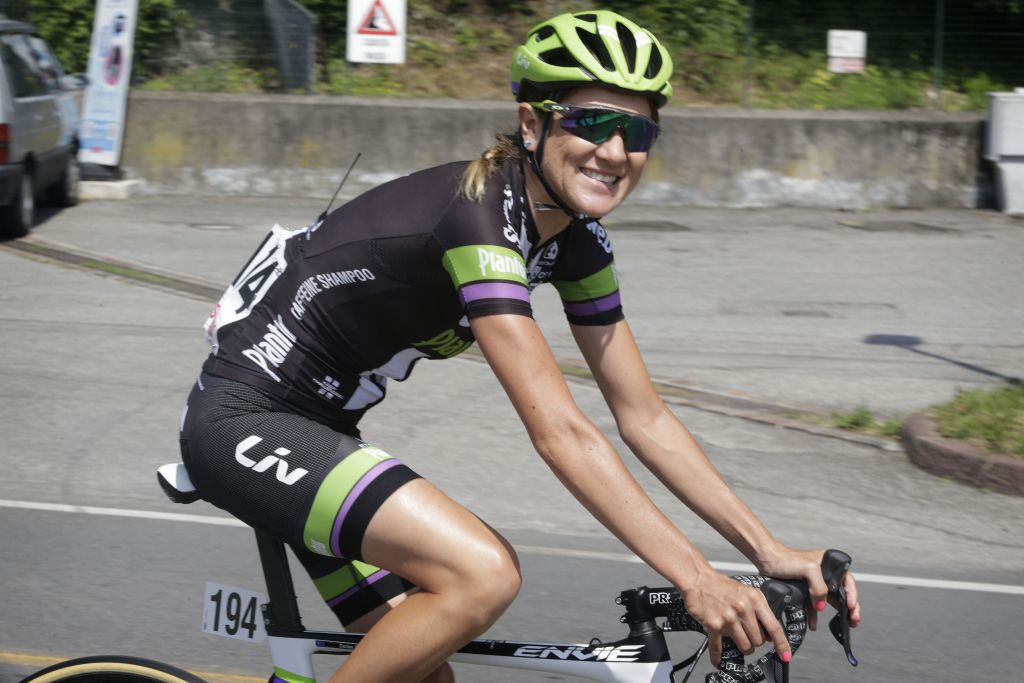 The journey to become pro is rarely an easy one. It's even harder for women. With a smaller peloton and less money, it is some achievement for those that actually do make it. Carlee is one of the lucky ones! But who is Carlee Taylor? How did she get here?
"I remember being around 8 or 9 and my dad taking us to the local Saturday morning club race back in South Australia. My brother and I would love it. We would spend the morning creating chants every time dad rode past (eg: "Dad Dad he's our man, if he can't do it, no one can!"… and yes….this one I remember so well because it was one of our favourites haha), but my brother and I loved it, and when we got home from the bike race, we would pester dad to take us on a bike ride. I didn't realise back then, but I guess this is where my love for cycling did begin, and I still love it just as much today. 
It wasn't until I was 14 years old that I actually started cycling properly. My dad bought me a cycling kit for my birthday and I don't think I hid my disappointment well. I mean, I had just gotten a pair of shorts and a top (in my eyes, knicks and a jersey), and my dad had just told me you don't wear underwear under them. Yep, I definitely didn't think I was going to be wearing these items of clothing much, if ever! But I did end up being talked into doing a local school cycling tour. I didn't win the race, but I got the cycling bug. At the same time, I did a triathlon and I just started to really love competing in both these sports. My dad became my coach, and I started making state teams to go to the junior national championships in both cycling and triathlons. I was a pretty small child, so I was never one that dominated nationals in the junior ranks. My hard training made me competitive, but I was never the favourite, but one people knew would be 'up there'. By the time I was 18 years old, I was coming out of juniors and had to decide whether I wanted to concentrate on cycling or triathlons. I was good at both sports, but I didn't want to just be good, I wanted to excel and 'make it' in one. In the time I had been competing in triathlons and cycling, I had never won a national championship in cycling, but had been back to back national champion in triathlons, yet I knew cycling was what I really loved, and despite what everyone was saying I decided to concentrate on cycling. The next year, I won the u23 national road race title, and was 7th overall in the elite, this won me the Amy Gillett Scholarship and got me a gig to go overseas and race in Europe with the Australian National Team. This was when I started to think that becoming a 'pro' could actually happen."
The move from Australia to Europe is one that has to happen. Your first few years as a pro are very demanding, both physically and mentally. I can't imagine how difficult it is for those that have to move half way around the world. The lack of a support unit has broken many riders, ending their dreams of making a career from cycling.
"2012 was my first full year in Europe. It was a make or break year for sure. I lived in a small French town, was the only person in the team that couldn't speak French, and I really couldn't understand anything. I was on zero dollars as my contract, and was told my food would be paid for (but when I got there I found out that this was 100 euro per month divided by the 3 of us who lived in the team house, 33euro each per month). I then broke my wrist, and had to get a screw put in, and because I didn't speak French, was unaware that I was actually going to be awake during this operation until I was in the operating room hearing the saw. I lived in a town where there was nothing really to do. When I wanted to get out and do something, I spent some time in the local supermarket, or went to the swimming pool. When I was coming back from my broken wrist and doing double ergo sessions, I was in the team house solo, and some days would get to the night and realise I hadn't spoken to anyone, and so my parents would get a skype call in the early morning. The apartment didn't have a lounge room, so there was a lot of time spent on the bed, but I still enjoyed the year if I am honest. It was hard, but I knew it was going to be hard, and I was focused. I knew what I wanted to get out of the year and I think I learned a lot about myself this year, I matured a lot. Still, this was probably the year I got homesick the most, mainly because I couldn't communicate with the people around me, so I felt alone. However, I think it has made me appreciate more where I live today. I have lived in Girona now for 4 years, and it does feel like home to me now. I have friends here outside the 'pro cycling' scene, and live with my best friend (who is pretty much family), and the apartment we have lived in feels homely. So now, I don't really get homesick as much. Having said this though, it is always nice to go back to the land down under and see my close friends, mum and dad and my little brother. I am looking forward to seeing them all in 2 weeks time!
I didn't feel like I had really made it, until I signed a contract for Lotto-Belisol in 2013. I had raced in a UCI team in America my first year signing professional (2011), but in my head I wanted to be full time in Europe. In 2012 I raced in a UCI French team and had a really good year. I still wasn't really known in the peloton though, I wasn't getting paid, but I had a good racing calendar and had some good results which got me a contract for Lotto-Belisol in 2013. Then in one race Marianne Vos said 'yep' and let me in. I couldn't believe she knew my name, and trusted my wheel enough to be behind me! Even today, I am still a bit star struck by her, as I really respect her as a rider and what she has achieved. But yeah, it was in this year where I started to feel like I was a part of the peloton, I was able to impact the race, be there at the pointy end, so this was when I felt like I had made it."
The Vos seal of approval! To get through these early years, riders need a whole heap of motivation. They know it's going to be tough, but something keeps pushing them. It's this intrinsic motivation that is the sign of a true star.
"I think what motivated me though was the feeling of winning, or having a good race. When you know it was because of all the sacrifices and hard work you put in. I don't think there is any better feeling. Yeah, I don't get to win much, but when a team mate wins, and you execute a team plan perfectly, I get this same feeling. It's days like those that get me through the shit days. Cycling is a hard sport, you have your ups and downs. I think that's why when you're on one of those 'ups' you have to really enjoy it."
Now a firm member of the Girona Jetset, Carlee is blessed with having tremendous conditions to train in. What does a normal training day look like for her?
"You definitely get in a routine when you are in training. When it's cold I like making an omelette for brekky and have this a lot during the spring classics. With, of course, as many coffees as I think I need for that morning (which is always more than one, yes…I'm not a morning person). I then have a couple of loops in Girona that I like depending on which efforts I have. So I decide where I am going based on my efforts. I train for 3-5hrs normally, get home and make myself a protein shake, before lunch. Then download my file and analyse my efforts. I am a bit of a numbers geek, it gives me confidence when my power in training is good. So I enjoy comparing my efforts to other times I have done the efforts and my PBs. This normally brings me to the middle to late afternoon and I try to do my university work. I am so close to finishing my degree in health science, but it is hard when you are staying abroad and staying motivated. Then it is normally dinner time, where I would make a salad (I've been loving this mango salad at the moment), and cook some meat with it, normally chicken. Boom, the day is gone. I am kinda careful with what I eat, but also for me, if I want some chocolate, I would eat some chocolate. It's better to eat some in moderation, than not eat it, and when you do, then eat a whole block (which, yes I have done!)."
I hear this a lot from cyclists. They are all massive fans of everything in moderation. After a training ride, it's not unknown to see a few enjoying a cold beer, but only one or two!
2016 has not been a vintage year for Carlee. She moved from Lotto Soudal to Liv-Plantur, but the results didn't follow her.
"This year has been a difficult year, with just not having the form that I wanted for most part of the year, but I learned to trust myself more. I've been a cyclist now for over 10 years and in that time I have learned what type of sessions I respond well too, but it took me a little while to speak up to my new coach that I got with the team, and change things in my training program. But when I did, then my form started to lift.
Like I just said, for the first part of the season my form wasn't where I wanted it to be. I didn't know why I was suffering so much in races where the year before I had been there to the very end. It is hard when you are racing and not getting to the point in the race, where you are meant to do your job. I was getting my butt kicked. The team were super supportive though. They knew what type of rider I was and what I was capable of and they reminded me of that. So I just tried to stay positive and go back to what I knew worked for me, my old training sessions, and hope that by controlling the things I could control, my form would come back up. Which it did. I enjoyed Route de France and had a good race there, then went to Plouay, where I had a bad crash coming into the finish and needed stitches in my elbow. I was meant to be going to Ardeche a couple of days after Plouay, and even though I was pretty battered and sore, I still went, because the race was a hill climbers paradise! It was finishing on top of the Mont Ventoux one day and I thought it was still possible to have a good race. On the second stage however, a rider came from behind, and my bike just went flying forward from under me. All of a sudden I was landing smack bam on my tail bone. I got back up, but I was sore and my body wasn't recovering. I had to pull out of the tour, and just listen to my body. 
One of my first coaches, used to say at the end of every session, "money in the bank". If it was a session where I suffered and didn't have the power I wanted he will still say "it's money in the bank. One day you are going to make a withdrawal." I later realised, that this 'withdrawal' isn't always on the day you might want it to be, but sooner or later it will come. I guess this has stuck with me throughout my cycling career."
Cyclists can be creatures of habit. Having a coach you've worked with for a number of years is often seen as a plus, but Carlee had to leave her old coach behind when she joined Liv. Like all new ventures, it needed time before a relationship grew.
"At first I thought maybe I was just creeping, maybe I was sick (and got a blood test), but at the end of the day I was training too much on one area and not enough in other areas, which were the areas that were my strength in cycling. Maybe if I had spoken up earlier my season might have been different, but it's always easy to look at things in hindsight. 
I don't think I would of done anything differently, even though my season wasn't what I wanted it to be. I had signed with Liv-Plantur for 2016, and with that meant getting a team coach. It is such a well organised and professional set up, I don't regret my decision at all about signing with the team. I think also, it was important to build the relationship with my new coach, and you can't question someone's training techniques or know what works the best for an athlete straight away. It takes time. You have to build the relationship, communicate, and adjust. This is what happened with me."
In terms of results, Carlee's season was a slow burner. She went to the Giro and was part of a successful team, helping Leah Kirchmann to 8th place on GC. This year the organisers decided to throw in a mythical climb, the Mortirolo!
"The Giro is definitely the hardest tour in women's cycling in the whole year. TSS wise (training stress score), it might not be the highest, but every big team is there, it is always super hot, transfers before and after every stage, and the stages themselves are hard. Even a flat day is never really a flat day, which was shown this year, especially in the first two stages. Where, if looking at the profile, you would think it is a flat finish, but in actual fact the finish was up a switch back climb! Haha! And Mortirolo was in a world of its own! By far it was the hardest climb I have ever climbed. 13km with a 13% average, you know it is going to be ruthless! And it was. I rode up it in a 36 (small chain ring) and a 32 cassette on the back, and I wish I chosen the 34 chainring because I ran out of gears! I also hit the climb in a breakaway and so may or may not of gone too hard at the bottom (FYI I went too hard!), and so for me it felt like the hill went forever."
Next up was La Route de France. A welcome return to form occurred and even a visit to the podium! Carlee was 3rd on stage 5, finished 6th on GC and was 2nd in the KOM competition. She was back!
"Coming into Route De France, I was having a big say in the training I was doing, so I felt a bit of pressure also to have a good race. It had been a while since I had felt really myself in the mountains, and when we got to the first mountain day and I was able to climb with the best and get third on the stage, it was such a good feeling, a relief. I had started to doubt myself, but was still trying to be positive, and after this day I knew I was back to myself again. I hate making up numbers in a bike race, and not feeling like I can do my job, so I loved every day of that tour and the races following."
Interesting that when the pressure was really on, Carlee delivered. Taking more control of her training was a bold move, if it had backfired, she would have looked pretty dumb. However, it didn't and she looked pretty clever!
With 2017 fast approaching, it's another change of team for Carlee. This time she's off to Ale Cipollini, with their cool kit and all!
"For 2017 I will be going back to a coach that I have worked with in the past and one that knows me well and what works for me. However, I do realise women's cycling is very different from the men. I'm working on my power and strength on shorter climbs (under 10mins) and it's something I am wanting to work on for next year. This is where I think I can make big improvements. If I improve my power for 2-3min efforts and 10mins, that's where I think I can go from being in the second group, to making the split.
I am good on the long climbs, but there is only one or two races out of the whole year (the Giro and the Tour of Ardeche normally), which suit this rider type. At the moment I am in the gym, and I'm looking forward to not only being back to where I normally am for next year, but surpassing that, especially in races like Strade Bianche and Flèche Wallone, during the Spring Classics.
Ale Cipollini for 2017 is an opportunity for me to get my mojo back and race like I know I can race, and race to get results. It is really expanding for next year and there are a lot of internationals on the team. Chloe Hosking (Wiggle Honda and a fellow Aussie) is coming to the team, Romy Kasper (Boels Dolmans), Anisha Vekemans (Lotto Soudal) and a lot more, I'm really excited about next year. They are even coming to Australia."
No surprise that Carlee has been out clocking up some impressive "base kilometres" in recent days. The Tour Down Under is only a matter of weeks away and she is desperate to perform well in front of her family and friends. What else does she want to achieve in 2017?
"I would like to be consistently making the front split, being active at the pointy end of races, and get some top 10s in the bigger races. For the first part of the year, it will be great to have a good race in the Tour Down Under (especially because it's in my home town), and it would be great to win a stage. I also want to make the Worlds team."
What about the current state of women's cycling? More races have been added to their calendar, but some organisers are still treating them with a lack of respect. La Course is going to remain a one day race, although it will now become a climbers race. This isn't progress and has left most fans of the sport hugely disappointed, but maybe we should remind ourselves that women's cycling has made a step forward in 2016, hopefully it makes another one in 2017, just a bit bigger!
"Women's cycling is definitely getting bigger. It's sometimes frustrating when it feels like it takes 2 steps forward and then a step back, and I think everyone is a bit disappointed with how they have changed La Course for next year. It hasn't really gotten bigger or developed, but really just moved sideways. It's technically the same. A one day race, that's short, and now it is also really hard to get to. We were all hoping that it was going to develop into a tour, but I guess we have to wait a bit longer for that. In general though, I think race organisers and teams are trying to improve women's cycling. The calender is getting bigger and next year we are seeing races like a women's Amstel Gold and Leige-Bastogne-Leige, which is exciting. At LIV-Plantur this year, the team really incorporated the women's and the men's teams together. DSs from the men's team would come to our race and direct occasionally, so they would see how we race, how exciting it actually is, and get an insight into women's cycling. Training camps were also held together and it really felt like one team. Being associated with a male team, provided a launch pad, where the team could promote the women's team and help us to gain exposure and I think they really tried to do this. Having sponsors and teams that care about women's cycling I think is really important."
What about away from the bike? How does Carlee switch off from cycling?
"Away from the bike, I spend my spare time studying and trying to finish my university degree. My major is in psychology, so these last subjects have actually been pretty hard. 
I also live with my best friend, Loren Rowney. We do a lot of things together. I'm lucky she gets my weird crazy humour, because it means our days are spent laughing, doing weird random shit like dancing to Magic Mike scenes, and the list goes on."
If you already follow Carlee on Twitter, this does not come as a surprise! Just time for one more question. What was Carlee's top 5 moments of 2016?
"1. Getting on the podium in the Route de France in a stage.
2. Getting most aggressive the next stage at Route De France by spending 90k solo and only getting caught with 10k to go. 
3. First stage of the Giro, where my teamie won the prologue and got the pink jersey. Yep, it was awesome!
4. Aviva Women's tour. Because it's the best run tour out of the whole year. 
5. Madrid Challenge. Just how we raced as a team was so good, and it was a really good race to finish the season on in my eyes."
There you go, a fascinating insight into the life of a female cyclist. As Carlee moves off to begin a new chapter in her career, I get the feeling that everything is falling into place for her. Despite a poor year, she can take many positives with her, it seems to have been a very beneficial learning experience. She understands exactly how to get the best out of herself and moving back with an old coach is a wise move. With team leadership opportunities available for her, I hope to see her taking a few wins in 2017.
David Hunter
Follow us on @CiclismoInter
Join us on facebook: Ciclismo Internacional
Copyright © 2012-2016 Ciclismo Internacional. All Rights Reserved