Clásica San Sebastián 2017 Preview
By David Hunter
San Sebastian – San Sebastian 231km
After a nice holiday, it's good to be back previewing! San Sebastian is a brilliant race in the Basque Country, the perfect follow up to the Tour de France. The organisers have decided to stick with last year's route, although they have managed to lengthen it a little.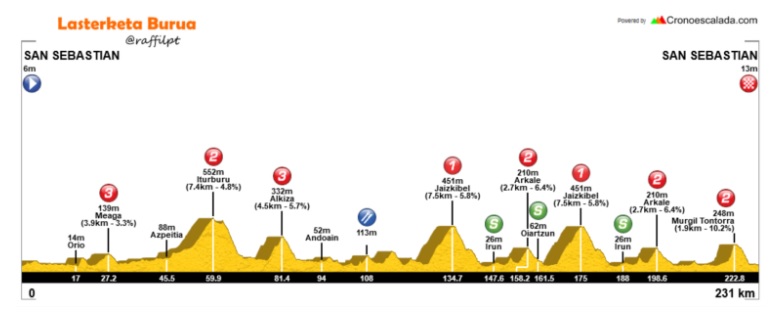 With two loops of the Jaizkibel and Arkale climbs, this isn't an easy day in the saddle. In previous years, the last ascent of the Arkale was the final climb of the race, but that all changed three years ago. The organisers wanted to give the fans something extra, so they introduced a steep climb near the finish.
Safety fears, mainly due to Van Avermaet being hit by a motorbike, led the organisers to change the climb last year, with Murgil Tontorra being introduced. This brutal climb is 1.9km at 10.2% and makes it very hard for a non-climber to win the race.
Negative Racing
The addition of the final climb has seen a lack of attacks early in the race. With 20km between the last two climbs, most riders are now happy to wait for the final climb. This was not the intention of the organisers, but I can see why riders do not attack early. Maybe this year we'll see some teams trying to move before the final climb, but I doubt it.
The Not So Usual Suspects
The race is missing two of it's famous sons, Alejandro Valverde and Joaquim Rodriguez. These two have been the main protagonists in the last few years and the race will miss them. Their absence really does allow for others to step forward, and it could change the dynamic of the race. In previous years, no one wanted to bring Valverde to the line, without that worry, we could see some gamble on winning a small sprint.
Murgil Tontorra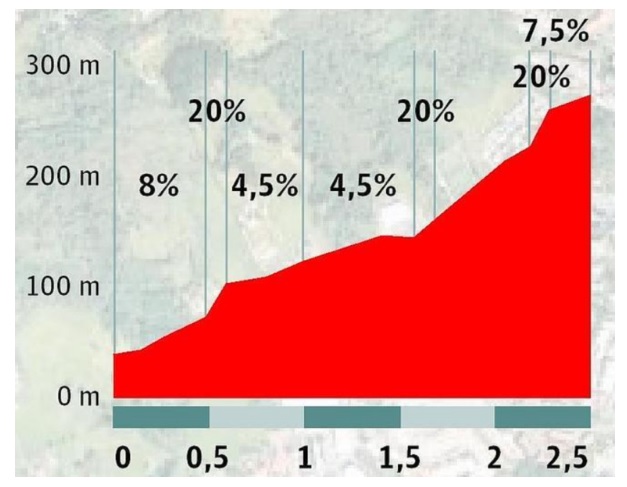 The final climb is brutal. It is one of those horrible climbs that constantly changes gradient, making it almost impossible for riders to settle into a rhythm. With gradients hitting 20%, it allows the best climbers to rise to the top. Once crested, it doesn't get any easier. There is a small section of false flat, before the riders descend to the finishing line. This is where the race was won in 2016, with an attack by Bauke Mollema.
It is a similar situation to some of the Belgian classics. Riders go into the red to survive the climb, the perfect place to launch an attack is when they try to recover, over the top. The strongest riders can save a little bit of energy and attack when everyone else is suffering. With a fast descent, it is difficult to bring an attacker back, but the lack of a Valverde could see riders working together, something that hasn't happened in previous seasons.
Tour Legs
As most people know, riders get a big physical boost from riding the Tour de France. However, this race is too close to the Tour for any improvement. Those riders who have gone deep in France, will find it hard to recover in time for this race. That means a rider who targeted GC in France, will not find it easy to win this race. Those that targeted stage success will find it a little easier to compete for the win.
Contenders
Simon Yates – went really deep in France, that will make it hard for him to challenge here. He was 7th in 2016, but that was after a different race program. He might surprise, but I can't see it.
Tony Gallopin – one of the best riders in the Tour. Gallopin was a regular in the breaks, his best result was 3rd on stage 15. This is a race he does like, he won it back in 2013 and was 2nd here last year. He is climbing as well as I've ever seen him and he won't be overly concerned with the final hill. The Frenchman has a fast sprint and would be happy with a small bunch sprint.
Dani Moreno – Movistar arrive without Valverde, a huge loss for any one day race. Their team isn't looking as strong as usual, but I do have a soft spot for Dani Moreno. Now 35 years old, he is reaching the twilight of his career. A magnificent racer, he has been underused this season. No doubt Movistar want him fresh for the Vuelta, that means he should be good in this race. Given his record, it would not be a surprise to see him on the podium.
Bauke Mollema – brilliantly won this race in 2016, with a perfect attack. He went to the Tour to ride for Contador, but still managed to take a stage win. Considering he finished 7th in the Giro, the Dutchman has enjoyed a fantastic season. He will have saved some energy for this race, especially as he wasn't riding for GC in the Tour. He'll relish the chance to defend his title.
Greg Van Avermaet – much was expected of him in the Tour, but two 4th places and one 2nd place wasn't the results he would have been looking for. The Belgian has unfinished business with this race, after a motorbike stopped him from winning in 2015. He was 5th here in 2016 and his success all depends on the speed on the final climb. The climbers have to go fast and drop him, can he hang tough?
Miguel Angel Lopez – the little Colombian has had a season hugely disrupted by injury. After eventually getting his season going in Tour de Suisse, he crashed out and abandoned. He returned to racing in Austria, finishing 3rd on GC. If at 100%, he will have a big say in the outcome of this race, but I don't think he'll be at his best yet.
Alexis Vuillermoz – ended the Tour in fine form. The Frenchman is good on steep gradients, but he seems to struggle when racing outside of France. Considering his ability, he really should be challenging in this type of race. AG2R are on a high just now, the team will have high hopes of another good result.
Philippe Gilbert – after having to abandon the Tour, the Belgian superstar will be looking forward to getting back into racing. We didn't see much of him in France, something I'm sure he'll want to put right here. He won this race back in 2011, the only Belgian winner ever in San Sebastian, can he repeat his success? The final climb is his problem, it's just a bit long for him, but he cannot be written off. Gilbert can cope with steep gradients, but will suffer if the climbers start attacking. His fast sprint means that his rivals will not want to bring him to the line.
Mikel Landa – quite the Tour for Landa. The Basque rider would like nothing more than performing well in his home race. After completing both the Giro and Tour, he will be near the end of his resources. His biggest problem will be fatigue. I'm unsure if he'll be able to keep his brilliant run going, but riding at home will be a huge motivating factor. There have been rumours of an unhappy team, Landa will hope that his recent comments won't have angered his team bosses, as they could give Michal Kwiatkowski the team leadership.
Warren Barguil – arguably, the rider of the Tour de France. Free from the shackles of riding for GC, Team Sunweb managed to resurrect the career of their young star. He ended the race as one of the strongest climbers, but I'm unsure how much energy he'll have left. The team do have another big option, Tom Dumoulin. His schedule is the opposite of Barguil, he starts this race lacking recent racing. I think the team will hope that Barguil has something left.
Rigoberto Uran – another rider who leaves the Tour de France with a huge boost. Not many gave him a chance, but the Colombian won a stage and finished 2nd on GC. This race suits him perfectly, but like the other Tour riders, does he have anything left in the tank?
Diego Ulissi – now 28 years old, this is a huge season for the Italian. He choose to forsake his beloved Italian races, instead chasing world tour success in other countries. Despite being a brilliant rider, Ulissi has often disappointed in big races. He is a master of winning stages in the Giro, taking 6 stages since 2011. His problem has been an inability to take WT wins outside of his homeland. Yes, he won a stage in the Tour of Poland and Tour Down Under, but he would want a lot more than that. He nearly took a big win in the Tour de France, but finished second to Bauke Mollema on stage 15. Which version of Diego Ulissi will appear at this race? On paper, it sounds him perfectly.
Prediction Time
Can the climbers set a pace that drops Gilbert and Van Avermaet? This will determine who wins the race. As we don't have Valverde and Purito, I think the riders will go a little slower up the final climb, a lot will depend on the form of Landa and Barguil. Given it's his home race, we'll see a fully motivated Mikel Landa. I think Team Sky take another win.
David Hunter
Follow us on @CiclismoInter
Join us on facebook: Ciclismo Internacional
Copyright © 2012-2017 Ciclismo Internacional. All Rights Reserved