Criterium du Dauphine 2017 – Overall Preview
By David Hunter
The Giro is over and now it's all about preparing for the Tour de France. As usual, the Dauphine is the number one preparation race for the Tour, featuring most of the top challengers.
Route
Stage 1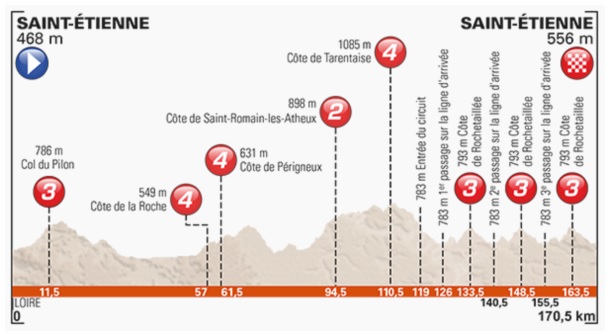 The race begins with a difficult looking stage in Saint Etienne. The riders tackle a tricky lap circuit that features a climb of 3.4km at 5.4%. This is covered 3 times, the last ascent crests with 7km remaining. A tough day for the sprinters.
Stage 2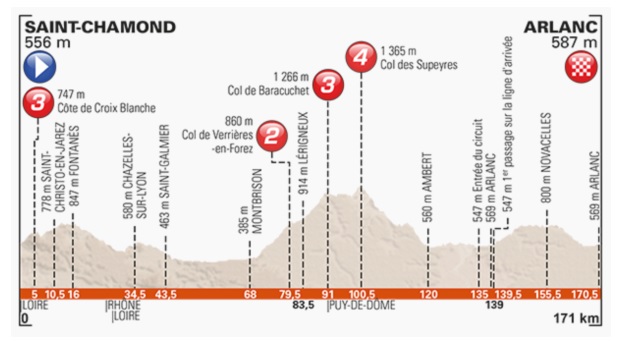 The second stage is another one that looks challenging. The middle section will determine the type of finish we get. The riders have to tackle a cat 2 climb, that then merges into a cat 3 climb and after a short section of flat, a cat 4 climb! The gradients are not tough, but it's a real test of the climbing legs for the sprinters.
Stage 3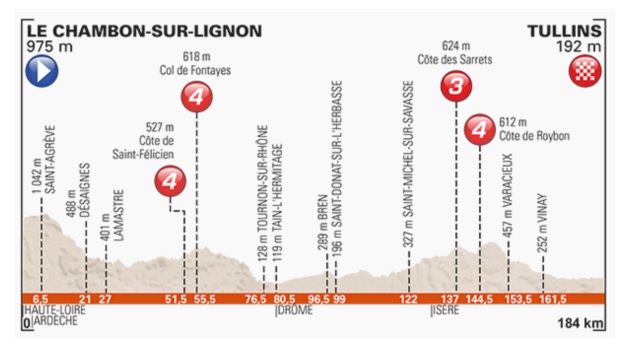 At last, a day for all the sprinters!
Stage 4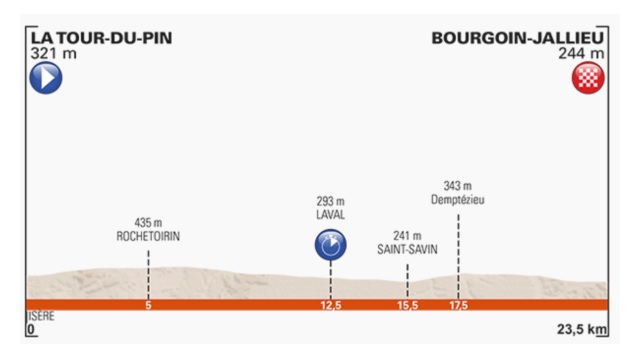 The ITT is a very similar length to the one in the Tour, perfect for the challengers to test their legs. The length means we will see some gaps between the GC contenders.
Stage 5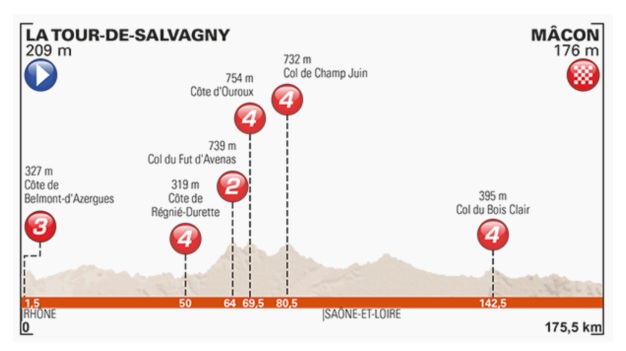 Another day for the sprinters.
Stage 6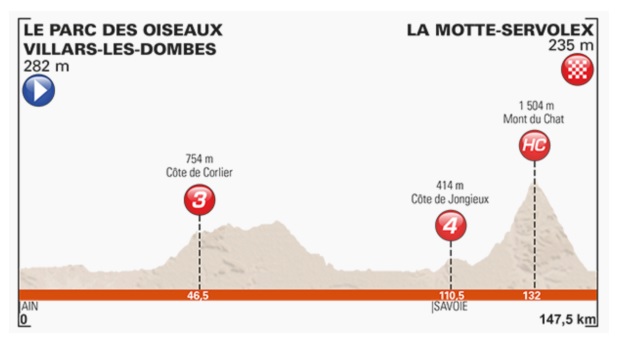 The Tour preparation gets serious! Mont du Chat is renowned as the hardest climb in France. It is 8.7km at 10.3% and will feature in stage 9 of the Tour, after not being in the race since the 1970s. The Dauphine stage is easier than the Tour, but similar in that the riders have to descend to the finishing line. This will be a great climb to watch.
Stage 7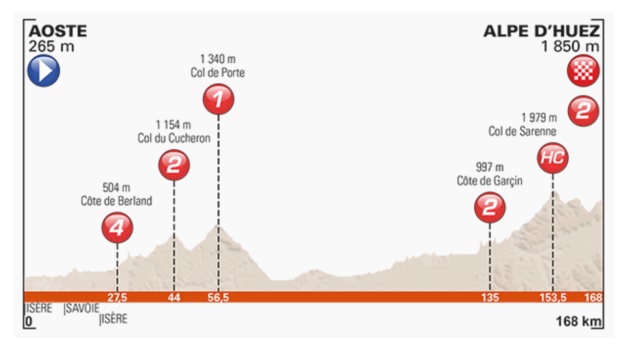 The seventh stage features Alpe d'Huez, but it's not the climb that many will remember from the Tour. Instead, the riders climb Col de Sarenne, before coming up to the crest of Alpe d'Huez. The climb is 15.3km at 6.9%, with the kick up to the finishing line of 3.7km at 7.2%, this section is final 3.7km of Alpe d'Huez that we all know and love.
Stage 8
Just 115km long, but rammed full of climbing. This looks like an amazing stage and finishes with 11.3km at 9.2%. Sounds like a brilliant stage.
Contenders
Chris Froome – Froome is looking for his 4th title in the last 5 years, that would be some achievement. His season has followed the same path as 2016: Sun Tour, Catalunya and Romandie. This year has been a little poorer than last, as he doesn't have a world tour win yet. Froome usually hits his peak, just about now, but there is always a little worry that it won't happen. The route looks very good for him, with an ITT and three demanding days in the mountains. With Deignan, Kennaugh, Lopez and Kwiatkowski, Sky have plenty of climbing talent to support their leader deep into the race. He starts as the favourite, despite his recent form.
Alberto Contador – the Spaniard's season has been a story of 2nd places. He has just missed out on glory in Andalucía, Paris-Nice, Catalunya and the Basque Country. His level has been consistently high, but he is yet to take a stage win. The Spaniard will relish the chance to go head to head with Froome, but his record in this race isn't the best. Contador struggles to peak here and hold that form until the end of the Tour, something that Froome seems to do with ease.
Alejandro Valverde – after an awesome start to 2017, Valverde has enjoyed a rest since winning LBL. His start to the year has been as good as anyone can remember, winning Andalucía, Catalunya, Basque Country, Fleche and LBL. Valverde is on fire! Not a huge fan of TTs, he has improved in this discipline and he certainly won't fear the TT in this race. He sometimes struggles on the long climbs, we'll just have to wait and see how he copes with the big mountain stages.
Richie Porte – will be walking on air just now! His win in Romandie was hugely impressive and he's got everyone talking. Apart from a bad couple of days in Paris-Nice, his season has been exceptional. He is climbing better than ever and now seems to have an inner belief that was missing. If he can win this race, people will start talking about him as a possible winner of the Tour.
Romain Bardet – bad luck has hindered his progress in 2017. He hasn't hit the heights that he did in 2016, but this is when he will be hoping to come good. He will be delighted to see a relatively short TT, plus three hard days in the mountains. After finishing 2nd in the Tour, the pressure is on the Frenchman to deliver in his home races. It's hard to put into words the pressure that he will be feeling, in the Dauphine and Tour. Can he cope?
Dan Martin – another rider that will be delighted with the route. His season has been impressive: 3rd in Paris-Nice, 6th in Catalunya and 2nd in both Fleche and LBL. The Irishman is a very consistent performer and will be looking forward to this race. He can struggle a little bit in a three week race, but is brilliant in a one week race. He has a good chance of delivering a big result.
Esteban Chaves – injury has stopped him racing since the Sun Tour. He's been working hard in Colombia and will be hoping to race at a high level, but will be missing hard racing in his legs. He will be here to try and get some of that racing in before the Tour, making it unrealistic for him to challenge for the title.
Simon Yates – a more realistic option for Orica. The boy from Bury has had an impressive season. He won a stage in Paris-Nice, GP Miguel Indurain, a stage in Romandie and finished 2nd overall. You can certainly see that he's taken another step forward, after finishing 6th in the 2016 Vuelta. He isn't scared to attack from distance, something that the fans love to see. He has an outside chance of finishing on the podium.
Louis Meintjes – the South African is a favourite of mine. We always see him climbing at the back of the group, it's just how he likes to ride. As riders drop off, he gradually makes his way up the front group. He used this tactic well in 2016, eventually finishing 8th in the Tour. He really is a special talent and I think we'll see him near his best in this race. Like many of the younger riders, he cannot cope with hitting multiples peaks throughout the year. Instead, he throws all his eggs in one basket and looks to peak for his main goal. Just like in 2016, that is the Tour, but I expect a top 7 result in the Dauphine.
Fabio Aru – the Italian is a very hard rider to predict. We all remember his astonishing form in 2015, where he was 2nd in the Giro and won the Vuelta, but those days seem long ago. 2016 was not a great year, despite a stage win in this race. I suppose some are wondering if we'll ever see the 2015 Aru again. I'm not convinced we will.
Prediction Time
Given the days in the mountains, the non-TT riders will be looking forward to this. Yes, they'll lose some time against the clock, but they have a better chance than usual of winning the Dauphine.
As usual, Froome stands in the way. This is a big moment in his season, failure to deliver the goods will not be a good sign ahead of the Tour, especially with Richie Porte breathing down his neck.
What about Valverde? Normally, Mont Chat and Plateau de Solaison, would be too hard for him. However, given his season, it wouldn't be a surprise to see him holding his own.
Despite Contador's excellent early season, I don't see him challenging for the win in this race. History tells us he is usually a little below his best in June.
I think we'll see a straight fight between Froome and Porte. After losing in Romandie, I think we'll see Chris Froome bounce back to take another Dauphine title.
David Hunter
Follow us on @CiclismoInter
Join us on facebook: Ciclismo Internacional
Copyright © 2012-2017 Ciclismo Internacional. All Rights Reserved