Critérium du Dauphiné 2019 – Stage 8 preview
By David Hunter
Cluses – Champéry 113.5km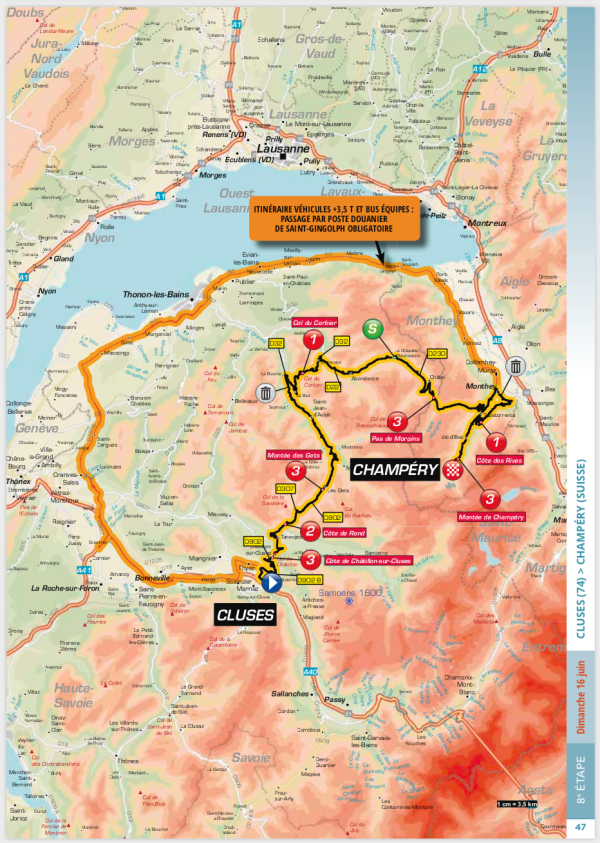 Another short and exciting stage awaits the riders.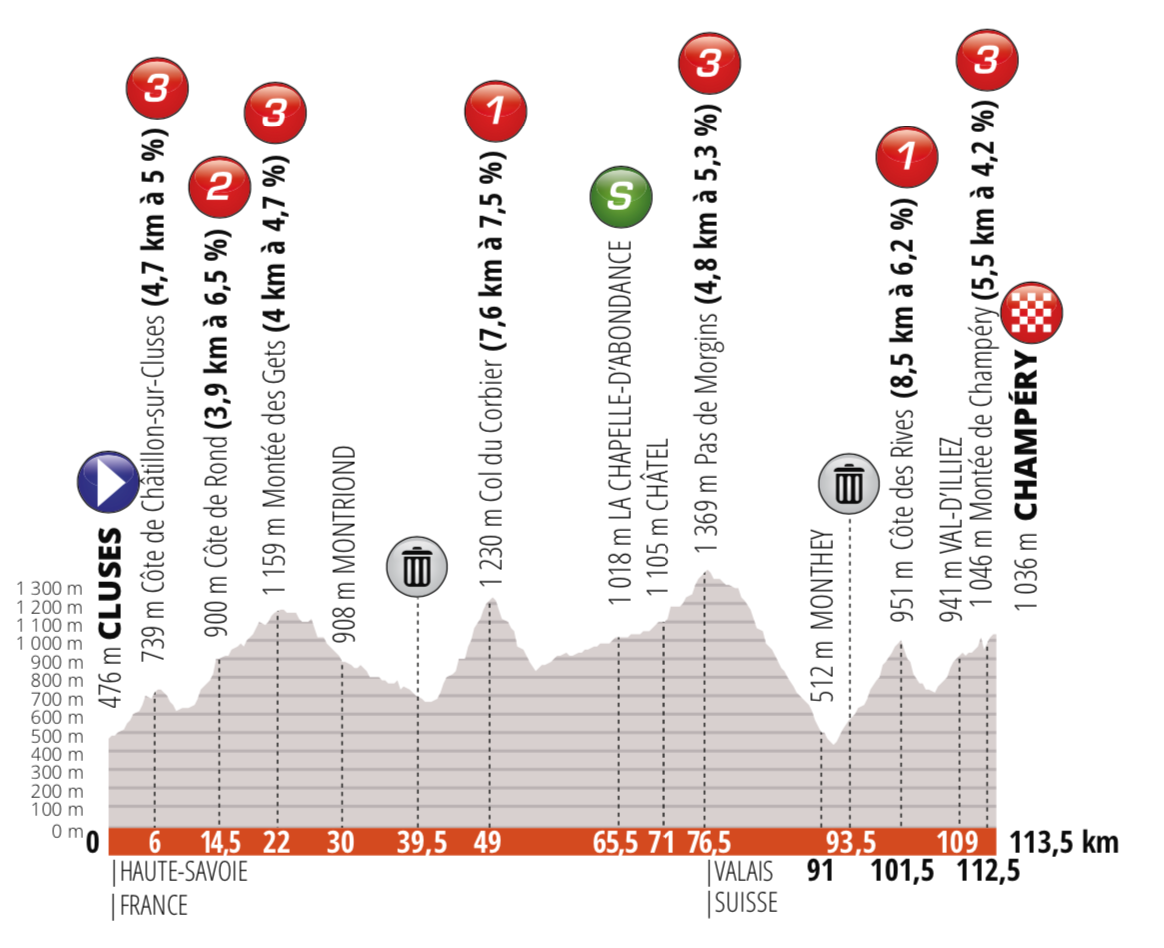 It lacks the big climbs we had today, but this is still going to be a demanding day for the riders. The climbing starts from the gun, which will please the climbers looking to join the morning break.
The Big Climbs
Col du Corbier is a really hard climb, 7.6km at 7.4%, such a shame it crests with 64km remaining. I would love to see riders using it as a launchpad, but that won't be very easy.
Côte de Rives is 8.1km at 6.6%, which is a relatively straightforward climb for the main GC riders. It crests with 12km remaining, meaning we should see attacks as riders try to escape the front group and hope to disappear up the road.
Finale
The final 4km features a lovely looking launchpad if the race is still all together.
Tactics
Astana are now in the race lead, which reduces the chances of anything crazy happening. Realistically the race can still be won by Fuglsang, Yates, Van Garderen, Buchmann, Poels, Teuns and Pinot. These riders all sit within 33 seconds of each other, which means we should see an attacking race. Given the positioning of the climbs, I don't think we'll see any big attacks until Côte de Rives, but I hope I'm wrong.
In theory, it is possible for one of these riders to escape in the final 5km and still have enough time to take the yellow jersey. Astana are strong, but not as much as they've been in other races. Riders like Ballerini, Bohórquez and Houle won't last that long into the stage. A lot of work will have to be shouldered by Cort, Izagirre and Lutsenko. We'll also need to see how everyone recovers from today's stage, plenty of riders will have caught a cold and could struggle in this stage.
To sum up, expect to see lots of attacks, but not until late in the stage when Astana are out of domestiques.
Weather
A sunny day, with little wind. After today, I think the riders deserve that.
Contenders
Adam Yates – sits just 8 seconds behind Fuglsang, meaning a stage win could be enough for the yellow jersey. The finish looks very good for the Brit, he possess a very strong uphill sprint. He suffered a little today, but so did most of the riders. If he recovers well, he can still reclaim the race lead, but he will need the stage win. Mitchelton-Scott will need to commit men to chase the morning break, something they don't often do.
Jakob Fuglsang – timed his move to perfection today. Okay, he didn't win the stage, but he now has control of the race. Long derided for a poor sprint, this is an area that the Dane has actually improved over the last year. Given how close the race is, he'll find himself in a few tricky positions near the end of the stage, but he has the experience to cope with this. He doesn't need to win the stage, any spot on the podium will guarantee the yellow jersey.
Thibaut Pinot – a little unlucky today, but that's cycling. Pinot arrived at this race looking for wins, he now has one chance left. He has the sprint required to challenge for the win, but if he wants the yellow jersey, he needs to do something spectacular. It will be interesting to see if he risks it all for the yellow jersey, or rides conservatively and goes for the stage.
Wout Poels – what a brilliant win today. I doubted he would be able to do it, he showed me! Taking consecutive wins certainly won't be easy, but he looked very strong today. He now sits 28 seconds behind Fuglsang and just 8 seconds from the podium. Poels will sense a big opportunity to secure a big win and throw his hat in the ring for Tour de France leadership.
Dylan Teuns – he struggled today, but showed a lot of guts to hang tough. This stage should be more to his liking, especially the final 5km. Teuns is very fast when sprinting uphill, he has a good chance of taking his second win of the week.
Dan Martin – represents many riders who are little down on GC. When the GC riders start to look at each other, there will be a chance for someone who isn't a threat to yellow to escape. He's not yet at 100%, but he isn't far off it and will certainly attack, it's in his nature.
Julian Alaphilippe – breakaway hopeful number 1.
Michal Kwiatkowski – breakaway hopeful number 2.
Prediction Time
I think enough teams will want to win the stage to see the morning break not survive. I don't see any long-range attacks being launched; this stage will be decided in the final 10km. With many riders evenly matched, I think we'll see Dan Martin taking the win with a late move, with Fuglsang holding onto yellow.
Remember I've now got a podcast too. Go and give it a listen
David Hunter
Follow us on @CiclismoInter
Join us on facebook: Ciclismo Internacional
Copyright © 2012-2019 Ciclismo Internacional. All Rights Reserved