Criterium du Dauphiné 2021 – Stage 7 preview
By David Hunter
Saint-Martin-Le-Vinoux > La Plagne 171.5km
A big day of climbing.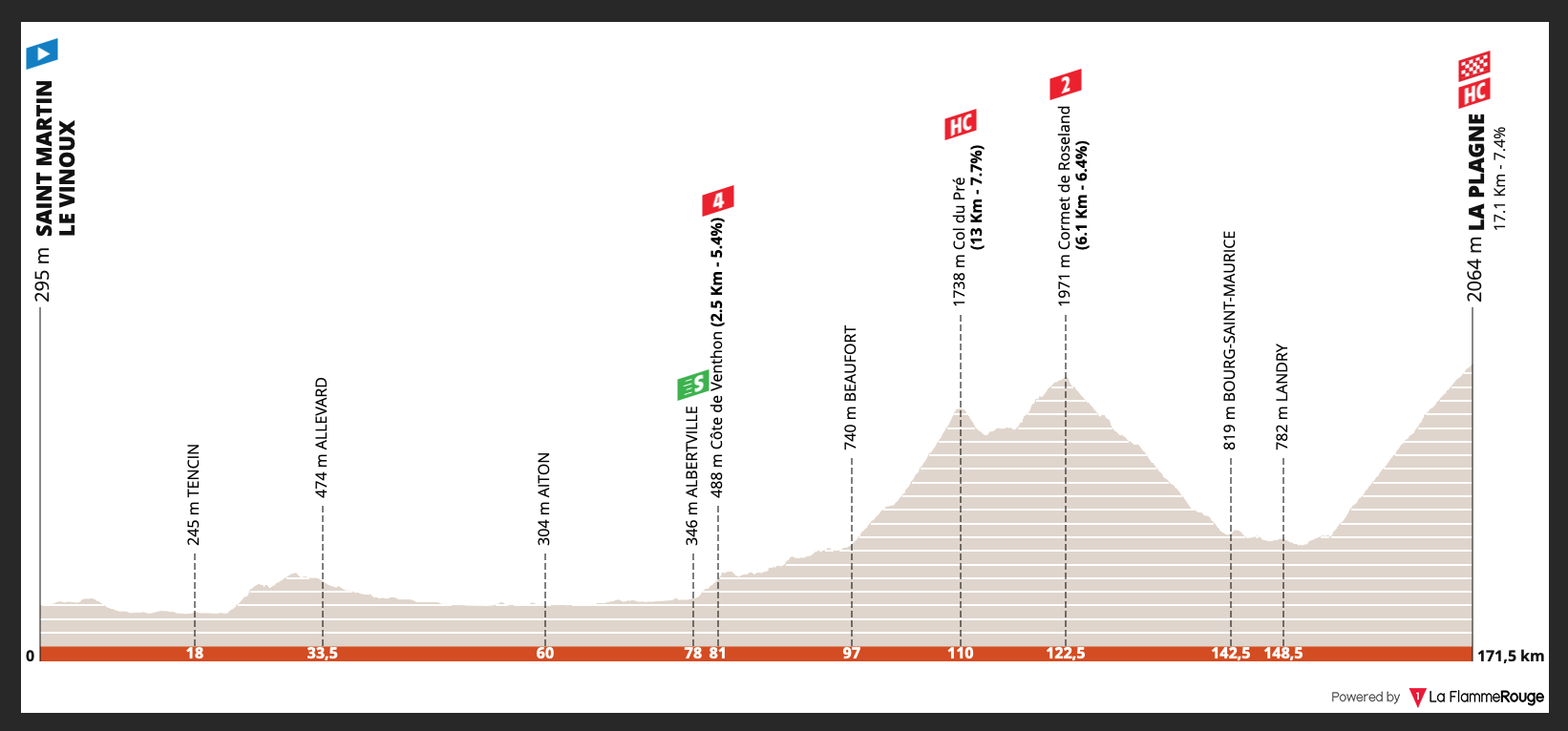 We have the first HC climbs of the race, and with 3911m of climbing, this is going to be a hugely demanding day for the riders. We again start on the flat, the mountains don't begin until 80km into the day.
Key Points
Col du Pré is the first main climb of the day. It is 11.9km at 7.8% and it looks tough to me. There are lots of hairpins along the way and the gradient remains consistently high throughout. After a short descent the Cormet de Roselend comes next, but it's an okay climb.
The descent off it is nice, apart from this series of hairpin bends. A short section in the valley follows before the main event of the day.
La Plagne is a tough mountain. It is 16.9km at 7.5% and it climbs to 2038m above sea level. We will see a serious selection on this mountain, the tough start means that many riders will pull the plug at the foot of the climb. Expect to see big gaps on GC at the end of this stage.
Weather
Some forecasts say rain, others don't! The wind is light, and it should be a tailwind on the final climb.
Tactics
Astana are in control of the race, but they don't really have a team that's going to dominate. Is Lutsenko a genuine GC contender? He's never challenged to win a race like the Dauphiné, but I wouldn't write him off. His current form is very good, but it's likely he'll find the final climb over his limit, but Astana also have Ion Izagirre. Don't expect them to chase the break.
Ineos are the team who'll want to control the day. Thomas is looking strong, and the final climb should be good for him, Porte and Geoghegan Hart. They have the strongest team in the race, but how will they ride? I don't think they'll want to use Tao in a domestique role unless they really have to, the same goes for Porte. Instead, I think they'll want to play their cards on the final climb, always having a rider at the head of the race.
Movistar are also looking very good. I really liked the look of López today, I think he'll be their main man on this climb, with Mas as back up. Valverde doesn't normally like climbs that go over 2000m, I think he'll be happy to work for his teammates after today's win.
Jumbo-Visma are the other team who have looked strong this week. It's a shame that Vingegaard had a recent injury, but they still have Kuss and Kruijswijk to chase the win. I would expect to see Ineos, Movistar and Jumbo-Visma control the type of race we get. The other riders will just hope to be there in the closing kilometres, there really isn't any point of trying to attack early when there are still domestiques left to chase.
What about the breakaway? The stage doesn't look like a classic breakaway stage to me. The start is too flat, and the mountaintop finish is also bad news for them. Of course, many riders will still try, it's their only hope of winning the stage, but I think this will be a GC day.
Contenders
Ineos – Thomas should be the man for them, but Porte and Geoghegan Hart are also going to be up there. Thomas has had an interesting week; I sense he's not as strong as he was in Romandie. His TT was disappointing, but he responded with a brilliant win the next day. Today he didn't have the punch to follow the big moves in the sprint, that did surprise me. I didn't think he'd win the stage, but he did seem to be lacking a little power. Was that a sign he's not at 100%? On paper, this is a brilliant stage for him, he's normally very strong on long climbs that average around 8%. With a very unpredictable stage on Sunday, I think Ineos would like to go into that stage with all three leaders in the top 10. This will have a knock-on effect in terms of how they race this stage, I don't think we'll see the normal mountain train. Despite everything I've said Thomas will start as the favourite and deservedly so.
Movistar – López will be their man in this stage. Not only does he normally like climbs like this, but the altitude also plays into his hands. He's not raced as much as his rivals, but that might not be a bad thing. He was strong in Andalucía, but this is a different level altogether. To win this stage he needs to be at his best, we'll see on the road.
Astana – I'm not going to write off Lutsenko, that man can do crazy things on a bike. Izagirre will hope for a good day, but the final climb looks a bit hard for him. He won't win, but hopefully he can hang tough and stay in contention for the yellow jersey.
Sepp Kuss – did someone say 2000m above sea level? Sepp has impressed me this week, he looks in great form. He is brilliant racing at altitude, and he'll be looking forward to this stage. This is one of his last opportunities to chase personal glory before resuming domestique duties at the Tour de France, he'll be keen to take it.
David Gaudu – a recent crash while training at Mont Teide has left him a little off where he wants to be. I don't see him challenging to win this one.
Nairo Quintana – loves climbs like this. He's been quiet this week, but the early stages didn't suit him. This weekend is when we'll see him start to shine, but just how good will he be? With the Tour de France just three weeks away, I hope to see him at his best. If he is, he can win this stage.
Guillaume Martin – crashed pretty hard the other day, which could have an impact on his performance in this stage. He arrived at the race in good form, I did think we'd see him win a stage this week. The crash has taken a little out of him, but I hope he's recovered enough to go for this stage.
Prediction Time
GC day. I could be boring and go with Geraint Thomas, but something is telling me he's not quite at his best. Instead, I'll go with a rider who has impressed me this week, it's a win for Sepp Kuss.
David Hunter
Follow us on Twitter and Instagram
Join us on facebook: Ciclismo Internacional
Copyright © 2012-2021 Ciclismo Internacional. All Rights Reserved