Criterium du Dauphiné 2021 – Stage 8 preview
By David Hunter
La Léchére-Les-Bains > Les Gets 148km
148km and 4000m of climbing. Time to launch a few grenades.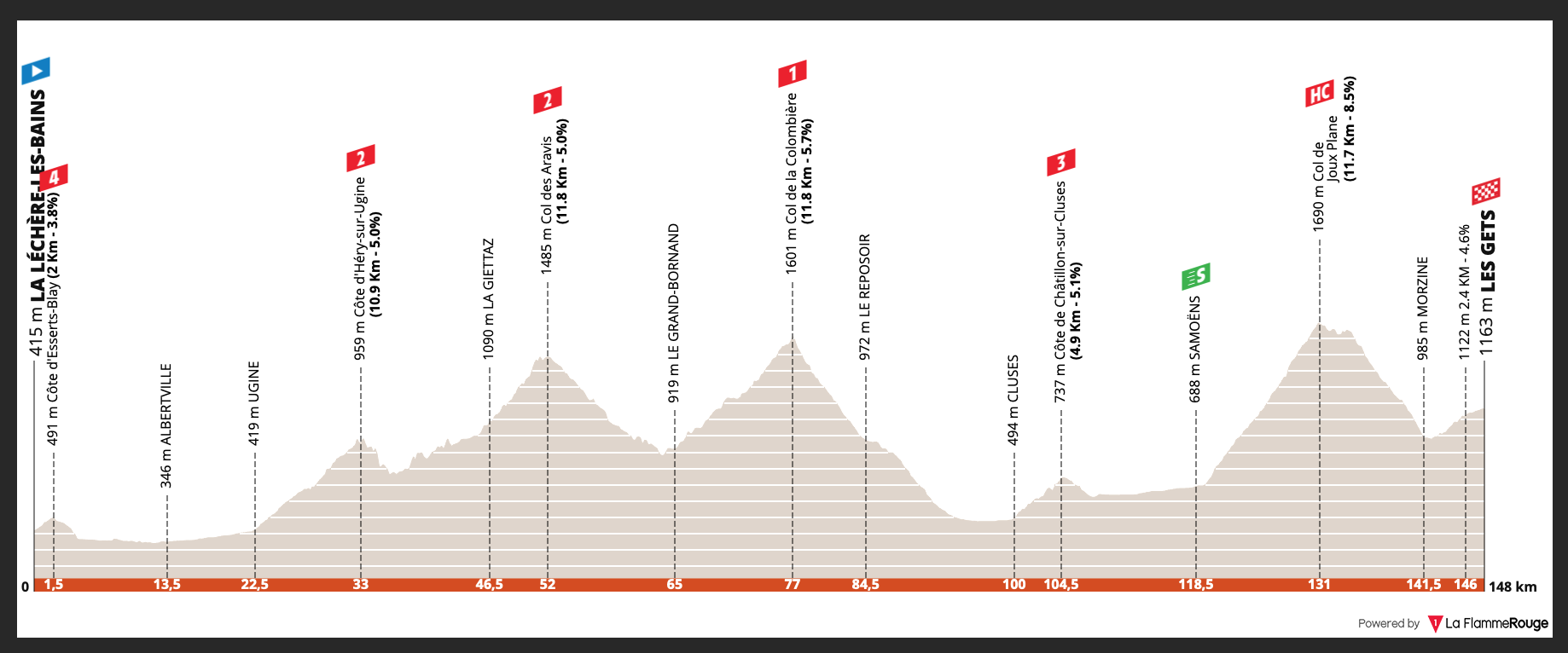 This is one of those stages where anything could happen. The riders start with a cat 4 climb, before a flat 20km, then the fun starts. The early climbs are hard enough for GC riders to attack, I'm hoping for something like the year Talansky won the yellow jersey, come on GC riders, go long!
Key Points
 Col de Arvis is the 3rd categorised climb of the day, it is 11.3km at 4.8%. The descent off it is easy and bounces straight into the next climb.
Col de la Colombière is 11.7km at 5.7%.
The descent is incredibly fast, damage can be done here.
Col de Joux Plane is the hardest climb in the whole race. 11.4km at 8.5%. It is a nightmare, especially the second half. The crest comes with just under 17km to go.
If you are of a nervous disposition the descent isn't for you. Just look how narrow that road is. This leads straight into the final 5km which averages around 3.5%.
Weather
Not as warm as previous days, most of the race will be under cloud, so there is a threat of rain throughout the stage. The wind is light, but it will be a headwind on the final climb.
Tactics
These short stages can often be good for those who attack from far out. We don't normally see the original break winning, but a rider who goes on the early climbs can surprise the peloton, especially if they're not a threat to the yellow jersey. The good news is the small amount of flat between the Colombière and Joux Plane, it is possible to go on the Colombière without worrying about what comes after, but will anyone be brave enough?
The main action will likely be reserved for the Joux Plane, it really is incredibly difficult. Ineos are in a strong position on GC, they have Porte in the race lead and Thomas sits in 3rd place, 29 seconds behind. Lutsenko did brilliantly today to hang tough, but it would take something incredible for him to win this race. The main rider Ineos will be watching is López, especially as Movistar are looking very strong. The Colombian sits 38 seconds behind Porte, he is the main danger. Riders like Haig, Kelderman and Izagirre are also in contention for the yellow jersey, will they risk it and go long?
Those that sit just a little further down on GC will be hoping for a stage win. If they get away with the rider who's going to win the race, like Gaudu in the Basque Country, they could get the stage. Riders like O'Connor, Gaudu and Kuss are the most likely to be in this position. To win this stage you need to be a great climber, but also a strong descender as the final downhill is very complicated. This looks like being a brilliant stage.
Contenders
Ineos – Porte is in a great position to win the yellow jersey, but I do worry about him on the final descent. Thomas is also looking strong; he closed a lot of time in the final kilometre today. Both riders are potential stage winners, it really does depend on the tactical situation in the race. Geoghegan Hart finds himself a little further down, he'll now have to ride as a domestique. Given the finish we have, Porte isn't that likely to win the stage, Thomas is their best option, but their focus will be on taking yellow.
Miguel Ángel López – it was looking very good for him today, but he couldn't follow Porte's final attack. Movistar rode a strong race; he'll be a little disappointed not to have finished it off for his teammates. This is another good stage for the Colombian, he will sense a chance of winning the stage and possibly the yellow jersey. Movistar have had a good week; can they finish it off in style?
Jack Haig – at last showing some good form. It was a tough start to the year for the Aussie, but he's now coming good. He's the type of rider who could benefit from playing a clever tactical game, but he's not the fastest finisher.
Ben O'Connor – another who impressed today. He normally does well in these short, intense stages, I hope to see him at the pointy end tomorrow. He sits 8th on GC, but I think he'll take some risks and try to land the stage win. It's great to see him swinging with the big boys.
Wilco Kelderman – if it ends in sprint between the top 5-10 riders, he'll likely be the fastest.
David Gaudu – seems just a little off his very best. He could find that extra bit of magic in this stage, like what he did in the Basque Country. He's a good pick for the stage.
Ion Izagirre – sacrificed himself for Lutsenko today, but Astana won't ride the same in this stage. Now that they aren't defending the yellow jersey, I think Izagirre will be used as an attacking option. He has previous in short stages; he won the final stage in Paris-Nice back in 2019.  Of all the climbers, he's the best descender, a good skill to have in this stage.
Mark Padun – today was simply incredible, I'm not sure where you got those legs from. Can he repeat that feat? I think he'll be tired after today's huge ride.
Prediction Time
Anyone who tells you they know how this stage will play out is a big, fat liar. I'm hoping it explodes early, and I think it will. I'll take a stage win for Ion Izagirre and the yellow jersey for Geraint Thomas.
David Hunter
Follow us on Twitter and Instagram
Join us on facebook: Ciclismo Internacional
Copyright © 2012-2021 Ciclismo Internacional. All Rights Reserved