CX World Championships Men U23 – Preview
By @EchelonsHub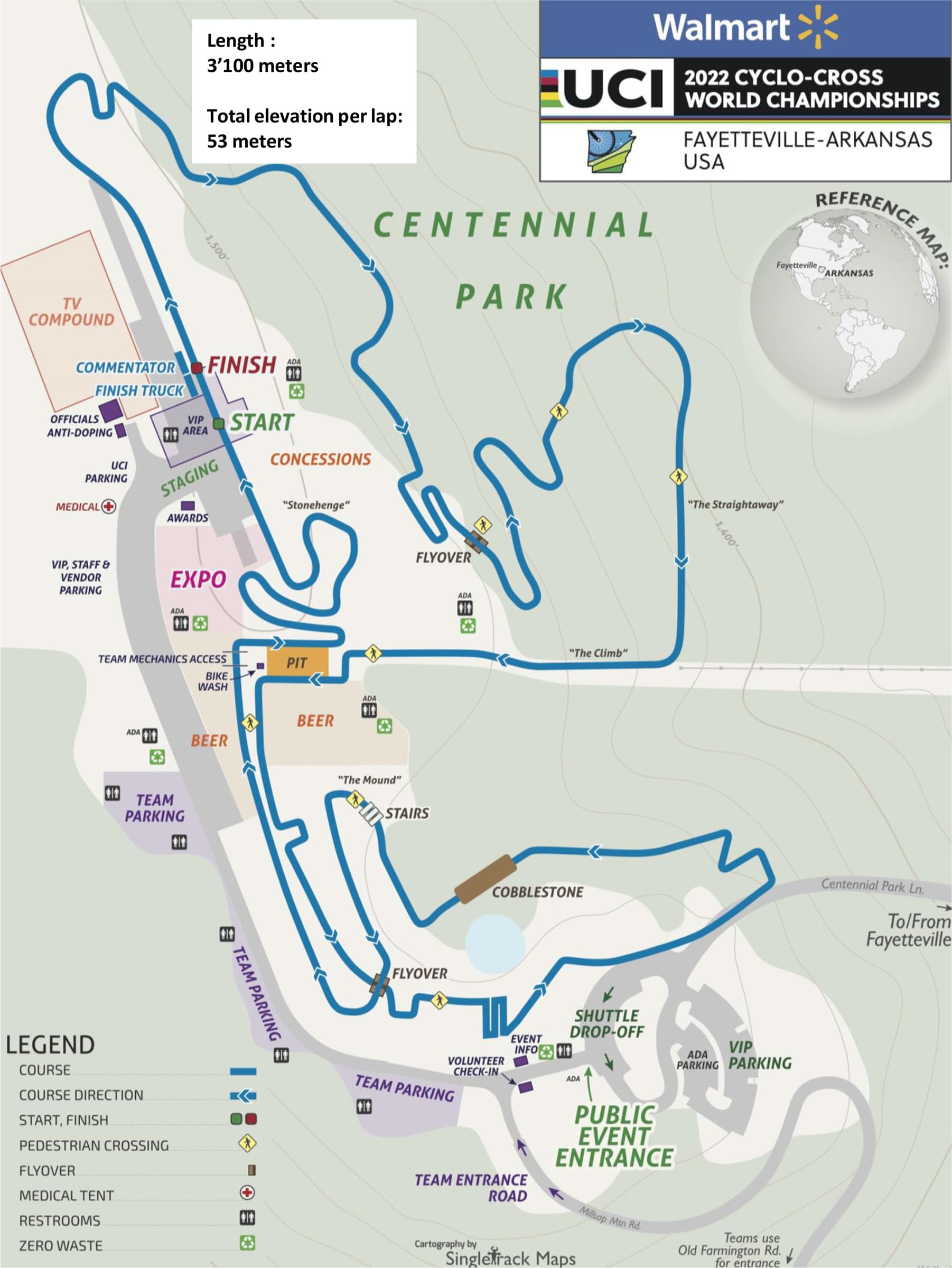 The Course
It's World Championships time, the USA are hosting this event this year and will once again be taking in some of the best cyclocross riders in the world, in the town of Fayetteville, Arkansas. This isn't an unknown route, Fayetteville has had a World Cup race already this year and the route the riders will face will be 95% the same, with the exception of a slightly longer transition zone.
What's it like? Nothing like the classical Belgian track which are usually packed with technical features, and frequently with grueling climbs, gruesome mud sections or heavy sand sections. Here you don't find much of that, it is in fact an extremely fast track, built on a grassy park this course is very wide from one end to the other and only the rain can make it a race that is easy to create and establish differences, as it happened back in September, however it doesn't appear to be the case this week.
Now, there will be plenty of riders doing recon of the track, and these cold February nights in Arkansas go deep into the freezing temperatures, so I believe that during these recons (and races) the track will gain some ruts in some of the downhill corners so it won't be a perfectly smooth ride, but nevertheless it will be a race where strategy counts, going over the red too early is hardly a good idea as there are many sections where slipstreaming is beneficial and the hardest sections (named "The Climb" and "The mound") are quite long, so it's really important to save up the legs in order to be as fresh as possible for those features in every lap. Non-tight corners, wide fields and 1 running section (if everything goes to normal) make it a rather weird race, but one that should see exciting competition.
---
---
The Startlist
| | | | |
| --- | --- | --- | --- |
| 1.Pim Ronhaar | 2.Ryan Kamp | 3.Mees Hendrikx | 4.Emiel Verstrynge |
| 5.Niels Vandeputte | 6.Joran Wyseure | 7.Jente Michels | 8.Thibau Nys |
| 9.Gerben Kuypers | 10.Cameron Mason | 11.Joseph Blackmore | 12.Dario Lillo |
| 13.Loris Rouiller | 14.Jan Sommer | 15.Lars Sommer | 16.Theo Thomas |
| 17.Joris Delbove | 18.Antoine Huby | 19.Davide Toneatti | 20.Lorenzo Masciarelli |
| 21.Samuele Leone | 22.Marco Pavan | 23.Ettore Loconsolo | 24.Gustav Dahl |
| 25.Matej Stransky | 26.Matyas Fiala | 27.Pavel Jindrich | 28.Gonzalo Inguanzo |
| 29.Miguel Rodriguez | 30.Scott Funston | 31.Andrew Strohmeyer | 32.Sam Noel |
| 33.Jules van Kempen | 34.Daxton Mock | 35.Tommy Servetas | 36.Sam Brown |
| 37.Dillon McNeill | 38.Sean Nolan | 39.Dean Harvey | 40.Pascal Toemke |
| 41.Isaac Del Toro | 42.Carlos Alfonso Garcia | 43.Matt Leuveld | 44.Hugo Brisebois |
| 45. / | 46.Owen Clark | 47.Noah Ramsay | 48.Filip Maard |
The Favourites
The list stretches far and wide! There have been several riders this season who have shown their quality and proven themselves within the U23 field, and also showed glimpses of brilliancy on the Elite field at times. Team strategy won't be used here, it'll be a fully individual race, however a good way of splitting the contenders is by nationality, as we should have an epic battle between the Dutch and Belgian riders.
In the Dutch side you have Pim Ronhaar with the number 1, the reigning U23 World Champion is coming back for more. Winner in Namur and Kortrijk, he has also raced quite a lot at Elite level this year where he established his quality. You have Mees Hendrikx who has won the U23 World Cup and the U23 nationals, finished 6th in Hoogerheide last week and 1st amongst the U23, he hasn't taken a lot of wins this season but has been very consistent and comes in with great form. Lastly you have Ryan Kamp, possibly hampered by a bout of Covid in December, however showing good form in Flamanville where he came close to the win, he is the current European champion.
On the Belgian side you have Emiel Verstrynge who won Flamanville exactly after becoming Belgian U23 national champion, his only wins of the season however perfectly timed. There's Joran Wyseure who's won the last U23 race in Hamme, alongside an impressive second place behind Pidcock in Gullegem. 18-year old Jente Michels is another big weapon for the Belgians, which also have Thibau Nys back after another nasty crash, winner of three races over the Christmas period. Lastly the likes of Niels Vandeputte who's been racing almost the entire year at Elite level with solid results, and Gerben Kuypers who has risen to a very high level over the last month.
From the other countries the main contender is likely to be Cameron Mason, winner in Dendermonde. Other riders like the Swiss Loris Rouiller and Dario Lillo, France's Théo Thomas and home riders Scott Funston and Andrew Strohmeyer may also play a role in the Top10 battle.
Prediction Time
1st– Mees Hendrikx
2nd– Thibau Nys
3rd– Pim Ronhaar
4th– Emiel Verstrynge
5th– Joran Wyseure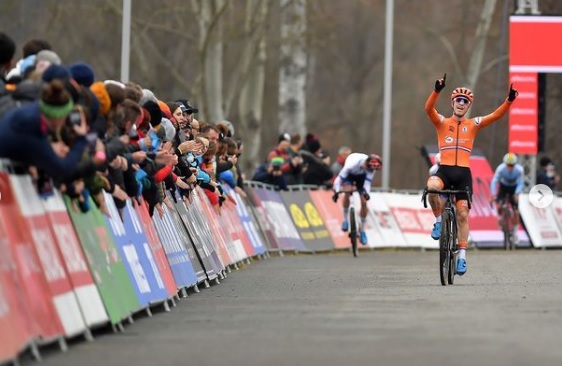 Zweeler is a fantasy sports game that includes many sports and cycling is no exception. I ask that you check it out, if you register with the link below you will not only be joining an exciting game but will also be personally supporting me and my work, and allow me to make more content for you!
Tomorrow's race has prizes of at least €70 and an entry fee of only €2.5. Make good use of your knowledge!
https://zweeler.com/game/cyclocross/FantasyCyclocrossWorldChampionshipsMenU2320212022/main.php?ref=790
Furthermore, you can also still signup for the season-long fantasy cycling competitions, both have at least prizes of €10,000 and an entry fee of only €10.
https://zweeler.com/game/cycling/FantasyCycling2022budget/main.php?ref=790
https://zweeler.com/game/cycling/FantasyCycling2022groups/main.php?ref=790
Rúben Silva
Follow us on Twitter and Instagram
Join us on facebook: Ciclismo Internacional
Copyright © 2012-2021 Ciclismo Internacional. All Rights Reserved