Edward Theuns – Down But Not Out
By David Hunter
"I knew immediately my back was not okay, I didn't move, because I know the risks of a broken back (I studied physiotherapy so…). My first thoughts were that I was never gonna be able to race again. It was a horrible feeling."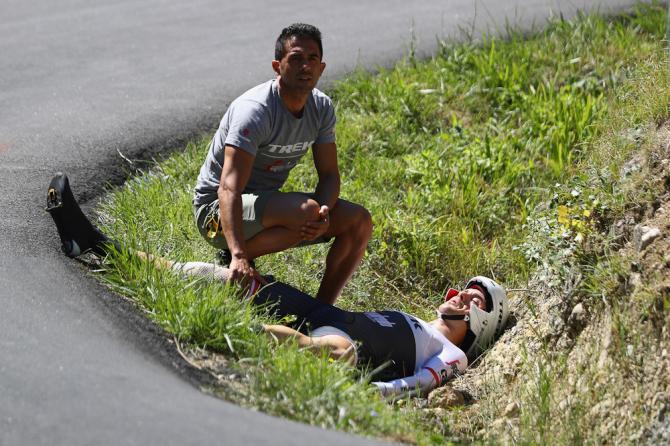 The moment that all professional cyclists fear. After a tremendous start to the Tour de France, it all changed in a split second. One minute you are one of the best sprinters in the biggest race of the year, the next minute you are fearing for your career. I can only begin to imagine what that "horrible feeling" must have been like.
"I remember everything. I just tried to do a good tempo and was feeling good, I was in the middle of a downhill, 80-90 km/hr and saw a turn coming up. I thought to myself, better start braking early and don't take risks. As I started braking, my front wheel started to shiver, the more I was breaking, the more I thought that I couldn't control my bike. I felt I could not make the corner, so I steered next to a moat into the grass and thought I was gonna make it and would not crash, suddenly a trunk of a cut tree (about 20-30cm high) was in front of my front wheel. I saw this in a split second, hit the trunk, got catapulted pretty high in the air and landed in the moat a little bit lower. I landed right on my butt and my spine took the whole impact, resulting in an impaction fracture of my vertebra."
Those initial thoughts of never racing were quickly dispelled.
"When they told me my back was broken, the team doctor said that I would come back, so that made me happy. On the other hand, I still sometimes have doubts about my comeback. I hope I will be as strong as I was before. 
I had the operation 2 days after my crash. The most frustrating thing was that I couldn't do daily simple things:- get dressed, go to the toilet, eat,… I needed help for almost everything… After I got home things started to go faster and I started going to a physiotherapist to have some treatment and small exercises."
Anyway, let us rewind to 2015, Eddy started the season with a bang, riding for Topsport. After some cracking results in Besseges, Drenthe, DDV, GW and Scheldeprijs it was no surprise that he had a few teams interested in his signature.
"Interest came pretty early on in the year. After the classics my manager started listing the teams who were interested in me… Then I made my list of teams I was interested in going to… I had some talks with those teams and pretty fast Trek-Segafredo came out as the team of my choice."
2015 ended well with a win in Tour de l'Eurometropole, before Eddy said goodbye to Topsport. Joining such a huge team, I wondered how daunting those first few team meetings where.
"Of course it was crazy to be in the same team as riders who were the big stars in cycling. Not only Fabian, but also Fränk Schleck, Hesjedal, …. In the beginning it all felt strange to be at the same table with them and be out on training with them as teammates. The second training camp I already felt more at home with the guys, also there were a lot less people there than the first training camp (less staff, people of Trek and other sponsors), which made it much easier to remember names on that 2ndcamp (laughs). 
For me it helps to have some Belgian teammates and Belgian people in the staff, but I felt comfortable to be myself pretty fast."
Eddy arrived with a reputation of being a fast finisher. There were plenty of examples of his speed from 2015, even up against some of the fastest riders in the world. However, no one really knew how Trek-Segafredo planned to use him. They already had Giacomo Nizzolo and also signed Niccolo Bonifazio, another fast Italian sprinter.
"When I joined the team, I didn't see myself as a top sprinter. I have to say this changed pretty fast, because I was going good and had a lot of confidence in the sprints. For sure, there is some healthy competition between sprinters, but we all got our chances and we know what to do in a race, so we always try to pick one card and go for them."
It's fascinating that Eddy didn't see himself as a "top sprinter" when he signed for the team. The staff obviously liked what they had seen from him in 2015 and put together a plan to make him faster. He also had a reputation as being a fast finishing classics rider, but Trek-Segafredo seemed to have turned him into a world class sprinter. A great move by the team!
Sprinters obviously rely an awful lot on their lead-out trains. Eddy was leaving behind his old friends and would quickly have to develop an understanding with new riders. Luckily, he found it very easy to fit into the well established train that the team had.
"It takes some time to get the habits there. But it's nice to have some experienced guys like Rast to help you in the race, but also to say after the race what could have been better to do. They are not mad, but try to give you some constructive feedback. This is the best way to learn out of mistakes. Boy Van Poppel is for me one of the guys who does a really good job in leading you into a sprint. It's all about trusting the guy in front of you."
I'm glad that he mentions Boy Van Poppel. The Dutchman is developing into one of the best lead-out men in the world of cycling and certainly helped Eddy in some of his races in 2016. It's something I will return to in a later interview, as I'll being talking to Van Poppel very shortly!
Being a Belgian, a lot of focus is on the early spring races, especially with other Trek-Segafredo riders looking towards the monuments. Races like Omloop and Kuurne-Brussels-Kuurne are bread and butter for riders like Eddy, but his run into these wasn't ideal.
"Before the season I wanted to achieve more in those races, especially in Omloop. Unfortunately I had some small issues in my preparation which cost me some percentages in those races. It took a while to get adapted to new shoes and saddle. After the training camp in Mallorca I had to cancel 2 races there and take 4-5 days off the bike to heal my saddle sore. I only had 5 race days before Omloop (1 day Mallorca and Tour of Algarve) which is not so much. But once I got that out of the way, I was all set and immediately got some good results, in Paris-Nice, DVV, etc."
You could say that it all began in Paris-Nice. Considering it was Eddy's first big World Tour stage race with his new team, his performance was remarkable. This was when the peloton started to sit up and take notice of our Belgian friend.
"Right on the first day I got a confidence boost, because it was a hard stage with some echelons and a couple of off-road sections in the end. I felt really strong, followed the attacks on the last section with some big guys and launched my own attack at 2k to go. They only caught me with 150m left. At that moment I had a big boost, this was a World Tour race with some of the biggest names and I nearly got the win! In my head it felt like a victory. I was pretty disappointed I couldn't do the sprint the next day, but Bonifazio finished 2nd after me trying to lead him out, so that was a good team result as well. Later in P-N I could sprint for myself and also finished 2nd trying to surprise Bouhanni with an early sprint. Paris-Nice was really successful for me."
His second place was a great result. Deciding that he had to do something different to beat Bouhanni, Eddy went for a long one and it nearly worked. Unfortunately for him, Bouhanni was able to take the win, but a marker had been laid down for the rest of the season. Trek-Segafredo were playing it fair with their two sprinters, allowing both of them the opportunity to sprint. That is all very good at the start of the season, but sooner or later, a decision about hierarchy would need to be made.
Next day, the race visited Mont Ventoux. Coming early in the stage, the stage was set for a breakaway day. The only surprise was the presence of a certain Edward Theuns!
"I didn't plan to go in the break. I just followed the first move and we were gone… We got a big gap and I maybe started thinking we could reach till the end. But on Ventoux our group fell apart and I couldn't follow the first guys. After a fast descent I came back to 20 sec but I was the best placed rider in the group, so I think that was the reason they didn't want me to come back. 
The climb was hard, but I like climbing… I'm just not that fast uphill!"
Next up was another target race, Dwars door Vlaanderen. After finishing 2nd in 2015, Eddy hoped for a better result. It was a demanding race, but the breakaway was brought back and we had a reduced sprint. The race was won by Jens Debusschere, with Eddy finishing in 3rd.
"I was a little bit disappointed, because I got a great lead-out from Jasper(Stuyven). Unfortunately we lost Giacomo(Nizzolo) in the final kilometers. If he could have been with us to have an extra guy, I think the win was within reach. But when you are in the final of such a race, it is not always easy to set things up as you want them. Afterwards I was glad to be on the podium for the 2nd year in a row."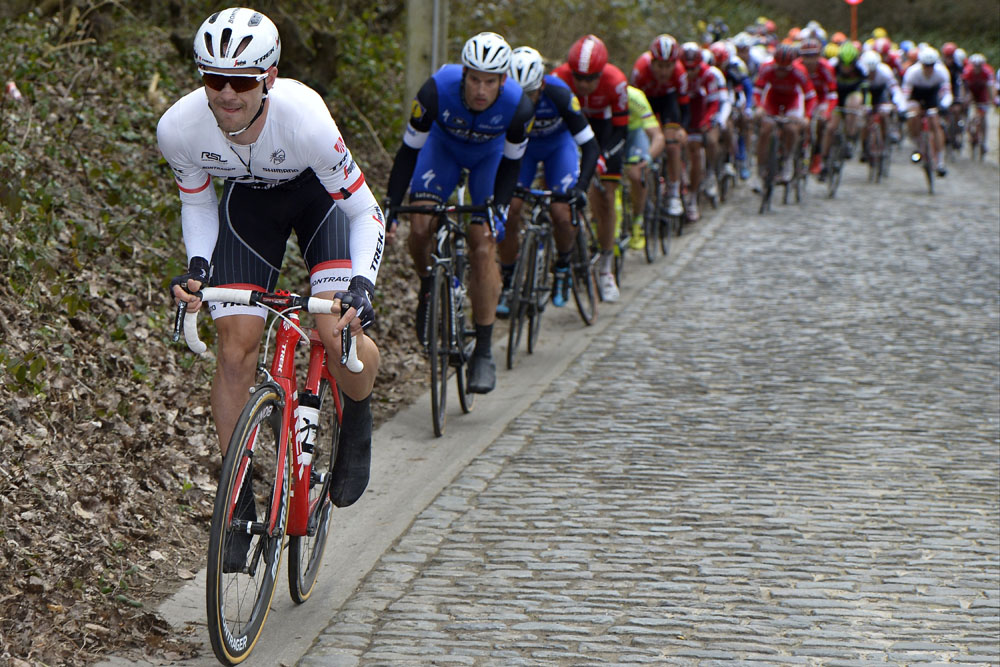 After a little bit of rest, the moment that we all had been waiting for final arrived. It was time for Eddy to take his first win for Trek-Segafredo.
"The Tour of Belgium was a goal for me, because my DS, Dirk Demol, told me that whatever happened, in Tour of Belgium I would be the leader. It came after a short break, and I went for a training period to Girona. I trained really hard there and I felt strong coming back to Belgium. It was the first sprint we would take in the Tour of Belgium, I was happy I had the confidence from the team, and it turned out perfect. Jasper and Boy were on my side the whole time, we took the perfect moment to catch the lead, because there was a crash a few moments later. Jasper was leading and actually Boy took the lead way too early, afterwards he told me it was because he was a bit nervous in that moment. But Boy took the lead and I just kept pushing him to go, it was an incredible lead-out from him because he took the lead with 1k to go and I think he lasted until 350-400m to go. The guys from Lotto came over us, I took Sieberg's wheel for a few moments and then just launched my sprint and could make it to the finish. For me it lifted some pressure, because I wanted the win. I made some great results before that day, but nothing beats winning."
It was developing into a good season for Eddy. What was to follow was a monumental sign of confidence in his ability as a top level sprinter.
"The initial plan for me was to do the Vuelta, but in the Tour of Belgium, they told me I was on the long list for the Tour… but just on the list, I was propably not gonna ride… After the Dauphiné I was apparently really in the running to be in the selection, so I started dreaming about it. At the Belgian Nationals, we did a disappointing race and I thought I blew my chance to go to the Tour there, but on the way back home I got the call with great news that I was in the selection… for me it felt like a dream come true. Just being there in the biggest race in the world was awesome, and the idea that I could go for some sprints was amazing."
Huge! What an opportunity for Eddy. Not only was he going to ride his first Grand Tour, but that it was going to be the Tour de France. Going up against Cavendish, Greipel, Kittel, Kristoff and Sagan would be a golden opportunity. As a young sprinter, cycling is a massive learning curve. You need to make mistakes to become a better rider. Being in sprints, with the best in the world, is the fastest way of becoming a better rider.
In the craziness of the opening stage, Eddy managed to dodge the crashes and take a hugely impressive 5th place. Not bad for your first stage of the Tour de France. As the dust settled, the result became even better.
"The first stage was a moment I will never forget. I positioned myself okay and tried to do the best sprint I had, I counted and finished 5th. I was super happy, fifth in my first Tour stage. Riding back to the bus I was thinking that maybe I could get the jersey of best young rider, but because Sagan is only 1 year older, I wasn't sure. In the end I got it and was on the Tour podium after only 1 day."
First stage and already a jersey, not a bad start to your first Tour de France! The next opportunity was only two days later. It was stage 3 and we were all set for another crazy finish. With another great performance, Eddy again finished 5th. Cast your mind back to July, the sprints were as messy as I've ever seen. Number geeks out there, get yourself ready. Eddy was generous enough to share his power data for these stages.
"The maximum watts were not my biggest ever, but the 30sec and 1 and 2 minute watts were really high as well. You have to fight to even get to the front rows of the pack to start sprinting. On the first stage I had 20 sec 1045W – 30 sec 948W – 1min 746W and 2 min 554. These are high values, if you take in to account that it was a tail wind sprint, slightly downhill.
The 3rd stage was also a hard sprint, 20sec 1081W – 30sec 1015W. I almost never got these values before, especially the 20 and 30sec values… I don't get these in other races (not even when I won), so the level of sprints is really high."
I think that's the bit that most fans don't appreciate. In these sprints, the actual power at the very end isn't as huge as some would imagine. The difference is made in the closing 3km. In order to be in a position to sprint, you must be capable of pushing huge power for 2 minutes. This is where the race is won and lost.
"Of course I was happy, but I wanted more, and had the feeling that I could get more. The race was on, I had some other good results, but unfortunately that all ended with my bad crash."
And we return to that crash! With everything going so well, I was interested how Eddy coped with the huge downer. Not only did he crash, he didn't finish the race and could barely perform basic duties for a number of weeks.
"Of course it was hard. The hardest moments were during the Tour… I was there, doing good, but suddenly I was in the hospital, not even able to take my own clothes off, watching it on television. Those were some mentally hard moments. The last stage was the hardest, because I was looking forward to that day, I already was talking about the Champs-Elysées, before I crashed. I believed in a good result there. I still have some hard moments, thinking about that stupid crash, it changed everything, I had a good strong back, and it's never going to be the same again. Sometimes for me this is hard to accept.
My girlfriend was my biggest support, she was in France when I crashed, slept in a chair in a hospital room in France with me, drove back home and came almost immediately to the hospital in Ghent. It was hard for me, but for her it was also hard. The visits of my parents, my family and friends all helped me a lot to keep my spirit good.
I think I am not a bad patient, but since I studied physiotherapy, I am rather critical towards doctors and physiotherapists I am afraid (laughs). In the end I think that my huge motivation made me a good patient to work with, but I guess that is something typical for sports people.
What motivates me? My goal is to wear all the jerseys of the Tour the France in my career. The only one with a restriction is the white jersey, because you have to be under 25 to wear it… So luckily I can already scratch this one from my list! 3 to go!
I was on my best level ever during the Tour, so this is my biggest motivation. I think I am able to win nice races, stages in big tours,… , a few years ago I thought different about that."
After just one year in the World Tour, I love that Eddy now has the confidence to say that he can win big stages, in the biggest races. It is that level of confidence that is required to be a top level sprinter. Moving forward, just where can Eddy target improvement?
"After every race you don't win, you can find mistakes. I'm not telling you I will never make the same mistakes, but you learn from them and the bigger your backpack with experience in cycling is, the more good decisions you will make in crucial moments.
I think just getting the experiences and try to get stronger in all situations. Maybe my endurance is still the biggest point to improve, but typically that is something that comes with age."
Training is obviously a crucial part of every professional athlete. Eddy is like many Belgian riders, they train together in a strong unit.
"We have a training group with some riders in Ghent and we call ourselves SVGG (read SV double G😉 ). We try to meet and train together to make the best of it. We take each other to a higher level.
Breakfast is most of the time oats with some berries or some seeds, … for lunch I try to eat a salad with mozzarella, avocado, … and some bread, it varies. Dinner depends on the day. I eat a lot of the same food, especially during the day, for dinner, my girlfriend also decides. But if there is one thing I don't like, it is cheese!
It was my first year working together with the team trainer Josu Larrazabal, it worked out really good this year and I think after this season he knows me better, knows how my body reacts, so maybe the next year our cooperation is going to be even better. I follow his instructions."
During his rehabilitation, Eddy quest appeared on Sporza. He ditched the bike, and picked up the microphone instead, acting as a co-commentator. Did he enjoy his time behind the mic?
"It was really cool! I enjoyed it. In the beginning it was very exciting, and indeed I was more nervous than before a race, but that is because I am talking about my colleagues. It is not easy to judge them on tv, while the rest of the year you ride together with them. But it worked out well and I enjoyed it, but I rather stay on the bike than behind the mic!"
No offence, but I think we'd all rather see him back on the bike!
What a crazy 2016 it's been for Edward Theuns. He's experienced the full range of emotions. He's had the highs of winning races and competing in the Tour, and the terrible low of crashing and putting his career in danger. Through all of this he's retained that motivation you see in top athletes. He is still there pushing himself to become better and is as open and friendly as ever. In 2017, we all want to see him back where he belongs; standing on the top of the podium, with his hands held high!
David Hunter
Follow us on @CiclismoInter
Join us on facebook: Ciclismo Internacional
Copyright © 2012-2016 Ciclismo Internacional. All Rights Reserved