Eneco Tour 2015 – Stage 3 Preview
By David Hunter
Beveren – Ardooie 171.9km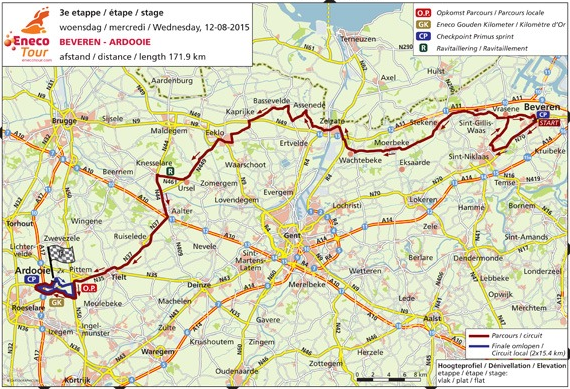 The third stage of the race is a familiar one. The Eneco loves a finish in Ardooie, although some of the riders don't. This is one of the most dangerous finishes in the World Tour. Last year, it took Zdenek Stybar out of the race, with a terrible crash. That day it was Guardini and Van Rensburg getting in a tangle and it resulted in bikes and riders flying all over the place! Out of the chaos came Nacer Bouhanni, to win the stage.
In 2013, Mark Renshaw, was the surprise winner of the stage. He was meant to be leading out, Theo Bos, but rode away with a kilometre remaining. The finish is incredibly technical and usually we get crashes. This is a dangerous day for sprinters and GC riders. The fearless riders love this finish.

It's another flat day, as the riders head towards the finishing circuit, in Ardooie. The weather forecast suggests that we might get some rain, even worse news for the riders. The circuit is 15.4km long and is covered twice. If the road is wet, expect carnage. The wind is also strengthening, but coming from the north-west means that it will be a tailwind for most of the day. There are a couple of potential points where echelons can be created, so teams will need to be vigilant.
The golden kilometre was fun today. By the third sprint, most riders seem to be out on their feet! Gilbert picked up 2 seconds and Grivko 1 second, this means they will start the ITT, after all the other GC riders. For this stage, it is 25km from the end and I hope to see the break caught by that point. It certainly adds a little more fun and excitement to the race.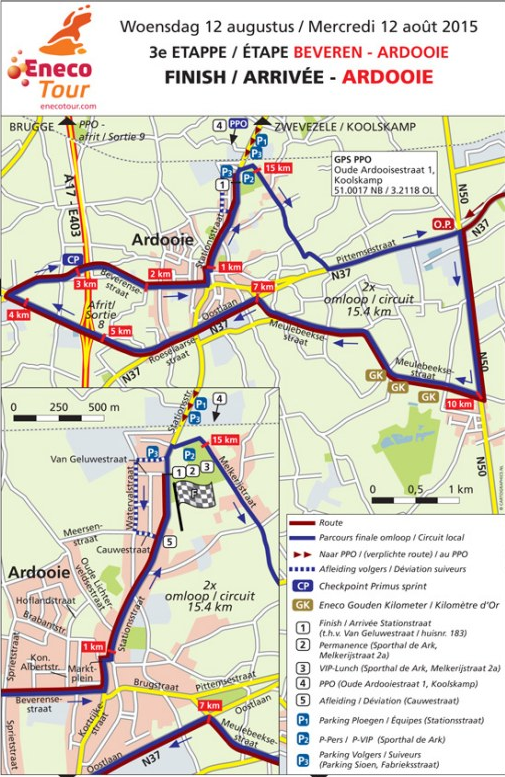 The finish is a nightmare! We have some brutal corners and very narrow roads… expect crashes. The battle for control of the peloton will start with 5km to go.
You may have noticed today, that Etixx and Lotto were much better than all the other teams. We know that Greipel isn't the biggest fan of fast corners, so Lotto hit the front with the whole team. As the corner approached, the fanned across the road, denying anyone the chance of going in front of them. They dictated the speed of the corner in brilliant fashion. With 3km to go, it was Etixx who took control. They had Sabatini, Lampaert and Maes all riding for Boonen. At 1.7km to go, the charge came from Lotto. It was Marcel Sieberg, who took them all to the front. He continued on until 1.2km, then it was Greg Henderson. He was delighted with his pull, as was his teammates. Next was Jurgen Roelandts, before handing over to Jens Debusschere. The lead-out was that good, Greipel only had to sprint for 150m. It was textbook sprinting and a joy to watch. To win this stage, is going to be harder!
it's vital to be near the front for the corner at 4km. The battle for road position will be fierce and very fast. After the corner, the road is quite narrow and very difficult to make up positions. It's hard to see anyone but Lotto and Etixx be in control. Most teams only have a few riders supporting their sprinter, so they cannot control the race for 4km. Due to the strength in depth of these two teams, they have plenty of riders willing to help ride for the sprint.
After that point, we have another sprint. This time it's for the corner at 1.5km. This left hand bend is very tricky and riders who try to dive-bomb the corner, put everyone else at risk. This is the most dangerous part of the circuit. To make it safer, Lotto will try to drive the pace up and line out the bunch. That will stop riders from trying a dangerous move(maybe not the Italians!).
Then we have two more, ninety degree corners, before the final kilometre. These corners are usually taken fairly slowly, as the corners come close to each other. Once through the last one, the rush for the line starts. With just a kilometre remaining, it's hard for teams to reorganise, that's why you need to be the first team through the corners. If you have lost a few places, your race is over. You won't have teammates to bring you back to the front, so forget about it.
I repeat, this finish is a nightmare!
Some sprinters are enjoying themselves but most are having a shocker. The Italian trio of Modolo, Guardini and Nizzolo are looking like lost boys. Richeze is not riding last man for Modolo and he's suffering because of it. Guardini has been in good positions but failed to finish it off. Nizzolo is now being overlooked for Danny Van Poppel. DVP is looking quite good, as is Drucker. Considering he's not really a sprinter, he's looking very good. Drucker and BMC are also being clever. They don't have a lead-out train but Quinziato and Drucker are working well together and maintaining a high position, near the end of the stage. Demare was better today and Guarnieri reminded people that he isn't just a lead-out man.
Viviani, winner from stage 1, was lost today. The strategy that Sky are adopting is high risk. Place him well, inside the closing kilometres and hope he follows a good wheel. This approach will not deliver consistent stage wins. It relies on a lot of luck.
The other teams are now fearful of Lotto and Etixx. Some might try a different tactic and go for a late attack. This circuit will reward attacking riders and we might not get a sprint. However, you'll have to hold off Etixx and Lotto!
Prediction Time
I would be surprised not to see Lotto and Etixx control the closing stages of the race. However, this finish is not great for Greipel. Sometimes, he loses the wheel of his man, especially in a corner. If he loses the wheel, with 1.5km to go, he won't  win the stage. The Lotto boys won't be waiting for him either! They can quickly change tactic and ride for Debusschere, who was 2nd here in 2014. So close to the end, there can be no looking around, you commit to the sprint and see who is left. Etixx will also be there, so Boonen has a chance. The Italians have to turn up, don't they? The circuit suits Modolo, a masterful bike handler. His lack of form is a worry.
Lotto will change the order of their train tomorrow, with Henderson swapping with Roelandts. As he starts to regain form and fitness, Hendo will move closer to his true position. Lotto are the best and they will win, just not sure if it's Greipel, Debusschere, Henderson or Roelandts!
David Hunter
Follow us on @CiclismoInter
Join us on facebook: Ciclismo Internacional
Copyright © 2015 Ciclismo Internacional. All Rights Reserved