Eneco Tour 2015 – Stage 4 Preview
By David Hunter
Hoogerheide – Hoogerheide 14km ITT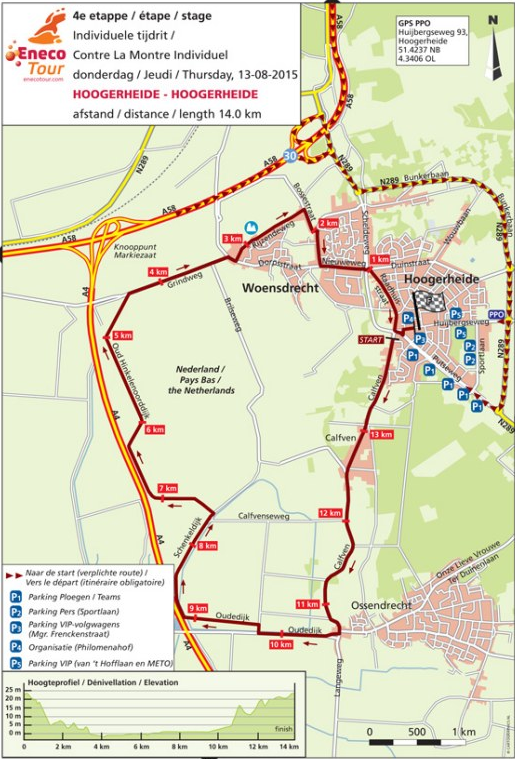 The sprinters have had their fun, it's time for the GC riders to shine. The riders tackle a nice loop circuit, and despite the profile, is flat. The first thing to look at is the weather.
There is a small chance of rain in the morning. It shouldn't really be a problem and everyone should be on dry roads. The wind is ENE, and is to weaken throughout the day. This could be important. Riders will have a cross/tailwind on the way out, but a cross/headwind on the way back. It looks like an advantage for the later starters, but wind speed and direction is not an exact science! The route is very exposed, whoever gets the stronger wind will find it very difficult, especially when heading for home.
At 14km, this is long enough to create some big gaps. Out on the course, there are only a few points where the riders need to slow down. This looks like a day for big, powerful riders. Unfortuantely for all the riders chasing stage glory, one of the world's finest is here, Adriano Malori.
Regular readers will know that I don't think Malori travels well. He seems to favour TTs in Italy and Spain, where he gets a little helping hand, but this course looks great for him. He is extremely powerful and the lack of corners is massively in his favour. This season he won the TT in San Luis, was 2nd in Algarve(lost by under 1 sec), 1st in the Tirreno prologue, 2nd in the Tirreno TT, 1st in Pays de la Loire, 9th in the Suisse prologue, 4th in the Suisse TT, 1st in the Italian Nationals and 8th in the TDF. It's been another good year for the Italian, although he would have been disappointed with his performance in the TDF. This marks another chance for him to cement his place at the top table of TT riding. The changing weather conditions will be a concern to him.
After Malori, we have a long list of riders who could do well here:-
Niki Terpstra – Won the Qatar ITT, over 10.9km.
Julian Alaphilippe – 3rd in the California ITT, over 10.6km.
Yves Lampaert – More of a prologue specialist but did finish 2nd in the Belgian TT championship.
Greg Van Avermaet – Massively improved TT rider, this season. Will expect a top 10 performance.
Manuele Boaro – Consistent performer over this distance.
Chris Juul Jensen – Danish TT champion and fresh from winning the Tour of Denmark, where he finished 2nd in the TT.
Fabio Felline – Hugely improved rider, in all disciplines. Won the 7km TT in the Criterium International.
Ian Stannard – Another consistent performer over this distance, but seems to be working for the team.
Lars Boom – Hasn't had a good year, in terms of time-trialling. He was good in 2014.
Andriy Grivko – Another steady rider. 11th in the Qatar TT.
Wilco Kelderman – 2nd in Andalucia, over 8.2km, and 9th in the Tour. Has a big chance of success. Dutch TT champion.
Rick Flens – 3rd in the recent TT in Poland.
Jos Van Emden – Massive dangerman! Was 2nd in California and 5th in the Tour. Has really found a great rhythm.
Simon Spilak – Never to be underestimated. 2nd in PN, Romandie and Suisse. Would like a longer stage but still a threat.
Michael Hepburn – Slowly starting to rediscover his TT form.
Dylan Van Baarle – 5th in Bayern-Rundfahrt and another rider who will target the top 10, to boost his GC hopes.
Ramunas Navardauskas – Just about his perfect length. Top 10, or top 5 on a very good day.
Matthias Brandle – Starting to develop into a serious TT rider. 6th in Qatar, 5th in the Tirreno prologue, 1st in the Belgian Tour prologue, 3rd in the Suisse prologue and 7th in the Tour. Will certainly believe that he can win this stage.
Tobias Ludvigsson – Not reached the same level since his horror crash in the 2014 Giro. Getting better though.
Patrick Gretsch – 4th in the Giro TT and 6th in Poland. Form is certainly starting to come back, after some poor years.
Quinziato and Westra are another two who could surprise.
That's a long list of riders! I'll narrow it down a little. The only threats to Malori are: Terpstra, Van Emden, Kelderman, Brandle and Spilak.
The Dutch boys smashed round the TDF course. They will be looking for another top performance, back on home soil.
Starting times will be important. Going out very early are Malori, Hepburn, Gretsch and Van Emden. Later started include Brandle, Terpstra, Alaphilippe, Lutsenko, Grivko, Gilbert and Boonen.
Another important point is the road surface. Around half of the course is completed on pave. We're not talking Paris-Roubaix, but the stuff we see a lot of in Holland. It's not rough but will have an impact on the riders. This is great news for the Dutch riders, who regularly ride on this surface.
Prediction Time
The early starters are going to be exposed to a strong wind. Out on the country roads, they will find it very hard to maintain a high pace. This is bad news for Adriano Malori, who would normally be the favourite. It's looking much better for Brandle and Terpstra. The road surface is great news for the Etixx man. It's going to be close, but Terpstra might just take the stage. Boonen started second to last and will have the time splits for his teammates. It's been a while since he did a good TT but he's in good condition.
David Hunter
Follow us on @CiclismoInter
Join us on facebook: Ciclismo Internacional
Copyright © 2015 Ciclismo Internacional. All Rights Reserved