Etoile de Bessèges 2021 – Stage 4 Preview
By David Hunter
Rousson > Saint Siffret 151.5km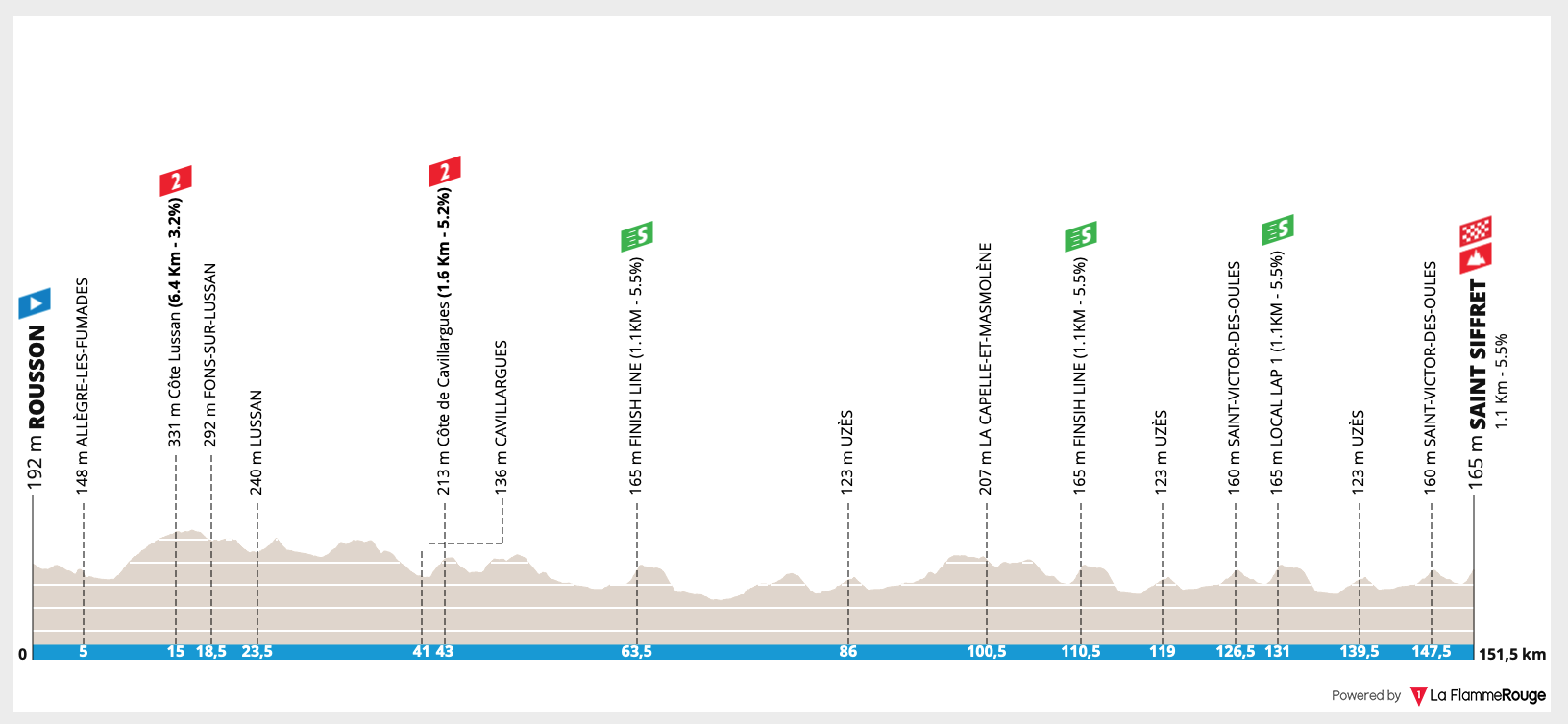 After today's fun, stage 4 promises to be another cracker, the profile doesn't really do it justice. The riders first pass through the finishing line after 64km, then they head out on a big loop before coming over the line again after 110km. We then have two laps of a shorter loop, crossing the line after 131km and then once more for the finish itself.
The route is full of narrow farm roads, some of which you have to see to believe, this really could be in Flanders. We have constant changes of direction too; the riders are going to be dizzy at the end of this one. The roads are undulating, but we don't have any climbs of real significance, apart from the one that leads up to the finishing line, more about that later.
Weather
After a calm week, the wind is eventually starting to pick up. The forecasts don't all agree, but it's looking like a south-easterly wind between 20km/h and 30km/h, but with gusts of up to 50km/h. Given the exposed nature of the route, the wind is strong enough to blow the race apart. Also, there will be some rain around, which will make the stage even harder.
Tactics
It's not really a question of if it splits, it's more where does it split?
The first section of interest comes after 73km and lasts for around 5km. This section of road can only be described as farmland. The narrow roads and cross/tailwind are perfect to create echelons and put riders into difficulty.
Another good section comes in the shorter lap circuit, but it only lasts around 1.5km. As you can see, the road is very exposed and as the riders go through here twice, I expect damage to be done. The last time through comes with just 15km remaining, which will make it very tough for dropped riders to get back on.
Teams with classics riders will love the look of this. As we don't have many races before the opening weekend, I expect this stage to be a blood bath. Watch out for Trek-Segafredo, AG2R and probably Ineos. They will split the race and blow the peloton to pieces.
Finale
This is the climb that leads up to the finishing line. 1.2km at 5.2%, but it does have a maximum of 9.1%. The riders cover this on four occasions, so they'll know everything about it before the last time up. There is a big bend with just 200m to go, and the gradients are steep in this turn, making the timing of your launch very important. One word of warning, the long straight that lasts for 1km is into a strong headwind, there is no point attacking until the road bends.
DS Cycling Mole
For this stage I've been invited to lead the AG2R Citroën squad.
Right lads, arses on seats and put those bloody phones away. This is a perfect stage to help get us ready for the classics. Greg and Oli you boys are our team leaders and it's time to show everyone just how dangerous we can be. I want this race to be hard from early on. You've seen the narrow farm track at 73km, this is where we make the first split. You boys were born in an echelon, I want you to put it in the gutter and make them all suffer.
From this point there's still a long way to go, and the rest of the stage suits you both very well. You are both experienced enough to read the situation on the road, so make the right moves and don't forget to eat and drink. The final kilometre is headwind, don't make an arse of yourself by going early, wait for the final 200m. I don't care which one of you wins, it's all about the team. Do it for Citroën, do it for AG2R, do it for France, do it for Belgium, but most importantly, do it for me!
Contenders
Greg Van Avermaet – this is his type of stage. As I expect things to split, it's hard to imagine Greg missing out. Then we have the uphill grind to the line, which is very good for him. He missed the winning move today, which will no doubt annoy him, but he'll look to put things right by winning this stage.
Oli Naesen – in my opinion, Oli is faster than Greg. If both men are in the front group, AG2R will be hard to beat.
Mads Pedersen – Trek-Segafredo are one of the best teams in the wind, they'll be loving the looking of this stage. Pedersen didn't make the front group today, so his overall hopes are gone, but a stage win is still within his grasp. The uphill grind to the line is good for him, but it all depends on who is still in the group.
Edward Theuns – it was great to see him make the front group today. If the wind blows, he'll be in the front group looking to make the others suffer. His 2nd place today shows that the legs are good, so I expect to see plenty of him in this stage.
Michał Kwiatkowski – an unfortunate mistake meant he couldn't chase Wellens, and his GC hopes are now gone, but he is looking strong. Kwiato is very good in windy conditions, he'll look forward to this type of stage, and the finish is also a good one for him.
Tim Wellens – such a strong performance today, he now has a very commanding lead in the GC battle. I wouldn't say this type of stage is perfect for him, but he's clearly in great form and that will count for a lot. Lotto Soudal have a good team to help defend the jersey, but they will come under pressure from the others. It will be interesting to see how Wellens copes if the wind blows, but make no mistake, if he's in the front group at the finish he could win another stage.
Prediction Time
We'll get a tough old stage, and I think a relatively small group will approach the line together. I'll take a win for Michał Kwiatkowski, he looks very good just now.
David Hunter
Follow us on Twitter and Instagram
Join us on facebook: Ciclismo Internacional
Copyright © 2012-2021 Ciclismo Internacional. All Rights Reserved