Flèche Wallonne 2017 Preview
By David Hunter
Binche – Mur de Huy 204.5km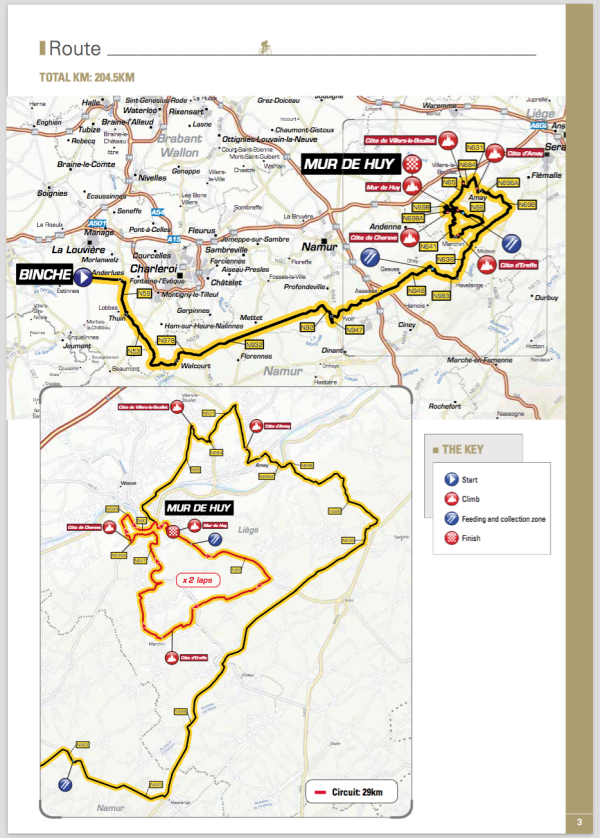 Certainly the most boring race in the Ardennes week, but at least it provides us with an exciting finish!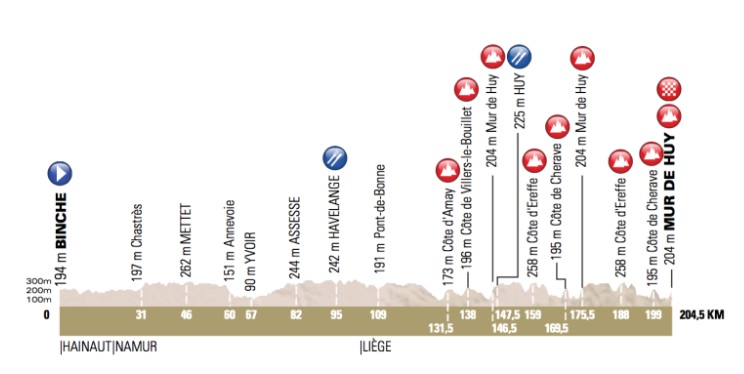 The problem with the race is that the bunch are nice and fresh as we head into the final lap of the circuit. We don't have enough climbs and the race is "only" 204.5km long. Most teams still have plenty of riders to chase down any attack and we nearly always get a big finish on the last ascent of the Mur.
Climbs

The introduction of the Cote de Cherave did make the race harder, but it still isn't hard enough.
Tactics
Can anyone beat Valverde? All teams will be trying to stop Valverde from taking his fourth consecutive victory. Even though we have been blessed with a season of attacking racing, I just can't see it here. Again, the route is not hard enough.
Despite attacks on Cote de Cherave, Movistar will be able to control the race and we'll arrive together for the final climb of the legendary Mur.
Weather
Not very warm, but it will be dry. The peloton also have to deal with a headwind for the vast majority of the day. It won't be a particularly fast day in the saddle.
Contenders
Alejandro Valverde – the man they all have to beat. Going for his fourth consecutive title and his fifth overall, he is currently enjoying a brilliant spell of form. Amstel wasn't his finest race, but he was poorly positioned on the Kruisberg. His team aren't as strong as they have been in previous years, but they should be good enough to bring it back together at the start of the Mur.
Sergio Henao – the Colombian was 2nd here in 2013, but hasn't featured on the podium since. If you think back to the Pais Vasco stages in Aia, he is a phenomenal rider on the steepest of slopes, so should be capable of winning this race. Team Sky do have an advantage, they have two clear candidates for the win, but can they beat Movistar? Henao rode for Kwiatkowski in Amstel, will the favour be returned here?
Michael Kwiatkowski – clearly in brilliant form. He was unlucky not to beat Gilbert in Amstel, but he will be disappointed that he seemed to start his sprint too early. He was 3rd here in 2014, and it was expected he would kick on and win this race, but it hasn't worked out that way. Now back in top form, he has a great chance of making the top step. Valverde will be worried about him.
Michael Woods – the Canadian has looked in impressive form this season. Saying that, he sometimes lacks the experience to time his attacks well. He was 2nd in GP Miguel Indurain and finished 4th on the steep Pais Vasco stage. The length of this race is good for the Canadian, he still lacks the stamina required to challenge in the monuments.
Dan Martin – the Irishman was 2nd in 2014 and 3rd in 2016, this is a race he shines in. He has the kick required to get away from nearly all the other riders, it's a shame for him he can't shake Valverde off his tail! Looks very likely that he'll make the podium, just what step?
Michael Albasini – 7th in 2016, 3rd in 2015, 7th in 2014, 21st in 2013, 2nd in 2012, 11th in 2011, 10th in 2010, 9th in 2009, 7th in 2008. That is nine years of hugely consistent results for the Swiss rider. Not the lightest contender, he has a huge amount of raw power that he uses to smash up the climb. He arrives as the outright leader for Orica and it would be   a shock if he didn't finish in the top 10.
Ion Izagirre – was very impressive in Amstel Gold, he is a massively underrated one day racer. The Spaniard has often had to ride in support of Valverde, but now at Bahrain, he has a certain degree of freedom. He is good on steep slopes, there are plenty of them in his usual training rides in the Basque Country. A dark horse to make the podium.
Tim Wellens – the only man capable of succeeding with a long range attack. The chances of this happening are very small, but you just never know!
Prediction Time
Can anyone beat Alejandro Valverde? No. The great man wins again.
David Hunter
Follow us on @CiclismoInter
Join us on facebook: Ciclismo Internacional
Copyright © 2012-2017 Ciclismo Internacional. All Rights Reserved