Flèche Wallonne 2021 – Preview
By David Hunter
Charleroi > Mur de Huy 192.5km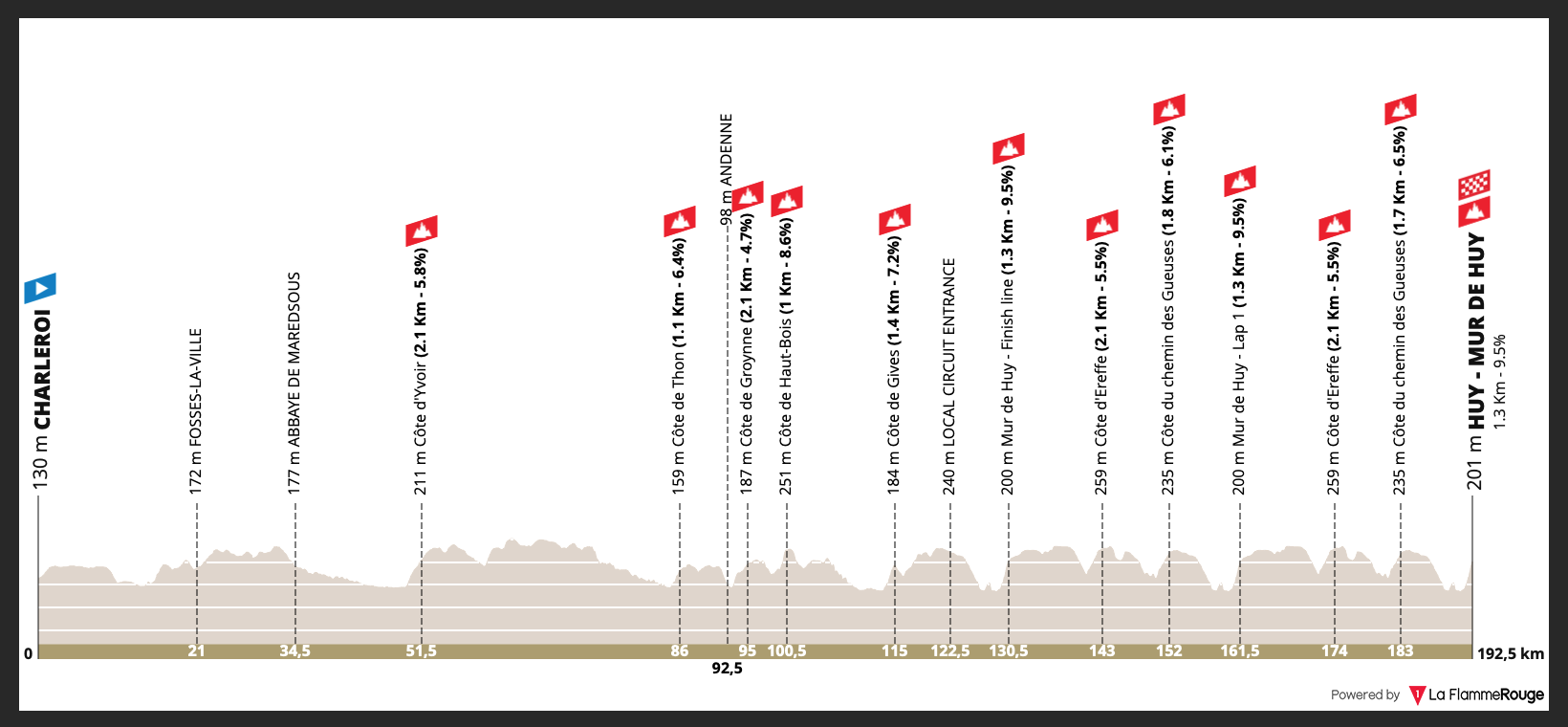 A little different to last year, but we still have the same lap circuit as 2020.
Key Points
Côte du chemin des Gueuses was brought into the race last year, it's hard, but not that hard. The final time up crests with just under 10km to go, which does offer some hope to those who don't want to wait for the Mur.
I love the Mur de Huy, a great way to finish a bike race. Covered on three occasions, the second time up offers a chance for riders to attack, but this move doesn't usually pay off.
Tactics
Will we eventually get a different race? We've all seen this race enough times to know what happens. We'll see attacks, but they never stick, and we always get a big finish on the Mur de Huy. Can this pattern go on forever? Will a team actually tear up the playbook and go for something different? The team that could try something this year is Ineos, they look mighty strong. The problem is that we always have enough domestiques left to chase the attackers, setting up the big finish. The chances of something different happening are slightly higher this year, but still unlikely.
Weather
Cloudy, but it should stay dry.
DS Cycling Mole
After a few Amstels following Sunday, the genius is back in charge of Team Jumbo-Visma. I can neither confirm nor deny they are looking to add him to their Tour de France roster.
Lads, that was one hell of a win on Sunday, but please don't take me to the karaoke ever again. This one is for Primož. We need to be very careful second time up the Mur, Ineos will look to try something. Vinny, wee man, you were brilliant on Sunday. I want you to do the same job, cover those attacks. Sammy O, same with you, another big performance is needed from you.
Once the race comes back together, we start to think about positioning for the Mur. Primož, get on a good wheel and make it to the front, please don't follow Michael Woods. Once on the climb, it's over to the Prima Donna. You have the power required for this one, full gas, lactate up to your eyes and don't look back.
Come on guys, let's remind Ineos that there's a new sheriff in town, and he wears black and yellow!
Contenders
Primož Roglič – starts as the favourite to win the title. He was brilliant in Amstel Gold; he played a large part in Van Aert's win. This is a race I've wanted to see him race for a while; he has the power required to ride most off his wheel. Positioning for the final ascent of the Mur is hugely important, this is an area he's improved over the last couple of years, but he still isn't as good as some of his rivals. It's vital the Primož has a couple of riders left in the run for home, they will be essential in terms of positioning him. Once on the Mur I hope he turns on the power near the base, it would be great to see him going for a long one. He starts as the favourite, but this climb suits other riders a little better.
Tadej Pogačar – brilliant on the steep stuff. Don't let last year's result fool you, by that point he was very tired after the Tour de France, although he still impressed in Liège. I would expect UAE to ride for both he and Hirschi, but Pogačar has a better chance of winning. We saw in the Basque Country how strong he is on double digit gradients, and having a fast sprint is also a big advantage. Could it be a Slovenian dual?
Tom Pidcock – he's in sensational form just now. I was very impressed by his win in De Brabantse Pijl, but even more impressed by his 2nd place in Amstel Gold. Pidcock has the body type required for this climb, he is small and still manages to pack a huge punch. Don't let his recent performances fool you, he's more of a climber than a sprinter, although he can do just about everything! Being light is obviously an advantage for this climb, he has a great chance of taking another win.
Julian Alaphilippe – his form still isn't where he would like it to be. I think he's improving, but he's not at the level required to win this race. Vansevenant is a good attacking option, he was very unlucky here last year.
Michael Woods – the hill climb specialist. He was 3rd last year, but his positioning problem is the main reason he didn't win. You cannot start this climb in 30th place and win, it's impossible. His team need to get him to the front of the race for the start of the climb, if this happens he has big chance of winning.
Alejandro Valverde – he's going well just now, but he won't win.
Benoît Cosnefroy – 2nd last year was a great result, but a knee injury interrupted his winter. He couldn't finish the Basque Country, but was back on form in De Brabantse Pijl, which was good to see. I expect him to be challenging, but fear his lack of racing will stop him from reaching the podium.
Marc Hirschi – no, he seems quite far from his best.
Ineos – can they potentially do something different? Yates, Carapaz and Kwiatkowski provide the team with an embarrassment of riches, surely they have to try something earlier in the race. Yes, Pidcock is one of the big favourites, but there is no point simply riding to the foot of the Mur when you have such a strong team.
Prediction Time
Despite DS Cycling Mole's best efforts, one rider will be stronger than Primož Roglič. I think we'll see a win for Tadej Pogačar.
David Hunter
Follow us on Twitter and Instagram
Join us on facebook: Ciclismo Internacional
Copyright © 2012-2021 Ciclismo Internacional. All Rights Reserved