20-year-old sprinter Erik Baska hails from the small village Dohňany located in the Trenčín Region of north-western Slovakia. In 2015, the talented fast-man will join experienced director sportive, and former professional cyclists René Andrle and his AWT Green-Way troops (formerly known as Etixx), owned by Czechoslovakian entrepreneur and billionaire Zdenek Bakala.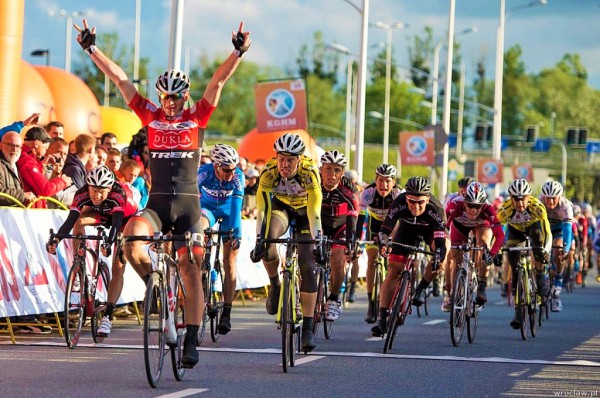 Baska originally started out cycling at age 14. Mentored by the highly esteemed Slovakian youth-coach Tibor Velits (uncle to Peter and Martin Velits ) who took Baska under his wing and structurized his training-program at the local club CK Epic Dohňany.
Baska quickly became a household name in the U19 ranks. By Slovakian standard he was very, very fast and terrorized the local criteriums held all over the country. However, international it was a different story. He lacked strength and experience, just as he suffered terribly on the hills and more often than not had troubles keeping up with the peloton when the speed increased.
In 2013, things started to change, however. Baska debuted in the U23 ranks and signed a contract with the most powerful Slovakian outfit Dukla Trecin. The upgrade in category also meant a change in coaching environment as former Slovakian professional cyclist Jan Valach, took over the torch and now was new man in command of training diagrams and nutritional advice.
The sprinting hierarchy at Dukla Trecin however, was rather set. Michael Kolar was captain, and it was him who was expected to take off in the hectically bunch-gallops. A prolific winner in the U19 ranks Erik Baska, was now assigned as a lead-out man whose job was to bring Kolar, as close to the 300meter mark as possible. Baska acted impeccable in his new role and Kolar successfully delivered in return.
Four UCI wins were the harvest for Kolar, in 2013, a campaign so successful it caught the eye of Tinkoff-Saxo head-honcho Bjarne Riis, who immediately offered Kolar, a two-year contract. Kolar accepted and swapped onto the world-tour, Baska in return landed the gig as lead sprinter at Dukla Trecin for 2014.
Before the start of 2014 Baska, put on an additional 3 kilos of weight. Standing at 1.82cm Baska, normally weighs 74 kilos (in form) and the goal behind the experiment was to make him stronger and more powerful in the finals.
Mission accomplished. After a difficult start to the year things started to change in May at the UCI 1.2 classified GP Polski Via Odra in Poland. Baska won the race in convincing fashion, and his form hit an upright spiral. In July, he won other 2 UCI rated events within a two-day time span (both in Hungary), and many pundits even had him as an outside bet for the U23 World Championships in Ponferrada (Spain).
The Slovakian cycling federation had been heavily criticized for how they handled the preparations for the U23 European championships in Switzerland this year. The riders was brought by car (a trip well over 1200 kilometers) and arrived to Switzerland exhausted and failed to deliver in the road-race. The poor preparations caused a lively debate and as a result the visit to Spain were organized and handled a lot more professional. Baska, found the circuit in Ponferrada too hilly though and despite the better, circumstance failed to deliver the desired result.
With the 2015 season now knocking on the door Baska, has slowly started to ramp up his training efforts. The AWT Green-Way has already had a team-meeting in Prague and undergone physical testing in Belgium. On Monday, the team travels to Spain for the first training-camp of the year, ready to attack the new year full of eager and determination.
Director-sportive René Andrle, on Erik Baska: "Baska is a lighting fast sprinter. It was a big priority for us to sign him, and we are very happy we managed to do so. If he works hard and dedicated there will be plenty of opportunities for him to show his speed. He is a very promising talent".
Jakob Lloreda

Follow us in facebook https://www.facebook.com/CiclismoInternacionalLatinoamerica?fref=ts … or Twitter @CiclismoInter
Copyright © 2014 Ciclismo Internacional. All Rights Reserved