Giro del Trentino-Melinda 2015 Stage 3 Preview
By David Hunter
Ala – Fierozzo Val dei Mocheni 183.8km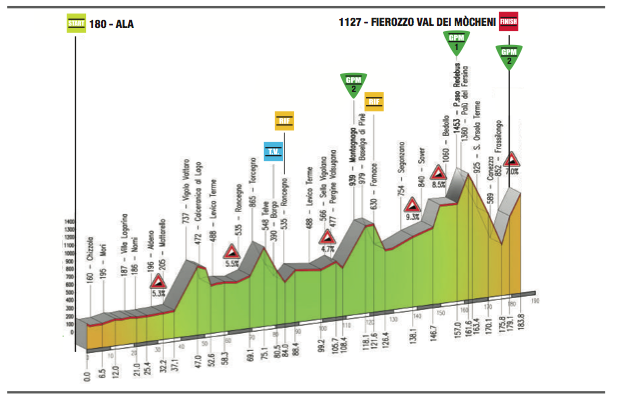 After a brilliant performance by Team Sky, and Richie Porte, they return to the mountains to try and seal the GC. The longest stage in the race is demanding, ending with two tough climbs.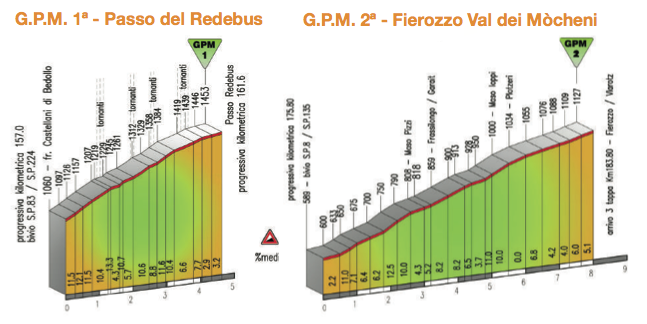 The cat 1 climb is just under 5km, with the opening 4km at 9.5%. This is a very hard climb. After a steep, 14km descent, we have the final climb of the day. The cat 2 climb, is on narrow roads and reaches a maximum of 13%. The gradient is variable and suits a rider like Pirazzi. Those who like a long, steady climb will not enjoy this.
With the GC riders taking the KOM points, there is little chance of a non-GC rider taking the overall jersey. Unless, they manage to win this stage. It will be interesting to see who goes for the morning break. Sky are in the lead and don't mind about the stage win, but they are often reluctant to let a big break go and prefer to keep the race together.
Unless we get a big break with most teams represented, I doubt it will survive. The WT teams will likely try to keep it all together to set up a mountain battle.
Richie Porte was brilliant today but Kantanstin Siutsou was even better. He seemed to control the peloton up all the climbs and his performance was breathtaking. He's guaranteed his place at the Giro! With Konig in 3rd place, they might just let him attack and see if he can take a stage win. He finished well today and the final climb does suit him.
Landa, Torres, Cunego and Zardini were the best of the rest today. They will look to try and go even better and take the stage win.
Porte doesn't need to distance anyone, just stay with Landa, but he looks ruthless just now. If there is a chance of another win, he'll take it. Sky don't give out gifts!
Prediction Time
The break won't make it. The final climb isn't too hard, especially the closing 2.5km. This could be a small sprint and if that is the case, Damiano Cunego, is the fastest sprinter. I'll take Cunego to roll back the years!
David Hunter
Copyright © 2015 Ciclismo Internacional. All Rights Reserved