Giro d'Italia 2015-Overall Preview
By David Hunter
At last, it's here. The first Grand Tour of 2015 and Italy always provides us with a brilliant race. This year, we have 5 mountaintop finishes, a TTT and a mammoth ITT, at 59.4km.
Week 1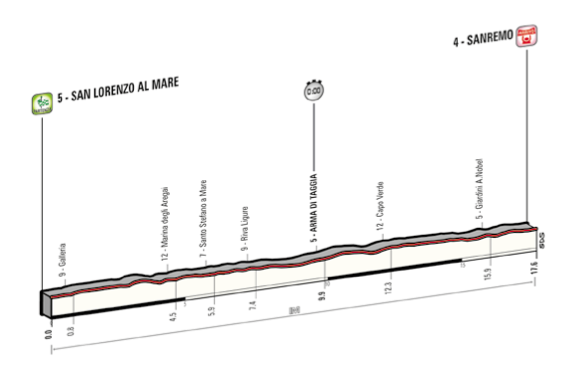 The opening week will be nervous and full of crashes. Staying in Italy, provides less travelling and a happier peloton. The race begins with a 17.6km TTT. This isn't a massive deal as over 3 weeks, you can make up lost time.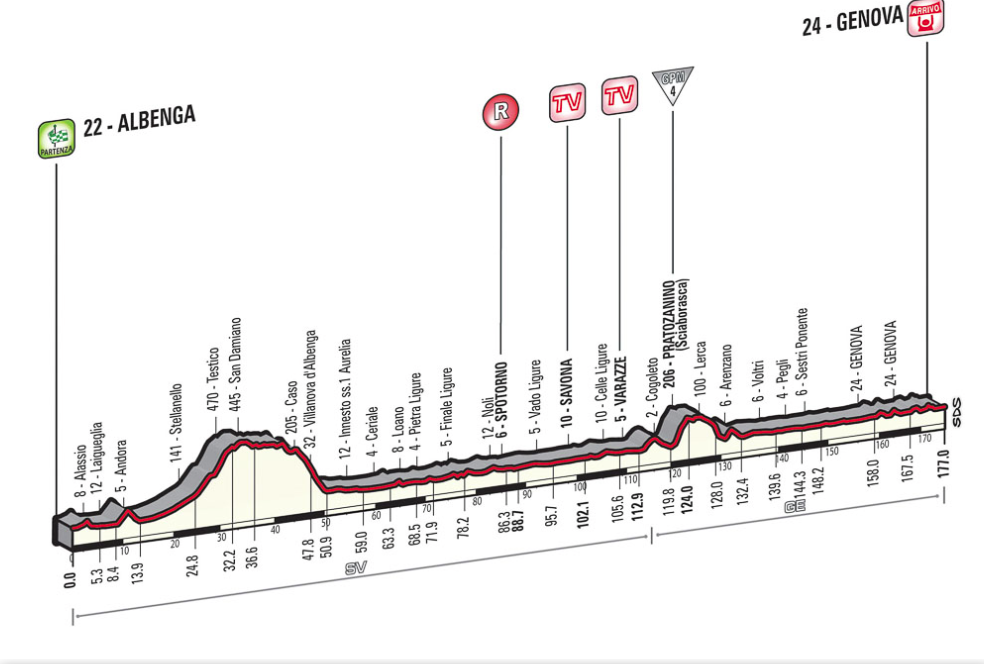 Stage 2 looks like a nailed on sprint. We have plenty of sprinters here, trying to win stages and the red jersey. Expect to see a battle between Greipel, Lobato, Ruffoni, Pelucchi, Modolo, Matthews, Mezgec, Viviani, Hofland and Nizzolo.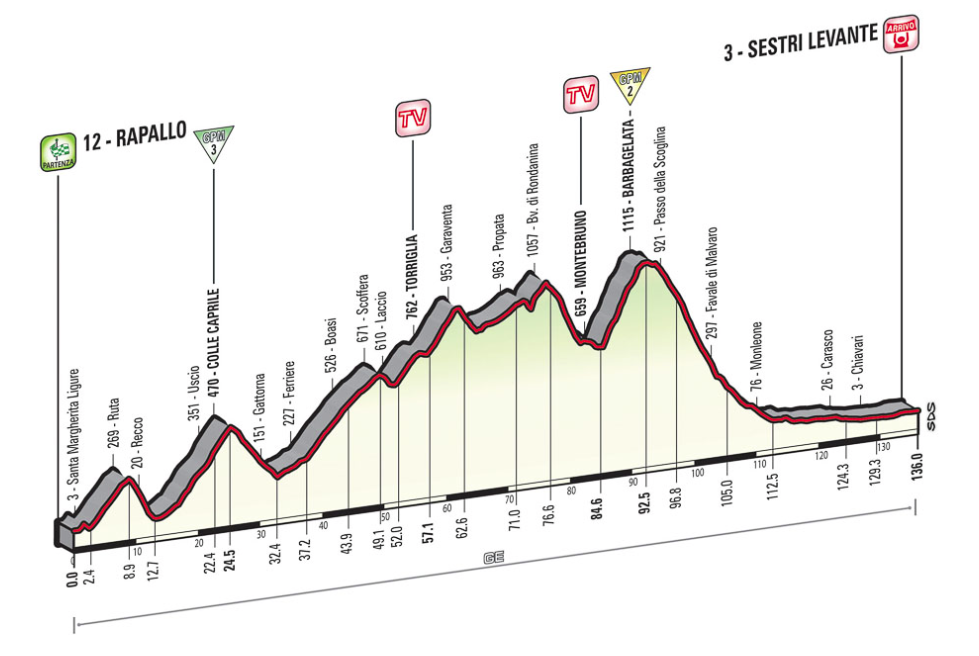 It might only be stage 3 but we already head to the mountains. There's a lot of climbing here, culminating in the cat 2 climb, 8.1km at 5.6%. It crests with over 40km to go, so most of the tough sprinters will hope to stay with the bunch, or manage to re-group, on the descent.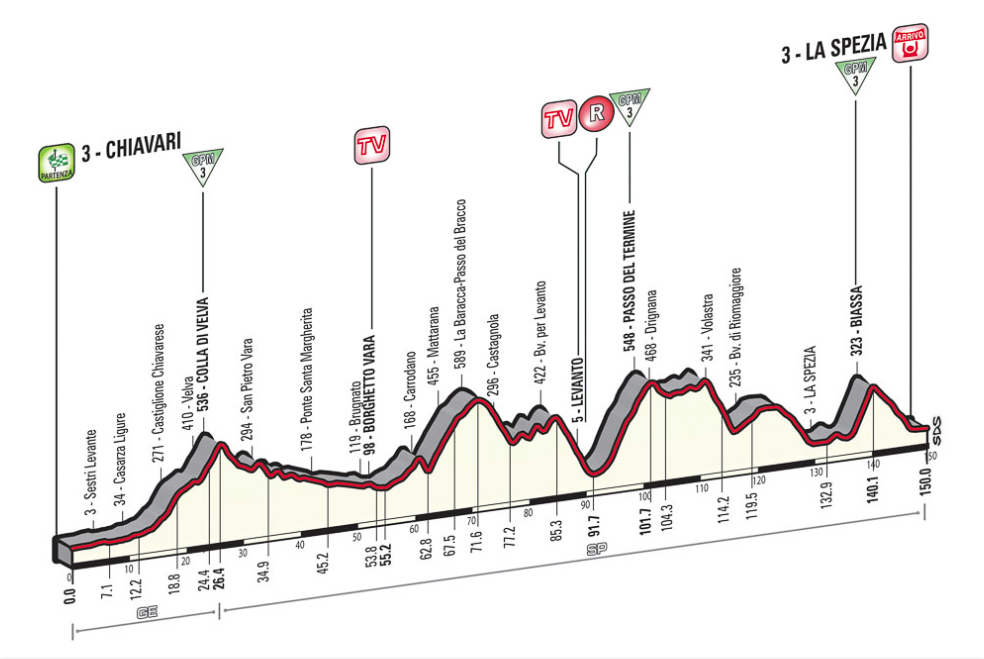 Stage 4 is a lumpy day and a chance for breakaway riders. The final cat 3 climb is 3.5km at 5%, but the final 1.5km is at over 10%. From the crest, we only have 10km to the line. This is a hard day to control and favours a breakaway or a late solo attacker.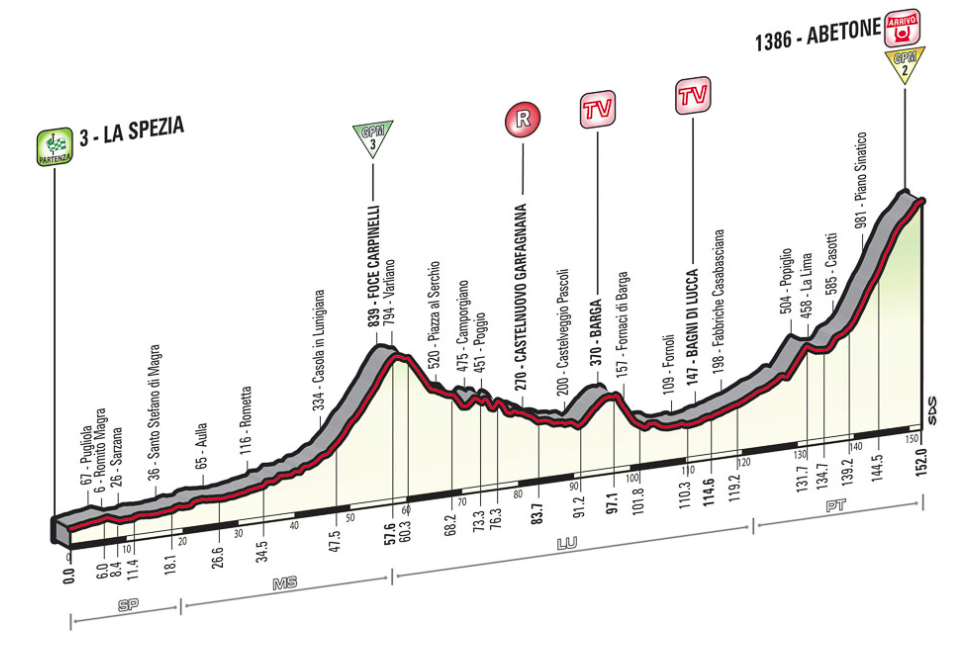 Stage 5 sees our first mountaintop finish, but it's only cat 2. The stage is short, but the climb is long, 17km at 5.4%. I would be surprised to see any major GC action, although an in-form rider would like to take advantage of form, before it fades.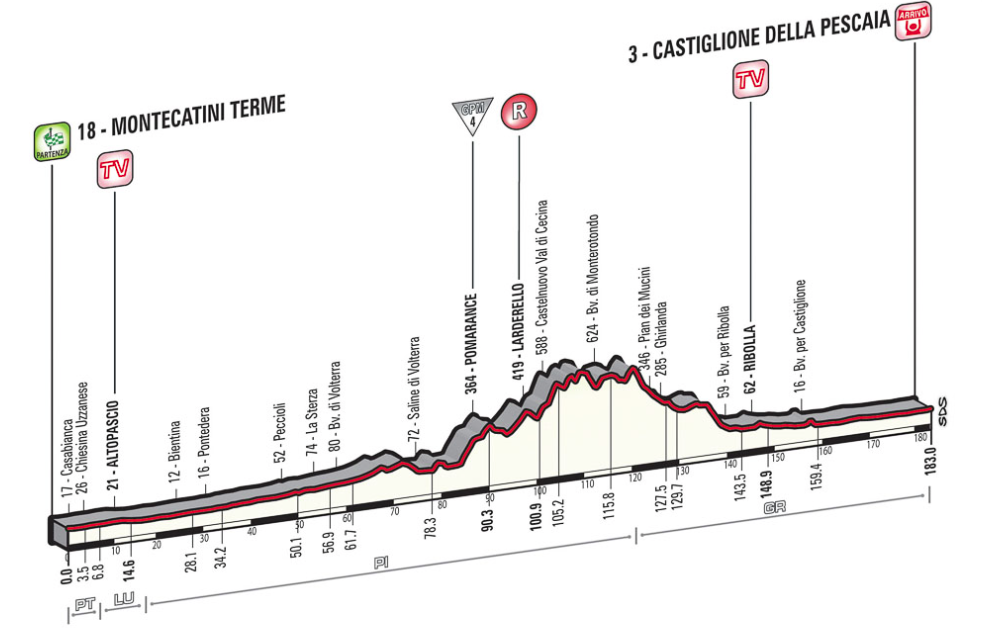 Stage 6 should see another bunch sprint, despite the interesting middle section of the race.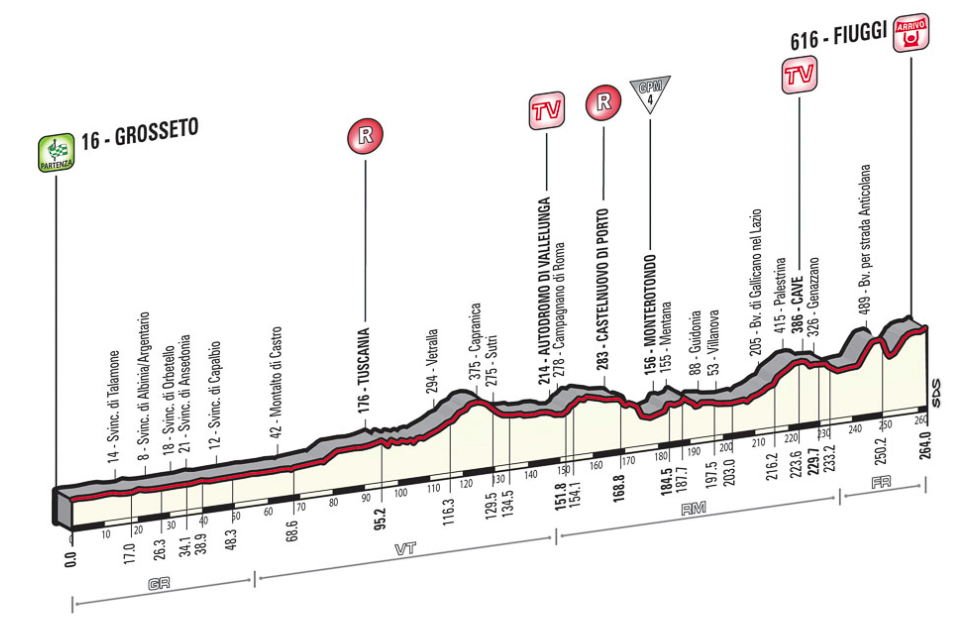 Stage 7 is a monster of a stage, at 264km. It's the longest stage of the race and has a difficult finish, with two unclassified climbs. The final climb is 5km at 4.4%, before flattening out. The final 500m rises at around 3%. Despite the low gradients, this will be a demanding finish after a long day in the saddle.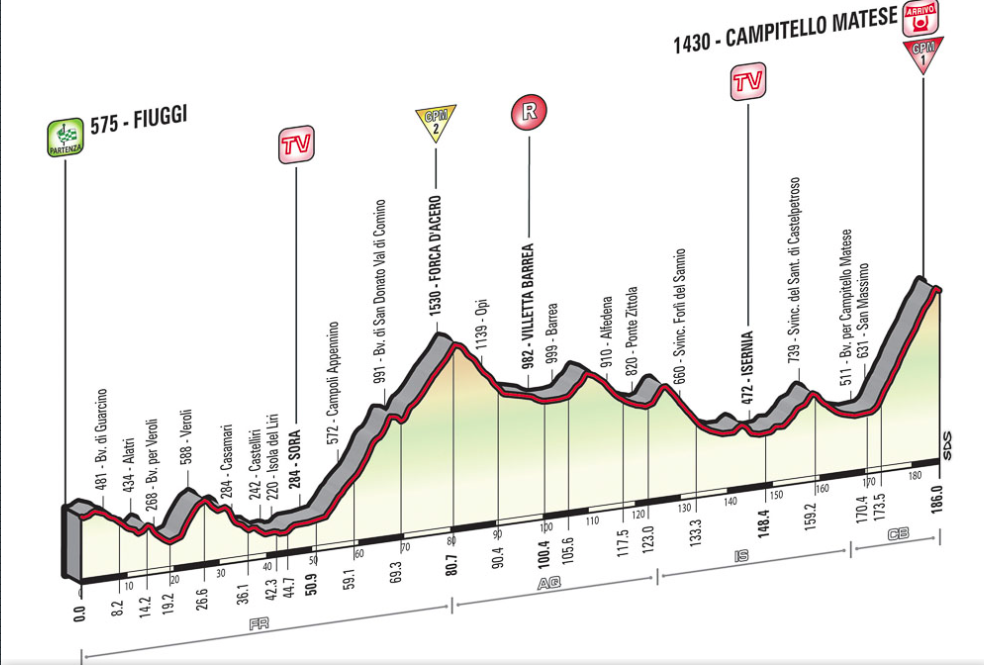 Stage 8 and we get our first cat 1 climb of the race. It's 16km at 7% and will provide a stiff test, the first real GC stage of the race. You'll hear this statement a lot, "This is where we'll see who's not going to win the Giro."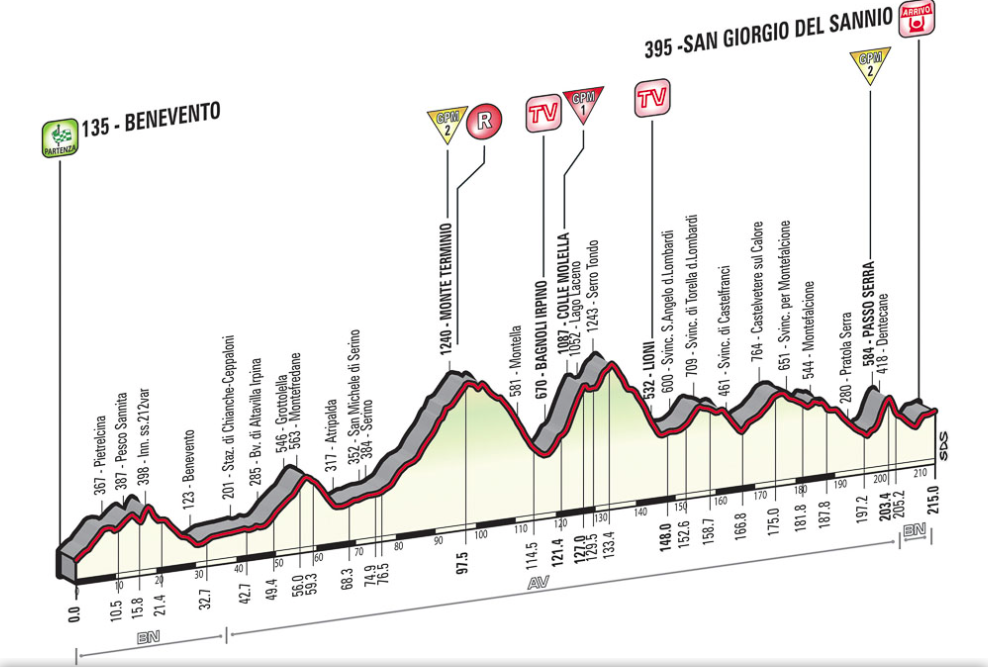 Stage 9 is the last stage before the first rest day and that means it's breakaway time and the profile agrees! A cat 1 climb in the middle of the stage and a "lumpy" finale. The Passo Serra is 3.6km at 8%, with a maximum of 13%. This stage is going to be fun!
And then they rest:)
Week 2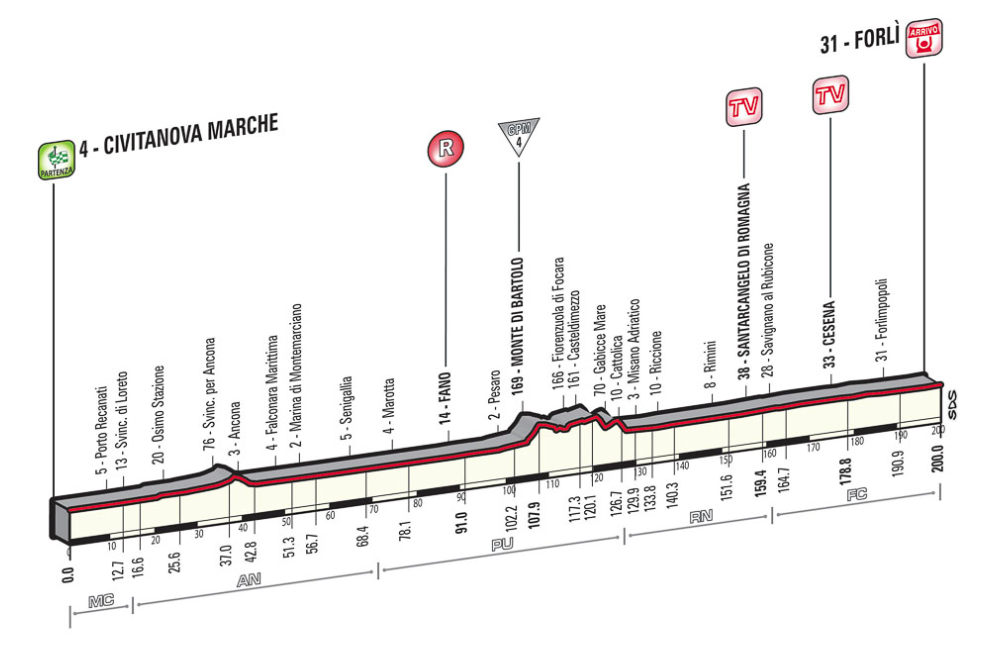 Stage 10, signals the start of the second week and it's a dream stage for the sprinters. Expect a big, bunch sprint.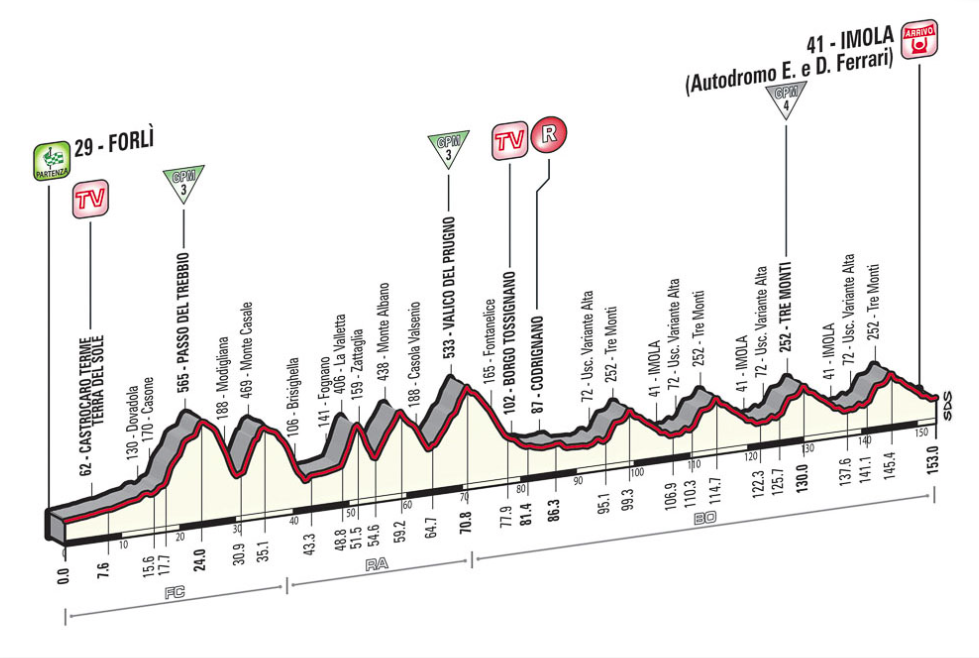 Stage 10 might be easy, but the organisers have made up for it here. Stage 11 is very demanding, finishing with a lap circuit and four ascents of a tough climb. The lap circuit is partly raced on the famous Imola racing circuit. A small bunch sprint looks likely here.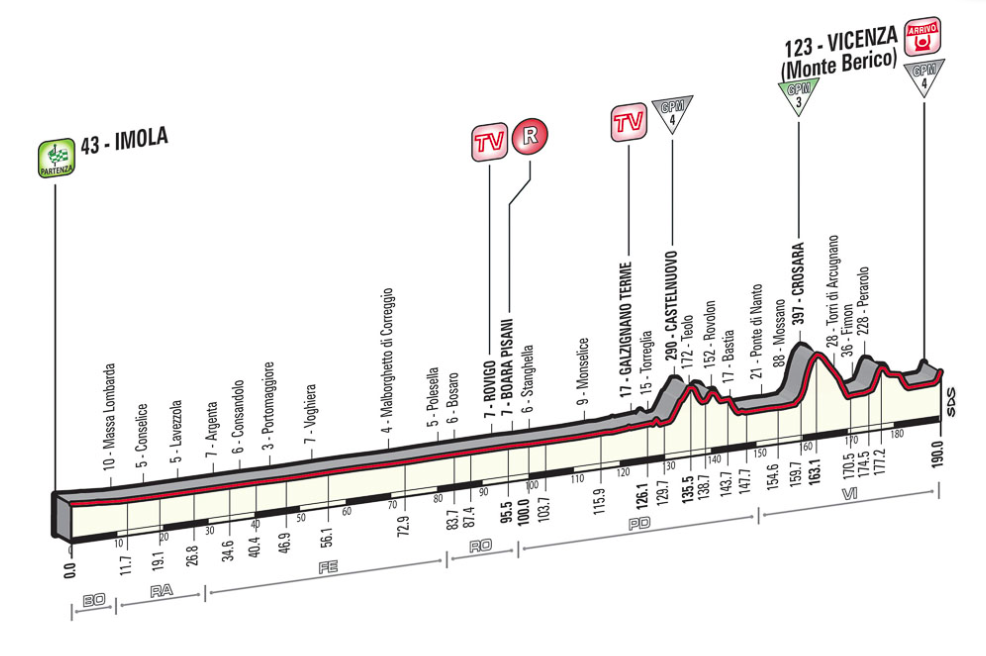 Stage 12 begins easily but ends hard. This is a classic Giro stage. The little bumps are all difficult and we end with 1km at 7%. Expect a fierce, uphill sprint. This is the type of stage that Michael Matthews will be looking forward to, but so will the explosive climbers.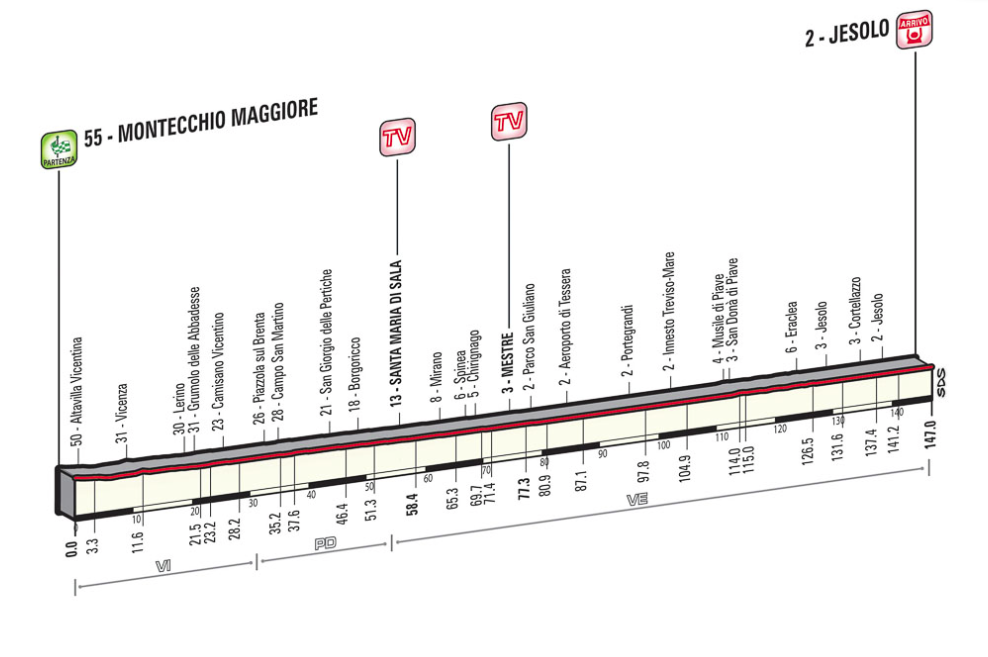 Stage 13 is competing for the flattest stage ever, award! Not just flat, it's also short, at just 147km. A sprinter's delight.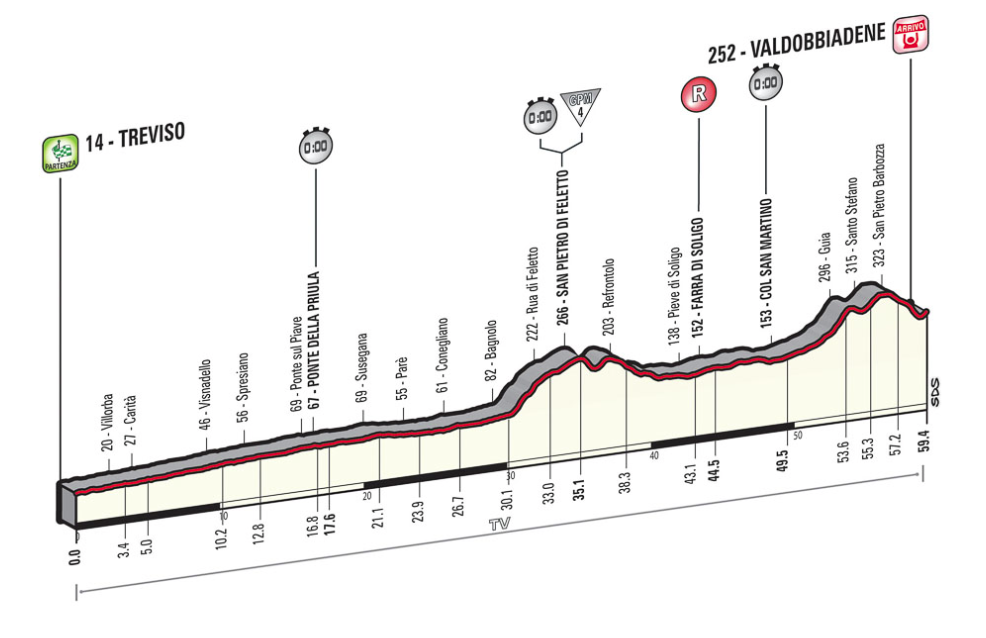 Stage 14 and it's ITT time. This is one of the hardest TTs a rider will ever do, at 59.4km, and with a couple of tough hills too. Expect to see huge time gaps and some riders will lose the Giro here. We could see the top 20 riders separated by around 3 minutes. This is the stage for Rigoberto Uran. He has to put time into his GC rivals, and I'm talking minutes, not seconds.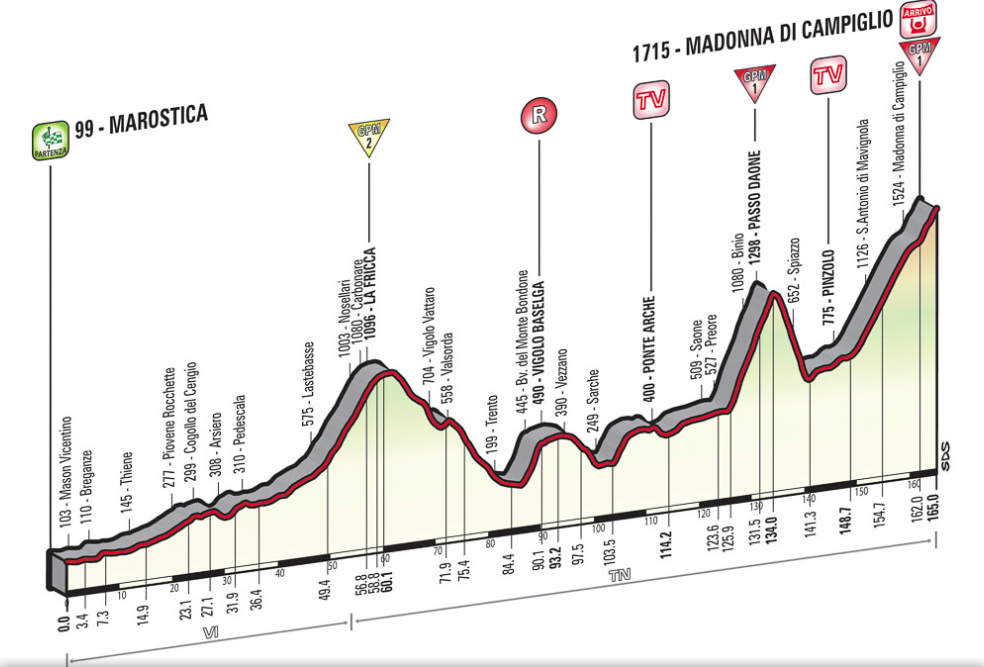 There is no rest for the riders. After such a hard day and with the second rest day looming, they tackle Madonna di Campiglio. It's 15.5km at 5.9%. Not the steepest climb, but these Italian climbs are really long and demanding. Go too deep in the TT and you'll suffer here.
And then they rest, again!
Week 3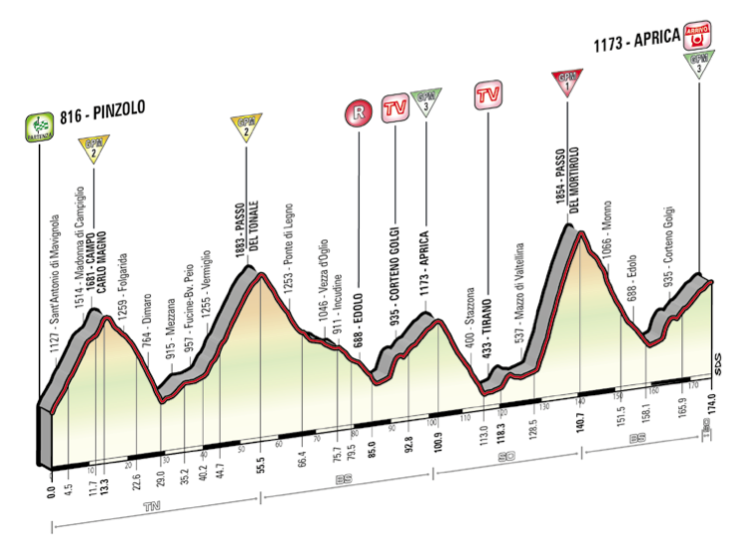 Straight after a rest day, this is a hard stage. Mortirolo Pass will be this year's "Montagna Pantani." Stage 16 will break a few riders and should see a further defining of the GC. Pantani's climb is 11.8km at 10.9%. A real leg breaker. A steep descent follows before the final climb, 14km at 3.5%. If I was organising the race, I would have been tempted to place the finishing line on top of the Mortirolo Pass.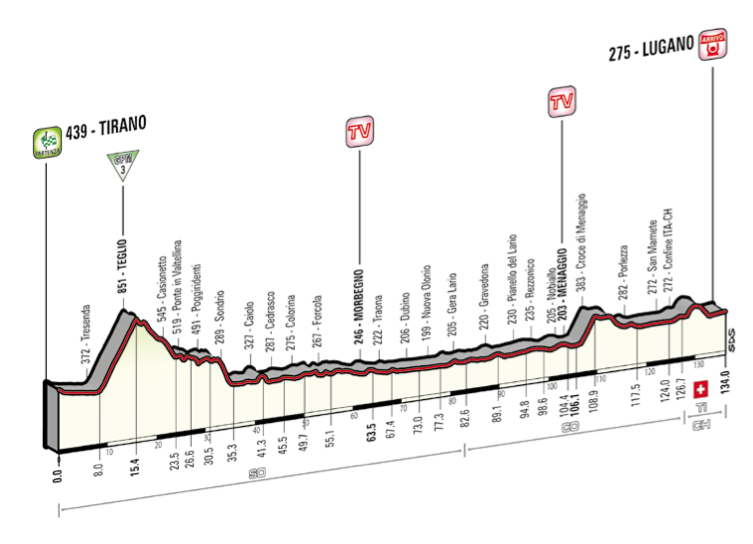 The final week isn't just about the climbers, as the sprinters get a chance into Lugano, home of many riders. The sprint will be less chaotic than the early stages, as quite a few riders will be away home. The fight for the red jersey will be an interesting side note.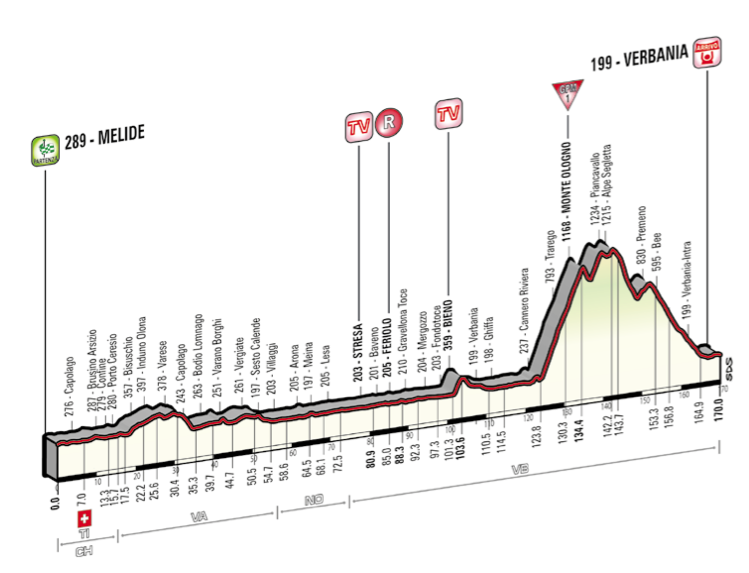 Stage 18 is another split into two, clearly defined parts. The first is easy and the second is hard. The climb is 10.4km at 9%, but crests a long way from home. A sprint between the climbers is a likely scenario here. If we get rain, the final descent is not for the faint hearted!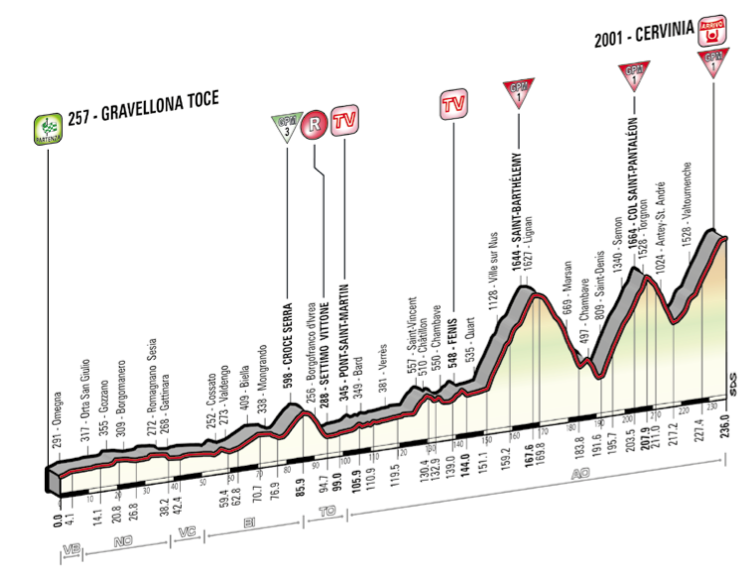 Stage 19 and the difficulty level takes a big jump. We have three cat 1 climbs and they're all difficult. They are 20km at 5.6%, 16.5km at 7.2% and 19km at 5%. These huge climbs really are a feature of the 2015 Giro.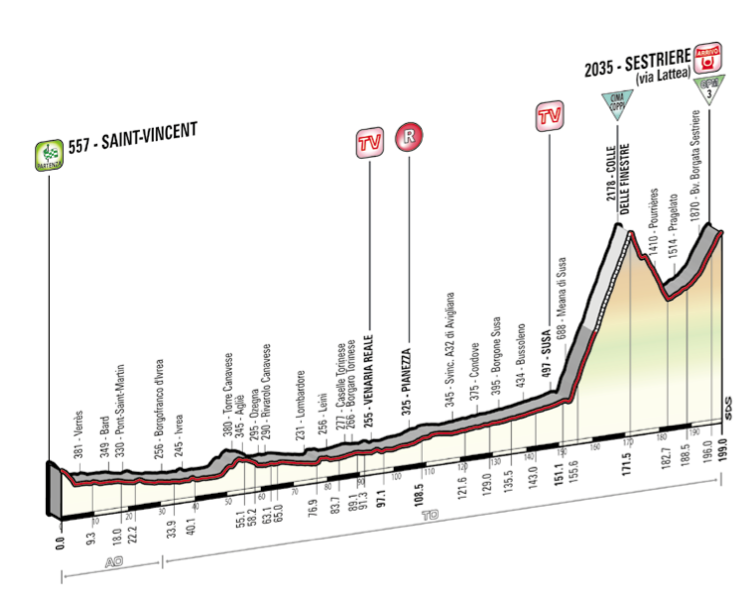 Stage 20 and the organisers have saved the Cima Coppi for the final mountain stage but decided against making it the last climb. The Colle Delle Finestre is 18.5km at 9.2% and features 45 hairpin bends. The final climb is only 9.2km at 5.4%, but who will be left! Can a break stay away like in 2014?
The race finishes with a sprint stage in Milan. Will the battle for red, go all the way to stage 21?
The Contenders
To me, it seems that only three men can win this race: Alberto Contador, Richie Porte and Rigoberto Uran.
Contador – Arrives with Basso, Boaro, Juul-Jensen, Kreuziger, Paulinho, Rogers, Rovny and Tosatto. The presence of Kreuziger is huge, as these two are almost unstoppable together. In Kreuziger, Contador has a teammate that can last until the very end of the climbs. Very few other riders have that luxury. The Spaniard finished second to Froome in Andalucia, 5th in Tirreno and 4th in Catalunya. Not great results but as he's looking to do the Giro/Tour double, he didn't dare peak too early. He'll look to ride into form and the organisers have been kind, allowing him a relatively easy start to the race. He'll try to limit his loses and look for a massive closing week. He has to be the favourite.
Porte – What a season! 2nd in the TDU, 4th in Algarve(took a wrong turning in the TT), 1st in Paris-Nice, Catalunya and Trentino. This is reminiscent of Wiggins in 2012 and Froome in 2013. When Sky get a rider in form, they keep him there. Very few riders can hold their form from Trentino, through the whole Giro. The final week is a concern for me. I expect him to be leading the race going into that final week but can he hold off a Contador charge? His teammates are Seb Henao, Kiryienka, Konig, Eisel, Nieve, Puccio, Siutsou and Viviani.  Special mention to Siutsou, who is in amazing form just now. Konig was signed as a leader but he'll be working for Richie. This team has better strength in depth than Tinkoff but lack a Kreuziger, even though Konig is good.
Uran – He certainly knows how to finish 2nd here, having done so in the last two years. He's had a solid season: 3rd in Tirreno and 5th in Catalunya and Romandie. But his goal is this race. He is developing into one of the best TT riders in the world and will look to make time in the ITT. In the 2014 ITT to Barolo, he put 2:41 into Quintana, over 42.2km. It will be hard to put that time into Contador and Porte, but he'll give it a good try. His team is not going to help much and he'll be left exposed against Tinkoff and Sky. He'll hope that they forget about him!
The other contenders looking to challenge for the podium are:-
Fabio Aru – Had health problems and surely will be lacking a little of his normal sparkle. Would be a big surprise to see him shrug this off to improve on his 3rd place from 2014. Also had to deal with rumours about his bio-passport. It will be interesting to see if that has affected him.
Dominico Pozzovivo – 5th in 2014 an always goes well in the Giro. Is one of the best climbers and can put in a good TT, but seems to be a little lacking compared to the top riders. Another top 5 result is within his grasp.
Ilnur Zakarin – Banned aged just 19 for taking steroids. Had 2 years out, returned to form in 2014 by winning the Tour d'Azerbaidjan. This year he continues to improve with 9th in Pais Vasco and 1st in Romandie. He can climb, TT and sprint but will find it very difficult to maintain his Romandie form through a 3 week GT. This is his first GT, so don't expect him to win!
Roman Kreuziger – Here to support Contador, but could easily find himself in the top 5. Still trying to clear his name and racing, not like some other riders.
Leo Konig – Here to support Porte. I don't think he'll make the top 5, but the top 10 is a possibility.
Jurgen Van den Broeck – It's 5 years since he was 3rd in the TDF. He's really struggled in the last couple of years but this season is looking better. His 4th place in the Romandie TT was a big indication that he's getting things right. If he can stay healthy, he can challenge for the top 5.
One of the strongest teams is Movistar. They have Intxausti, Amador, Antón, Fernández, Jesús Herrada, Ion Izagirre, Lobato, Dayer Quintana and Visconti. Intxausti has been leader here before and failed, while Izagirre and Fernandez have enjoyed splendid seasons. Expect Movistar to challenge for many stages and the team classification.
Other riders capable of finishing in the top 10 are: Betancur, Pellizotti, Landa, Rosa, Cunego, Hesjedal, Caruso, Zardini, Bongiorno, Atapuma, Szmyd, Geniez, Niemiec, Formolo, Slagter, Kruijswijk and Chaves.
Esteban Chaves was a major challenger for the 2014 Vuelta but faded badly. It was his first GT and he would have learned from that experience. A brilliant climber, he's another that really should be looking to finish in the top 10.
Prediction Time
Will Richie be able to get through the whole 3 weeks without having a bad day? I think the route is perfect for Contador and simply cannot see him missing out.
¿Quién ganará el Giro de Italia?
Rigoberto Urán (43%, 1,740 Votos)
Alberto Contador (39%, 1,553 Votos)
Fabio Aru (7%, 277 Votos)
Richie Porte (6%, 227 Votos)
Otro (4%, 166 Votos)
Domenico Pozzovivo (1%, 22 Votos)
Damiano Cunego (0%, 19 Votos)
Ryder Hesjedal (0%, 14 Votos)
Votantes: 4,018
Loading ...
David Hunter
Copyright © 2015 Ciclismo Internacional. All Rights Reserved