Giro d'Italia 2015 – Stage 10 Preview
By David Hunter
Civitanova Marche – Forli 200km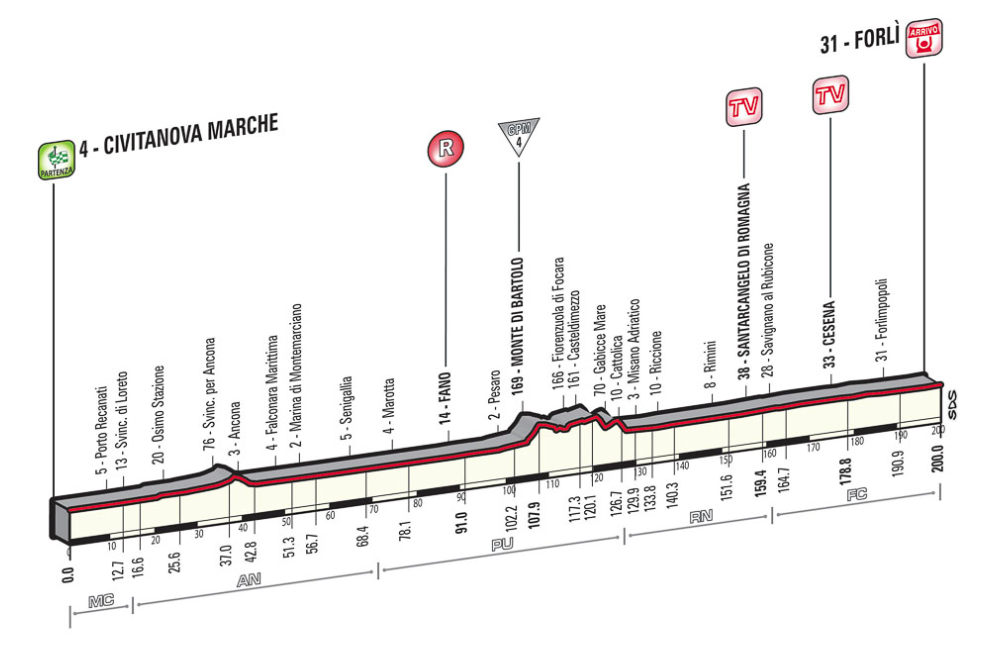 It's the day after a rest day, and the organisers have been kind.
The race mainly sticks to one, big highway and we'll see plenty of nice shots of the coastline. This is a pretty stage, that should erupt inside the final 10km. Certainly one for not watching the whole stage live!
In fact, it's with 2km to go, this stage starts to get interesting. We have around a kilometre of pave and a couple of nasty looking corners. Thankfully, the weather looks fine. Don't worry though, these cobbles are not Paris-Roubaix cobbles. They are relatively flat and not something that will worry the peloton.
The final corner comes with 500m to go, so positioning his vital. Time to talk sprint trains:)
Lotto Soudal nailed the last sprint. Lars Bak took to the front, at 3km to go, so they could enter the corner first. At this point, you could hear Greg Henderson, shout out the orders to the rest. They also took the last corner, from the front. After he pulled off, Adam Hansen took them round the final bend, still at the head of the race. At this point, Trek, managed to get to the front, but Henderson, jumped on the wheel. He then launched at 600m, averaging 900 watts, with a maximum of 1100. This was perfect, and Greipel took an easy win. Can they do it again?
This represented a change of plan for Lotto, as they approached stage 2 with different tactics. Greipel is a rider that needs a good lead out, especially in a tricky finish. He'll need the same level of support in this stage.
The only team capable of disrupting the Lotto plan are Trek. They have a dedicated lead-out train and have nearly gotten in right, in the two sprints, so far. They did hit the front, in stage 6, but it was too early. Stage 2 was also looking good, but Orica swamped them. Nizzolo hasn't had much luck and has also been suffering from allergies, but this stage represents an excellent chance. With the final corner at 500m, having a good position, should guarantee a top 3 finish. Nizzolo has Coledan, Van Poppel and Alafaci to guide him into position. It's vital that they time their attack correctly. The road narrows at 800m and they need to be on the front, at that point. Van Poppel should be leading the race, he should be able to hit the corner first. Through the turn, Alafaci, will look to launch the sprint, with Nizzolo going at 200m.
Sacha Modolo doesn't rely on a long train, just 2 men. That means they have to time their attack to perfection. The final corner, at 500m, does suit Sacha, thanks to his excellent positioning and strength. However, he's not looked as good as usual. There have been opportunities but he hasn't taken them yet. I don't see him turning it round here.
Matteo Pelucchi surprised a few with his 2nd place, the other day. He had a great start to 2015, but not much since, thanks to injury and illness. His lead out train, isn't very long but he is fast. His best hope is to place himself on Greipel's wheel and hope that he can come round him. This is a big ask though. Boonen was the man on Greipel's wheel, in stage 6, but he couldn't get close to moving past him.
Elia Viviani took a great win, on stage 2, but a lack of a proper train saw him finish 7th in the other sprint. As I've said before, it's going to be very difficult for him to replicate his early win. He's also been doing a lot of work for his team and arrives not as fresh as the other sprinters.
There are plenty of other fast men, who could challenge for the top 10: Belletti, Hofland, Mezgec, Ruffoni, Appollonio, Matthews, Boonen, Lobato and Porsev. Of these, Manuel Belletti, is going to be very motivated. He lives close to the finish and will have all his family present. He can count on a great lead out man, in Alessandro Petacchi, and could spring a surprise.
Prediction Time
This finish means it's all about being at the front of the race, inside the final 2km. That means you require a very fast rider, sitting 3 in front of the chosen sprinter. Straight away, that rules out the vast majority of the sprinters. It does still include Greipel and Nizzolo. If the Italian is going to win the stage, he must enter the final corner ahead of the German. He does possess the team to do so. They nearly got it right, in stage 6, but lacked one more rider. I think they'll get it right today. It's a bit of a long shot, but I'm going with Nizzolo to eventually take a Giro win.
David Hunter
Follow us on @CiclismoInter
Join us on facebook: Ciclismo Internacional
Copyright © 2015 Ciclismo Internacional. All Rights Reserved