Giro d'Italia 2015 – Stage 12 Preview
By David Hunter
Imola – Vicenza 190km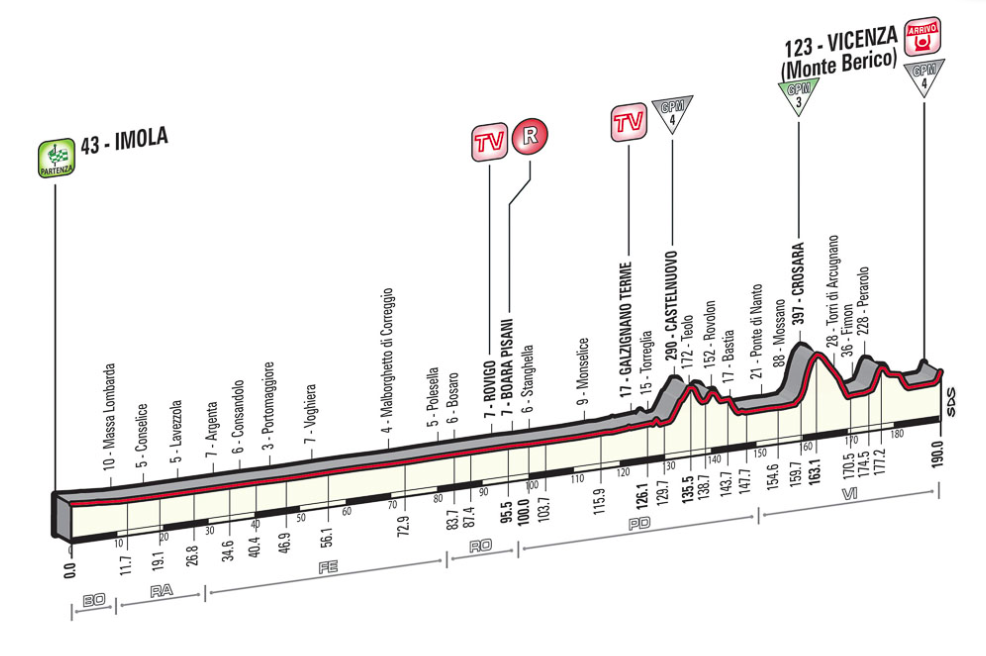 After another crazy day, the riders will be looking forward to the relative calm of this stage, well maybe the opening 130km.
Do not underestimate the closing 60km of this stage, it's very difficult. Yet again, the organisers have done us proud and dropped in a stage, where we should have a very exciting finale.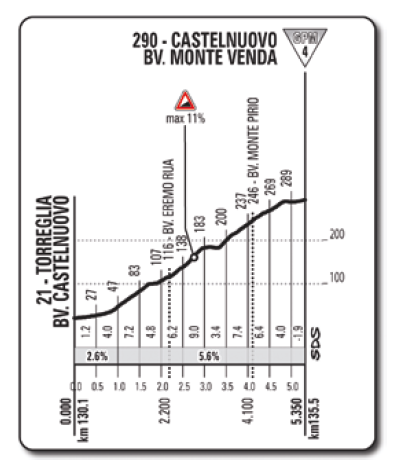 The climbing begins with the cat 4, Castelnuovo. It's relatively easy, apart from a 500m section at 9%. This is a gentle opener to the closing section of the race.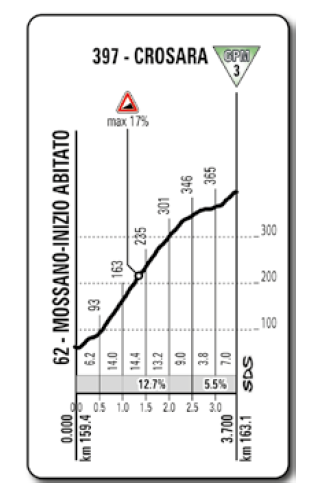 The cat 3 climb, to Crosara, is next and the fun starts here. It's 3.7km at 9%, but that doesn't do it justice. It has a 1.5km section at 14%, with a maximum of 17%. This is my type of climb. The peloton will approach the climb with speed and then have to drop down onto the small chain ring, riders hate climber like this. After just 500m of the climb, they hit 14%, ouch! Aru has wanted to attack on most slopes but with 27km to go, he might just roll with the peloton, but that is not guaranteed.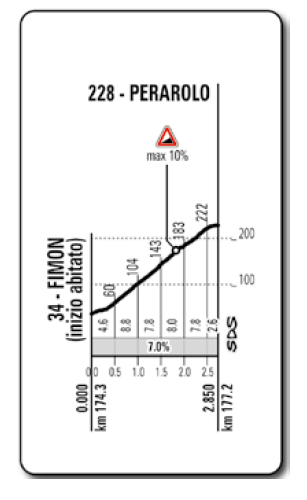 We then have the unclassified climb to Perarolo. It's 2km at 8%. Yet another example of how difficult these unclassified climbs can actually be. From the top of the climb, there is only 12km before the start of the final ramp, to the finishing line.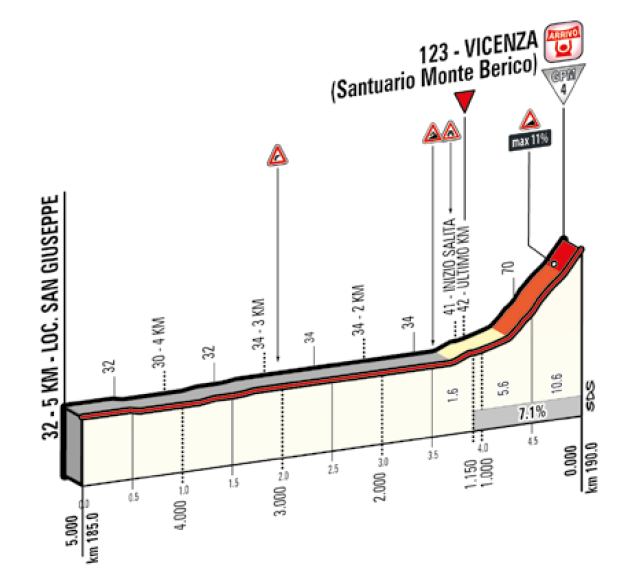 We have 5km of flat road, where there will be a battle for road position. The final kilometre is at 7%, but the last 500m is at 10.6%. This is going to be a brilliant finish, very similar to the Ardennes.
We have a couple of the Ardennes specialists here, Philippe Gilbert and Simon Gerrans. Realistically, this is their last chance to taste some success. The finish is perfect for both riders and they arrive with dedicated teams.
Gilbert had a disappointing Ardennes campaign. He was 3rd in De Brabantse Pijl, 10th in Amstel, DNF in Fleche and 36th in LBL. He was looking good in Fiuggi, but a dropped chain stopped him from sprinting. His Cauberg attack was brilliant, in Amstel Gold. He managed to distance everyone, except Michael Matthews, but he was on the limit. This is a big moment for Gilbert, after a poor year. At 32 years old, he needs to prove to people that he isn't finished and he can still win bike races. His team are not as strong as they were in the Ardennes. He has Caruso, Atapuma, Bookwalter, Burghardt, Kung, Dillier, Zabel and Moinard, but the big BMC riders are missing! With Caruso and Atapuma focused on GC, he needs some of the others to deliver a big performance. They will find it hard against the other teams, as they certainly seem a little weaker.
Simon Gerrans had a terrible start to 2015. He crashed on the eve of the Aussie nationals and couldn't defend his RR title or the TDU. He came back in Strade Bianche, but did his collarbone. He was looking to challenge in LBL but managed to crash twice and had to DNF. His luck changed, with a TTT win and a day in the pink jersey. Since that point, he's been working hard for Michael Matthews, and doing a fine job. He got a chance, in Fiuggi, but could only manage 3rd. This is an indication of where his form is just now. If he was on form, Gerrans would have won that stage. If at 100%, he would win this stage, but I'm not convinced he is. Of course, he might not be their chosen rider, with Michael Matthews there. He won a similar looking stage in the 2014 Vuelta and will be given team leadership. He is on top form and after having a couple of easy days, should be fresh to launch a charge at the win. Matthews has to be the favourite for the stage.
Diego Ulissi already has a stage win. Before the Giro, he would have settled for that but he'll now be getting greedy. He's another who will love the finish. He is a fast sprinter, but even faster when the road slopes up. He's never managed to finish on the podium, in the Ardennes, but that day will come. He was positioned well in Fiuggi and this really helped him to win, just ask Lobato! His team don't have a GC contender, so all men can get involved in the lead-out, which puts them at an advantage. Win number 2 looks a distinct possibility.
JJ Lobato really should have won in Fiuggi. His positioning was horrible and he had to launch his sprint from way out. As we approach this stage, his team really do need to look after him better. You might be surprised to see me mentioning him as a favourite for this finish, but it's good for him. Remember he won an uphill sprint in the 2014 Vuelta a Burgos and in the 2015 Vuelta a Andalucía. He also finished 3rd in Dubai, this year, when the stage finished with a 20% dam wall. His uphill sprint is quite incredible. My only concern is the other climbs, in particular, Crosara. If they pace is really high, he could struggle to stay with the main group. Movistar do have an alternative in Giovanni Visconti, who "won" the bunch sprint on stage 9. However, a Visconti win, would be a massive surprise.
The uphill sprint is such a speciality, we don't have a huge list of contenders. Apart from those already mentioned, the following riders will be hoping for a good result: Nocentini, Colbrelli, Battaglin, Bole, Chavanel, Cunego, Finetto, Geschke, Slagter and Felline.
I have been disappointed with Slagter, this season. After a good 2014, you would have expected him to push on but his Ardennes campaign was poor, 9th in Fleche was his best result. He doesn't look at the level to contend for a stage win.
What about the GC riders? The Crosara climb is the only one hard enough to attack on. It's relatively short, so any advantage should be easy enough for the peloton to bring back. It would be wise to save your energy until the finish. There will be time gaps and a chance for Aru to take pink. I already mentioned a similar stage in the 2014 Vuelta. The top 16 were at the same time as the winner, but there was a 7 second gap to the 17th rider. That day, Contador was the 16th rider! Aru will give the final 500m everything he's got, as starting the TT last would be invaluable. He'll have Mikel Landa to lead him out, a rider who loves steep slopes. In fact, Astana might let Landa attack and force Contador into defending. This will tire him out and then Aru will strike. He shouldn't have enough to win the stage, but could gap Alberto.
Prediction Time
The race will be controlled by Orica, Lampre, BMC and Movistar. They will hold it together, so we get a showdown on the final slope.  It should be a fight between Matthews, Ulissi, Lobato and Gilbert. Orica have the strongest team and they will take control, as we approach the final climb. There is a chance of rain, which would make the last descent challenging. A rider like Chavanel would certainly be looking to attack. The 5km of flat should be enough, for the peloton, to bring back any escapee. It really should be another win for Matthews, but Lobato will push him all the way. If the Spaniard can get his positioning right, he has a great chance of success.
David Hunter
Follow us on @CiclismoInter
Join us on facebook: Ciclismo Internacional
Copyright © 2015 Ciclismo Internacional. All Rights Reserved