Giro d'Italia 2015 – Stage 13 Preview
By David Hunter
Montecchio Maggiore – Jesolo 147km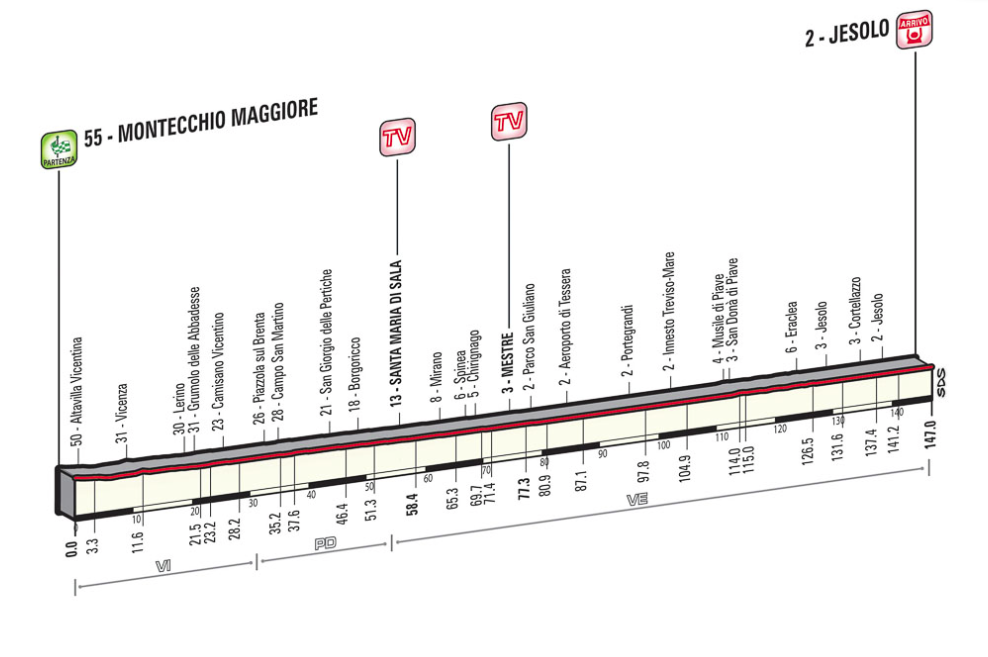 One of the shortest and certainly the most boring looking profile, of the whole race. A very easy day for the peloton, as the GC riders begin to focus on the ITT. Beware though, we usually get crashes on days like this. This stage is all about the finish, so time to take a look.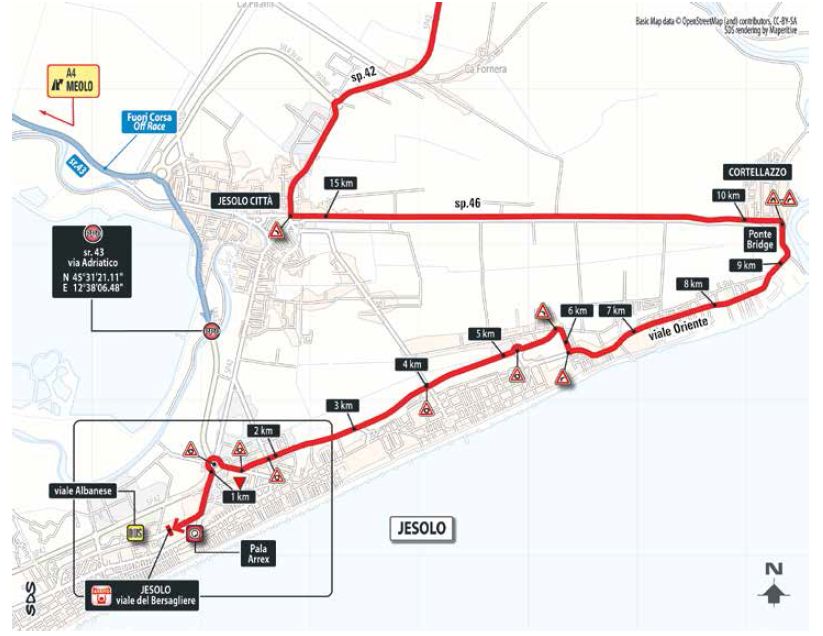 The finish is straightforward, until the final kilometre. The riders are forced into going around a roundabout, before another corner at 400m. The race to be first at the roundabout, will be crazy. I have spoken, at length, about the merits of the lead out trains.
Lotto Soudal and Trek are miles ahead of the rest, only Lampre can match them inside the final kilometre. The breakaway robbed us of a sprint, in Forli, I doubt it happens again. With 4km to go, the battle for control will really begin.
Lotto v Trek will start and the rest will just to look to follow. In the red corner is Bak, Hansen, Henderson and Greipel. In the white corner is Coledan, Van Poppel, Alafaci and Nizzolo. This is going to be a great battle.
Looking to nip in, inside the final 2km, is Lampre. They have Ferrari, Richeze and Modolo. The finish is another that looks good for Modolo. He holds his position very well(apart from stage 2), so the final kilometre is ideal for him. He lost the "bunch sprint" to Nizzolo, in Furli, despite having a good lead out. I still don't think Modolo is on top form.
Nizzolo is getting better every stage. His big focus is the red jersey and a stage win. This represents his third last chance. We should get sprints in Lugano and Milan, but it will be good for his confidence to beat Greipel. Trek are starting to get it right and they'll try and let Lotto burn themselves out. That would allow them the chance to dominate the closing kilometres, but in such a stage, Lotto should be fine.
This looks like being Greipel's last sprint. It's likely that he'll quit the Giro, to get ready for the Tour de France. He won't be the only sprinter to go home after this stage. From stage 14, the race is very demanding, with just 2 days for the sprinters. If the Tour is a big focus, you go home now. Andre will want, one more win. Greg Henderson is vital for Andre. These days, he isn't the best at holding position. If you watch the finish closely, you'll see Henderson constantly looking over his shoulder, to see if Greipel is still there. He'll have to take the roundabout quite slowly, so that Greipel doesn't get spooked and lose his wheel. Lotto will probably look to employ an old tactic. Get to the front and slow it all down on the roundabout. If you are the front team, you decide the speed. This is ideal for Greipel. Once out the corner, Hansen should start to lift the pace again and Henderson will launch at 550/600m. He did a brilliant lead out, on stage 6, can he do it again?
The other rider with the speed needed to win a stage, is Elia Viviani. In Forlí, he was left all alone, as Sky tried to bring Porte back. This is the risk, when you are the sprinter on a GC team. He has 2 men working for him, on a normal day. This isn't enough, on a stage like this. Eisel and Puccio are excellent riders but won't be at the front of the race with 2km to go. Viviani needs a huge slice of luck, to follow the right wheel. That's why it's going to be difficult for him to win this stage. He'll have a better chance when some of the fast men are away home.
The other sprinters who would like to aim for a win are: Hofland, Appollonio, Ruffoni, Bole, Boonen, Reza, Lobato, Matthews, Petacchi, Porsev and Mezgec.
Giant and Mezgec, should really start contending. He is a very fast sprinter and rides for a sprint team. Yes, they don't have their top line up here but they have been poor, so far. Mezgec won 5 races in 2014, including the final stage of the Giro. 2015 has not been a great year, with only 1 win. He hasn't enjoyed much luck but is now fit and injury free, it's about time he was up there for a stage win. He does have Arndt, De Backer, Geschke and Stamsnijder. That is a fairly good team but not as good as Lotto, Trek and Lampre. A win looks unlikely, but he could make the podium.
Prediction Time Should be Greipel, but that roundabout is a concern. The weather forecast isn't looking very good either, with rain predicted. That means the final kilometre is going to be very tricky. Greipel doesn't like the rain anymore, so this edges it in favour of Modolo and Nizzolo. I'll go with Modolo, as his superior bike handling should give him a big advantage.
David Hunter
Follow us on @CiclismoInter
Join us on facebook: Ciclismo Internacional
Copyright © 2015 Ciclismo Internacional. All Rights Reserved