Giro d'Italia 2015 – Stage 15 Preview
By David Hunter
Marostica – Madonna di Campiglio 165km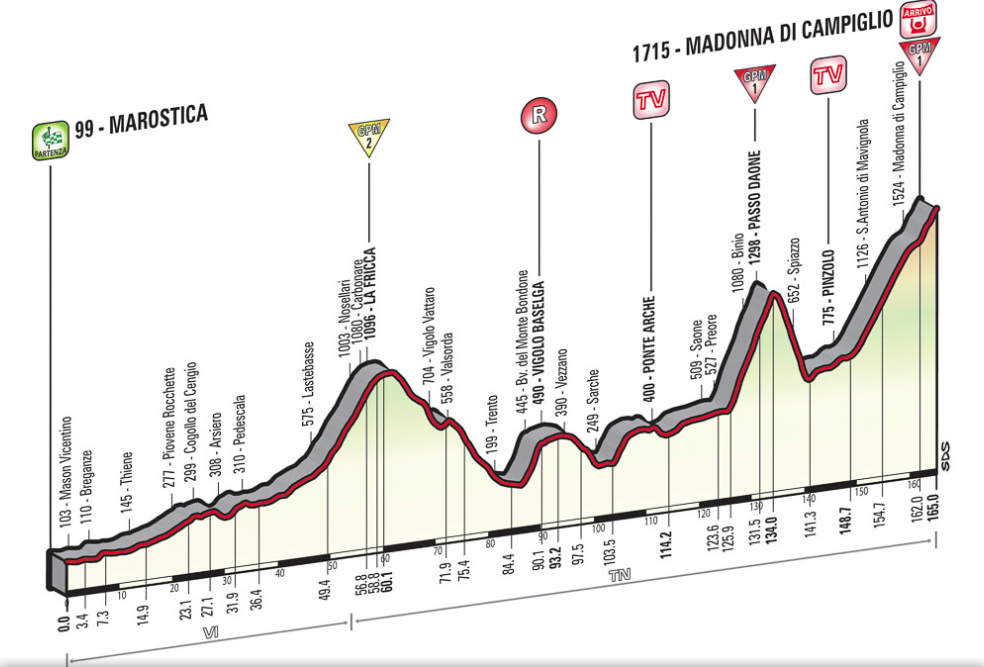 After 2 weeks and 14 stages, time for the first "real" stage. That might be unfair on what we've seen already, but the GC battle starts and maybe finishes here.
We have another short stage but very, very difficult. The climbing starts from the beginning of the stage, with La Frica.
It might only be cat 2 but it's 9.8km at 5.5%, with a maximum of 10%. The climb is really 8km at 6%, which certainly makes it sound a bit harder. With KOM points up for grabs, the riders who want the blue jersey will have to try and be part of the early break. That should make the start of the race, nice and fast.
After the descent, we have two unclassified climbs, both are short and steep. This is not a nice day for many of the peloton and the bus will be hoping for a slow pace, until the cat 1 climbs.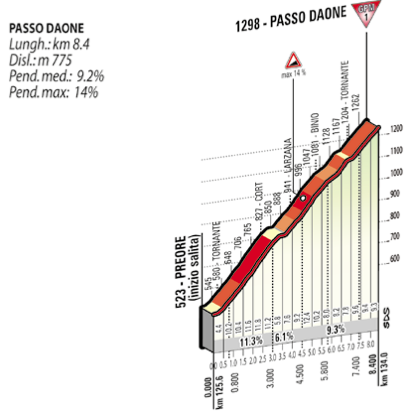 To end the stage, we have two cat 1 climbs. The Passo Daone, is the hardest of the climbs. It's 8.4km at 9.2%. This is a very demanding climb. For almost the whole climb, the riders have to tackle gradients of over 10%, with a small rest at 3km. We could see plenty of fireworks on this climb.
After a descent of 7km and a short false flat, the final climb starts.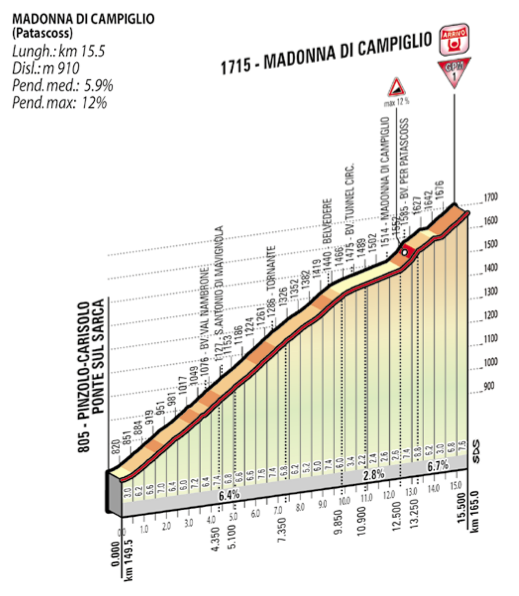 The final climb of the day is a brut, 15.5km at 5.9%, with a maximum of 12%. The length of the climb is the most telling factor, especially after the steep slopes of the Passo Daone. With tired legs, this climb is going to be agony.
The weather forecast isn't as bad as the last couple of days, but rain is still expected. Racing at about 1000m of altitude, isn't going to be very pleasant and it's going to test the durability of the riders. Contador will be pleased!
This is the start of a number of stages, where the breakaway has a good chance of success, but the length of the stage isn't great news. They don't have a large section of the stage, where they can accumulate a lot of time. If a team wants to control it, they should be able to, without too much difficulty.
After the TT, Contador has the Giro in the bag. He is targeting the Giro/Tour double, so would like to save as much energy as possible, if he can. One tactic would be to strike now. His opponents are on their knees and he's looking stronger by the day. Destroy them here and he can have an "easy" final week. The rest day could give some his rivals, new powers. If I was his DS, I would tell him to go for it. It seems a fairly sensible tactic.
Of the other GC riders: Amador, Van den Broeck, Konig, Hesjedal and Monfort performed the best in the TT. Riders like Porte and Uran seriously disappointed. I would exclude Aru from that group of riders as his performance was just a little under expectations. A 60km TT was never going to be to his liking and his team won't be devastated with the result. He now sits 2:28 behind Contador, but nearly 2 minutes up on Uran. He looks secure in 2nd place and has plenty stages to try and attack Contador.
I don't see a change in the tactics of Astana. What they have to do is simple, although hard to execute. They must isolate Contador, preferably on Passo Daone. With Aru, Cataldo and Landa within 5 minutes of Contador, he cannot let any of them escape. They have to start attacking him, as early as possible. Realistically, Contador can only count on the support of Rogers and Kreuziger, deep into a mountain stage. Neither look in great form just now, so he can be exposed. They cannot just set a very fast tempo and tow him up the mountain, as he'll attack near the top and take more time. It has to be all out attack.
With the rest day on Monday, it means that Astana can throw everything they have at Alberto and see if they can take some time back. It would be a massive blow if they could, as a little of Contador must already be thinking about the Tour. With LL Sanchez, Kangert, Tiralongo, Cataldo and Landa, Astana have an embarrassment of riches and I think they are going to destroy this stage. Despite the challenging final week, there are only 3 stages left where they can isolate Alberto, starting with tomorrow. After that, they'll have to wait until stages 19 and 20. They must strike now!
Team Sky look in tatters. Richie Porte is now sitting in 17th place, 8:52 down. They still have Konig, who moved up to 10th, but this is not the Giro they were hoping for. There is even the chance that Porte withdraws, to concentrate on the Tour. Time will tell, to see if that is true. Their best hope of success now lies in their domestiques: Kiryienka, Nieve and Siutsou. Breakaways look like their only chance.
Talking of breakaways, we have some frequent fliers in this Giro: Hesjedal, Zakarin, Geschke, Betancur, Intxausti, Kruijswijk and Pellizotti. All of these riders have been in multiple breaks and are looking incredibly strong. If they get in a breakaway, they have a great chance of success. The fight for the KOM jersey is also going to be interesting and should liven up the race, even if the GC looks sorted.
Andrey Amador is now sitting in 3rd place, a big surprise for the Costa Rican. His family are now at the race and he'll be determined to hold onto his podium spot, but it's going to be hard. Uran, Van den Broeck and Caruso will all be thinking about the podium, but the Astana riders are going to be standing in their way. For one, I'm delighted to see VDB back to his best. He might just earn himself a new contract with Lotto.
Prediction Time
Another day for a display of Astana superiority. They will take control and eliminate as many riders as possible, especially Tinkoff riders. I think we could have an extremely small peloton, as we start the final climb of the day. They will attack with Cataldo and Landa, it will be interesting to see what Contador does, if he's isolated. If he really is the strongest, he will attack himself and solo to glory, but you just never know in this race. Tomorrow might just be the day for Fabio Aru.
David Hunter
Follow us on @CiclismoInter
Join us on facebook: Ciclismo Internacional
Copyright © 2015 Ciclismo Internacional. All Rights Reserved