Giro d'Italia 2015 – Stage 16 Preview
By David Hunter
Pinzolo – Aprica 174km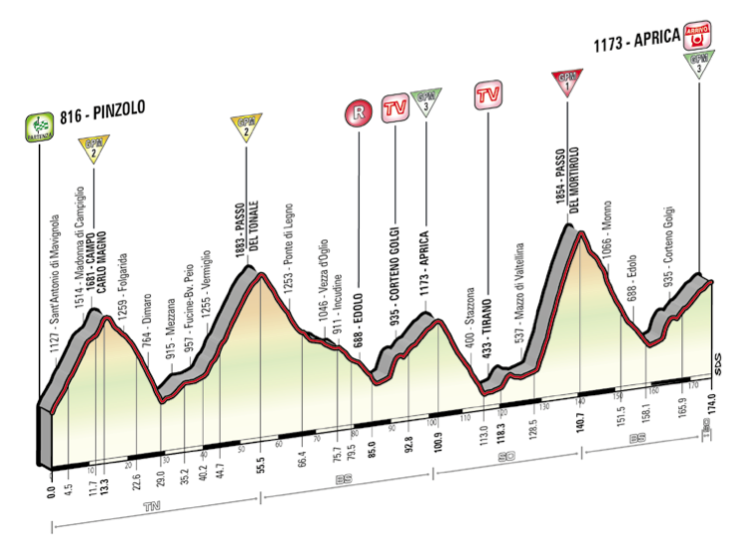 After a rest day, this is the last thing the riders want to see. Another relatively short stage, with zero kilometres of flat and five categorised climbs. The weather isn't going to be kind either, with rain in the morning and showers at the end of the stage. This day is about as hard as they come.
The stage starts with an immediate climb, Campo Carlo Magno. It's 13.3km at 6.5%. After a descent of 16km, they tackle the second climb of the day, Passo Del Tonale.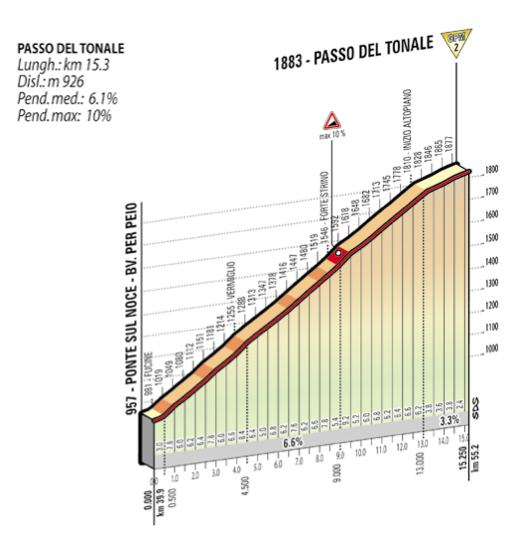 This should really be a cat 1 climb, as it's 15.25km at 6.1%. That makes it harder than Madonna di Campiglio. The climb has a nice, steady gradient. Most of the riders prefer climbs like this, as you just need to find your rhythm.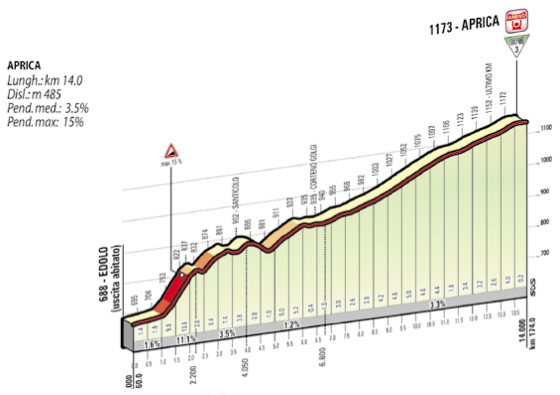 After that, the riders climb to the finishing line in Aprica, for the first time. It's 14km at 3.5% and is a cat 3 climb. It does have 1 kilometre at 11%, but classifying it as cat 3, is being generous.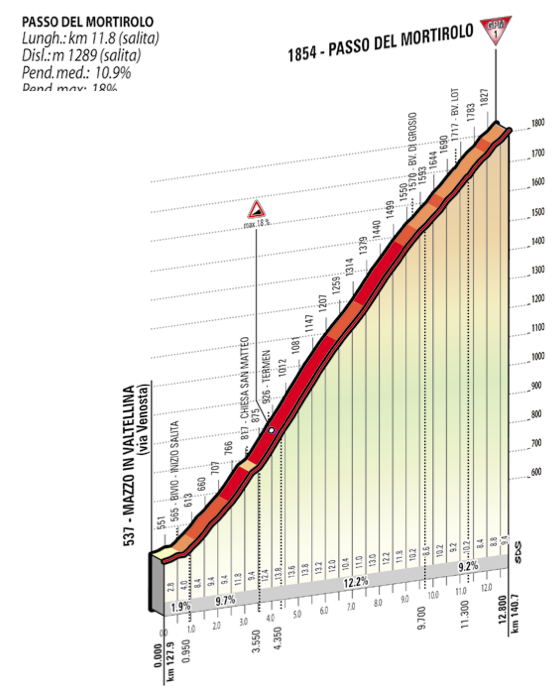 Next on the menu, is this year's Pantani climb, Passo Del Mortirolo. It's one of the hardest climbs in the race, if not the hardest, thanks to 12.8km at 10.9% and a maximum of 18%. That includes a 6km section of 12.2%. This will be the hardest climb some of these riders every do.
We then finish with the second ascent of the climb to Aprica. The peloton will be considerably smaller, this time up the climb.
Contador looks to be safe in pink, but Astana will want more from this race. They currently have two stage wins, but would like to see Aru and Landa on the podium. The Spaniard only has to take 27 seconds on Amador, to move into 3rd place. It looks very likely that this will happen as Contador and Landa are now the best climbers in the race.
Fabio Aru is still riding well, but he's not at the same level as he was in the first week. However, he should still be okay to hang onto 2nd place and Contador might even let him take a stage! He's 2:35 down on Contador and seems incapable of distancing him, in fact Contador can gap him at will. Alberto will want a quiet week, so he is fresh for the Tour, so expect him just to ride defensively and let Astana dictate the race.
Some riders are starting to look very strong: Amador, Trofimov, Konig, Betancur, Kruijswijk, Caruso and Geniez.
Other riders are starting to fade: Hesjedal, Kreuziger, Formolo, Visconti, Cunego, Uran and Porte.
Some have been unlucky: Van Den Broeck and Atapuma.
There is still time for a number of moves on GC, with a few riders looking longingly towards the top 10. The top spot on the podium is now gone, but there is a lot to still fight for, in this year's Giro.
What type of race will we get?
Astana's stomach for controlling the race, might just be fading. The have their stage wins and they know they won't crack Contador. That opens the door to breakaways, especially if Astana put a rider in the move. For the high mountains, their man should be Diego Rosa, who is climbing very well. If not, Tanel Kangert offers another superb option. Not forgetting LL Sanchez!
Their are plenty of other riders who would love to make the break: Szmyd, Niemiec, Zakarin, Ellisonde, Pirazzi, Pellizotti, Reichenbach, Intxausti, Chaves, Weening, Monsalve, Kruijswijk, Betancur, Nieve, Kiryienka, Siutsou and Fernandez.
There are a huge number of riders with the climbing ability to take a win, but they need to make the break. Zakarin has been good at that but doesn't seem the easiest to get along with. Pellizotti has made multiple breaks but cramps and bad luck have cost him. Szmyd is starting to show some form and is one to watch as he hit the third week, as is Weening. He had some health issues, earlier in the race, but now looks back to full health.
Movistar have a squad full of climbing talent and anyone of them could take a win, apart from Lobato. They have the most options and it seems impossible that they'll miss the decisive move. Igor Anton is another who is starting to show some form.
After a terrible start to the race, Steven Kruijswijk, is looking back to his best. His 5th place on Sunday, was a remarkable result and he now sits in 14th place. He will be eying a top 10 finish but a stage win would be worth more. Thanks to the strength of Astana and Contador, his best chance is going in a break. If he makes it in the move, the others are going to be worried. He won't blow, the way he did on stage 8.
Prediction Time
Only Astana stand between the break and success. I think they know that Contador cannot be broken, so they'll send a rider in the break, or even two! Rosa and Sanchez should be their men, but they will find it hard against the other breakaway hunters. Szmyd, Betancur, Pirazzi, Zakarin, Pellizotti and Kruijswijk all look in good form and will be very hard to beat.
The Mortirolo is the big moment in the race. It's a horrible climb and big gaps will be expected. The breakaway will splinter and we could see a small group or even a solo rider going away and not coming back. Even though it crests with 33km remaining, there is every chance of a long, solo success. As we have seen already in this race, it's hard to organise a chase group. As it's the Pantani climb, a lot of Italians will be determined to be first over.
I think the break will make it and Franco Pellizotti will get his win. He was very strong in the last week of the 2014 Giro and I expect to see the same type of attitude from him, this year. He'll need a bit of luck along the way but Franco is my man for the win.
David Hunter
Follow us on @CiclismoInter
Join us on facebook: Ciclismo Internacional
Copyright © 2015 Ciclismo Internacional. All Rights Reserved