Giro d'Italia 2015 – Stage 21 Preview
By David Hunter
Torino – Milano 178km
At last we are heading to Milan! The race draws to a close, with a processional stage and a sprint finish, in Milan.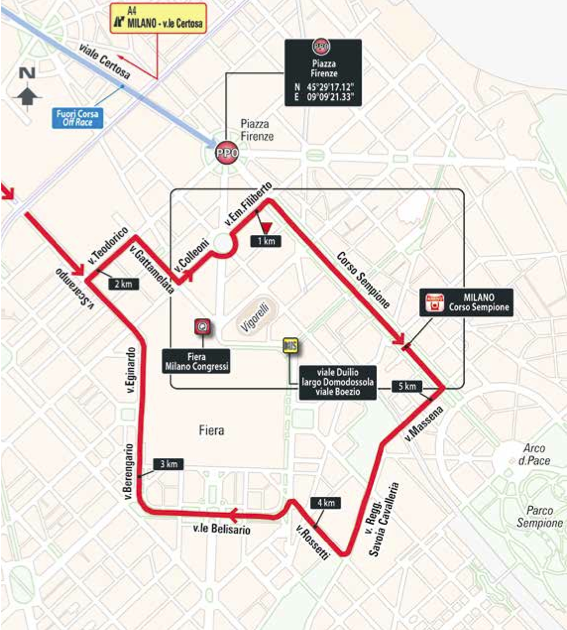 The race is all about the closing circuit in Milan. The circuit is 5.4km and is covered 7 times. The peloton get plenty of chances to see the finishing straight.
The battle for the red jersey is now between Nizzolo and Modolo. There are two TV sprints and a chance of minor points being available, depending on the size of the break. Modolo hasn't tried in these sprints yet, he will tomorrow!
Nizzolo has a 17 point lead and the points at the end of the stage are: 50, 35, 25, 18, 14, …
The first 8 riders get points in the TV sprints: 20, 12, 8, 6, 4, 3, 2 and 1.
Realistically, Modolo needs to win the stage and hope that Nizzolo doesn't finish 2nd. Looking at the last few sprints, Modolo has won and Nizzolo has been 2nd!
Lampre have timed their attack to perfection, in the last two sprints. However, Trek, has made things easy for them. They have hit the front too early and ran out of men. This has allowed Lampre to arrive with 3 men, inside the final kilometre. Trek need to make Lampre work earlier. Now that Modolo has won two stages, Lampre will be expected to work harder, in preparation for the sprint, something they're not used to.
Nizzolo is looking faster than Modolo, but if the sprint is only 150m, he doesn't have space to come round him. Trek need to disrupt the Ferrari-Richeze-Modolo train and force them to launch early. This is the fastest train, left in the race, so Trek need to think carefully about their tactics. Fabio Felline, is an excellent rider to have at their disposal, but he needs to be used carefully.
Given the exploits of Van Poppel and Alafaci, I'd be tempted to move Felline into the third from last position. He does have the speed to challenge Ferrari and if Trek get in front, it will be very hard for Richeze to move past Van Poppel. The best train, will get the win.
The long finishing straight, is good news for Nizzolo. Sacha Modolo is masterful in a messy sprint, with plenty of corners. This finish is not ideal for him. Nizzolo, on the other hand, is much better with a long straight. This will give him time to build his speed and fly past Modolo, if required.
The rest of the sprinters will struggle to compete against these two. Some of them are fast, but don't have the riders to help them get into the right position. Viviani, Mezgec, Haussler, Hofland, Appollonio and Porsev will be hoping for some good fortune and the battle for the wheel of Modolo and Nizzolo, will be fierce.
Porsev will be looking towards Paolini, who is capable of a big lead-out, but it would take something special to create an upset.
Prediction Time
The battle for red, means that both riders will need to go for the TV sprints. This could take a little out of their final sprint. Nizzolo is used to this, as he's chased every possible point in this classification. It's going to be something new for Modolo. Lampre do have the strongest final three, but Nizzolo is looking faster than Modolo. If Trek can deliver him well, he has the speed to win the stage and the red jersey.
So that's the last of my Giro previews. It's been a fantastic 3 weeks, full of everything that we love about cycling. I would like to thank you for reading my previews and hope they have added to your enjoyment of the race.
David Hunter
Follow us on @CiclismoInter
Join us on facebook: Ciclismo Internacional
Copyright © 2015 Ciclismo Internacional. All Rights Reserved