Giro d'Italia 2016 – Stage 1 Preview
By David Hunter
Apeldoorn 9.8km ITT
And so it begins.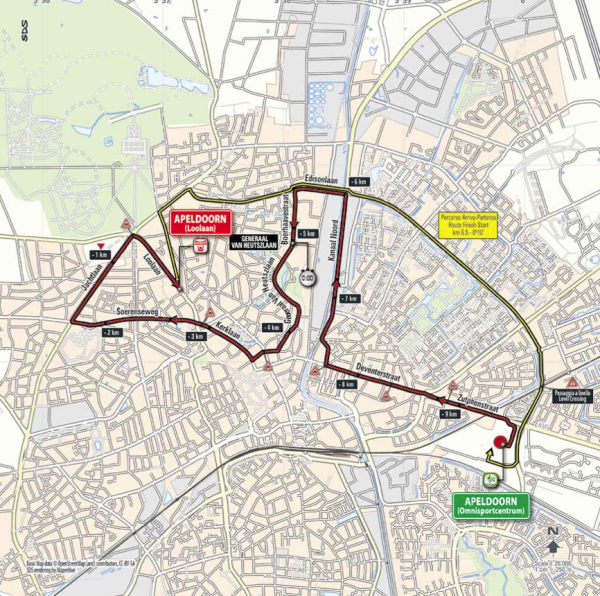 The race starts in Holland, with a short time-trial. The route probably looks more technical than it really is, as there are only a few corners where riders will have to seriously reduce their speed. This is a course for the strongmen.
Contenders
Tom Dumoulin – the stage is set for him to win the race and take the pink jersey, all in front of his home fans. Dumoulin really is an impressive TT rider, one that goes extremely well over a short distance. He starts the race as overwhelming favourite, but will feel the weight of expectation on his shoulders. Holland expects a win, can he deliver? His two TTs this season have both ended in 2nd places, in Paris-Nice and Romandie. Last season he took TT wins in Pais Vasco, Tour de Suisse(x2) and the Vuelta. His bike position is incredibly aero, a real joy to watch.
Fabian Cancellara – was ill on Wednesday, so his chances of winning really aren't good. It will be very difficult for a rider to recover from stomach flu, just 2 days before a race. Such a shame as he was trying to win his first pink jersey. Let's be honest about Fabian's season, it started well but really has faded. He won the TT in Algarve and was brilliant in Strade Bianche. That's about it!
Bob Jungels – one of the best TT riders of his age, but still a little behind the very best. He's still only won a single TT, excluding his national championship, that was in Etoile de Besseges in 2015. He was 3rd in the recent Romandie TT, a good sign of his progression, but it would be a surprise if he won this stage.
Jos Van Emden – was one of the surprise packages of 2015, but has failed to live up to that standard this season. 2015 really was a wonderful season for him, he was 2nd in California, 5th in the Tour and won in the Eneco Tour. He started 2016 with 2nd place in Qatar but was way off the pace in Romandie, 32nd in the prologue and 45th in the TT. Looks like he's developing into an enigma!
Matthias Brandle – this one I do like. Like Van Emden, he hasn't really been able to match his impressive form from 2015, but he is damn quick. The length of TT is perfect for him and I expect a big result. Winning it will be difficult, but he should certainly be hoping to finish on the podium.
Michael Hepburn – I always like to include Hepburn for short TTs, as he is really impressive over 10km. Yes, his results have been erratic over the last two seasons, but he cannot be ignored. Hepburn has the power needed to win a 10km TT. His 33rd place in the Romandie TT might not sound very impressive, but his 2nd half was quick. He has the honour of being the last rider out, meaning he will know what times to beat. That usually gives a rider an advantage.
Weather
Nice and sunny, with a brisk tailwind. Sounds like perfect conditions for the riders. Leigh Howard did tell us that the IAM boys think the wind will change from south-east to south, for the later starters. Due to this, Brandle goes out at 1420, with the last man at 1702. I cannot find any evidence of the wind changing direction, but I'm not a weather forecaster!
Romandie
The recent TT in Romandie did through up some interesting numbers. The 2nd half of the course was downhill, the 1st half contained a climb. The 2nd half was completed in 5:41 by Dumoulin, 5:42 by Jungels and 5:42 by Hepburn. Read what you want into that!
Prediction Time
It's all set up for Dumoulin to take pink.
David Hunter
Follow us on @CiclismoInter
Join us on facebook: Ciclismo Internacional
Copyright © 2016 Ciclismo Internacional. All Rights Reserved